A band's first show usually isn't that big of a deal. However, when the project that's debuting includes members of three of the more accomplished Milwaukee projects in recent memory, that first show is rendered a much more meaningful affair. Saturday night, Dramatic Lovers will take the Cactus Club stage to play its first formal outing. While the project has yet to play out, its members have logged hundreds of shows over the last 20 years as former or current members of Decibully, The Promise Ring, and Maritime.
The new band made up of veteran musicians—which takes its name from an old Milwaukee anarchist group—formed less than a year ago. Since then, they've made a weekly ritual of getting together to work on songs. This weekend, those songs will finally be ready for the public. Before Saturday's debut, Milwaukee Record spoke with Dramatic Lovers' singer-guitarist B.J. Seidel and keyboard player Dan Didier about how the project came together, member expectations, and how the band aims to use existing ingredients to craft something new.
Milwaukee Record: At this point, with Decibully over and everyone busy with different things, Maritime alive and well, and The Promise Ring having reunion shows every now and then, what was the reason you decided you wanted to stack this band on top of everything else you've been doing?
William Seidel: For me, it was after the Local Coverage show. I just had a good time playing with the dudes again, and we said "Let's keep doing something. Let's keep writing some songs and see if we can do this." So we formed our own basis and decided we needed another element. Since Justin [Klug] and Dan [Didier] play in a band together, and Dan and I played music together, and he already writes great melodies on keyboard for all the Maritime and Promise Ring stuff, it was kind of a no-brainer. So we asked Dan to join.
MR: Yeah, Dan, as the busiest one, at least musically speaking, why did you join?
Dan Didier: The challenge of not playing drums was a big part of it. I thought doing something with no safety net, where I can't be hiding behind a drum kit, was exciting. It's like a whole new world to dive into. Instead of just being behind the same drum kit I have been for the past 25 years, it's a new challenge.
MR: Other than the different instruments for Dan and Justin, it's a lot of the same ingredients or people who have played a lot of shows together, who are roughly the same age, and with many of the same musical landing points. Was there a struggle to not make this just another Decibully? Did you attempt to set out to do something you haven't before?
WS: I am still writing songs, singing, and playing guitar, and my other bands had a little of that, too. I guess we're just trying to harken back to the stuff that we liked when we were younger. Since we're all getting a little bit older, we wanted to—at least in my eyes—showcase stuff we were listening to 20 years ago, which would've been some of that golden era emo stuff, a lot of shoegaze-y, atmospheric stuff, and a lot of Brit pop. When I was 20 and really starting to get into bands and music, that's the stuff I wish I could play, but I wasn't good enough to play it.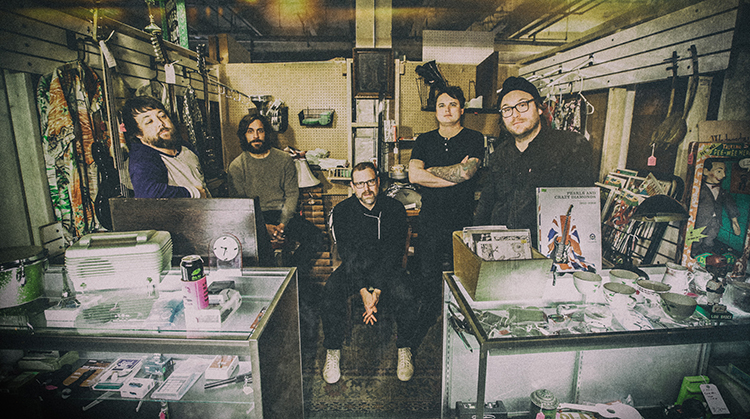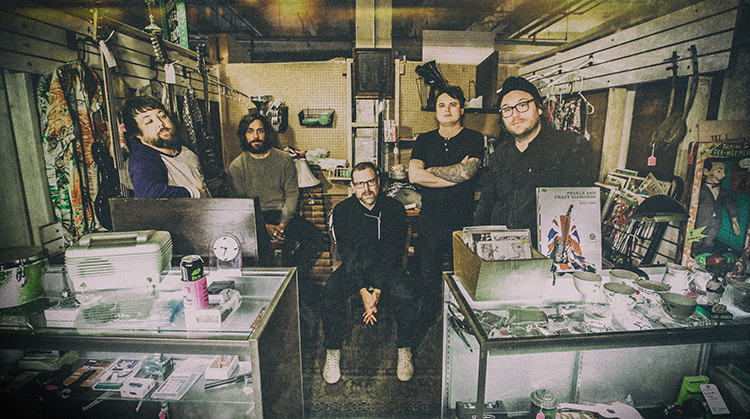 MR: What's it like? Is it slow and more melodic?
DD: It's not speed-punk or anything, but we're still kind of a mid-tempo sort of feel for most of the songs, but just a lot louder. It's a loud band.
WS: We don't really know a lot yet. We just put our set together and we're just kind of figuring it out. We have enough songs to play live. The last couple weeks, we've been rehearsing the set and I feel like even our generic descriptions that we might've had in our head initially are changing. It's kind of becoming its own thing. There's no extreme genre or style attached to it. I suppose it sounds a little bit like all the other bands we've been in incorporated into it. But we're not trying to be anything or be any of those bands.
MR: So you have a set together now. How long is the set? Like, how many songs?
WS: Seven songs. I think it's about 33 minutes long.
MR: How did you know you were ready to play out? As little pressure as you're putting on the band, there are some expectations based on the things you've done before this. Are you worried about prematurely unveiling the project?
WS: For sure. And I think we still feel like that now. Having a deadline has kind of forced us to get out of constantly rearranging songs or listening to them or just demoing more stuff. We set a deadline to build a set.
DD: We just wrote the full set and started playing through it. Really, the live set [Saturday] will just be a representation of where the songs are at that time. I feel like they're going to change even more after that until they're worth recording. We're still fine-tuning them.
MR: What are the hopes? With what I mentioned earlier, this is definitely a side project. In between your other bands, your families, businesses, and other projects, it's doubtful you're intending to make a big push with this band. So what are you hoping to get out of this? Is there a record in the works or hopes for a short tour?
WS: I think this project is something that we're doing because we like to spend time together and work on something. It's a good outlet for us. We get together once a week and write songs and enjoy it. Our goal eventually is to record the songs and maybe put them out. Our ultimate goal is to tour Germany one week a year. Maybe play a couple regional shows. We're ambitious!
Dramatic Lovers will play their debut show Saturday, December 17 at Cactus Club in support of Whips. Hear the band on tonight's episode of "Local Live" from 6-7 p.m. on WMSE, and Thursday's installment of 88Nine's "414 Music Live."