It's a tale as old as a few years ago: A bar owner decides to use their establishment to make a dumb and/or awful political point, the bar owner gets some press and a ton of online grief, the bar owner backs down the next day. It happened earlier this year when the owner of Brookfield bar Saloon on Calhoun briefly defied the statewide ban on gatherings of 10 or more people, got some press and a ton of online grief (and a visit from police), and closed the next day. ROCK ON, WAMI-WINNING SALOON ON CALHOUN.
The latest entry in this ongoing saga has a new wrinkle, however: an angry wife. Or, perhaps more accurately, a wife angry for being thrown under the bus.
On Sunday, the owner of Hartland, Wisconsin bar Hogger's Pub, Jeff Anson, made news with his decision to cease showing Packers games in his establishment. Why the bizarre and potentially business-damaging decision? TAKE A GUESS!
"This country is really built on equality for everyone, period, and if a professional team is professing a certain political view, they shouldn't be doing it," Anson told CBS 58.
Yep, Anson was pissed (again, apparently) that the Packers chose to peacefully protest police brutality and other injustices inflicted upon people of color by staying inside their locker room during the national anthem. Did the owner of Hogger's Pub in Hartland, Wisconsin have some thoughts on the proper way to protest such things? TAKE A GUESS!
"They don't have to do it at work. They've got a great avenue to do it outside of work because they're already popular," Anson said.
And there Anson's brave decision stood…for an entire day. Yes, following a deluge of internet dragging and some good old fashioned negative Facebook reviews, Anson reversed his stance on Monday. Because of his wife. Who co-owns the bar.
"Due to conflicting interest with the co-owner of our bar, my wife, the games will resume being played on the televisions at Hoggers pub," Anson posted to Facebook. Curiously, the message has since been edited; it now reads "Hogger [sic] pub will resume playing of all professional sports games on the televisions. Stop in and say Hi to our wonderful bar staff and enjoy daily drink specials. Check back on our page daily for our specials."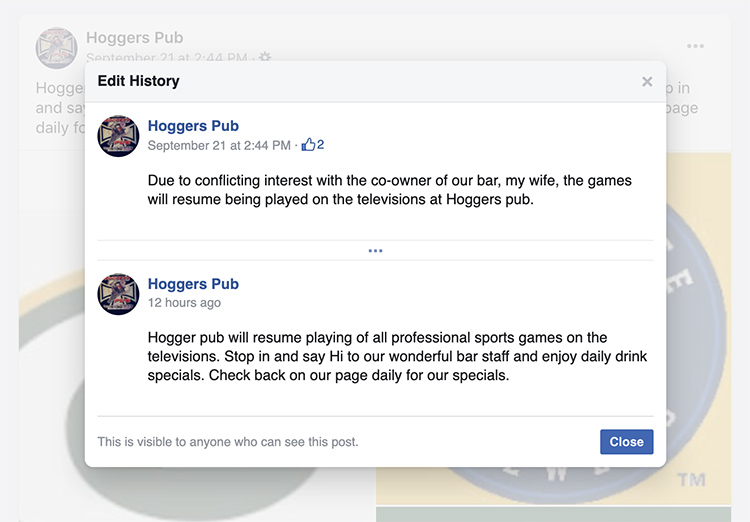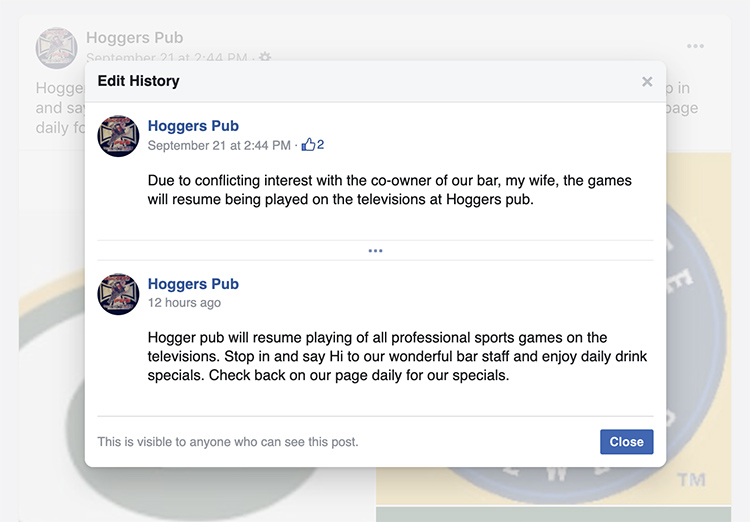 So there you have it: man uses bar to make dumb and/or awful political point, man gets a ton of online grief and realizes he's going to lose business, man writes Facebook post blaming his sudden about-face on his wife, wife probably gets pissed, man edits Facebook post. Welcome to 2020. [h/t DF]