Since opening in 2014, The Vanguard has established itself as the pinnacle of tubed meat delicacies in Milwaukee. Though their winning mix of specialty sausages, "tube-less" options, exceptional appetizers, and an impressive group of vegan and vegetarian offerings has earned the Bay View bar and restaurant oodles of acclaim, The Vanguard still likes to shake things up on a somewhat regular basis.
Once or twice a year, The Vanguard updates its menu with a handful of new items. However, in order to keep things fresh and to make room for new offerings, the restaurant must also say goodbye to some old standbys. On Wednesday, July 27, The Vanguard will welcome eight new items to its menu—including five stylized sausages, two new fry varietals, and a side—and will make updates to a few existing dishes as well. Sadly, that means some current menu items will have to be phased out between now and then.
Today, The Vanguard is declaring "last call" on the following 12 menu items. You can say goodbye to these favorites by stopping in sometime between this afternoon and Tuesday night (while supplies last). Adjust your diet and dining plans accordingly.
Hungarian
Pork sausage with sweet paprika and garlic.
Salazar
Hungarian sausage topped with cream cheese, pineapple, basil, cheddar, and BBQ sauce.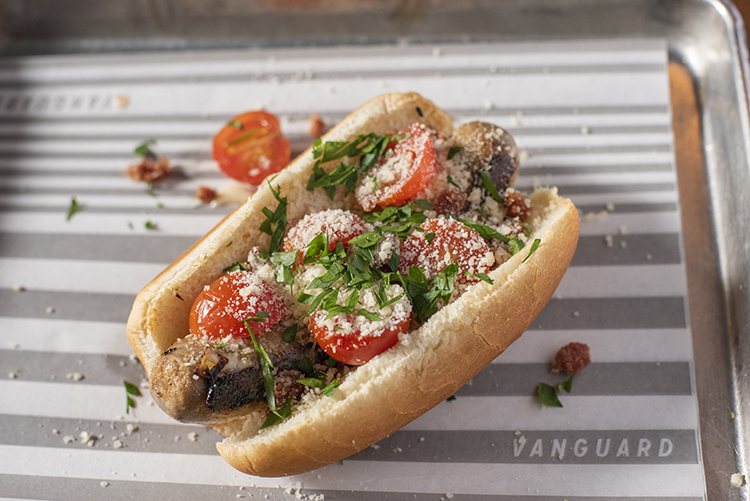 Hot Brown
Smoked turkey, bacon, and pork sausage topped with bourbon mornay, sherry roasted tomatoes, bacon, and Parmesan.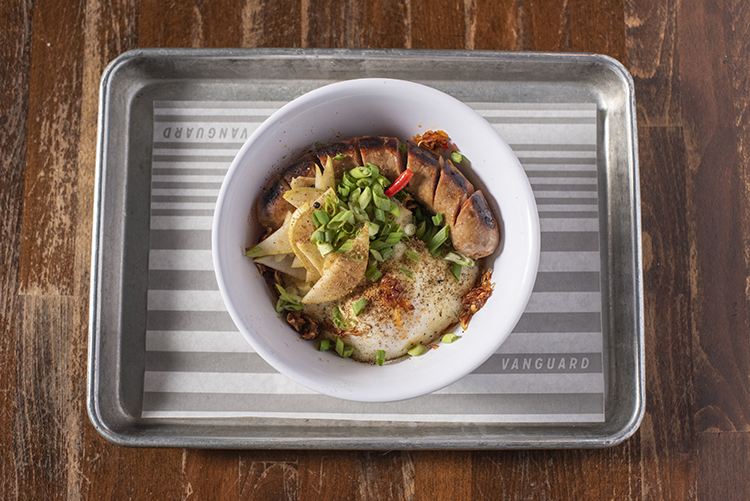 Lo Pan
Pork sausage with tofu, garlic, chili, and bean paste topped with pickled pears, house chili crunch, fried egg, Szechuan pepper, and scallion. Served over rice.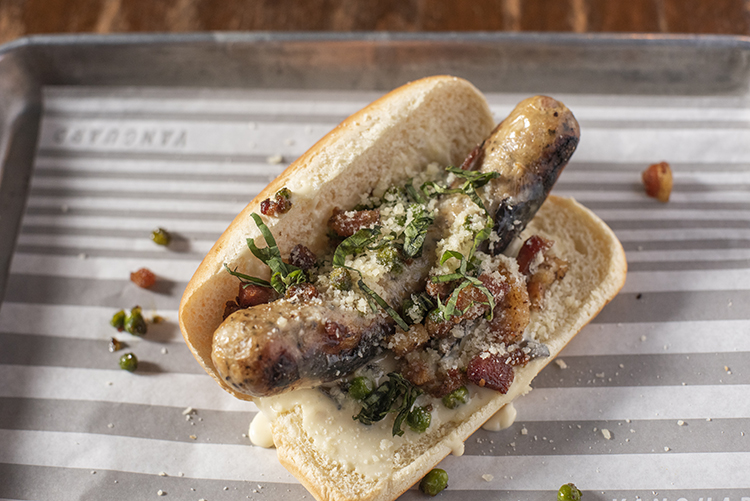 Fredo Gibbs
Chicken, pork, bacon, and romano sausage with mushroom alfredo sauce, peas, lardons, and Italian cheese blend.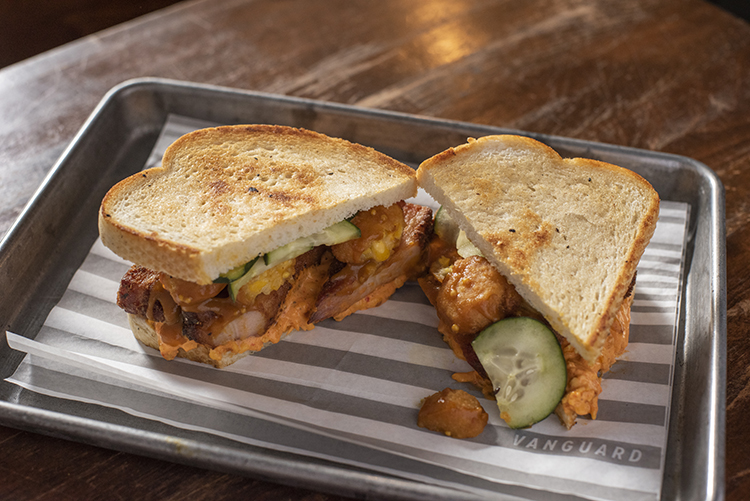 Pork Belly Sando
Crispy fried 24-hour pork belly with pimento cheese, mustard BBQ sauce, corn fritters, house habanero, and pickles. Served on toasted sourdough.
Roasted Garlic Poutine
Fries topped with bourbon mornay, fried basil, and five mushroom garlic ragout.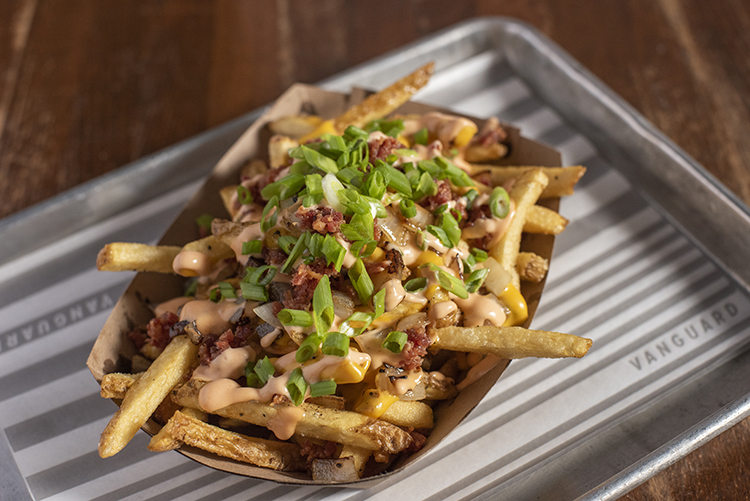 Animal Steele Fries
Fries topped with cheez whiz, grilled onions, ok sauce, bacon, and scallion.
Fried Brussels Sprouts
Pan-fried Brussels sprouts with white miso, soy, honey, cranberries, and togarashi.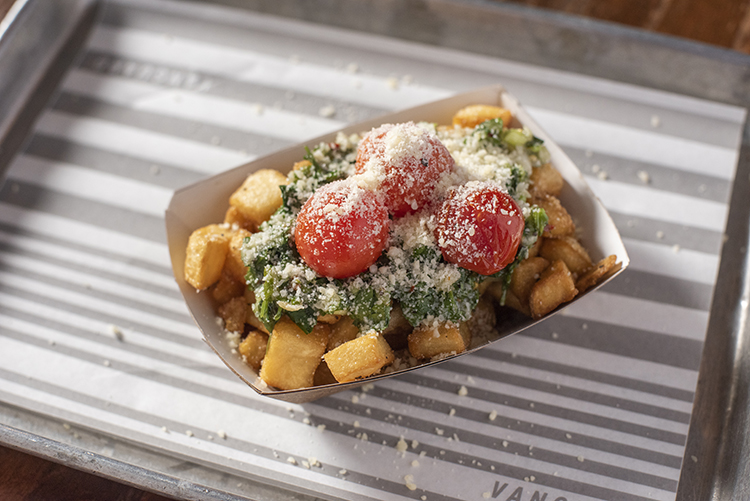 Twice Fried Potatoes
Crispy potato chonks with chimichurri, sarvecchio, and roasted tomato.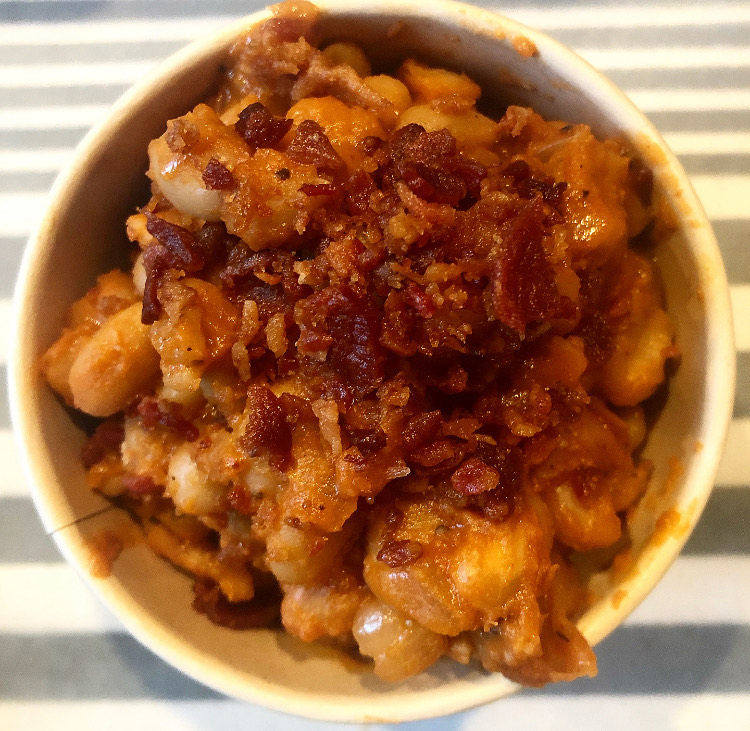 Those Beans
Baked northern beans with bacon, molasses, and brown sugar.
Additional Changes
"Philly Style"—cheese whiz, sauteed peppers, onion, and mushroom—will no longer be offered as one of Vanguard's "Sausage By City" sausage add-ons.
Vegan Loaded Fries will be removed from the menu as its own item. However, the "Loaded Fries" will now have the option to be prepared Regular, Vegetarian, or Vegan.