Since opening in 2014, The Drunk Uncle has been a bastion for wrestling fans, craft beer enthusiasts, and anyone looking to have a fun time in the heart of West Allis. The bar is known for its outstanding selection, unheard of specials, and—as owner Neal Steffek will admit—not being very roomy.
Early last fall, Steffek decided to address The Drunk Uncle's lack of space by temporarily closing for renovations that would essentially double the bar's square footage. Originally, Steffek figured the ambitious project would take about two months to complete.
"I was aiming for Thanksgiving, knowing that would be kind of tight," Steffek says. "But I knew there would be absolutely no reason I shouldn't be open by Christmas."
The Drunk Uncle closed September 22 and, due to lengthy delays in the approval and inspection process, the bar hasn't been open since. The owner says construction was at a standstill for roughly two months.
"I sat home on the couch watching TV and just waiting for a phone call," Steffek says.
Thanks to some assistance from West Allis mayor Dan Devine, Steffek finally got his phone call notifying him he was officially permitted to start renovating late last year.
On Saturday, March 9, approximately six months after its last day in business, Steffek says he plans to reopen the new, improved, and significantly larger version of The Drunk Uncle.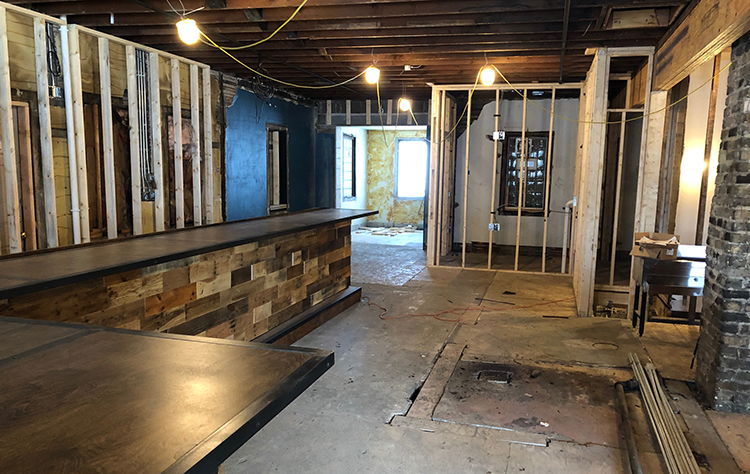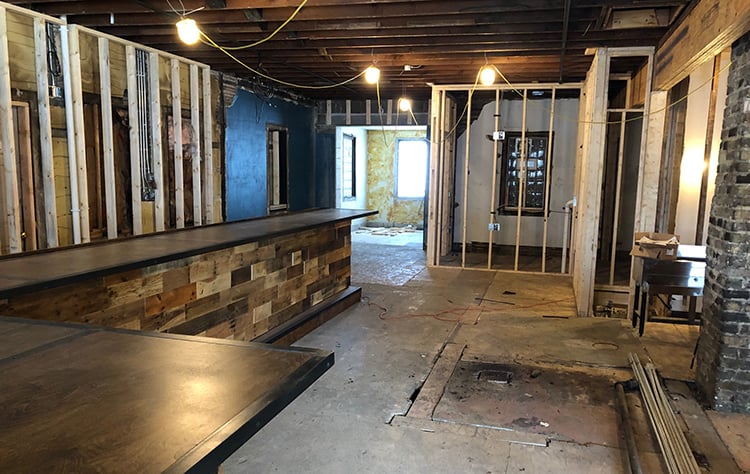 Steffek says The Drunk Uncle version 2.0 will offer a staggering 50 beers on tap, which is way up for the dozen draft lines the bar used to have. The tap handles will span nearly the entirety of one end of the brand new bar, which was built by Gear Grove. The custom-made bar is one of Steffek's favorite new features.
"I love it," Steffek says. "It's great. It's the one thing that's gone right in the last six months."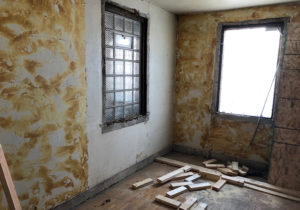 The beer list isn't the only think that's increasing in size. Walls separating the bar and a storage room were knocked down, as was a wall for a small room that functioned as Steffek's office. He says those modifications will double The Drunk Uncle's square footage. Both of the single occupant bathrooms were taken out to open up the center of the space. Larger, multi-stall bathrooms will be located on the eastern end of the property.
"We can definitely fit more people," Steffek says. "Before, for WrestleManias and Royal Rumbles, we got pretty cramped in here. Now we have more room and, with that, we'll have more TVs."
The Drunk Uncle will have five televisions (up from just three before) that will show wrestling, Wisconsin sports games, and the occasional UFC event. Three 70-inch screens will be mounted on the back wall and a pair of 55-inch screens will be behind the bar. Speaking of changes behind the bar, Steffek says the extra space will allow him to significantly increase his arsenal of whiskeys and tequilas he'll have on hand.
Though the bar will look much different and have a far larger selection once this six-month renovation process is complete, Steffek wants to assure customers the spirit, the prices, and the specials The Drunk Uncle is known for won't be changing at all.
"A lot of people have asked me if I'm going to raise my prices because I'm doing all this. I can tell you, absolutely not. The prices are staying the exact same," Steffek says. "And I can still do crazy, stupid things like 50 cent beers during State Fair and whatnot. I can basically just do more of it. Except a lot more of it."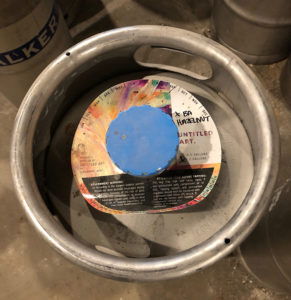 Steffek says he intends to "go a little more crazy" and "do stuff that no one in Milwaukee has ever seen before" with his 50-tap setup.
"I don't mind going out of state, grabbing a keg of beer, and bringing it back to Milwaukee," Steffek says. "As long as we can legally sell it in Wisconsin, I'll go to Indiana or Minnesota to get a keg of beer or two. I don't care. It's a trip."
The monthly tap takeovers will also continue. April's brewery of the month will be Untitled Art, with Prairie and Revolution also slated for spring takeovers. And yes, the bar's crazy $1 IPA special from 2-8 every Saturday will continue. There will now just be more options to enjoy.
It's taken almost half a year, months of waiting, and moments of uncertainty to get this far, but one way or another, Steffek says he's ready to reopen The Drunk Uncle on March 9. Once he's back in business, the past six soul-crushing months won't matter anymore.
"Once that open sign is back on, the stress is gone. It's fun again," Steffek says.