Welcome to Food/Drink Week at Milwaukee Record, brought to you by Milwaukee's new favorite import, Bofferding. From May 13 through May 20, belly up and enjoy a fresh smattering of restaurant visits, beer articles, booze videos, deliciously arbitrary rankings, and some good old fashioned adventure food journalism.
If Downtown Milwaukee's main artery is Wisconsin Avenue, then its beating, encased-meat heart is the Hot Dog Guy. You know the Guy. He's a fixture on the corner of Wisconsin Avenue and Water Street, right outside the Chase Tower. He's been serving up hot dogs, brats, and other Usinger's sausages via his Real Doggs cart for more than 20 years. He's tan. He's wired. In the summer, he rocks some jorts. He rules.
The Hot Dog Guy's real name is Rick Karbash. He's not the only Hot Dog Guy—Karbash runs Real Doggs with his grill partner, Jeremy McCown. Their two-man lunch-hour operation is a well-oiled machine. Still, Karbash is the undeniable face of Real Doggs. He's the Penn to McCown's Teller, a chatty carnival barker who draws you in with his rat-a-tat patter about the Brewers, the Bucks, and whether you want your sausage now or wrapped up for later.
Here's a nice profile on Real Doggs from 2018:
And here's an audio piece from 2013. In it, we learn that a.) Karbash spends his winters in Miami, b.) Real Doggs brings in more than $1,000 a day; c.), "the per capita consumption of bratwurst in Milwaukee is nearly triple what it is in any other city," and d.) if you're a competing sausage vendor, STAY OFF OF REAL DOGGS' TURF.
Real Doggs' menu is no-nonsense and top-notch. There are the usual hot dogs and brats, of course, all landing in the $3-$5 range. But to get the real Real Doggs experience, you have to "Take The Tour."
Yes, if you order a grilled Usinger's sausage ($5), Karbash's eyes will light up ("Jer! Grill tour!") and he'll lead you to the back of the cart. There, McCown will open the grill and run down the day's offerings: all-beef smoked sausages, jumbo sausages, chorizo sausages, Hungarian sausages, Cajun sausages, Italian sausages, on and on. Gazing into the grill is like gazing into heaven itself. If heaven had fire and spicy chicken sausages, that is.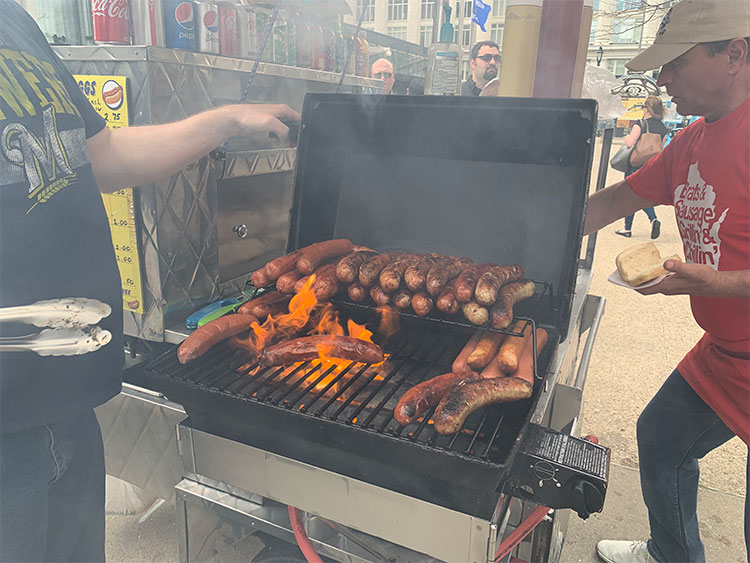 And then there's that patter. That genius, genius patter. Here are some choice Karbash zingers from a recent visit:
"Why are we so busy? It's my animal magnetism. Now, if you believe that, I have a bridge for sale."

"You want to eat this or wrap that rascal?"

"Eat it or wrap it? He wants it right now, baby!"

"Let's take the tour! Now don't get intimidated!"

"If you get a chance, hop on Yelp and give us a call!"
So here's to you, Hot Dog Guy(s). May your primo spot on the corner of Wisconsin and Water be forever yours. May your lines be forever long (lines are usually pretty long). And may your enthusiasm for asking downtown office workers if they want yellow or brown mustard be forever boundless.
As for the rest of us, we'll continue to live by the paraphrased words of noted sausage enthusiast Hunter S. Thompson: Buy the ticket, "Take The Tour," eat the hot dog.