Ever since the Wisconsin Supreme Court struck down Gov. Tony Evers' "Safer At Home" order Wednesday afternoon, everything has been confusing and dumb. More than usual! If you'd like a quick rundown of the various state, city, and county stay-at-home restrictions that have popped up since then, click HERE. If you'd like to know what various Milwaukee-area bars, restaurants, and other businesses are planning to do in the upcoming days and weeks, read this running list of social media statements. (All businesses are in the City of Milwaukee unless otherwise noted.)
A.J. O'BRADY'S IRISH PUB & GRILL (Menomonee Falls)
As we open, we are going to be practicing a new service model that we believe will be the standard in restaurants going forward. This is based off new programs that are being launched in the industry. As we adjust (and we WILL get it dialed in), we ask you to be patient as we work out the kinks. If you're looking for all the bells and whistles of AJ's 1.0, give us some time, we have a lot of really neat things in the works for 2.0. Here are some things we're going to ask guests going forward as these are the guidelines we've been instructed to follow. [Read them HERE.]
BOARD GAME BARRISTER (Greenfield, Glendale, Wauwatosa) / OAK & SHIELD GAMING PUB
TL;DR: We will open for in-store shopping and in-restaurant dining when these criteria are met. […] Until these three criteria are met, our Board Game Barrister retail stores will be open for online ordering with curbside pickup and our Oak & Shield Gaming Pub will be open for take-out and delivery. They will not be open for in-store shopping on in-restaurant dining. [Read the full post HERE.]
BOONE & CROCKETT/THE COOPERAGE/SNACK BOYS
While we would love to open and get hammered with all the folks we love and miss, we will not be jumping on the opening train at this time. Instead we will continue to follow the guidelines recommended by real life scientists and will focus on the same safe reopen plans we have been working on behind the scenes for a few weeks now. We have some exciting stuff ahead and are stoked to push these plans forward when it's the right time.
BOUNCE MILWAUKEE
The Supreme Court decision today allows businesses to reopen immediately. To be absolutely clear: We will NOT be one of those businesses. We will continue to follow the science. We will continue to prioritize people—your families and ours—over profits. Please support the businesses who are making responsible choices and who will need extra support to survive while their competitors open up prematurely. We will be resuming carryout and delivery on our sixth anniversary, this Saturday, May 16th! We invite you to celebrate with us from your home and will have some party packages posted later this week.
BRASS MONKEY (West Allis)
Hey folks. Short answer: Regardless of the Supreme Court ruling, We are closed except for carry out only. We still remain closed for the foreseeable future. Thank you for all of you reaching out though. We do miss you and will see you soon.
THE BRASS ROOSTER
We will not be rushing to open our stores because any sale is not worth the risk to get someone sick.
CAFE CORAZON (Milwaukee, Mequon)
Though the State of Wisconsin may be "open", all Café Corazón locations remain TAKEOUT ONLY to keep our staff and guests safe. We're excited to serve y'all, but we're going to wait until the City of Milwaukee and CDC both say it's cool. Safety first! We're planning our next phase for May 26th, but we'll keep you posted! In the meantime, thank you for your continued support enjoying your Corazón safer at home.
CAFE MANNA (Brookfield)
As you are probably aware, yesterday the Wisconsin Supreme Court lifted the "Safer-at-Home" order. We at Café Manna will continue to provide curbside pickup, but our dining room will remain CLOSED. Please know, the safety of our customers and staff is of the utmost importance to us. We are taking the time to educate ourselves on the best practices to protect our customers and staff, while still offering you Fresh Yummy Food. We will continue to keep you updated on our plans through our emails and on our social media pages. Thank you for your continuing support. We hope to see you soon. Stay healthy. Stay safe.
CAMINO
Hey folks- we're in the midst of a crazy and confusing time in Wisconsin. While we would love to open up to the public as soon as possible, it seems premature. We're going to continue to do curbside and delivery for the foreseeable future, while reassessing every week. Please stay tuned. Have no doubt that we will get through this, but we have to unite and do it together. Be safe.
CHAMPION'S PUB
We love and miss our customers! Because we love our customers. We will be observing the safer at home order for the foreseeable future. Stay diligent, you rock! If you need anything please let us know.
CHAMPPS AMERICANA (Brookfield)
As of today we will begin the next journey towards reopening. We will not be reopening this week, that much is certain. Just as it was difficult to shut down immediately, reopening just as fast will present the same challenges. We need time to gauge distribution of product conversations with our food suppliers as we have already faced some disruption while doing 35%-40% of our norm. Along with this a new norm came along with our online ordering system and curbside service. We will continue these options and must work now to assimilate this into our very busy business model. As well, we need to ensure through our brewery representatives and distributors that we have all of the fresh product available that will meet your demand. We are still in the process of completing our safety enhancements over this time that will include automating all doors in our building that guests come into contact with. Rest assured, we have taken these times seriously and will continue to do so moving forward.
And most important, we have to gauge our staff's best intentions. Through these times this pandemic has affected all families differently. It goes without saying the level of respect that must be shown to all to ensure that their voice is heard and their personal safety is respected. Please be assured that all of our best interests collectively are at the forefront of our minds.
CITY LOUNGE (Cudahy)
We will be opening starting at 3pm Friday May 22nd.
Join us for your complimentary champagne while supplies last to help us celebrate.
PLEASE NOTE
Our Outside Bar will be open, we will have all seating spaced 6' apart inside and out and limited to 50 guests at a time
Dogs are allowed on a leash outside
City Lounge will be enforcing CDC guidelines within for the time being.
All staff will be wearing masks and gloves.
UVC lighting will be used at bar close and again in the morning in order to further sanitize.
Friday & Saturday nights we will have an entry policy of a touch free forehead thermometer check at the door.
No One under the age of 21 will be allowed under ANY circumstance until further notice.
See you Soon!
CLASSIC SLICE
Hello! We miss seeing you!
We are a bit disappointed by the Wisconsin Supreme Court's decision and will NOT opening our doors to dine-in customers anytime soon. We love y'all and want you to stay safe. We will continue to do call ahead, pick up and curbside! This includes wine and beer. We will also still be doing pizza bonds through the month of May!
Please be kind out there!
Stay safe and be well!
DRINK WISCONSINBLY PUB
Our #1 priority is still the health and safety of our customers and staff. As much as we'd love to open our doors and see everybody, the city of Milwaukee isn't quite ready and we're going to be waiting for further guidance. Hunker down and be well. We look forward to seeing you all again soon.
HAWTHORNE COFFEE ROASTERS
In accordance with City of Milwaukee order, and our own desire to put the health and safety of people before profits, we remain open for carry out and curbside pickup only.
As a reminder, our preferred way for you to order is to visit HawthorneToGo.com to place and pay for your bean and/or beverage orders. You will be given a pickup time (generally 15 min out) and will receive text notification when your order is ready. Once you receive that notification, you may pop into the shop to grab your items. You may also call us from your vehicle and we will deliver your items curbside.
Please wait until you receive your notification before entering. This will help to prevent over crowding during busier times. As much as we would love for you to stay and chat, we do ask that you "keep 'er moving" for the health and safety of everyone.
If you do need to enter the shop to place and pay for your order, you may be asked to wait outside while we prepare your beverage. Please do not be offended as we are simply trying to maintain social distance. We will bring your drink(s) out to you on the sidewalk or to your vehicle when they are ready.
Onsite consumption of beverages is still prohibited, so our patio and sidewalk seating is closed. On June 1, pending government approval and recommendations from health officials, we plan to re-open social distanced outdoor seating. Our cafe seating and event space will remain closed.
By the end of June, we will revisit our seating options and hours of operation. We will use the data available at that time to make the best possible decisions.
Thank you for your continued support. We can't wait until we're all together again…until then, stay safe and healthy.
HIGHBURY PUB
Highbury Pub will not be opening anytime soon. Not even close bud….Please wear a face covering.
HOOLIGAN'S
Hooligans believes that for now, staying at home is best. We are excited to see everyone, and will open our dining room to you as soon as it can be done safely for customers and staff. We are actively working on a plan to open safely, while maintaining new stricter standards that will keep everyone healthy. In the meantime, we will continue serving you curbside and carryout!
IRON HOG SALOON (Port Washington)
Thanks for the Huge support from all the citizens that may have there own opinions right or wrong we control our lives. And not the government. Loved the support! And hope to have a amazing summer!
LA CAGE
La Cage will also wait for further guidelines from either the state or city of Milwaukee. We have developed a plan and protocol that we think will allow business activity while keeping customers and staff as save as possible.
LANDMARK LANES
While safer-at-home guidelines in Milwaukee remain in place, we will remain closed. We can't tell you how eager we are to reopen and see you all, but the safety of our staff and our customers is our absolute top priority right now. We are in the process of working out a plan for safely reopening, which will include strict precautions to ensure we are promoting the highest standards of health and safety. Please keep an eye on our Facebook page and our website for the latest updates.
LIGHT PALACE PUB & GRILL (Cudahy)
As many of you have heard the safer at home was over turned. However, many cities and counties are maintaining their orders, as everything is so confusing at this time we have decided to remain open for curbside take-out only for now. Although we are over the moon excited to see everyone back at the Light Palace we will be working diligently in the coming days to restock and get everything in place to keep you and our amazing staff safe and happy. We will keep everyone posted as to the big day.
THE MOTHERSHIP
We're not opening anytime soon! The take out window is still open. We will probably be expanding our carry out ability. Stay home, read entire articles, and listen to doctors and scientists!
THE NATIONAL CAFE
Though we miss everyone a lot and can't wait to reopen our dining area, to do so at this time seems too hasty. Things are still super crazy and unpredictable right now and we will continue to reassess week-to-week and provide updates as needed. Thank you so much for your patience and understanding! Our Hot Mess Brunch & Weekend Specials will remain available for curbside pickup! We're in this together and we'll get through this together. Stay safe, be considerate, & see ya this weekend, Milwaukee!
NESSUN DORMA
I know things have taken a crazy turn in the state regarding opening back up again. I know Milwaukee has set its own guidelines and I really appreciate the fight from our city in this. Even with that in place, I feel that it is important for me to set my own guidelines. I choose the health of my community, my employees, my family and myself. This is why I will not be announcing an anniversary party. This is why I will not be announcing a day that we will begin dine-in. Believe me, no one wants to see the walls of Nessun Dorma filled with people more than me. But, it isn't worth the health of the people I love and the people that helped build Dorma into the kick-ass restaurant that it is. When we do open, we will follow all the guidelines. We will do whatever it takes to get us back to normal. And when that happens…WE PARTY!!!!!!! Thank you again for all of the orders, the support, the love. We will open again…as soon as it feels right for everyone.
THE PACKING HOUSE
We stand by this statement [from April 20] still today and for the long term foreseeable future:
The Packing House Restaurant has had the honor of serving the Milwaukee community since 1974—along the way we've experienced many highs and lows with you, and more recently we've all had to navigate the challenges presented by the COVID-19 pandemic.
We are humbled by your incredible support as we've shifted our services to Drive-thru and curbside carryout—this is the only safe way we can serve you right now and we will continue to work hard to ensure a wonderful "At Home Supper Club" experience when you order from our scratch-made kitchen.
Over the last few days there have been various individuals and groups, including bar and restaurant trade associations, calling for reopening restaurants as soon as May 1—we believe this is far too soon to welcome back customers for sit-down service.
For the safety and health of our staff, guests, and community, The Packing House Restaurant will not reopen its dining room until our local government allows us to, and when such a time comes, our ownership and management will thoroughly evaluate the situation to determine when is the right time for our dining room to reopen to sit-down guests.
The bottom line is your health, our health, and the health of our community come before anything else.
We thank you once again for your continued support—we do look forward to welcoming you back inside the dining room when it is truly safe.
Prayers for safety and health go out to your family from ours. We will get through this together and be a stronger and healthier community for it.
PALOMINO BAR / HONEYPIE CAFE
We miss operating a killer bar, but the safety of our team, our guests, and our community is our number one priority. For the foreseeable future we will be operating Palomino, and our other businesses, for pick- up and delivery only. Milwaukee, we are distant because we love you! Thank you for the continued support!
POINT BURGER BAR (Milwaukee, Pewaukee, New Berlin)
All Point Burger Bar restaurants will remain open for carry-out and delivery apps ONLY regardless of the WI Supreme Court's ruling lifting the Safer at Home Order. The health of our employees and customers is our main priority. Thank you for your support and we hope to be able to provide our unique dining experience to you all once again soon. Stay safe everyone! Please continue to order our yummy burgers (and everything else!) and #SupportLocal.
PUDDLER'S HALL
No, we're not open. We won't be open tomorrow, or over the weekend either. We will be open from 5pm-7pm next Wednesday for carry-out food and growler fills. What kind of food do you want us serving next Wednesday?
RED LION PUB
Hey guys, although the stay at home order has been officially lifted by the Supreme Court we will be remaining closed to dine in until further notice. Of course we will reopen to the public as soon as we feel ready but there are certainly some hurdles and adjustments ahead of us before we can do so. We are still unsure of what will happen in the next few days or weeks but we will still be offering curbside pickup and online delivery until we officially re open.
REDBAR
Do people think that we bar owners are just sitting in our establishments, have them in pristine and sanitized condition, with a full liquor room and cooler full of product ; ready to just flip the open sign on? Do people also think that things may not change again tomorrow, or that guidelines will be set that we owners will have to accommodate and implement? PLEASE stop harassing my staff via phone while they take orders for curbside pick-up from The Saucy Swine. We will make all necessary decisions and announcements in due time. Thank you. We really do miss you. Very much. But please…chill out and let us all get our bearings.
THE RUBY TAP (Mequon, Wauwatosa)
We desperately want to see all your familiar faces back at the bar but, we'll remain closed for dine-in as we assess how best to reopen and keep everyone safe and sound. We'll continue to offer wine for curbside pickup, something we're grateful so many of you have taken advantage of. Thanks for your support!
SALOON ON CALHOUN (Brookfield)
Saloon will be OPEN TO THE PUBLIC on WEDNESDAY MAY 20th! Details of newly being scheduled events to follow. Saloon WILL follow all laws on our re-opening, more details to follow as more information becomes available! CanNOT wait to see so many beautiful faces again soon!!! (We are still offering Carry-Out and delivery 4-7pm Today, tomorrow and Friday!) Please let us feed you!
SIPP & PURR CAT CAFE
In light of the recent ruling by the Wisconsin Supreme Court pertaining to Wisconsin's "Safer at Home" order, Sip & Purr's position remains exactly the same as last week…that we have an obligation to our staff, our community and our cats to follow science and medical advice when it comes to reopening. We're busy finalizing safety measures and policies that will be put in place to ensure a safe, fun experience when Sip & Purr does reopen to the public.
In the meantime, we'll continue doing what we do best—saving cats! We're still conducting one-on-one adoption appointments….so if you're in the market for a new furry family member, you're in luck! Complete a cat adopter profile at Lakeland Animal Shelter. Once your application is approved, we'll reach out to you to set up a one-on-one adoption appointment!
We (and our cats!) appreciate your continued support and patience—and can't wait until we can once again safely gather
SLUGGO'S SPORTS PUB & GRILL (Brookfield)
First and foremost, the safety of our guests is of paramount concern. For several weeks now we have been planning for our eventual re-opening, this decision does not change that. We are still preparing for your safe return to Sluggo's. Until such time that I feel confident that we can serve you safely, Sluggo's will remain open for CARRYOUT ONLY. I fully expect that our Legislature and the Governor will sit down together and rationally discuss how to re-open Wisconsin businesses, in fact, I hope they are already in conference! This is the way we expect our elected officials to act, co-operatively, sensibly and without partisanship…..like adults! After all, they are supposed to be serving all of us, regardless of political party.
STAG BARBERSHOP
We are just as excited to get back into the groove as you are—and when we do, it will be glorious. But with all the uncertainty, we will remain closed until further notice. We will be reaching out soon to start rescheduling appointments. (We will not be taking any new customers at this time.) Looking forward to seeing y'all soon. Until then stay tuned and stay safe!
STENY'S TAVERN
Steny's is still open for Curbside TO-GOs only! The doors are not open for dine-in quite yet. We are hoping for next Wednesday, May 20th. In the meantime we will continue to do carry out food until Sunday night. Plus Beer Growlers, Bloody Growlers AND Steny Bomb Kits!
Hopefully Wednesday, May 20th back open to the public starting at 11am! We have all tables spaced 6ft apart and half the amount of bar stools. All plastic cups and silverware. Hand sanitizer machines everywhere. All employees will be wearing masks and gloves at all times. Even Natalie. Bouncer with a clicker at the door. We will be learning new and more safety precautions before next Wednesday. But we cannot wait to see you all!
SUGAR MAPLE
We remain open for curbside pick up and take out Growler. You may not sit at the bar or drink indoors until further notice. Thank you for your support and understanding.
TELLO'S GRILLE & CATERING (Port Washington)
Okay so tomorrow we will open the door at 9:00 AM for dining in sorry we make you wait for our awesome margaritas but that is in the past come tomorrow and you can now enjoying a good margarita or a cocktail of your preference see at 9:00AM!!!!
THIS IS IT!
We have heard the news about the Wisconsin Supreme Court's ruling, and are fielding details as they come in. Remember we are getting the same information you are, with the same timing. At this point we know about as much as you do.
That said, we are not jumping to any conclusions or making any decisions about reopening. We, like you, want life to return to normal, but we will not force any actions or decisions that compromise health and safety. Our decision to reopen, when it is made, will be made rationally and under the guiding authority and scientific prowess of local Health and Government bodies.
Unlike the 4 justices who voted in the Wisconsin Supreme Court today to overturn Safer at Home, will not compromise our integrity by absconding with what we believe to be a universal responsibility to care for our fellow human beings.
All of our live streaming shows will continue as planned and scheduled. We are proud to have kept, and plan to continue to keep, the drag scene alive here in Milwaukee alive during this pandemic. Continue to watch our streams safely at home, and we will open the bar again when safe and appropriate.
THE TIN WIDOW
We are officially announcing that The Tin Widow will not yet be reopening for regular business. While we miss all of you, we do not yet feel comfortable with the risks reopening would represent for our staff, the residents of our building, and our guests. We will continue to offer cocktail kits to-go on Thursdays, Fridays, and Saturdays from 3-7pm until we are able to resume traditional service. We appreciate your continued support and wish each of you safety and health. We look forward to serving you just as soon as we are able to do so safely.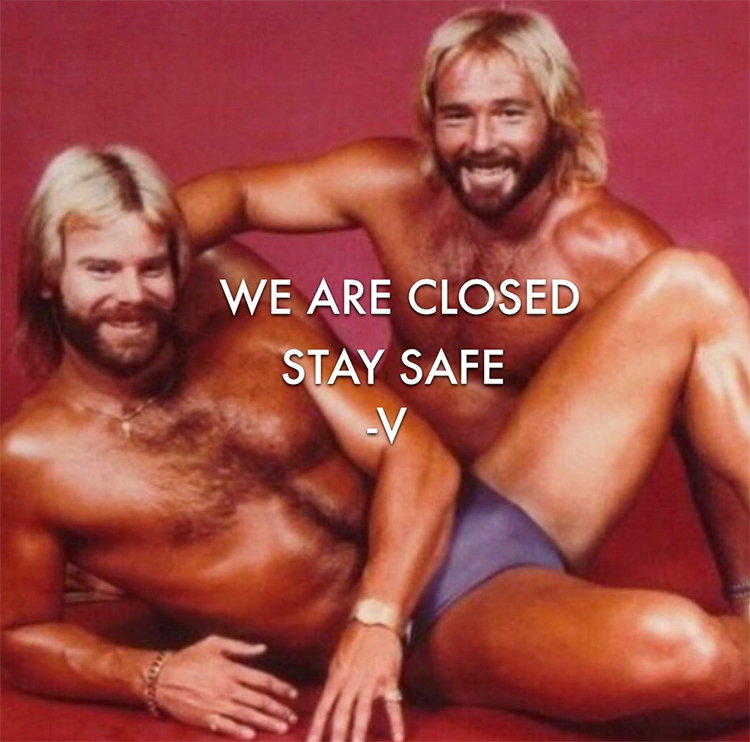 WITHIN REACH BAR & GRILL (Cudahy)
We are just as anxious as everyone else is to re-open. We have some minor work to do. We also need to make sure everything is ok with the city. Stay tuned.