Last week, Coca-Cola announced its intentions to discontinue TaB. First introduced in 1963, "The Drink For Beautiful People" is widely regarded as the world's first diet soda. Though its popularity and availability have both dwindled since the 1970s, there remains a small-but-devoted group of consumers who still love the seminal soft drink.
One of those diet cola devotees is someone who simply goes by the name "Tabman." The Milwaukee man, who local music fans might know as the vocalist of Holy Shit!, has been drinking TaB religiously since he was in high school. With more than 20 years of loyal TaB drinking to his credit, Tabman obviously took last week's announcement hard. As he fights to get in touch with Coca-Cola corporate and save the endangered diet cola, we asked Tabman about his long-running appreciation for the polarizing pop, his TaB tattoo, the lengths he's gone to in order to get a can, and whether he thinks the beverage will be gone forever.
Milwaukee Record: What's your actual first name? It just hit me that I don't think I ever knew this.
Tabman: I can't put that into print. I'd have a lot of people after me. Pick up a copy of the Wall Street Journal from April 13th, 2001. There is a piece about TaB. You'll find the answer there.
MR: How long have you gone by "Tabman" and how did the nickname come about?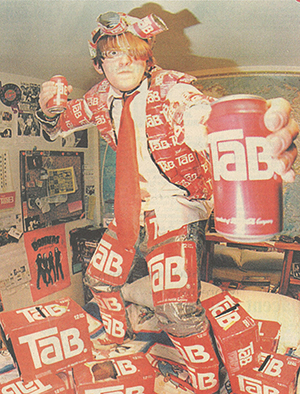 T: It started in high school. Some friends of mine that I met through theater stuff turned me onto it. I quickly became obsessed. I'd bring it to school and drink it with my lunches. Then around sophomore year, my good friends and I started a band called "The Supervillains." We all had different aliases and costumes.
I spent a lot of time in my parent's basement building an aluminum suit of armor out of TaB cans. I remember every night watching Conan O' Brien and carving Tab cans. My good friend Steve Deau helped me with the joints, so that I could move around on stage. It was insulated too, so it wouldn't cut me up. That is how "Tabman" was born.
MR: Why do you love TaB? What makes it so special to you?
T: I love the taste. I love the can and the design. It has a distinct bite that no other cola has. I love that people who grew up with it in the '60s and '70s either love it or really hate it. The small fan base that it has are diehard. It's also great with whiskey.
MR: When did you first have it and how long have you been drinking it?
T: I was 14 or 15 when I first tried it. I used to drink a lot more of it than I do now. Probably six to seven cans a day. It's pretty heavily caffeinated, as it's technically a diet cola, although its not advertised as such. TaB used to advertise "One Crazy Calorie." At some point though, they got rid of the calorie. Who needs it?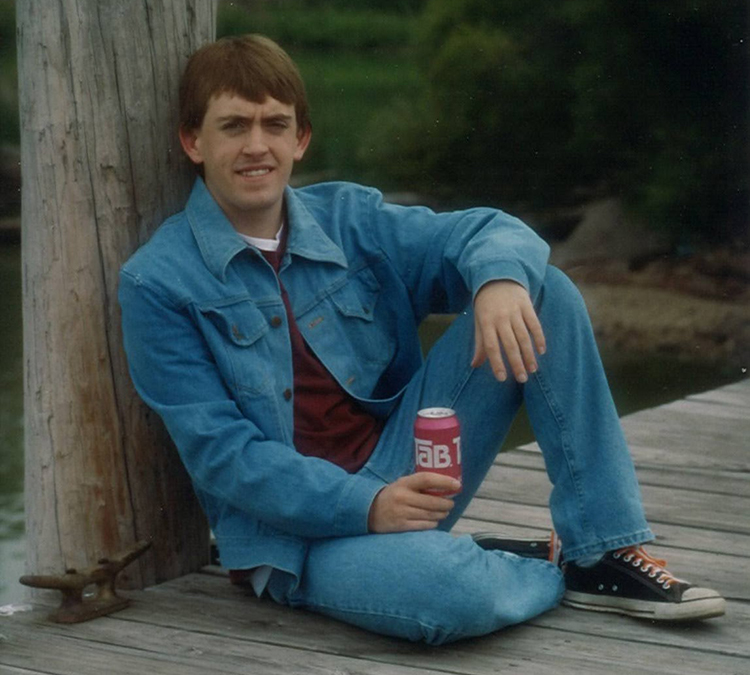 MR: What are the furthest lengths you've gone to in order to get a TaB?
T: I never had to try very hard because it's always been readily available in most parts of Wisconsin. When my band Holy Shit! goes on tour, we would have a harder time finding it on the road, but had no problems in the south and on the east coast. We took it with us on a couple of our Japan tours so that we could share it with the people that we stayed with.
MR: You have a TaB tattoo right? And do you have any TaB merch or collectibles?
T: I do have a TaB tattoo. I got that the day I turned 18 in Green Bay. No regrets. I have quite a few collectibles too.
MR: What was your reaction to hearing last week's news about TaB being discontinued?
T: Honestly, I was crushed, but not surprised. This isn't the first time that Coca-Cola has threatened to discontinue TaB. I remember the first time—since I've been a fan—in 2002, I believe. We were calling the bottler every single day and complaining. We started a petition online and got thousands of signatures, somehow, without any social media. I had to mail in all of the pages of signatures to Coke. I never got a response from them then, but they changed their mind, and that is giving me a lot of hope now. There have been several threats in the last few years, but mostly it was just distributors not carrying it anymore, so fans were effected regionally. Wisconsin was always a TaB wonderland.
MR: I know you've been trying to get in touch with Coke this time around too. Have you heard anything from them yet?
T: Nothing. They've been completely unresponsive to social media and e-mail. Not shocking at all. I won't give up anytime soon.
MR: Why do they need to rethink their decision and keep TaB in their arsenal?
T: I don't understand what the problem is, to be honest. There are diehard fans all over the country that are losing their minds right now. They certainly aren't losing any money producing TaB. There will always be nostalgia for things like it too. Even if they do discontinue completely, they will bring it back as a retro product in a year and make a boatload of money.