This weekend will mark the 41st, 42nd, and 43rd consecutive days of peaceful events protesting police brutality and the murder of George Floyd. Here are just a few of the weekend's events, sure to be joined by more.
FRIDAY, JULY 10
District 1 Police Station (749 W. State St.)
6 p.m.
ALL ARE WELCOME! This is a peaceful protest is for ALL THE MOMS who are tired of the police having no regard for the lives of the kids of our communities.
Be READY TO PRAY, bring your signs, come sit, chant, listen, and make YOUR VOICE heard… OUR BLACK CHILDREN'S LIVES MATTER!
SATURDAY, JULY 11
Saint Francis of Assisi Church (1927 N. Vel R. Phillips Ave.)
9 a.m.
Please join us this Saturday for the Black Catholic March for Racial Justice! The march will begin at 9:30am at St. Francis of Assisi Parish (1927 Vel R. Phillips Avenue, Milwaukee). Participants are asked to begin gathering at 9:00am and to wear face masks. The march will proceed to the former site of Blessed Martin de Porres Parish (7th St. and Galena) and conclude at St. Benedict the Moor Parish (930 W State St., Milwaukee), covering a distance of 1.3 miles.
This march will be a prayerful and reflective public display by Black Catholics, pastors, and archdiocesan staff from the following offices: Black Catholic and Ethnic Ministries, Urban Catholic Ministry, Dignity of the Human Person/Social Justice Ministry, and Community Relations. The initiative for the march came from Fr. Michael Bertram, OFM Cap., pastor of St. Francis of Assisi parish, and the event is supported by the Archdiocese of Milwaukee.
The Black Catholic March for Racial Justice will seek to:
1) Publicly support and stand in solidarity with African Americans and members of the Black community, who suffer racial injustice.
2) Denounce the sin of racism and racial injustice.
3) Commemorate the commitment of the Catholic Church in Milwaukee to support African Americans and the Black communities through historic ministerial efforts of the following parishes: St. Benedict the Moor, Blessed Martin de Porres, St. Francis of Assisi, St. Boniface, and more recently St. Martin de Porres and All Saints.
Mitchell Park (524 S. Layton Blvd.)
11 a.m.
This event is to celebrate everyone who has peacefully protested for racial inequality, against police brutality and fighting to end racism. Those who have marched and for those who wanted to be a part of it but couldn't march. Here's you opportunity to be a part of it. There will be a kickball game for the activists of our community. If you want to donate food or supplies please let me know. Vendors are welcomed (please inbox me) This is a beautiful opportunity to meet some of the people who lead the way. Come celebrate the UNITY!! Come celebrate the love! #BLM
Brookfield City Hall (2000 N. Calhoun Rd., Brookfield)
1 p.m.
Attention everyone in the Brookfield area! Sunrise Brookfield is hosting a protest and march for justice on July 11th at 1pm. Please join and bring as many of your friends and family as possible! We originally planned this protest to be advocacy on how the green new deal contributes to the black lives matter movement. Recent events in our community have brought to our attention that not only must we commit to the green new deal, but also defunding the police in our gentrified suburb. Due to the injustice done against a 13-year-old boy, we must call for the resignation of 12 officers and reform for our Police department.
Feel free to contact Zach Yiannis at (262) 777-0151 about the green new deal and Langston Ford at (262) 327-7623 with questions.
Kletzch Park Falls (6400 River Pkwy., Glendale)
1 p.m.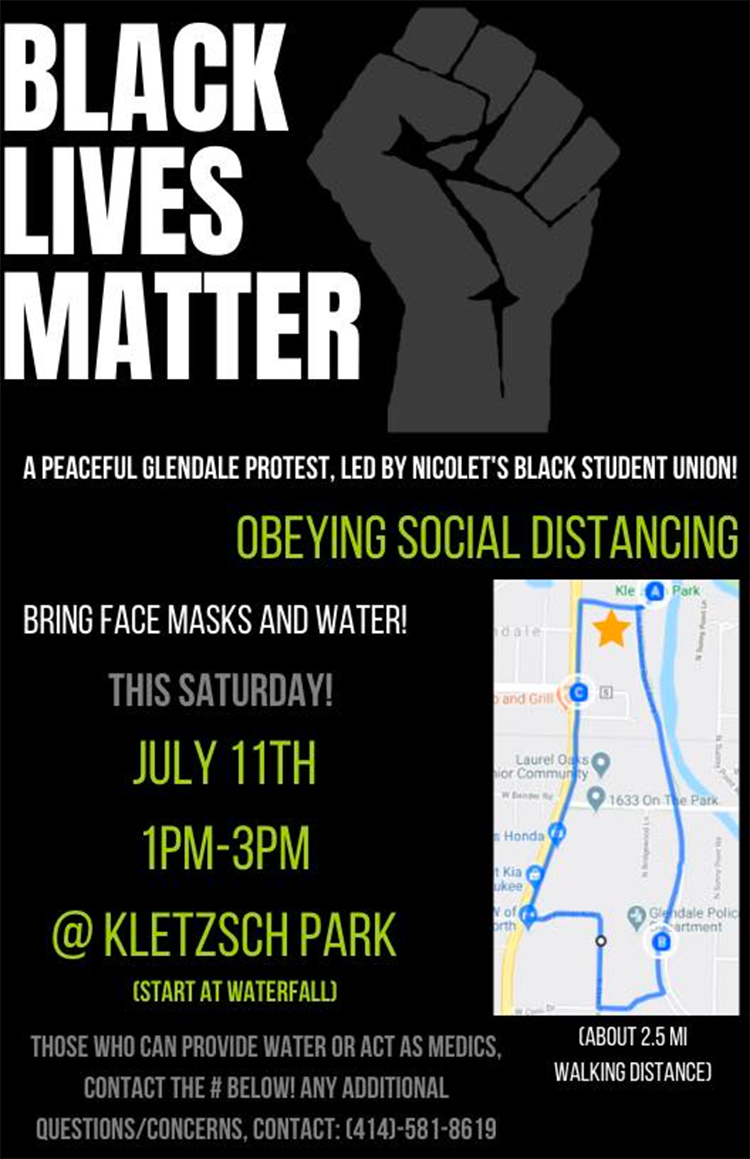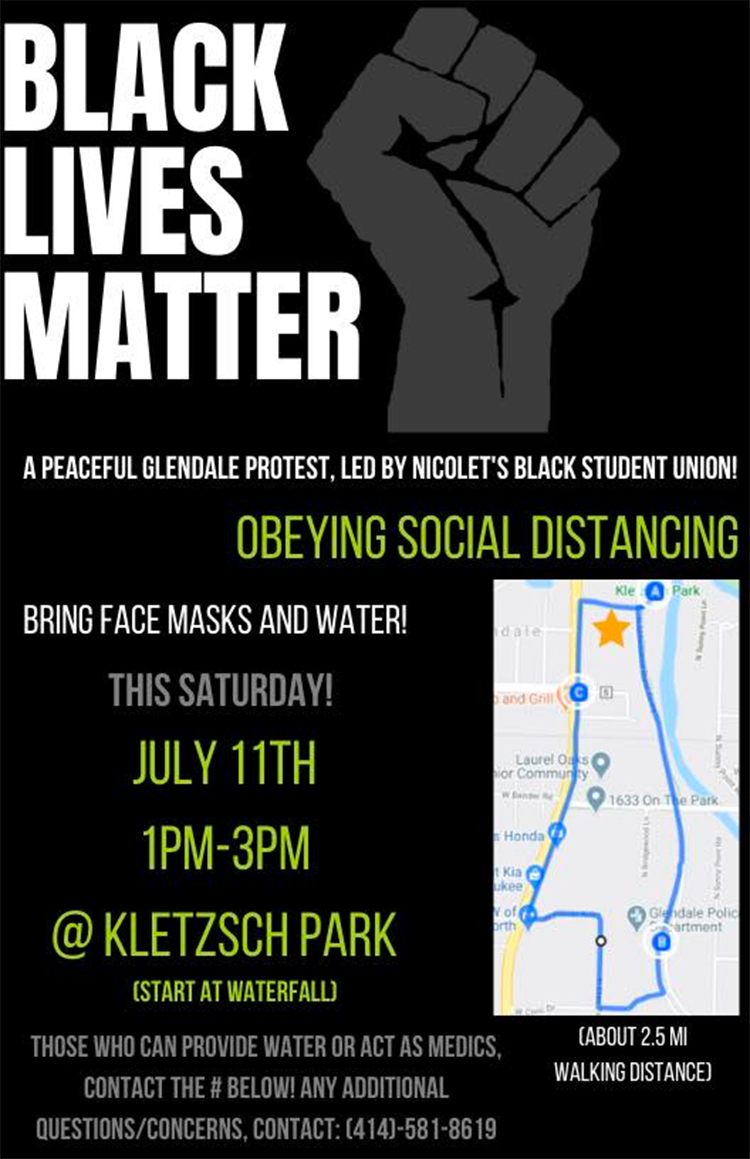 Hart Park (7300 Chestnut St., Wauwatosa)
3 p.m.
Join the Black Educators Caucus for another #weechalkyourwalk. This time we are taking the demands of the National Black Lives Matter at School Week of Action to Wauwatosa as we stand in solidarity with the families of Jay Anderson, Alvin Cole, and Antonio Gonzalez. Bring yourself, chalk, and signs if you have them. We will meet at Hart Park by the play area. We will walk and chalk the park and sidewalks with Black Lives Matter solidarity messages, Fire Officer Mensah, and Justice for Jay. We will gather at the stage for a rally and our demands for Chief Webber. This is a Family Friendly space!
Four Demands of the National Black Lives Matter at School Movement
*Recruit and retain Black educators
*Fully Resourced Restorative Practices
*Black History and Ethnic Studies in all schools
*Fund Counselors, Not cops
SUNDAY, JULY 12
Cathedral Square Park (520 E. Wells St.)
3 p.m.
The People's Movement of Milwaukee will be holding our SECOND Art Gallery and Fundraiser THIS SUNDAY July 12th, 2020. Location is at Cathedral Square Park.
3-7pm
PMM gathers local Milwaukee artists to sell original in support of the Black Lives Matter movement. All proceeds will be directly donated to organizations across the Greater Milwaukee area.
If you'd like to participate and showcase your artwork the deadline to contact us or to submit is July 12th 2:30pm.
It's been HOT lately so be sure to wear sunscreen and to hydrate! If you have crates of to donate feel free to bring them at any time.
If you'd like to give monetarily so that supplies can be purchased as well (Masks, Water, Snacks, Etc) our currently used Venmo is @TomiBordeaux
*REMINDER* We advise for your safety and everyones safety you wear a mask during this gallery.
Tables and tents will be provided!