Some places come and go, while some places become icons. Mandatory Milwaukee is all about the latter. Join us as we revisit beloved and well-worn local staples with fresh eyes, and explore how they might figure in the city's future.
The year was 1934. The Braves were close to two decades away from relocating to Milwaukee, Hawaii and Alaska were still a quarter-century from achieving statehood, Clark Gable's It Happened One Night won Best Picture, and John and Clara Mazos opened a small burger joint on 14th and Lincoln.
Though the country was in the midst of the Great Depression, World War II was on the horizon, and times were tough in the early-going, Mazos Hamburgers (3146 S. 27th St., 414-671-2118) managed to stay afloat and find a loyal customer base on the strength of tasty hamburgers they sold for a nickel apiece. As a result of that early success, Mazos moved to a more spacious location on 27th Street in 1948, where the restaurant still stands today. After more than 85 years in business, this unassuming luncheonette continues to be family-owned—now in its third generation of Mazos management—and committed to serving some of the best and most iconic burgers in Milwaukee.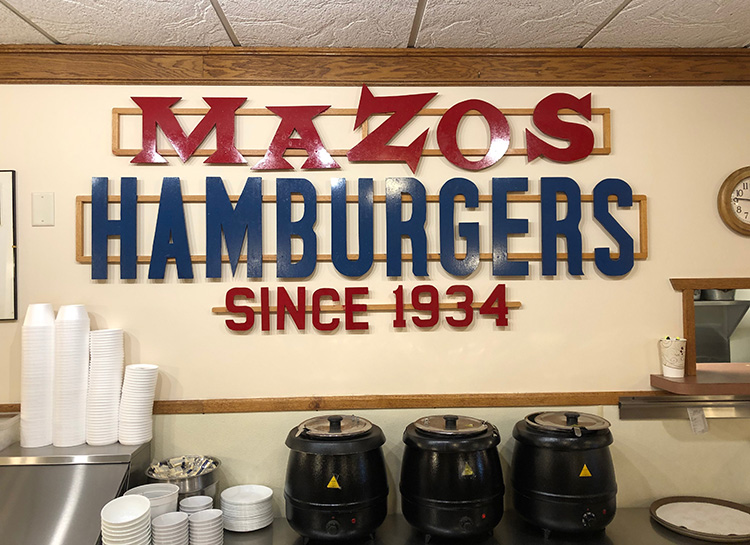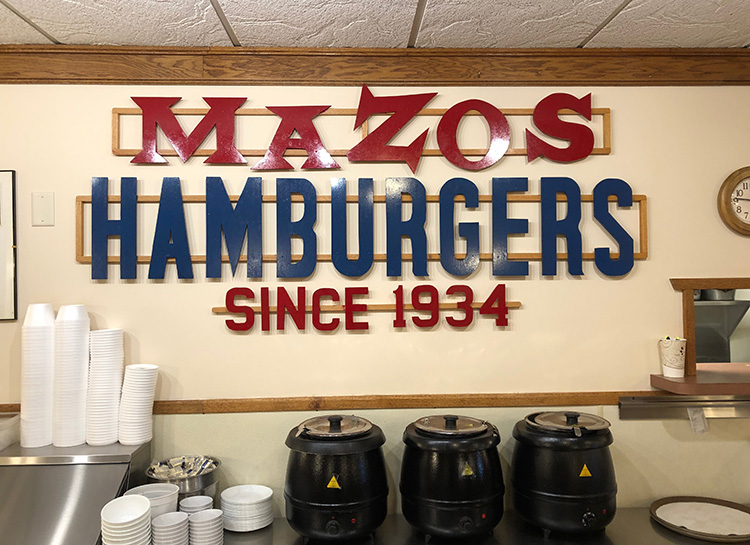 The restaurant is now run by Jackie Mazos, who is John and Clara's granddaughter and the daughter of Nick and June Mazo (the second generation of family employees, who actually met at Mazos and got married in the 1950s). Though ownership and management has been passed around the Mazos family in recent decades, the spirit of Mazos Hamburgers hasn't changed much since it opened generations earlier.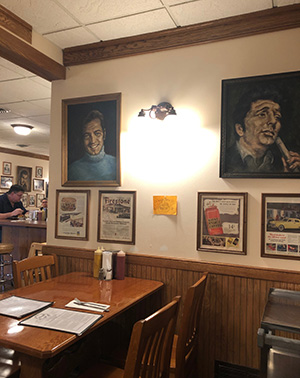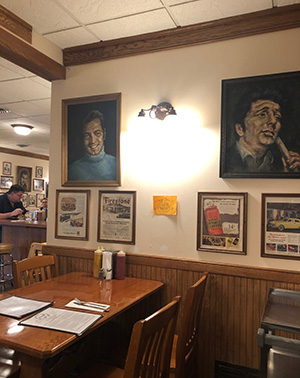 That said, the business isn't completely frozen in time. Through the years, there have been a few refreshing changes that have improved the property and the product alike. In the early 2000s, Mazos swapped out its booths in favor of wooden tables to allow more patrons to enjoy a meal in comfort. The interior update also brought new decor in the form of vintage magazine ads, such as colorful adverts for the '49 Studebaker and Eight O'Clock Coffee (back when it was sold for just 14 cents a bag!).
In terms of the interior touches, the cozy L-shaped diner with approximately 10 tables and limited counter seating is probably best-known for its array of oil paintings honoring music legends like Andy Williams, Nat King Cole, Dean Martin, Tom Jones, Engelbert Humperdinck, and more. The paintings also fit the restaurant's big band and lounge music soundtrack, which proves to be a perfect pairing for the equally timeless American fare Mazos serves up daily (except Sundays and Mondays when the restaurant is closed).
Time has also brought a few adjustments to the food, but those changes—things like deciding over 60 years ago to grind their own beef fresh every day and reducing its number of menu items around that same time in order to focus on their specialties—have all helped make a great thing even better. These days, the entirety of Mazos' menu can fit on one side of a single sheet of paper…with room to spare, so you can bet everything that's left is a winner.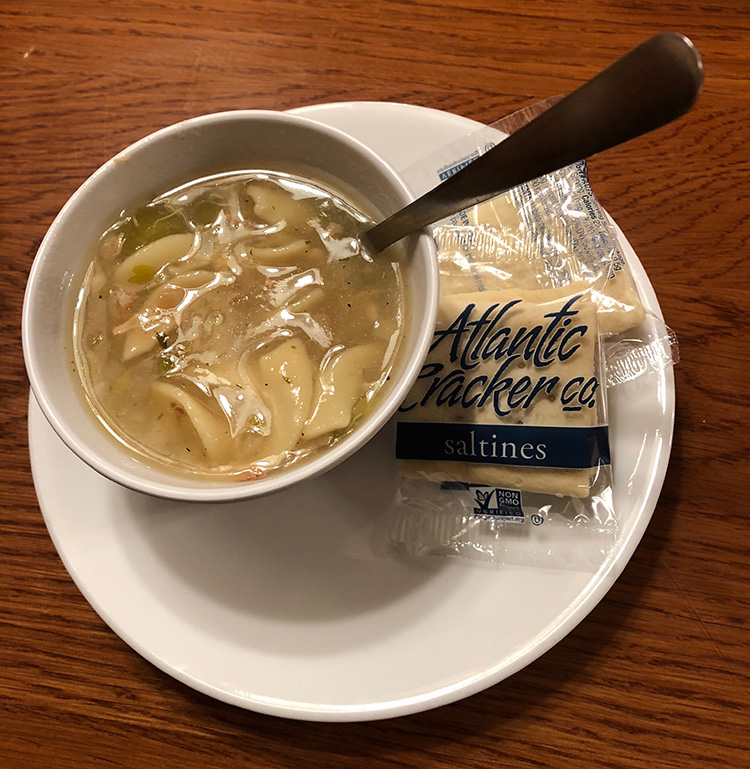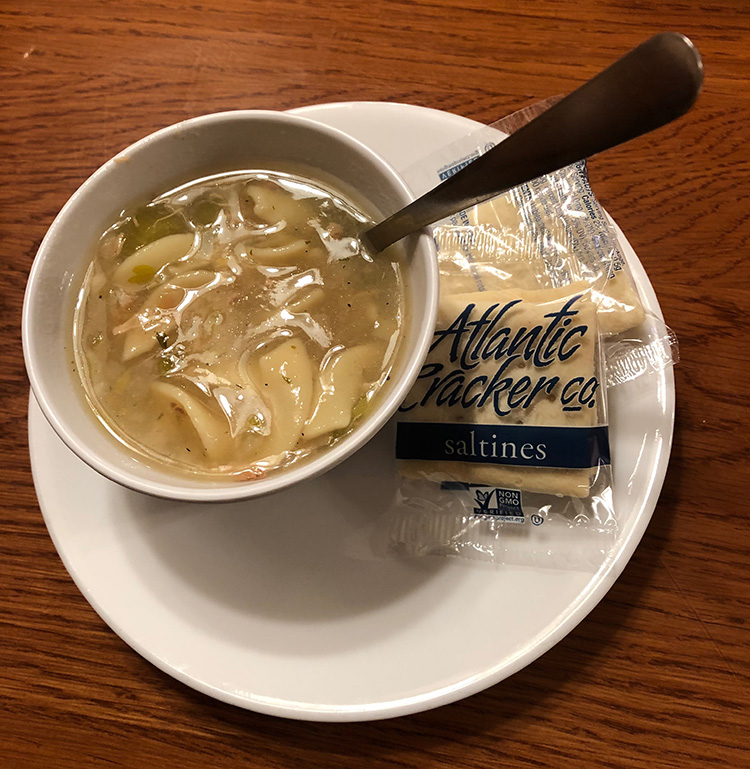 Outside of burgers, Mazos is known for its homemade soups. There are two different varieties (and chili is available seasonally) served up daily for $2.05 a cup or $2.80 per bowl. Soup can also be included as one of two sides in combo meals, which we took advantage of during our last visit when we enjoyed a cup of chicken noodle soup with generous hunks of poultry, savory broth, tender pieces of carrots and celery, and an abundance of egg noodles. If you're not feeling soup at the moment, Mazos also offers simple and satisfying sides like French fries, American fries, cottage cheese, baked beans, applesauce, and coleslaw.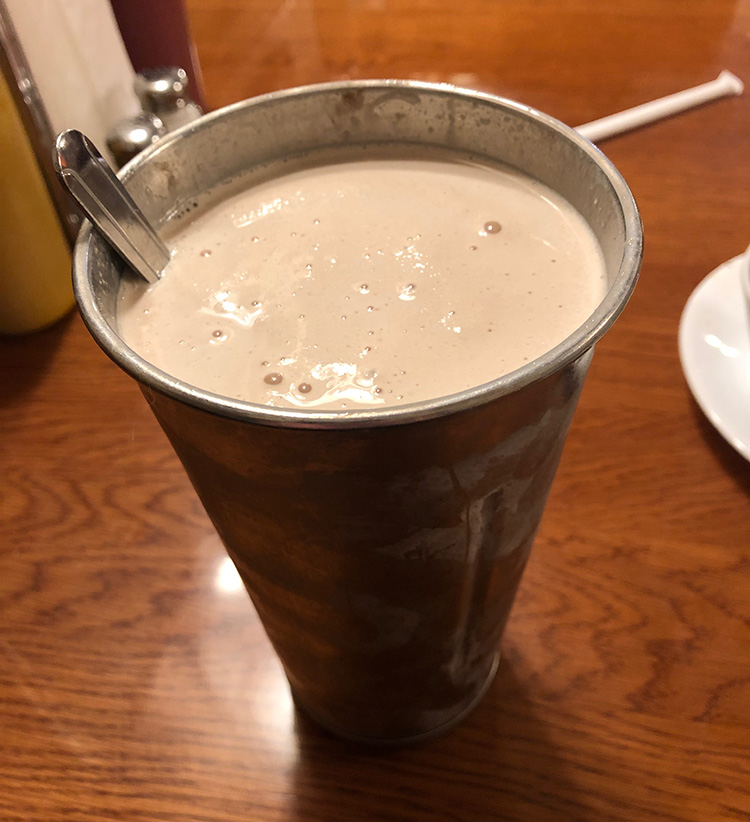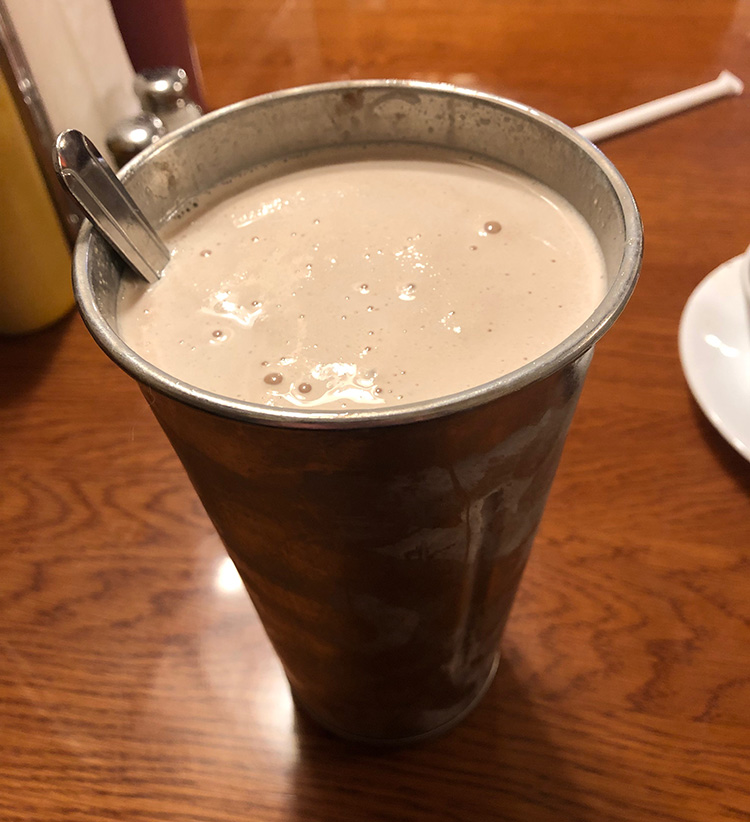 Of course, a trip to Mazos wouldn't be complete without indulging in a shake or a malt. As the menu states, they're "served the old fashioned way in a frosted malt can." During our last visit, we bypassed comparatively more exotic flavors like raspberry, banana, strawberry, and vanilla in favor of a classic chocolate malt. Pre-inflation pricing is no longer in effect, but the $3.95 cost is more than acceptable for a gigantic metallic vessel filled with enough rich and creamy malt—or shake, if you're into that sort of thing— to satisfy two guests.
Sure, some of the 13 total combo meals consist of outliers like grilled cheese (only $5.35!), a B.L.T., the Reuben, and a patty melt, but you'd be foolish to go to Mazos Hamburgers and not try a burger. It's in the name, after all. The small and simple menu offers a number of burger variants, such as a hamburger, cheeseburger, mushroom burger, and its "Burger Supreme." With a malt throwing off our day's caloric intake already, we decided to go all-in with the bacon cheeseburger combo ($8.60, including two sides).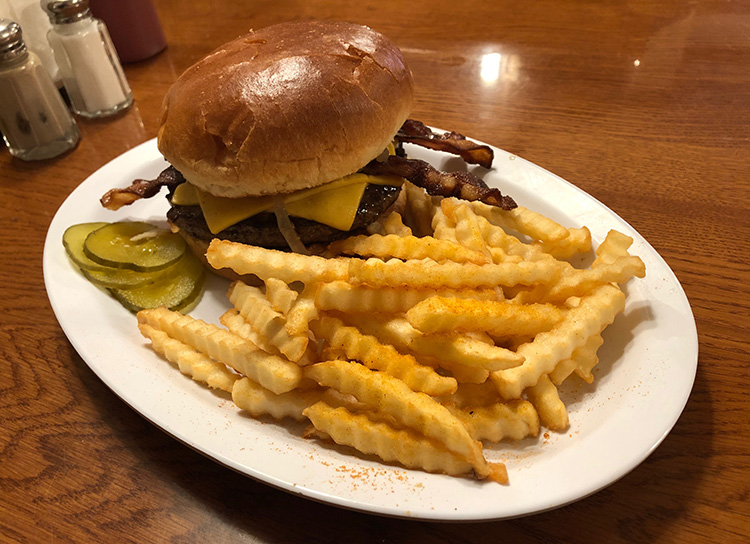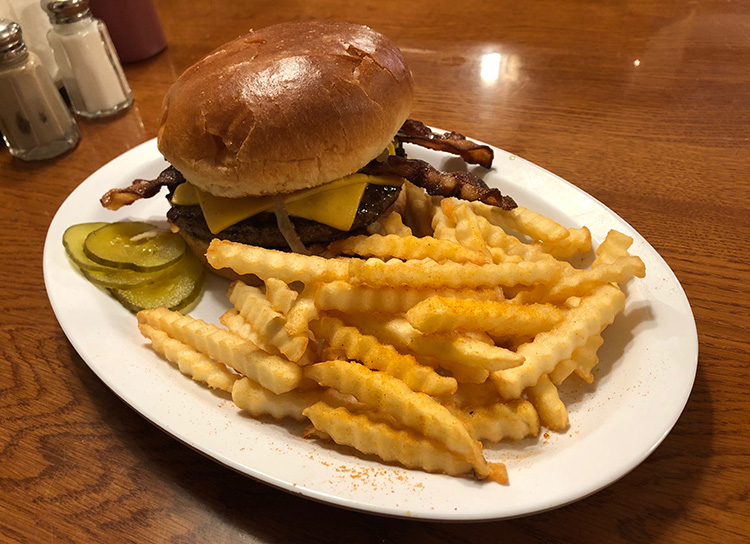 Within 10 minutes, one of Mazos' friendly servers brought out a platter that was populated by seasoned crinkle fries and a medium-well-cooked beef patty topped with crisp bacon slices, melted American cheese, grilled onions (raw onions or no onion at all are also options), and pickle medallions pressed between a soft, lightly-buttered bun.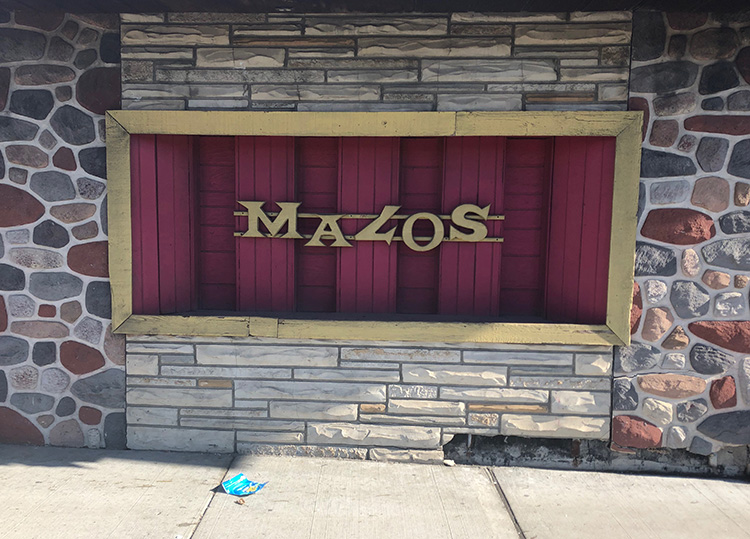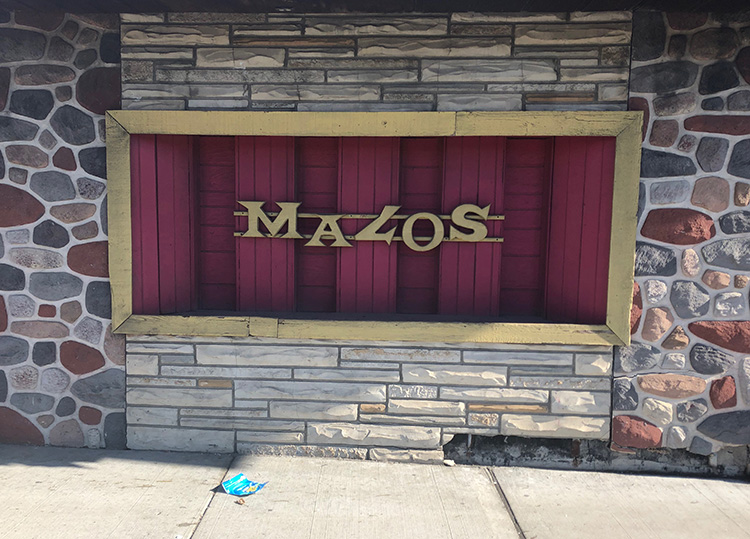 As we alternated between bites of our delicious bacon burger and crinkle fries (which we dipped into the remnants of our malt cup), we listened to a Frank Sinatra song, analyzed the faded ads and aged paintings, and wondered just how many people have enjoyed a dining experience similar to the one we were experiencing over the course of Mazos Hamburgers' long and incomparable run in an ever-changing city.
While finishing our burger, we overheard an employee asking a guest how he liked his meal. "It tastes just like it did 50 years ago," the customer answered. Though we haven't been in Milwaukee (or on Earth, for that matter) long enough to confirm this ourselves, we're inclined to believe him. With any luck, modern day customers will have the opportunity to make a similar claim about Mazos Hamburgers and its timeless diner delights 50 years from now. Then again, with as good as Mazos is, luck might not be necessary.