This story begins in the final days of 2016. As one year drew to a close and gave way to 2017, Midwest Diner decided to call it quits. Unbeknownst to anyone, the sudden closure of the venerable 24-hour greasy spoon and vestige of "old Bay View" sparked a subtle shift in the neighborhood that would find one business moving and another opening in its place.
Last June, Riviera Maya announced plans to move about a block down the Bay View thoroughfare into the vacant building that formerly housed Midwest Diner. Once the Mexican restaurant completed renovations last fall, it left a vacancy at its former home at 2258 S. Kinnickinnic Ave. The place didn't stay empty long. In the last week of 2018, Sabor Tropical Restaurant & Lounge (2258 S. Kinnickinnic Ave., 414-988-8030) quietly opened up in the old Riviera Maya digs, thus completing a round of restaurant musical chairs on Bay View's main drag. A few days into the new year, Milwaukee Record set aside its resolution to try out the "Latin-inspired kitchen and lounge."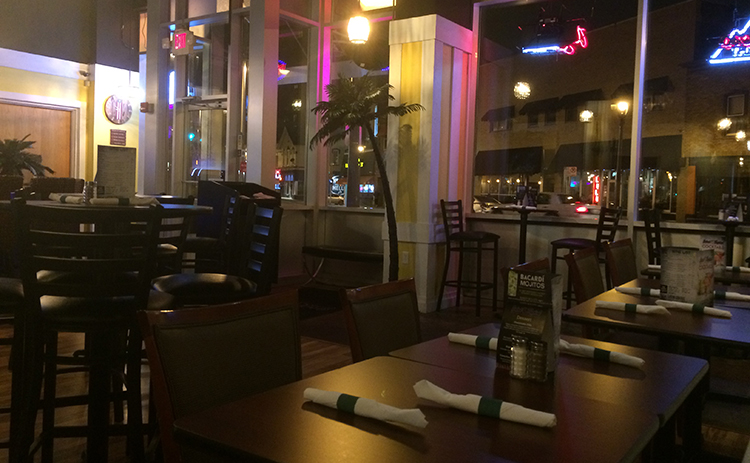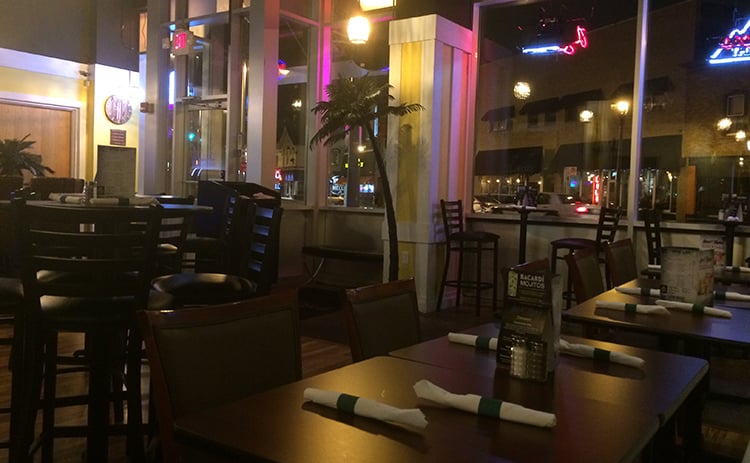 The space: The chic and accessible spirit of Riviera Maya lives on in the interior of Sabor Tropical. The windows that run the length of the western-facing side of the restaurant supply natural light during the day and a nice glimpse of the hustle and bustle of Bay View's busiest street at night. Beyond the seating at the small bar that's set before some TVs that were showing sports during our visit, the sprawling space hosts a sea of tables that range from elevated two- and four-tops and rows of seating to accommodate parties of any size.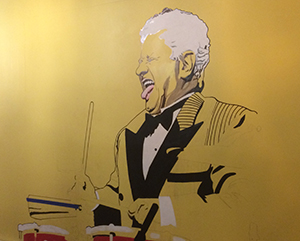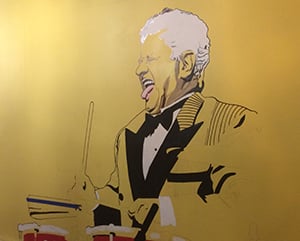 The decorative differences are small and seem to be done with the intent of solidifying the establishment's tropical theme. Latin-inspired tapestries are draped across the room. Lively merengue music serves as the restaurant's soundtrack. Colorful floral paintings of portraits of people dancing hang on the wall. As the restaurant thins out near the rear, diners are greeted by the legendary likes of Tito Puente—in a far more accurate artist portrayal than his likeness in that Simpsons episode—and other notable musicians on a mural that livens up a light yellow wall.
Other than Mr. Puente and the other minor interior flourishes, Sabor Tropical keeps its decoration to a minimum, wisely opting to let its food be the focal point instead.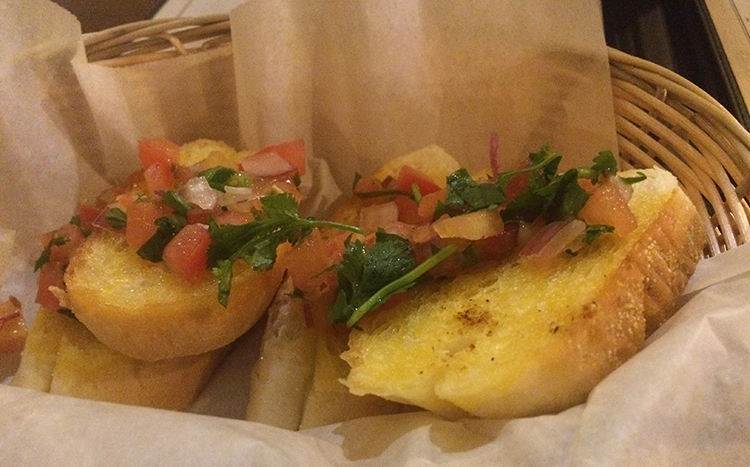 Milwaukee Record's food: Unbeknownst to us, our visit also coincided with Sabor's weekly mojito special. Each Tuesday night, the restaurant offers $5 flavored mojitos (usually $9) with a wide variety of fruit options. We took advantage of the deal and ultimately landed on passionfruit, which had a dash of mint-tinged sweetness and a stiff boozy kick. Sabor also offers a full bar with standard beer options and island-equipped spirits, as well as specialty cocktails.
As we enjoyed the cocktail, a complementary basket of bread was brought to our table. The soft, warm slices of French bread were drizzled with oil and topped with pico de gallo. Though the chunky pico had difficulty staying on top of the bread, the free appetizer was well worth the work. Other (not free) starters include an array of treats like ceviche, rellenos, empanadas, quesadillas, "tropical" wings, and an ever-rotating soup of the day.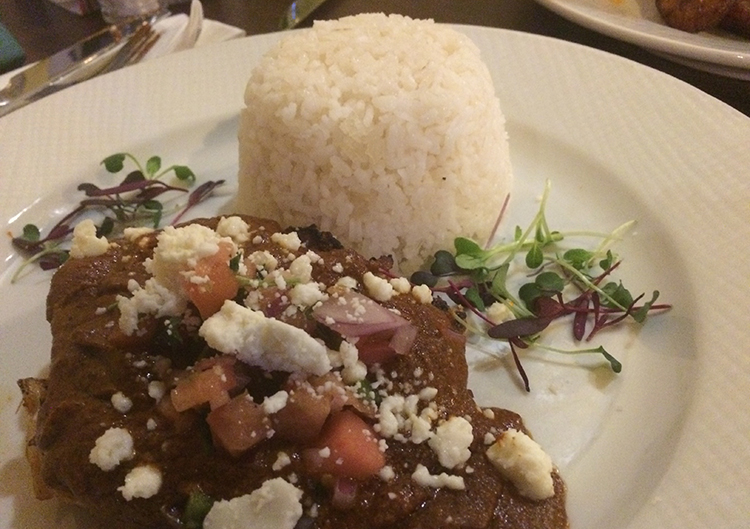 We bypassed the appetizers and focused on Sabor's entree options. As enticing as the Cuban Sandwich seemed and as strangely compelling as we found the restaurant's two burger options to be, we set our sights on some of Sabor's platters. We started with Perchuga Con Mole ($12), a tender seasoned chicken breast covered with a thick layer of rich mole sauce. It was topped with pico and cotija cheese and came with a small mountain of fluffy jasmine rice. The plating was nicer than any mole we'd ever had and the sauce was zesty and flavorful. Originally, we were concerned about portion size, but once the rice mound was plowed flat with our fork, that plate was packed.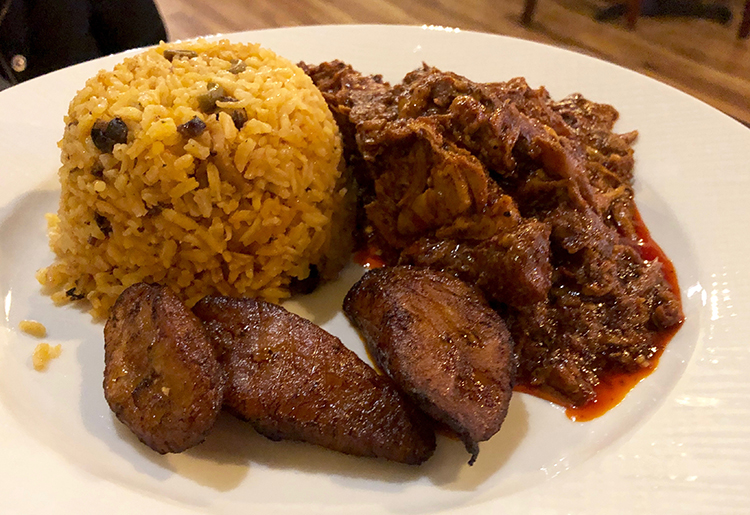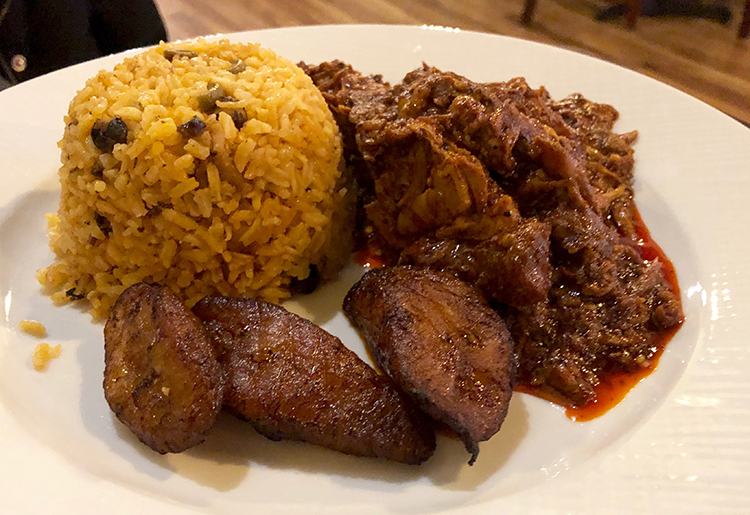 Another platter that captured our attention was Pernil Al Horno En Salsa De Chile Guajillo ($12). We can't do the dish justice in terms of a description, so we'll just quote the menu.
"Slow roasted pork sauteed in guajillo pepper sauce creating a sweet heat, tart and light smoky flavor."
Sounds pretty great, right? Well, it was! The succulent pile of pulled pork teetered the line between sweet, spicy, and savory with each bite that melted in our mouth. Adding to the excellent entree was our chosen side of sweet plantains that were roasted to perfection and an excellent clump of Puerto Rican rice that was bolstered with black beans and green olives. We should also note that Sabor has shrimp, steak, salmon, along with some vegetarian and vegan options. Despite the wide swath of options, we're coming back for the pork. Oh, and we'll be back for that pork.
The verdict: A longstanding all-night restaurant's end brought Riviera Maya down the street and, as a result, made room in the heart of Bay View for a wonderful new restaurant to open in Maya's place. We'll always miss Midwest Diner, but Sabor Tropical—with its friendly service, inviting atmosphere, and elevated take on Latin-inspired cuisine—is one hell of a consolation prize.