Like a phoenix rising from the ashes—or, more accurately, like Phoenix being summoned by Cloud in Final Fantasy VII—the Midwest Gaming Classic returned to its full glory this past weekend. A few years of COVID-era uncertainty gave way to thousands of guests packing the downtown Wisconsin Center and celebrating all things gaming: video games, pinball, tabletop games, card games, cosplay, and more. There was music. There was wrestling. There was the 26-foot inflatable Dankey Kang, welcoming visitors to the wonders within.
I (Matt) spent a good chunk of my Saturday enjoying those wonders. It was my first MGC since 2018, and it was an absolute blast. This is my minute-by-minute report.
9:30 a.m. I arrive at the already-bustling Wisconsin Center, ticket in hand and "Hoid For President" shirt on back. My pre-ordered ticket gets me into the Vendor Hall 30 minutes ahead of the 10 a.m. general opening. I'm not alone: According to a Friday night email from MGC, there was a "massive amount" of pre-ordered tickets this year, with the final day of sales "smash[ing] all prior records." I salute Dankey Kang, salute that weirdly realistic security guard statue, and dive in.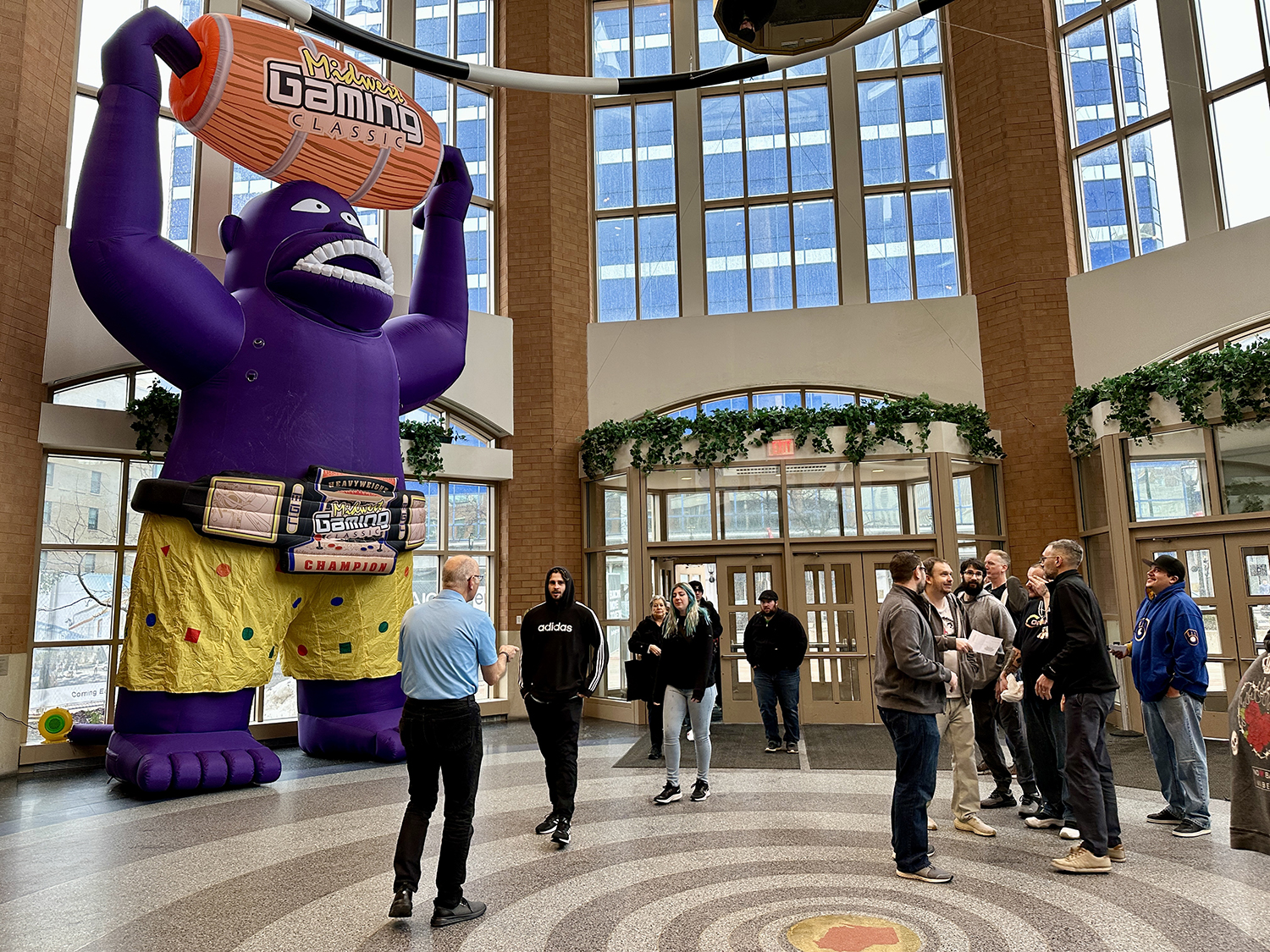 9:45 a.m. It's my first elected official sighting of the day! State Representative, Milwaukee County Supervisor, and Bounce Milwaukee co-owner Ryan Clancy is hanging around a small pinball tournament tent on the third floor. Clancy is something of a pinball nut—in 2019, he set the Guinness World Record for marathon pinball playing, clocking in at 32 hours and 2 minutes. (His record has since been broken.) Later, I'll catch a glimpse of Mayor Cavalier Johnson carrying a gold MGC wrestling belt. My quest to watch Alderperson Johnathon Brostoff demonstrate his formidable skills in Magic: The Gathering, however, will go unfulfilled.
9:57 a.m. After a quick lap through the sprawling Vendor Hall, I get in line for the main event: the Game Center. Counting down to the 10 a.m. opening is none other than the guy who said "BOOMSHAKALAKA!" in NBA Jam, Tim Kitzrow.
10 a.m. "BOOMSHAKALAKA!" says the guy who said "BOOMSHAKALAKA!" in NBA Jam. Saturday at the 2023 Midwest Gaming Classic is officially underway!

10:01 a.m. The Game Center is the beating heart of MGC, and it beats to the sound of hundreds of free-to-play pinball tables (new and old), dozens of half-room-length tables stocked with a seemingly infinite number of old and obscure gaming systems (the Gaming Museum), geek-movie vehicles (the Ecto-1, the Back To The Future DeLorean, KITT), and much more. I make a beeline to the nearest open pinball table (Elvira's House Of Horrors) and spend the next hour zoning out to pinball, more pinball, and even more pinball. It's the happiest I've been in months.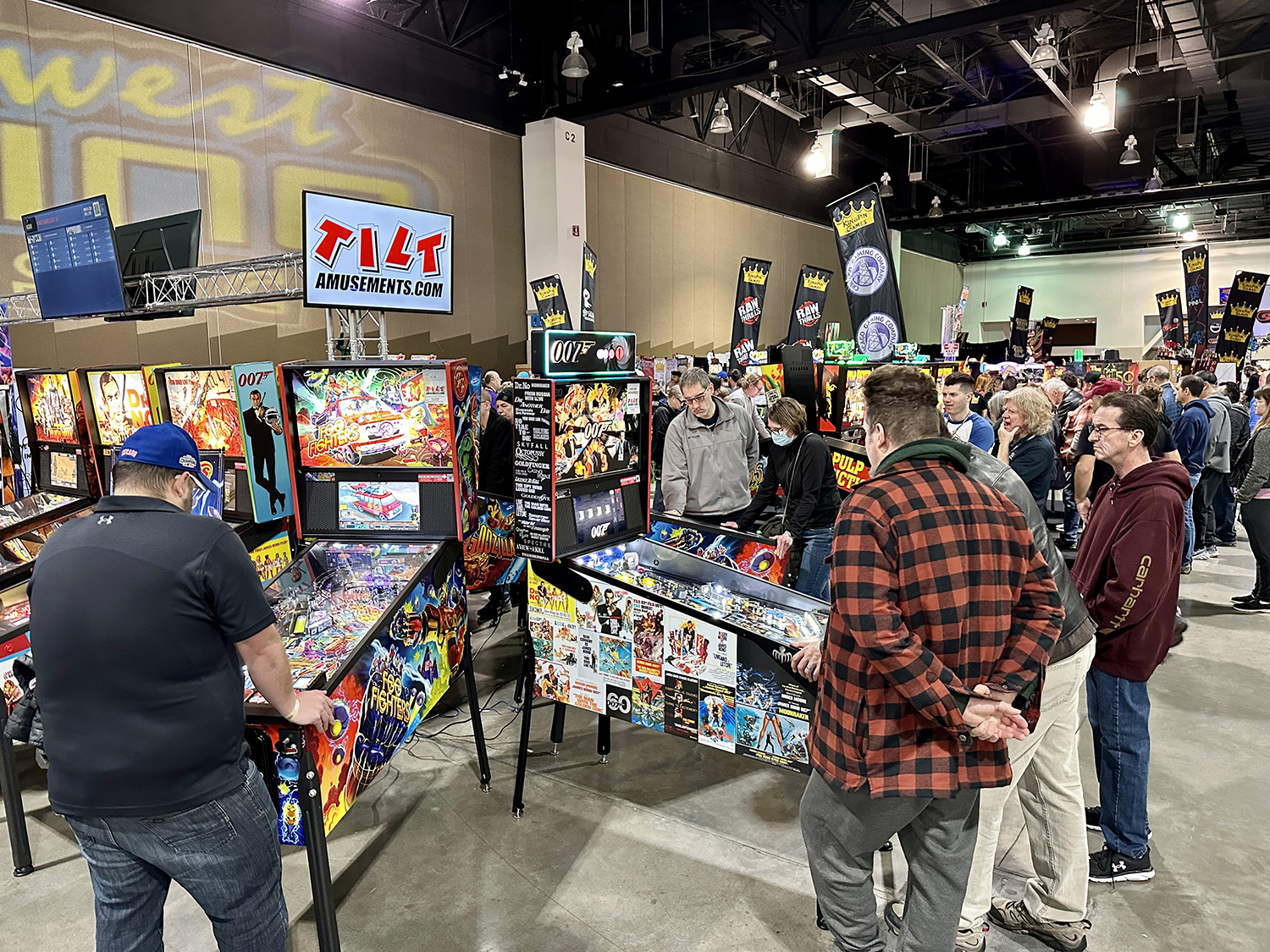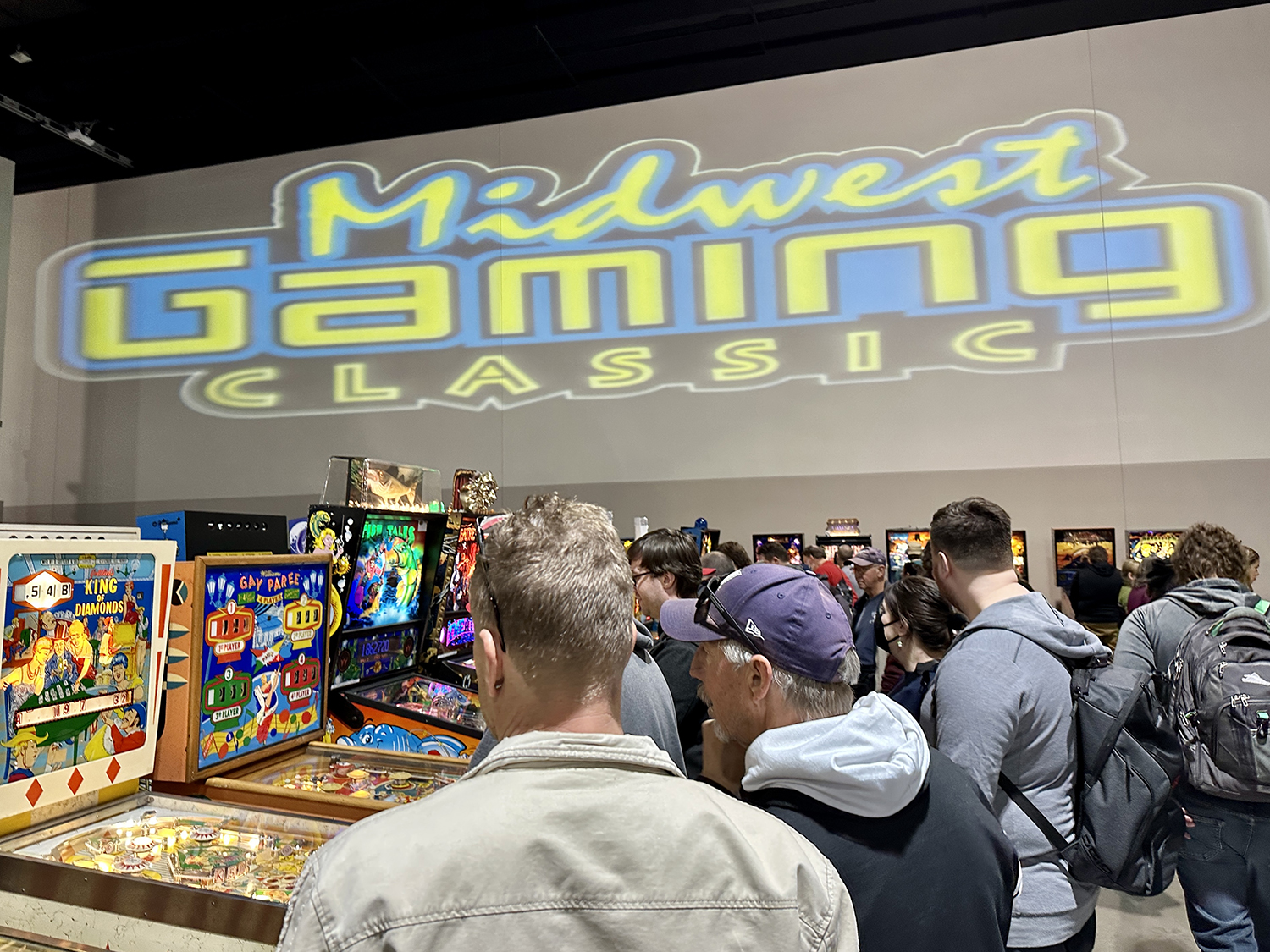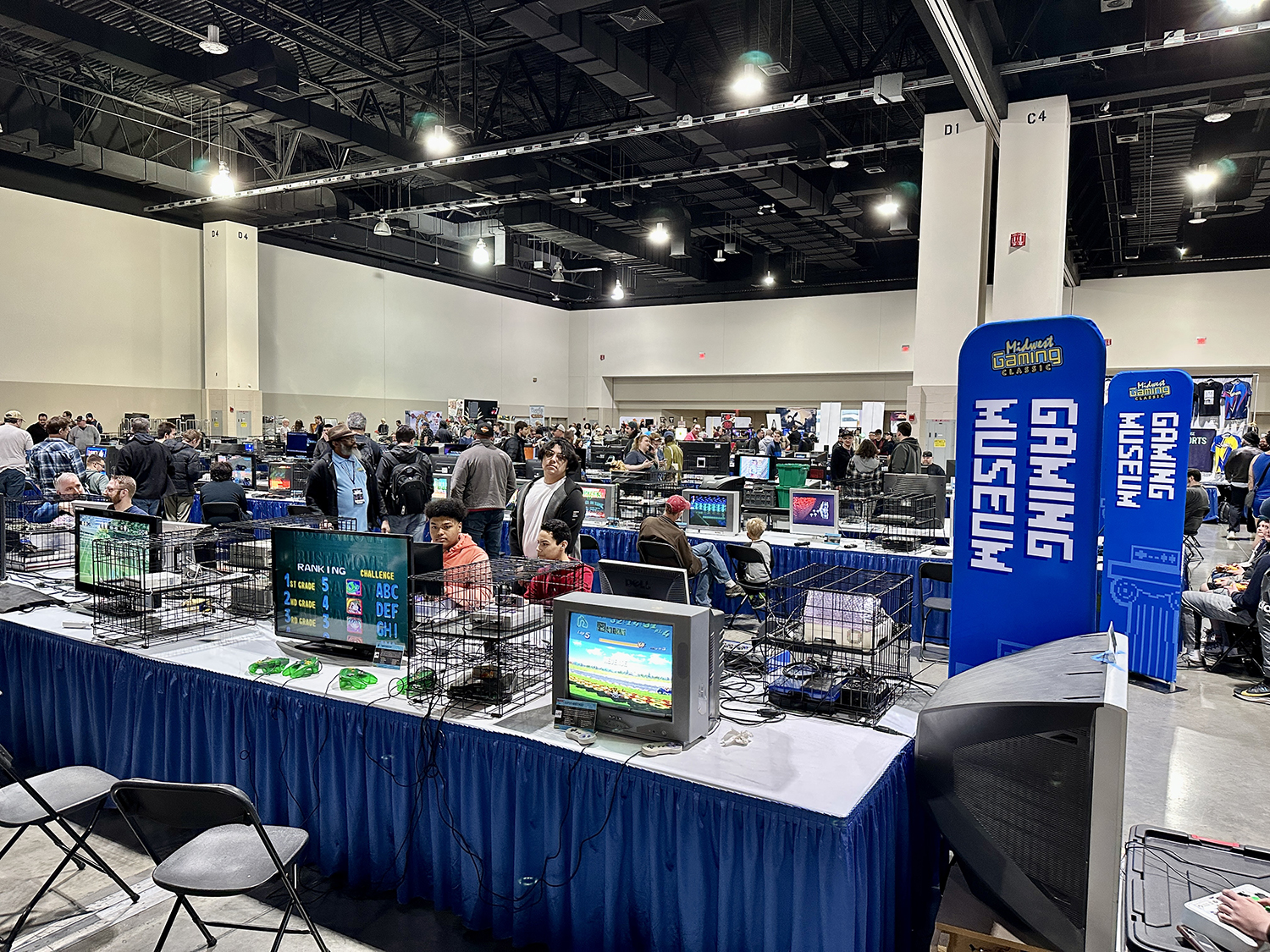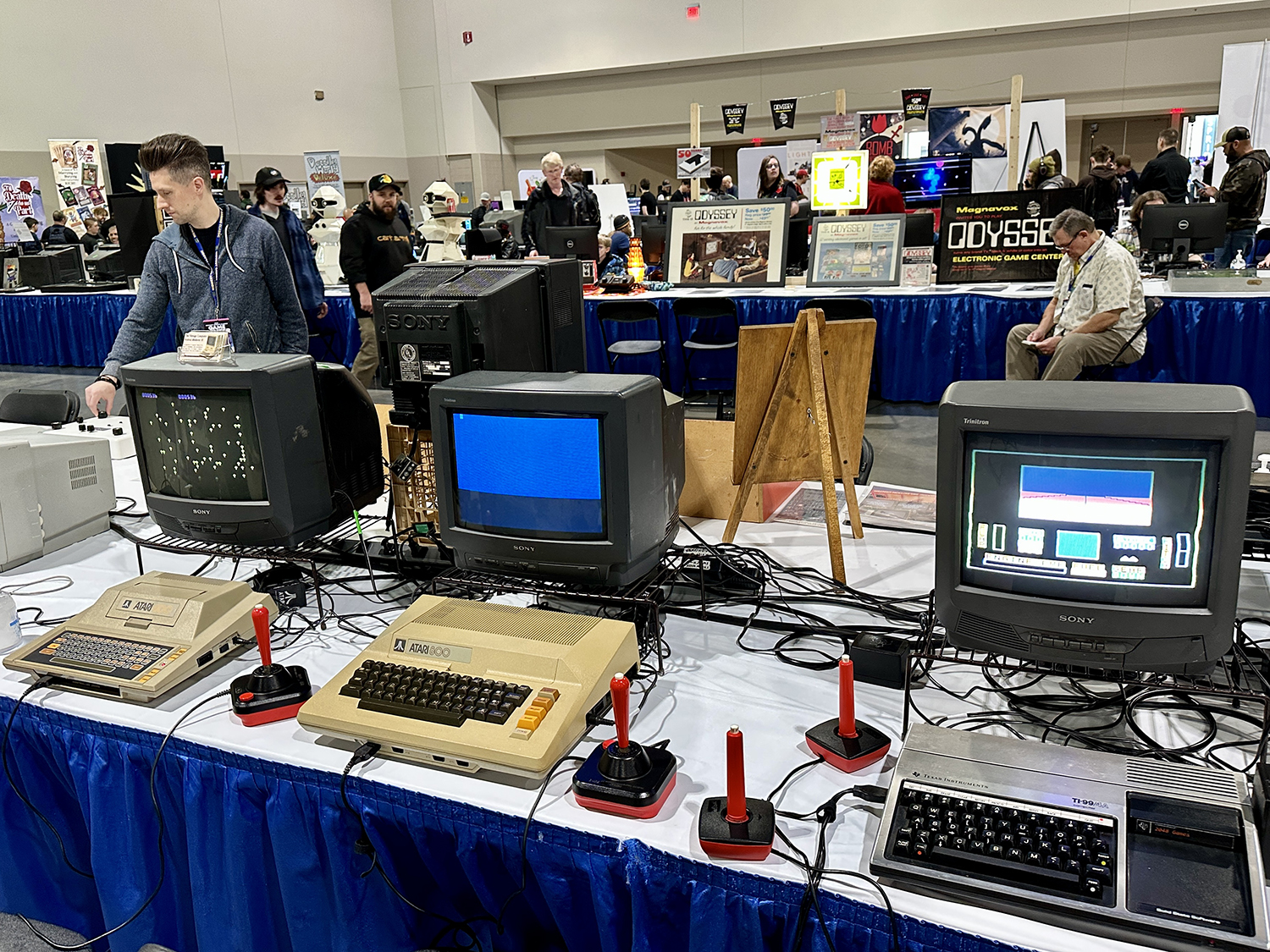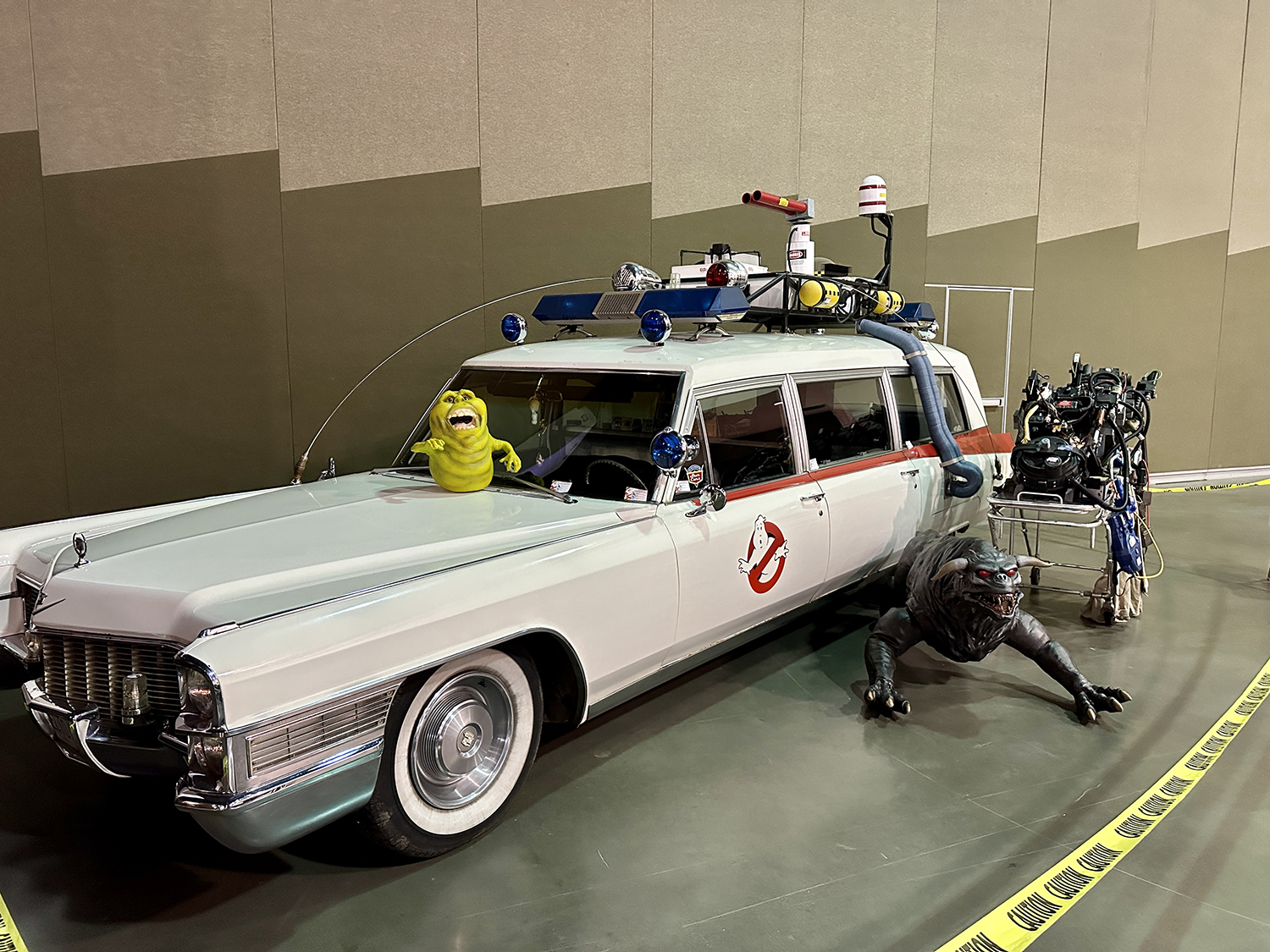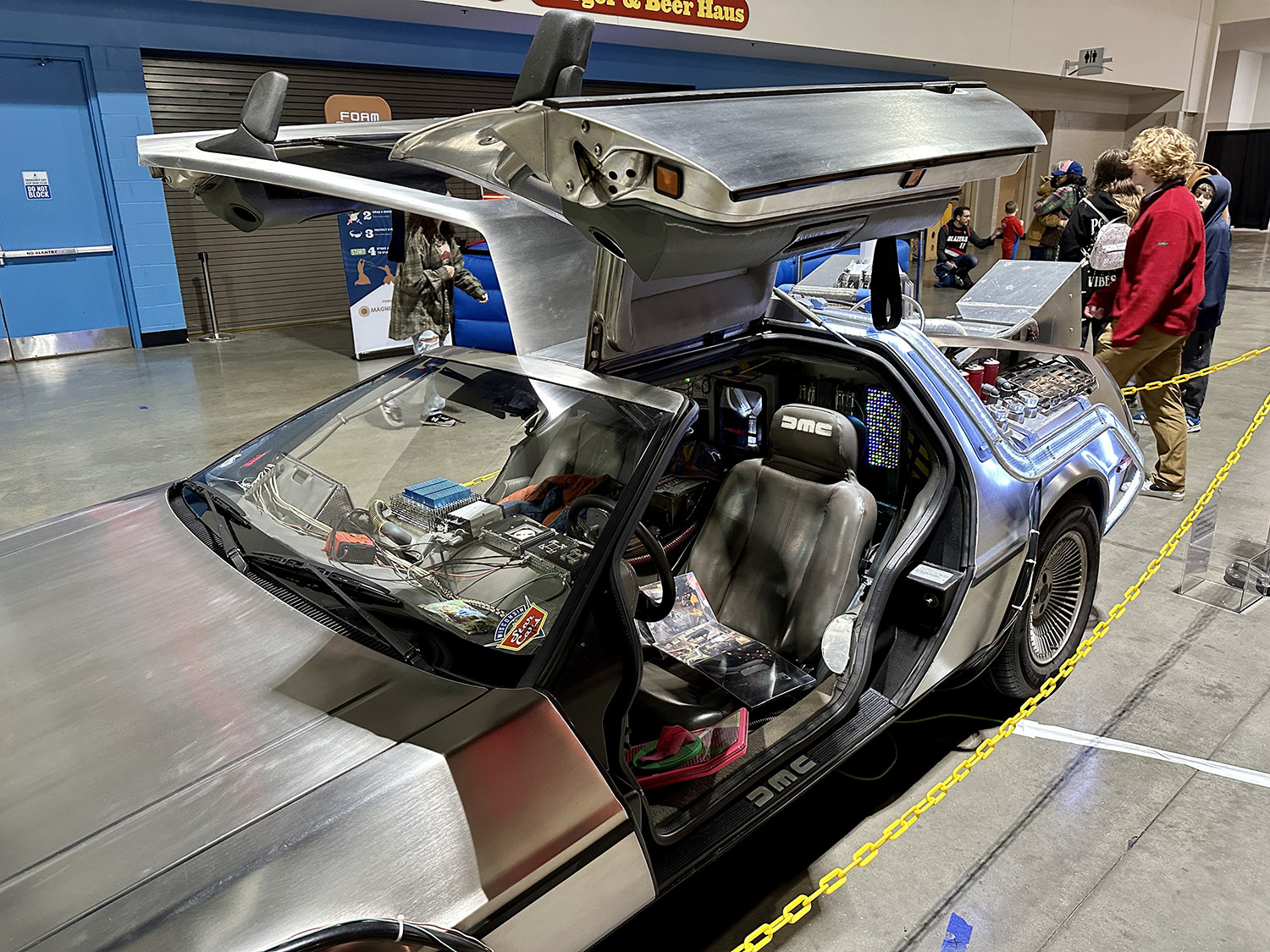 10:07 a.m. The Game Center gets packed, fast, which brings us to the subject of lines. Specifically, lines for playing pinball. House rules state that if someone is waiting behind you (and someone almost certainly is), you should concede your spot once your game is over. Wanna hop right back behind the person you just let in? That's totally cool. Throughout my entire day at MGC, only one dude who totally saw me waiting behind him breaks this rule and plays two games in a row. Oh, and a snot-nosed little kid who cuts in front of me for Beatles pinball in the Garcade room.
10:12 a.m. A high score on Godzilla! I know it's not that impressive, and I know it's still early in the day (though there was a Friday preview night), but I'll take it. It's the happiest I've been in minutes.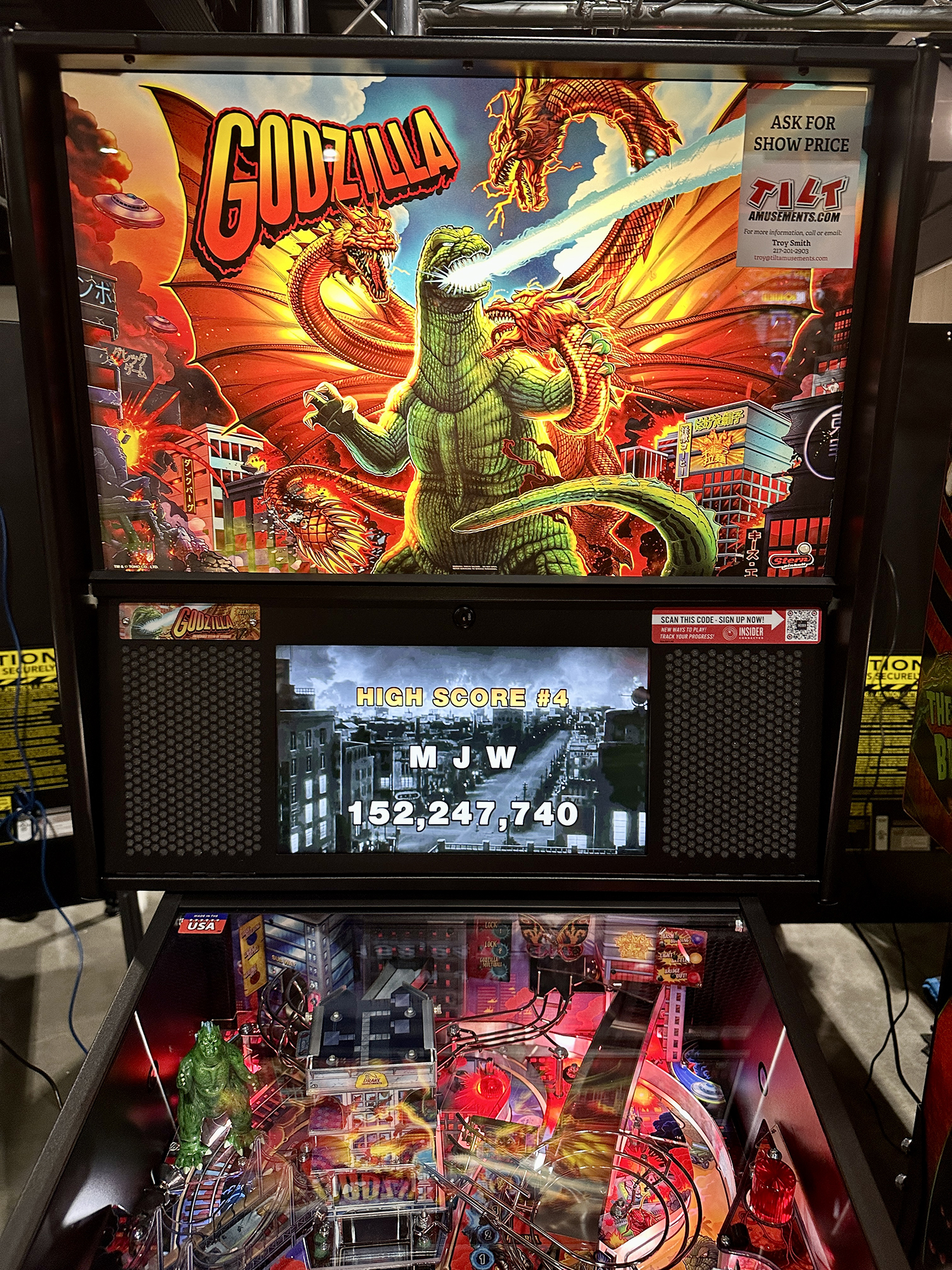 11:14 a.m. I take a pinball break and check out the Main Stage, just outside the Game Center. Lords Of The Trident guitarist Brian Koenig is shredding along to the music of Mega Man 3. Dude has a real Lucius Malfoy look going on. He's great.
11:21 a.m. I wander down to the second floor and stumble into something I've been looking forward to: the World of Nintendo Retail Store Exhibit. Remember in the early days of the Nintendo Entertainment System when stores wouldn't just carry NES games, but would transform their entire electronics departments into "Worlds of Nintendo"? This is a recreation of that! "This takes me back!" says the guy next to me, the guy next to him, and the girl next to him.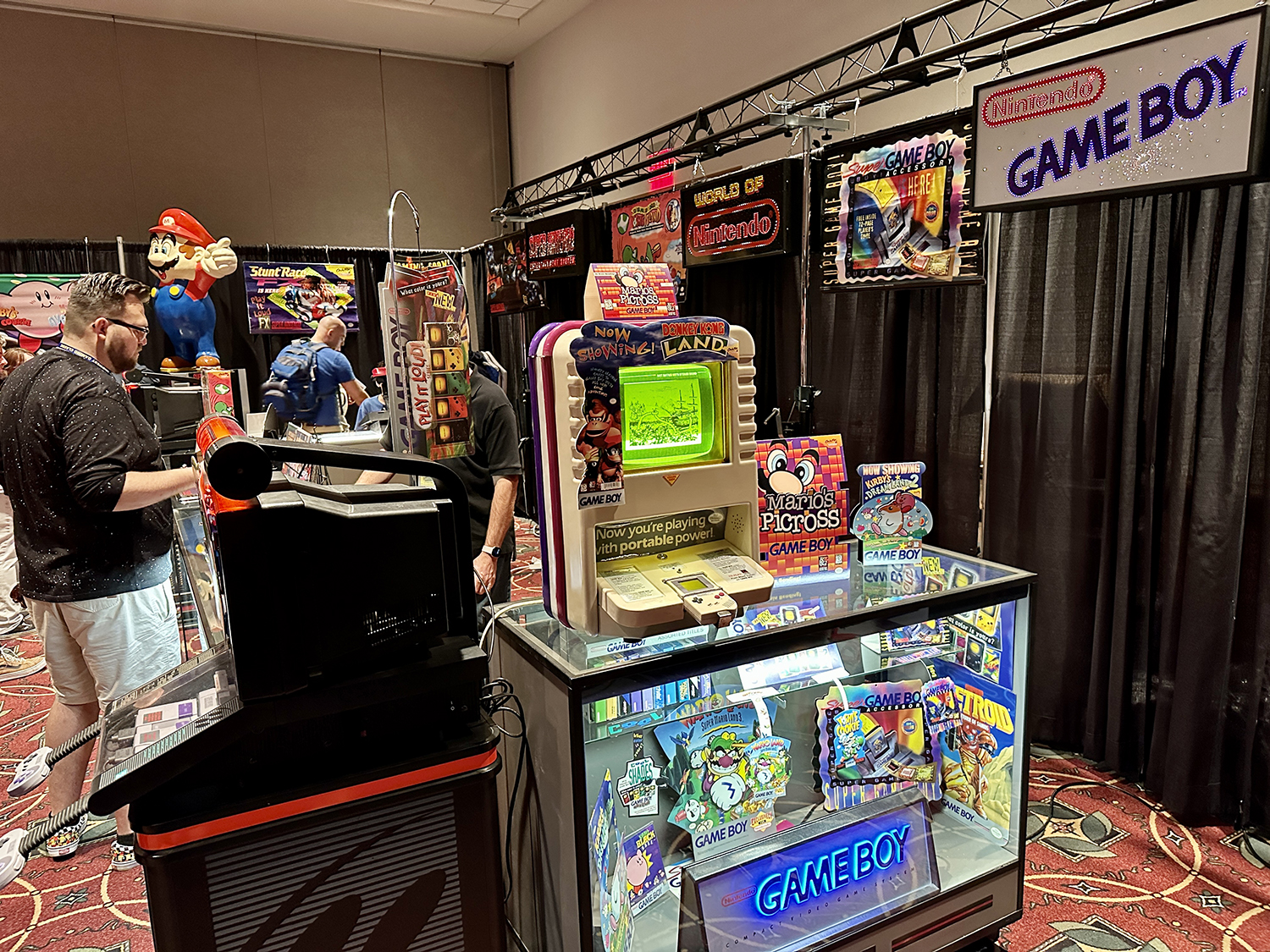 11:43 a.m. When in Rome, do as the Romans do. When attending a gaming convention, get a Jersey Mike's sub, a bag of Doritos, and a Mountain Dew for lunch. (NOTE: This is my go-to lunch combo even when I'm not attending a gaming convention.)

12 p.m.: Speaking of food, there's Ian's Pizza and a few other local food purveyors in the back of the Vendor Hall. Also in the back of the Vendor Hall: wrestling? Yep, wrestling! Brew City Wrestling, to be exact. I'm not much of a wrestling fan, and the overlapping Venn diagram of gaming nerds and wrestling nerds never fails to amaze me, but hey, this is all about letting people enjoy the things they enjoy, right? Shit, I'm excited to see a panel of Mortal Kombat II actors later today. God bless us all.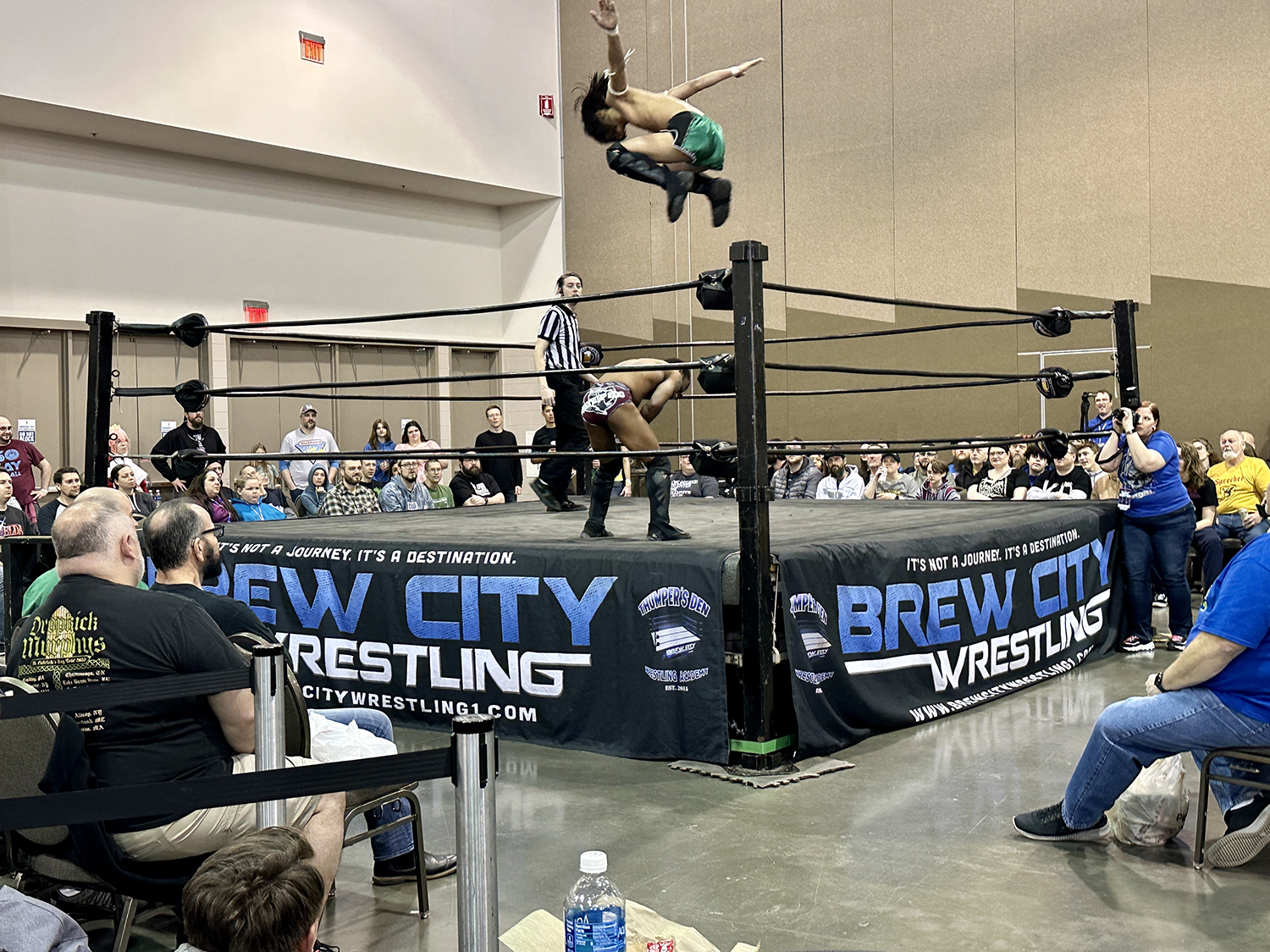 12:24 p.m. A (sort-of) high score on Elvira's House Of Horrors! Like I said before, I'll take it.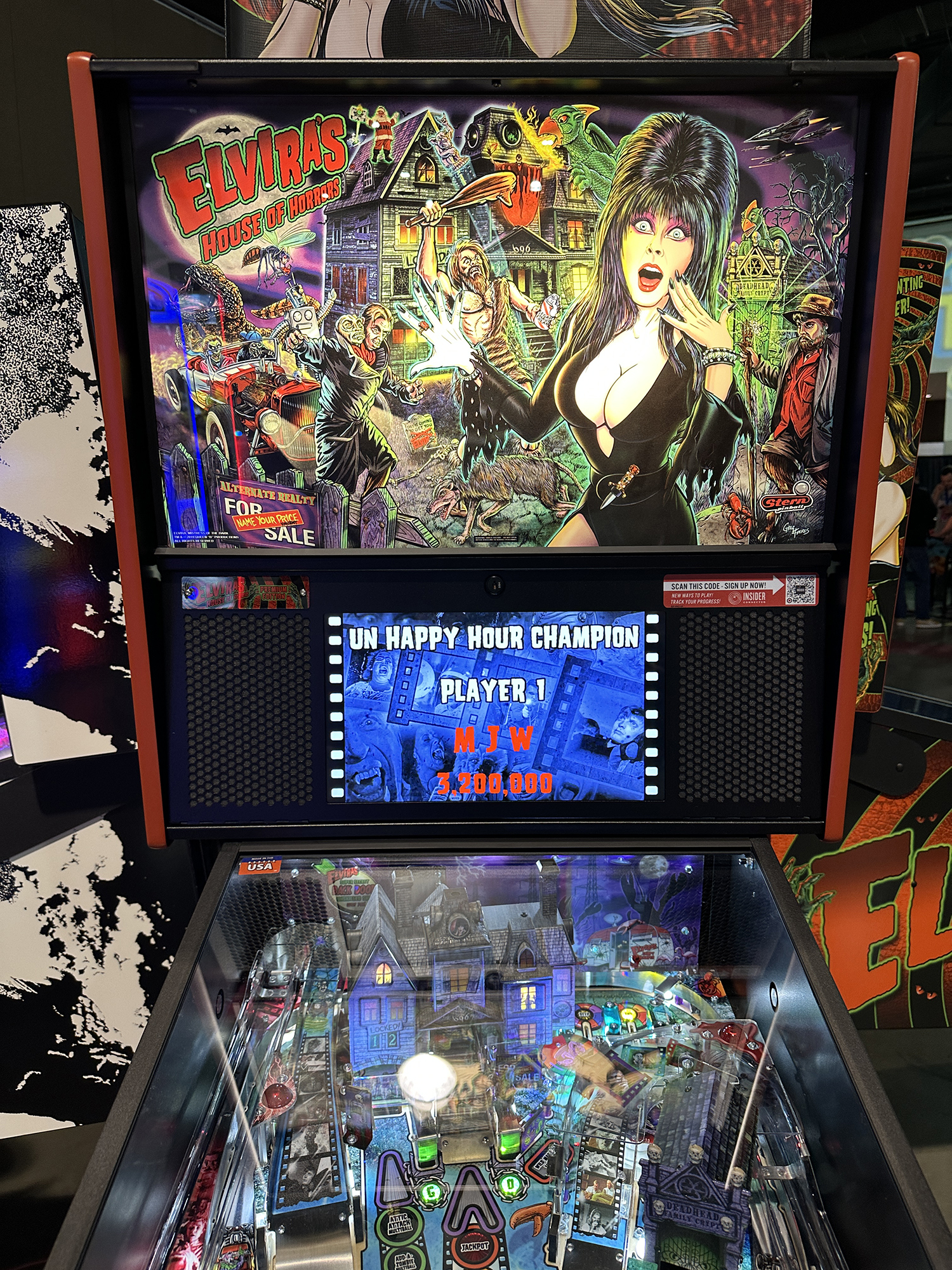 1:05 p.m. Over in the Garcade room, I get roped into playing "Dicey Pinball." I roll a six which means I have to [checks whiteboard] play a ball of Metallica pinball while wearing flashing sunglasses. I do, I drain almost immediately, and a snot-nosed little kid—the same snot-nosed little kid who cut in front of me for Beatles pinball earlier in the day—wins. This child is a monster. I flash back to meeting a more dignified gamer at MGC 2018:
1:20 – 2:44 p.m. Random picture dump!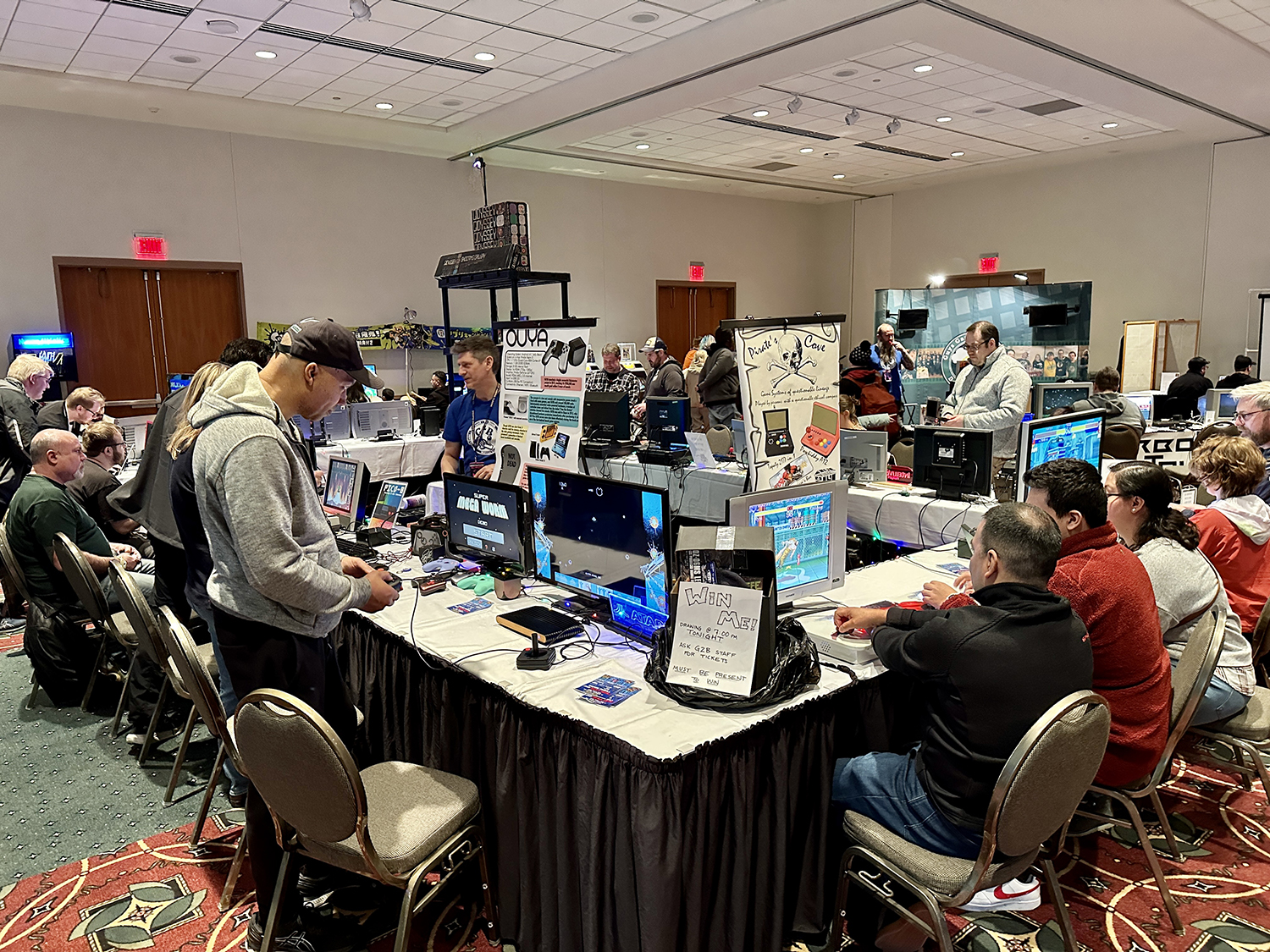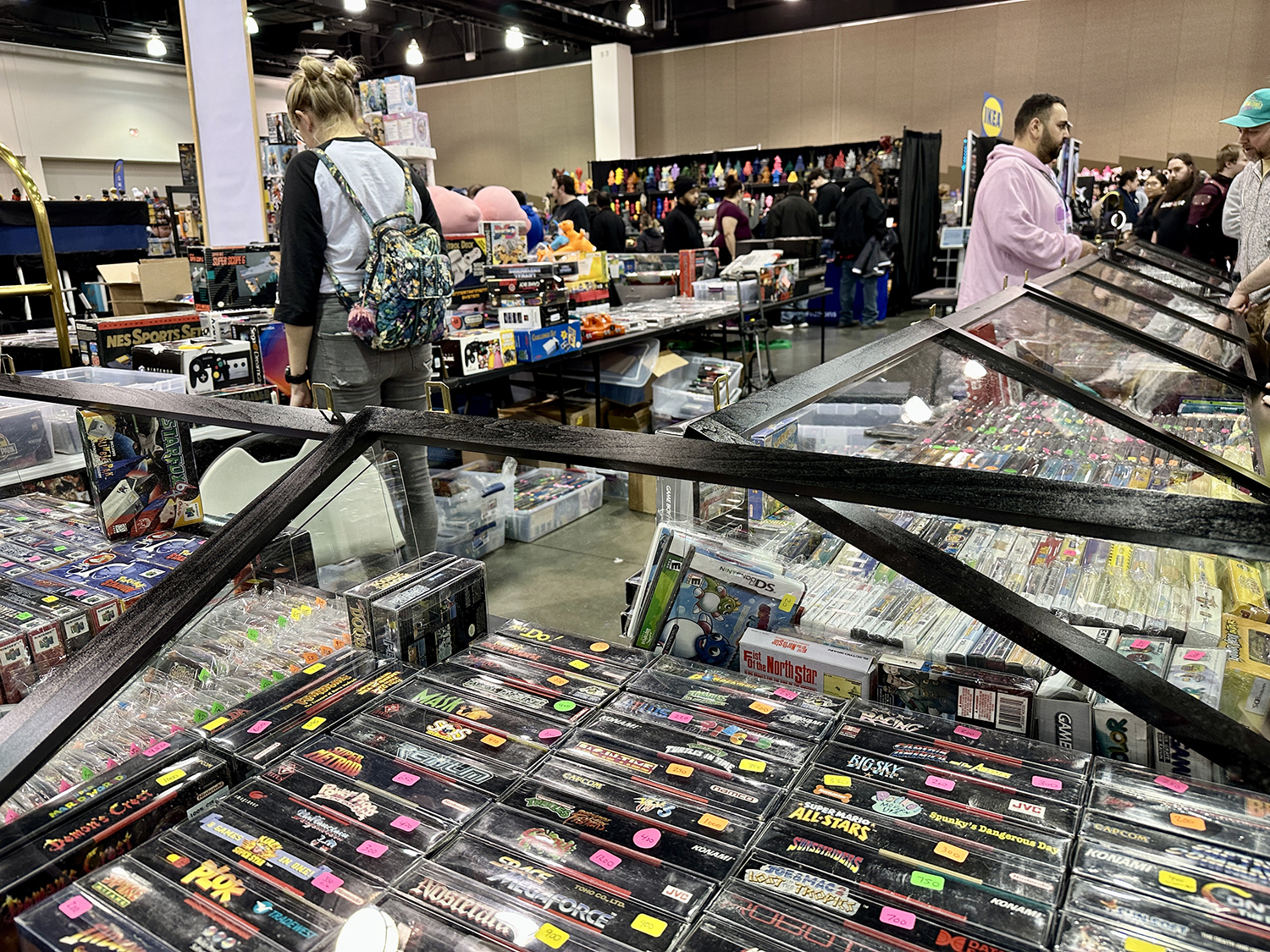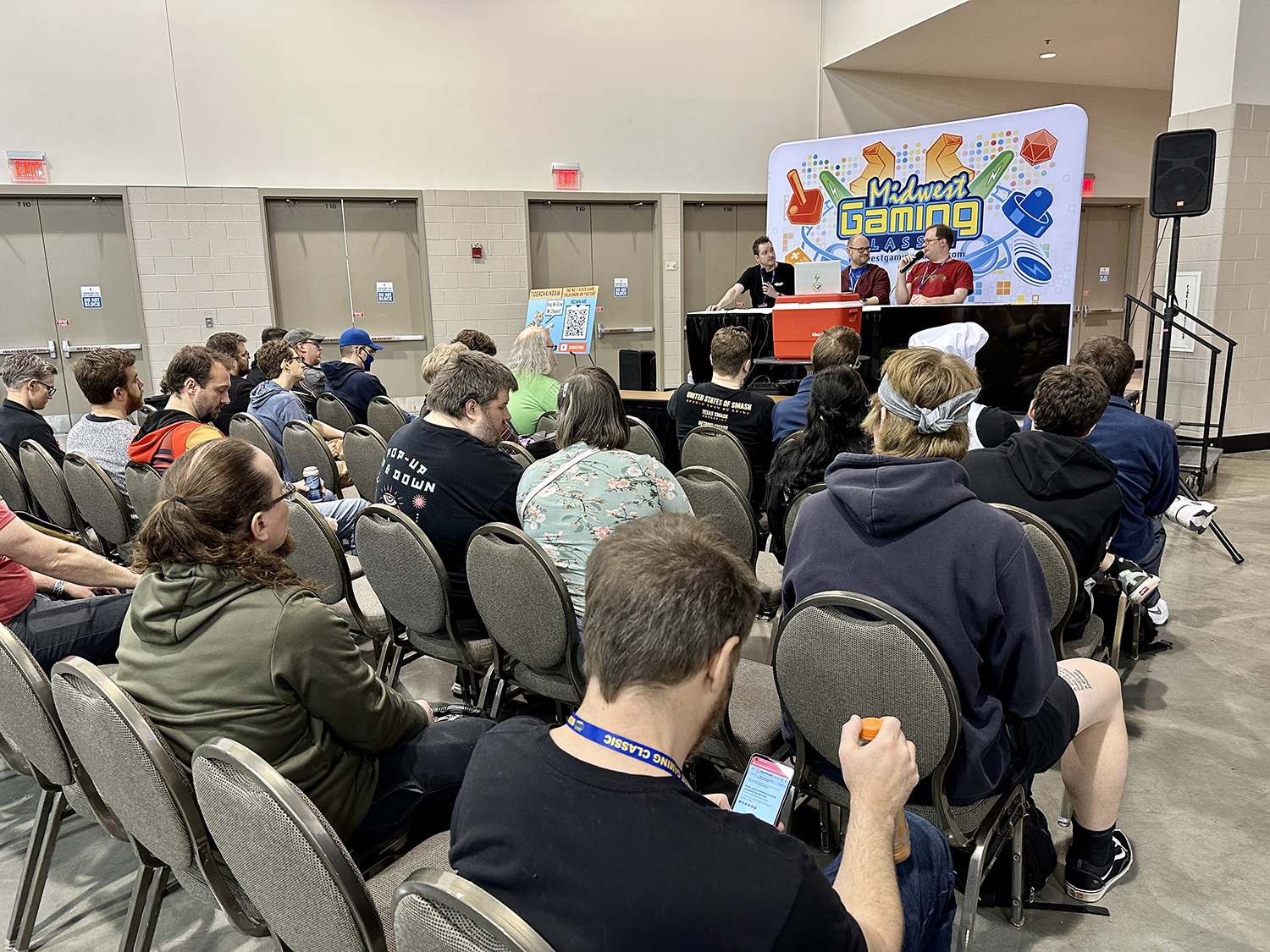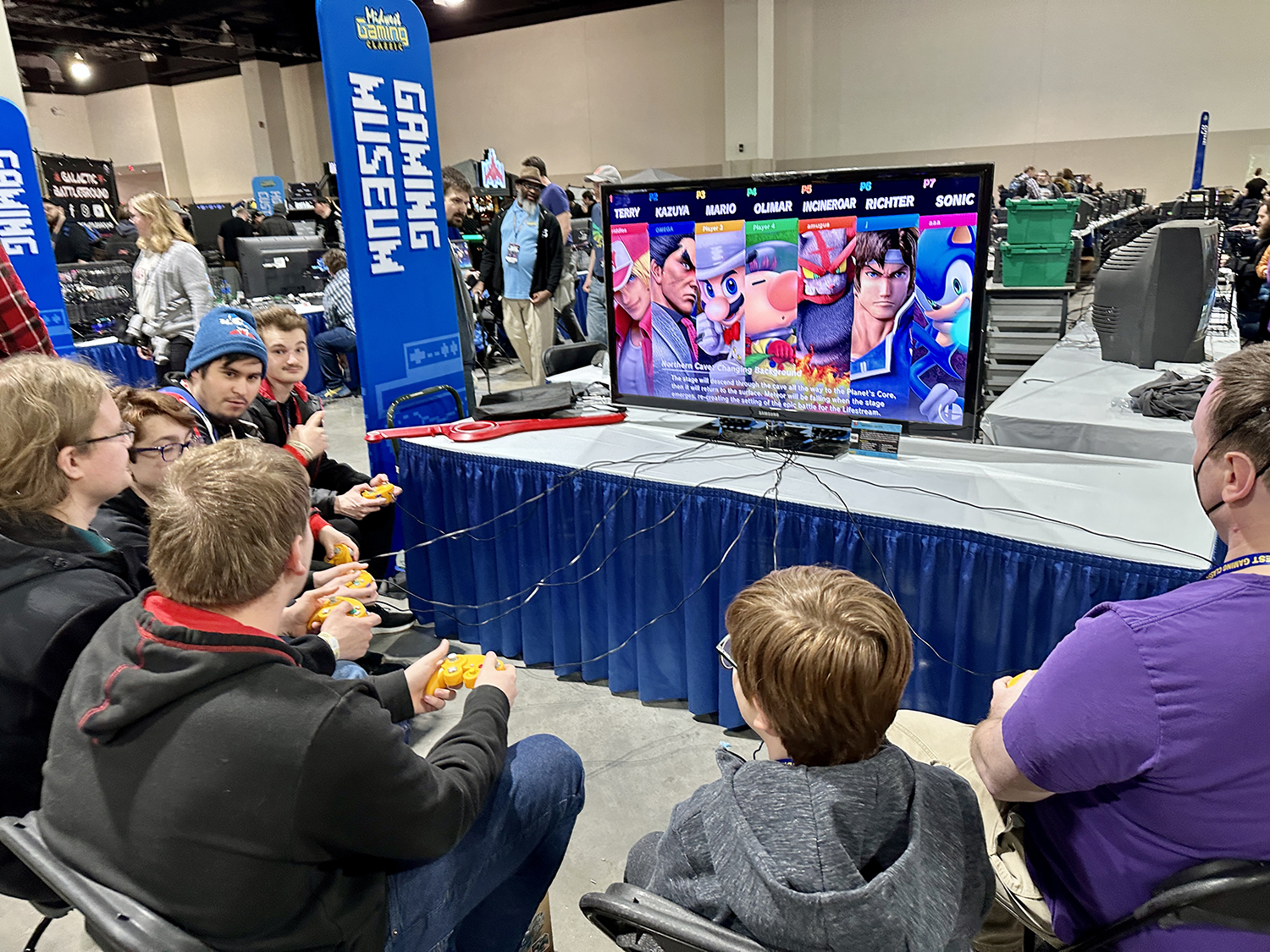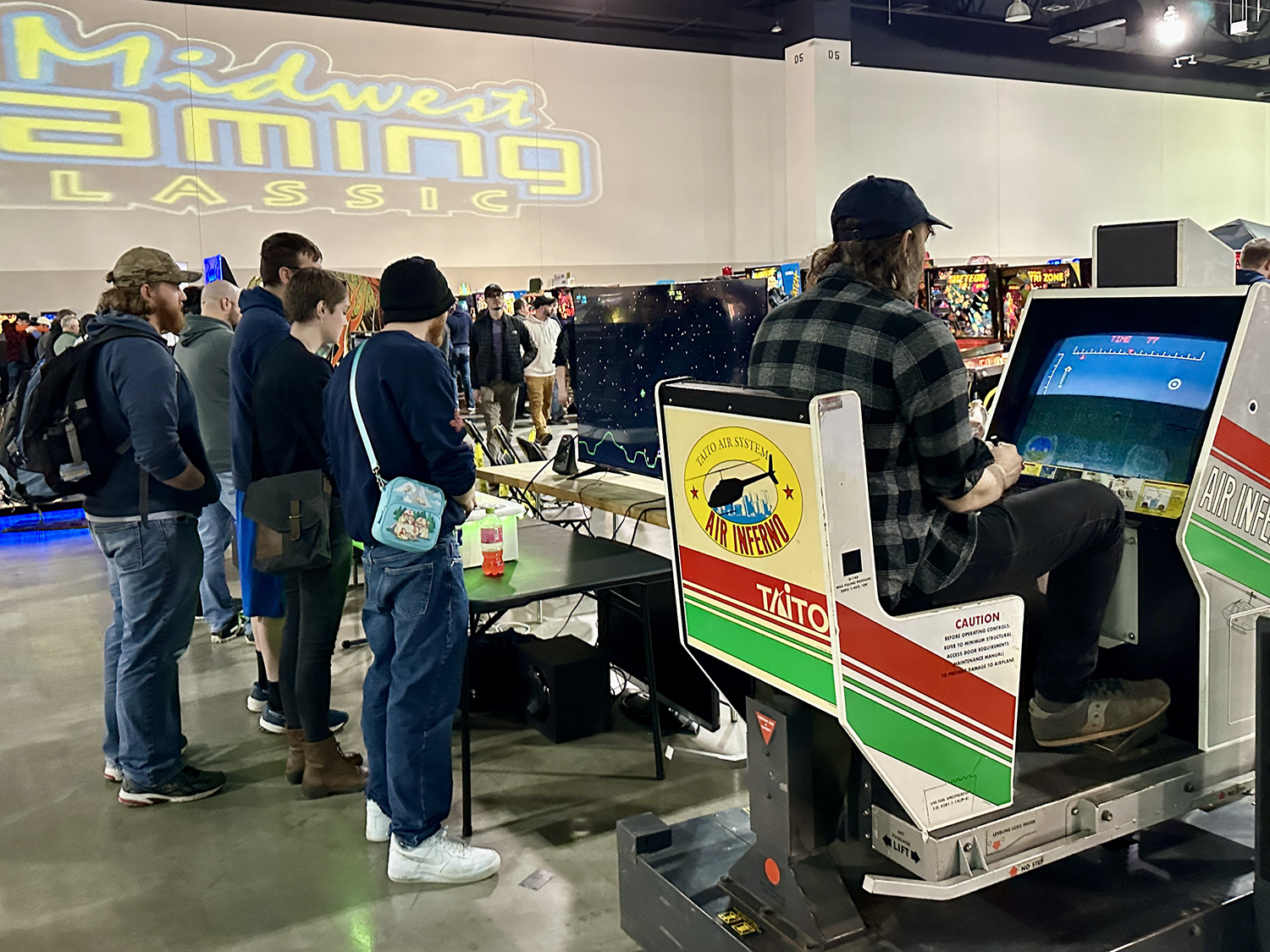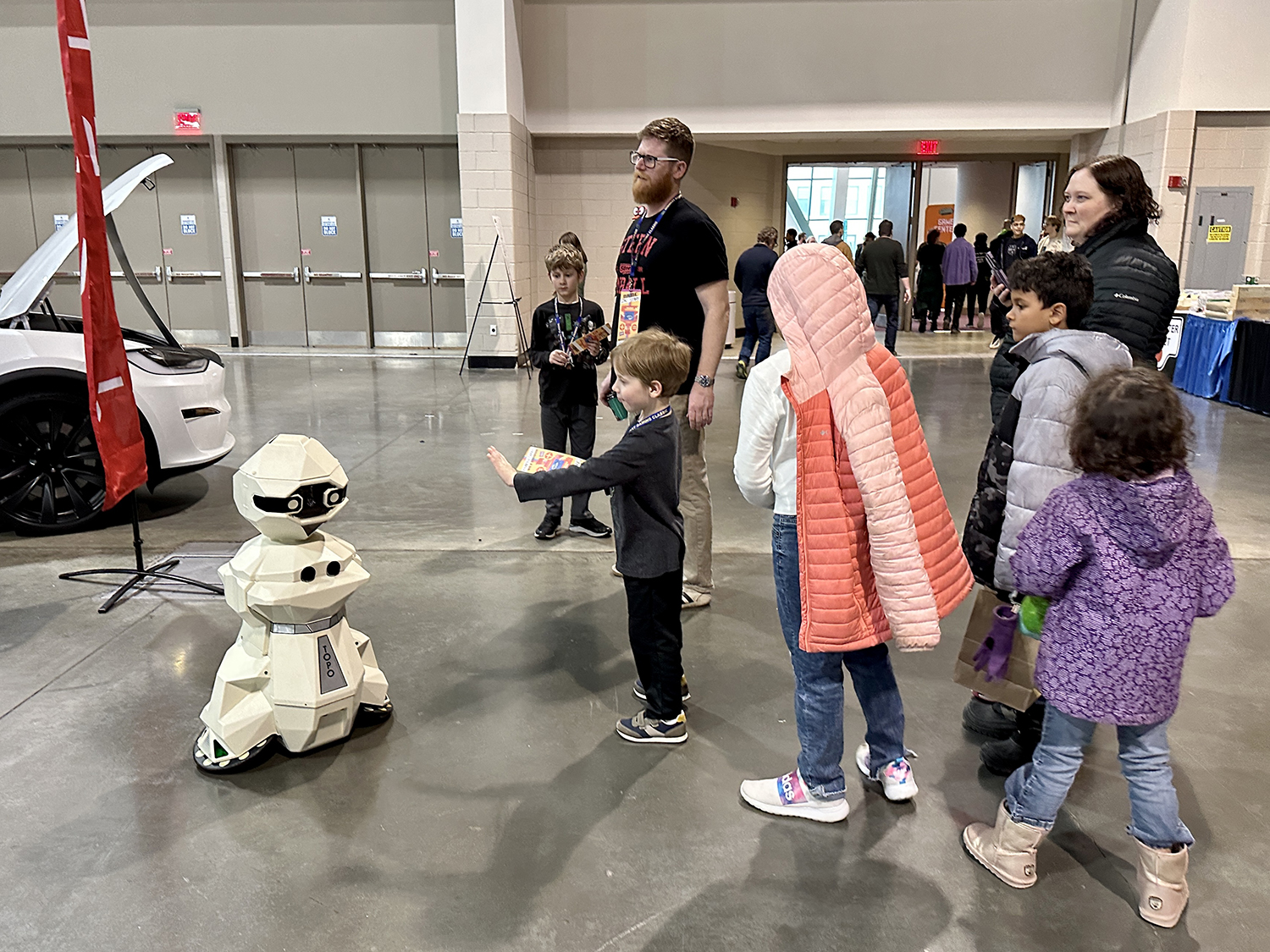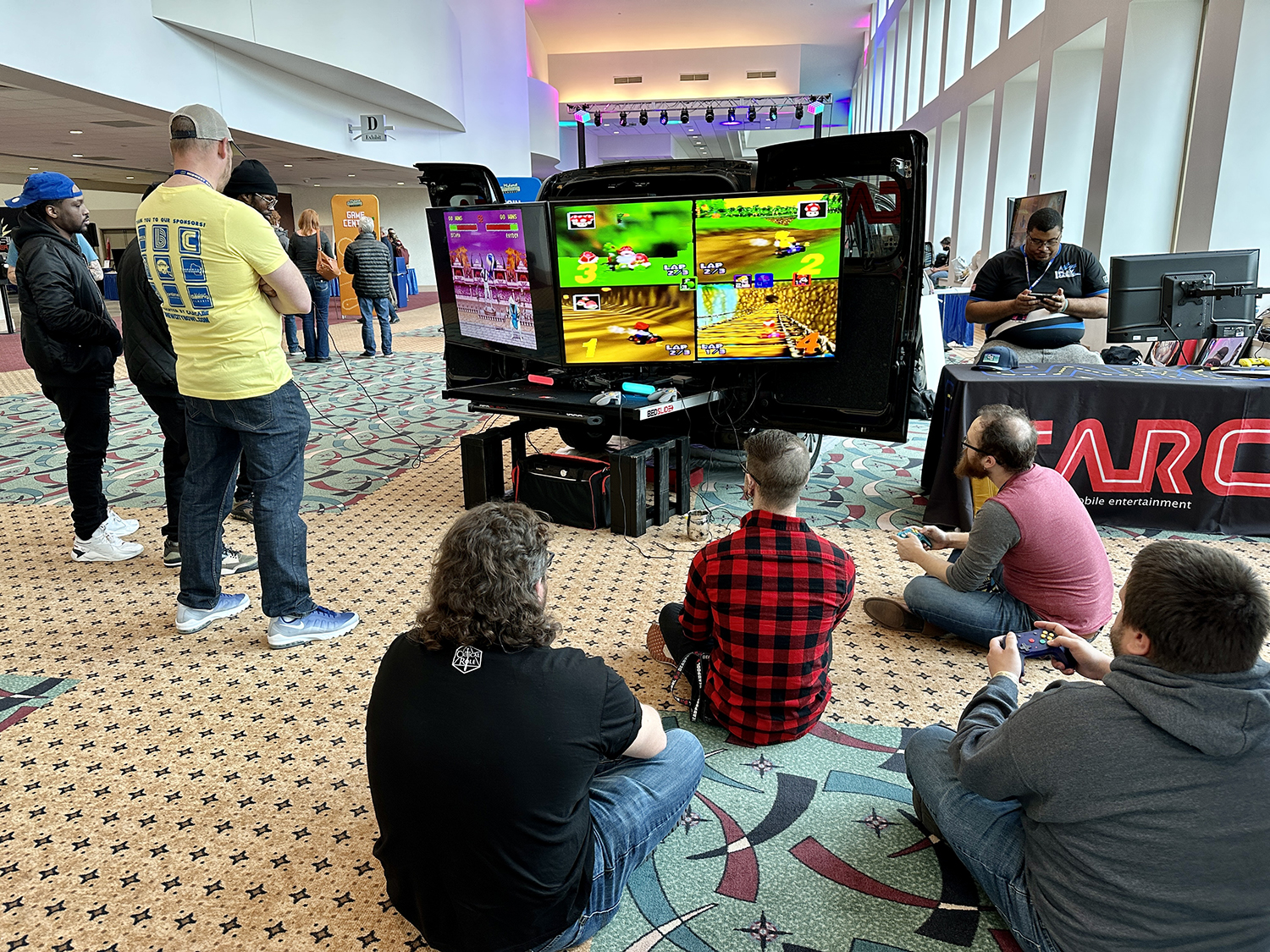 3:10 p.m. Following even more pinball (the lines for the new Pulp Fiction and Godfather tables are 3-4 people deep, but worth it) and some poking around the Gaming Museum (I'll forever stump for the TurboGrafx-16), I pop into the "Mortal Kombat II: 30 Years of Brutality" panel. Six of the original MKII actors talk about the grueling process of having their punches, kicks, and falls digitized for the 1993 arcade game (no one thought to put pads on the concrete studio floors, apparently), and how unlikely it is that they're all still talking about this 30 years later. "You can't be Baraka without the mask!" says the guy who played Baraka, Richard Divizio. There's something profound about that statement. Also, I think I spot 1982 Milwaukee County Stadium Pac-Man tournament semi-finalist Craig Schanning in the front row.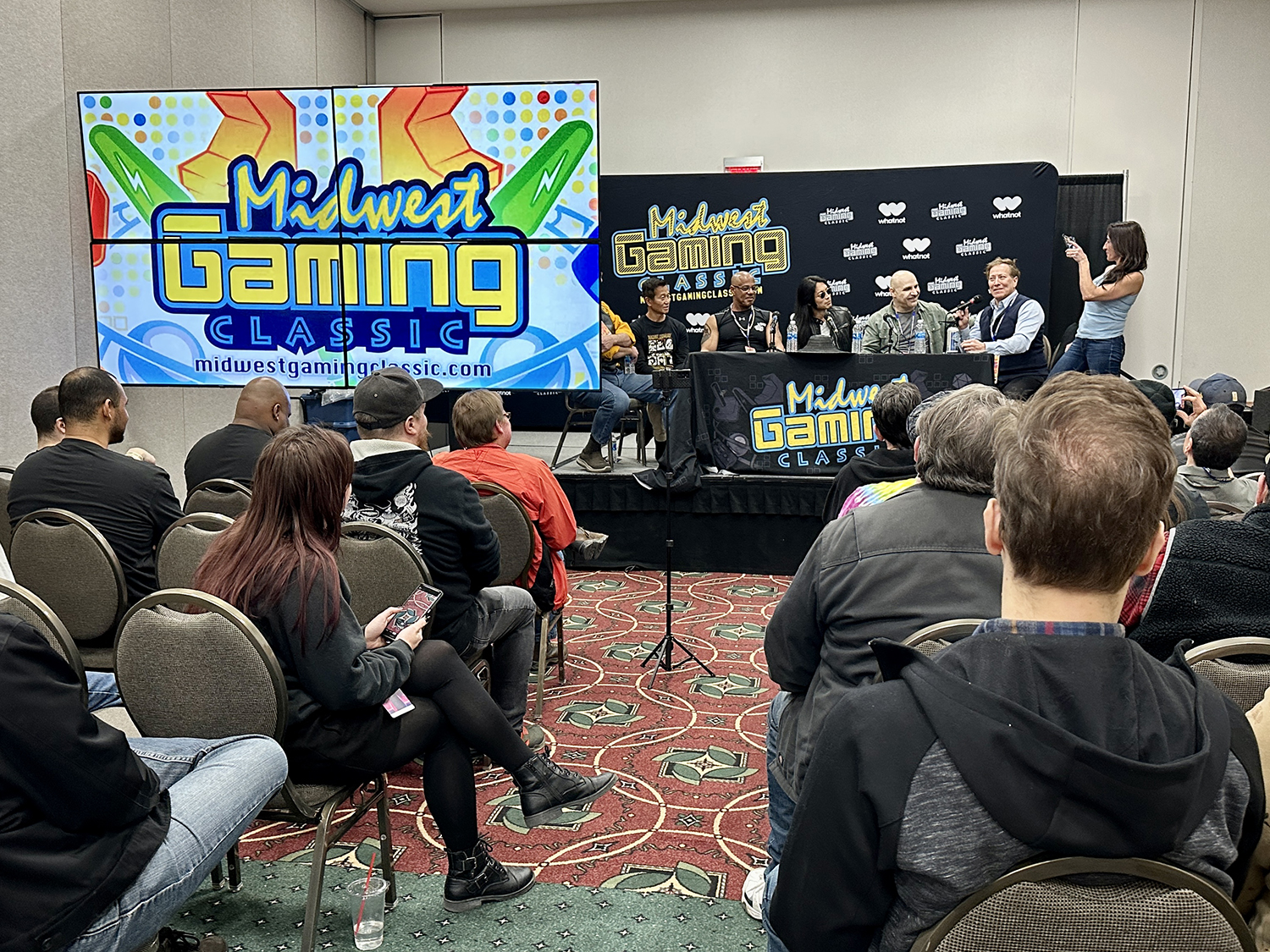 4 p.m. Over in the homebrew room, I bump into Milwaukee's own Jordan Davis. You may know Davis as the creator of the wonderful Space Raft: The Game, an 8-bit NES-era game where players control members of Davis' band (the eponymous Space Raft) as they travel through multiple Milwaukee-themed levels. That game came out in 2020, and Davis has been active in the surprisingly thriving world of homebrew ever since. He shows me a new game he's working on (The Storied Sword), a new game he created chiptune music for (SJ Games' Skate Cat), and, incredibly, a new and officially licensed Garbage Pail Kids NES game (he didn't work on this one, though).
But that's not all: Davis talks about the mechanics of game design, German philosopher Karl Groos Walter Benjamin and his theory of "play," the pitfalls of nostalgia, and more. At one point, he gets choked up while talking about the sense of community he's found in the homebrew scene, and how gratifying it is to watch people enjoy his creations in person. I walk away with a smile on my face. I love it here.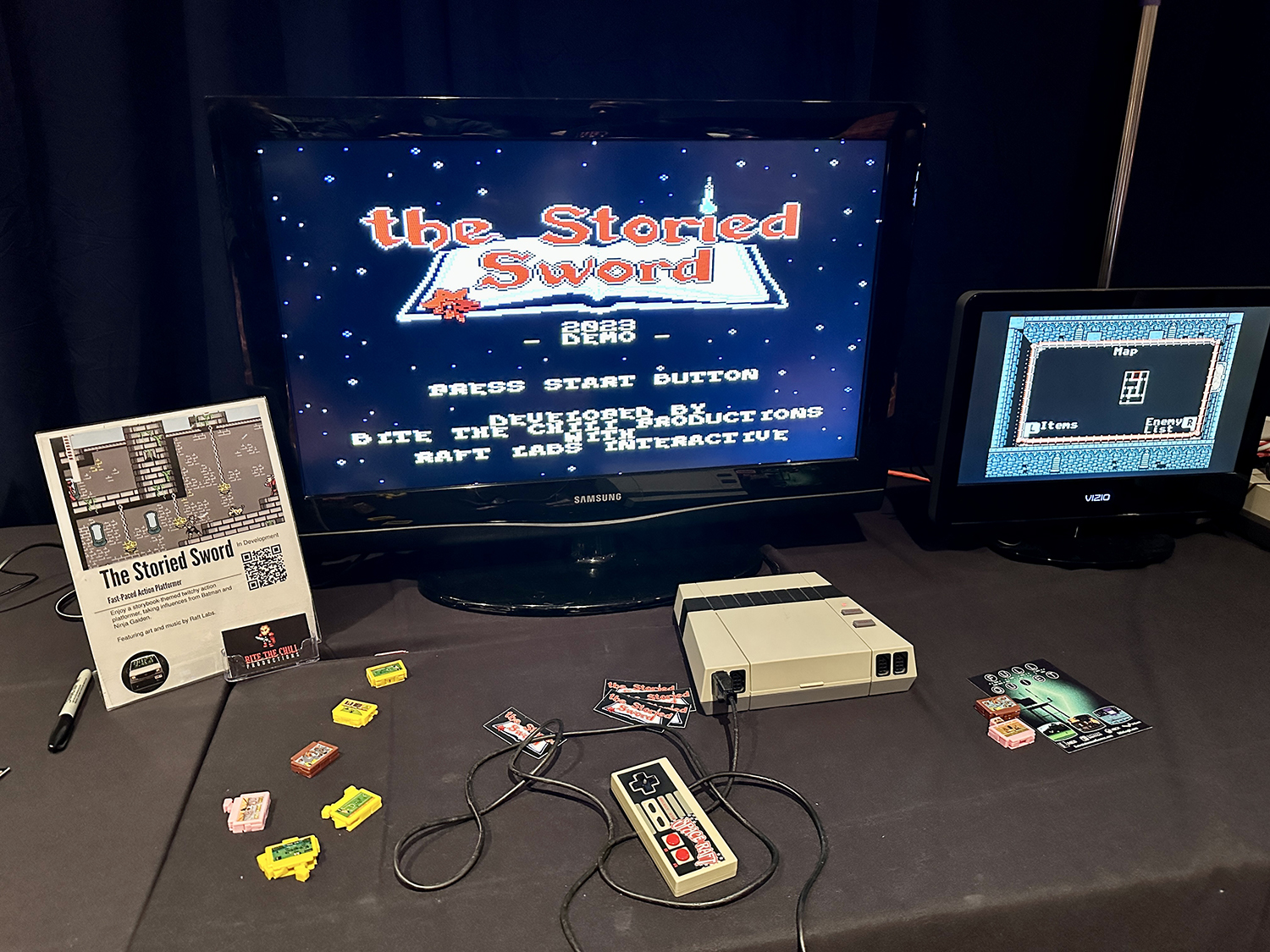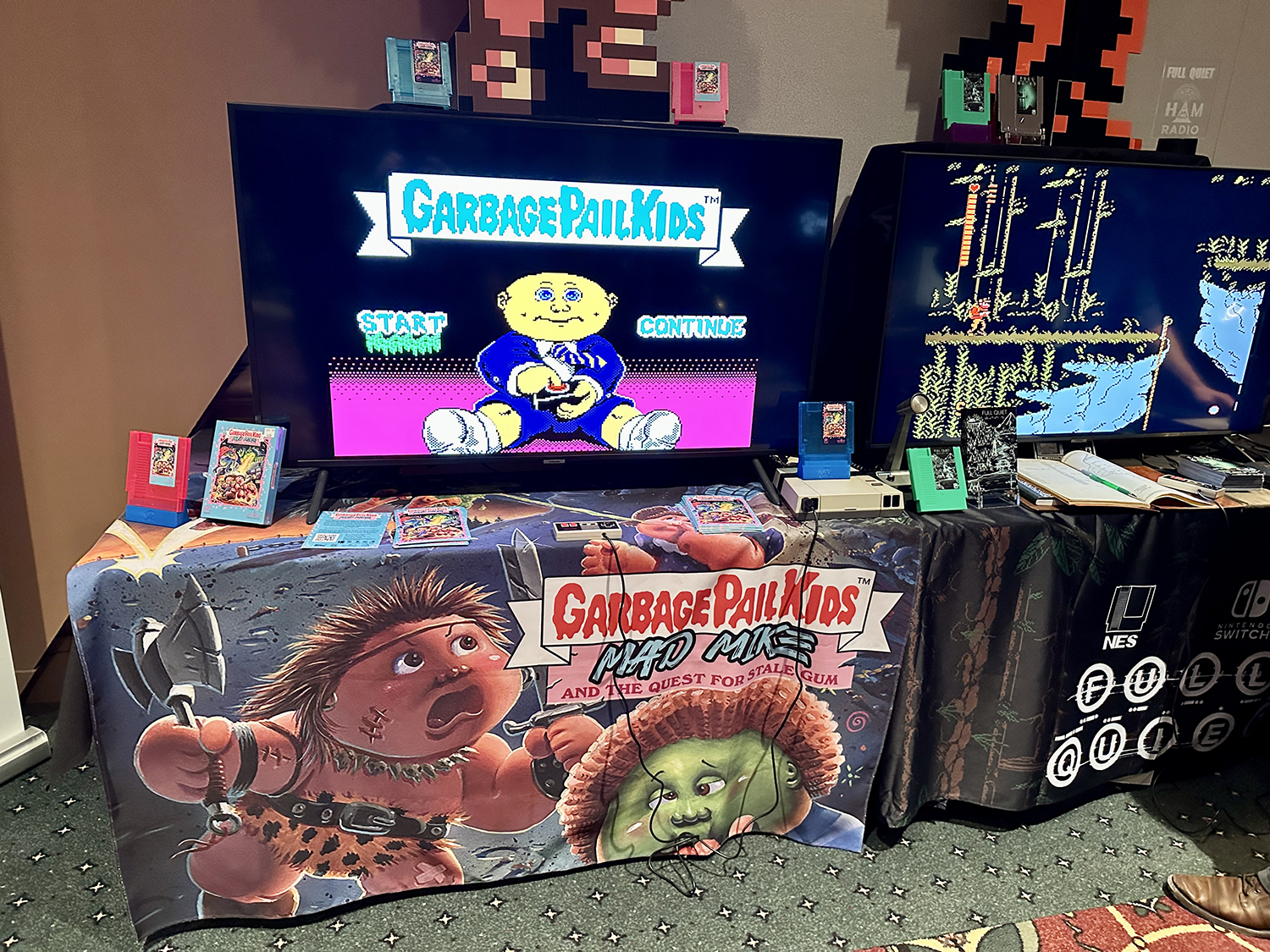 4:24 p.m. "Sir, did you drop your dagger?" asks an MGC attendee. "Oh, yeah, thanks," says a mostly bare-chested man who is carrying a giant sword and who totally dropped his dagger. And hey! There's LGR YouTube star Clint Basinger on the left! Greetings, Clint!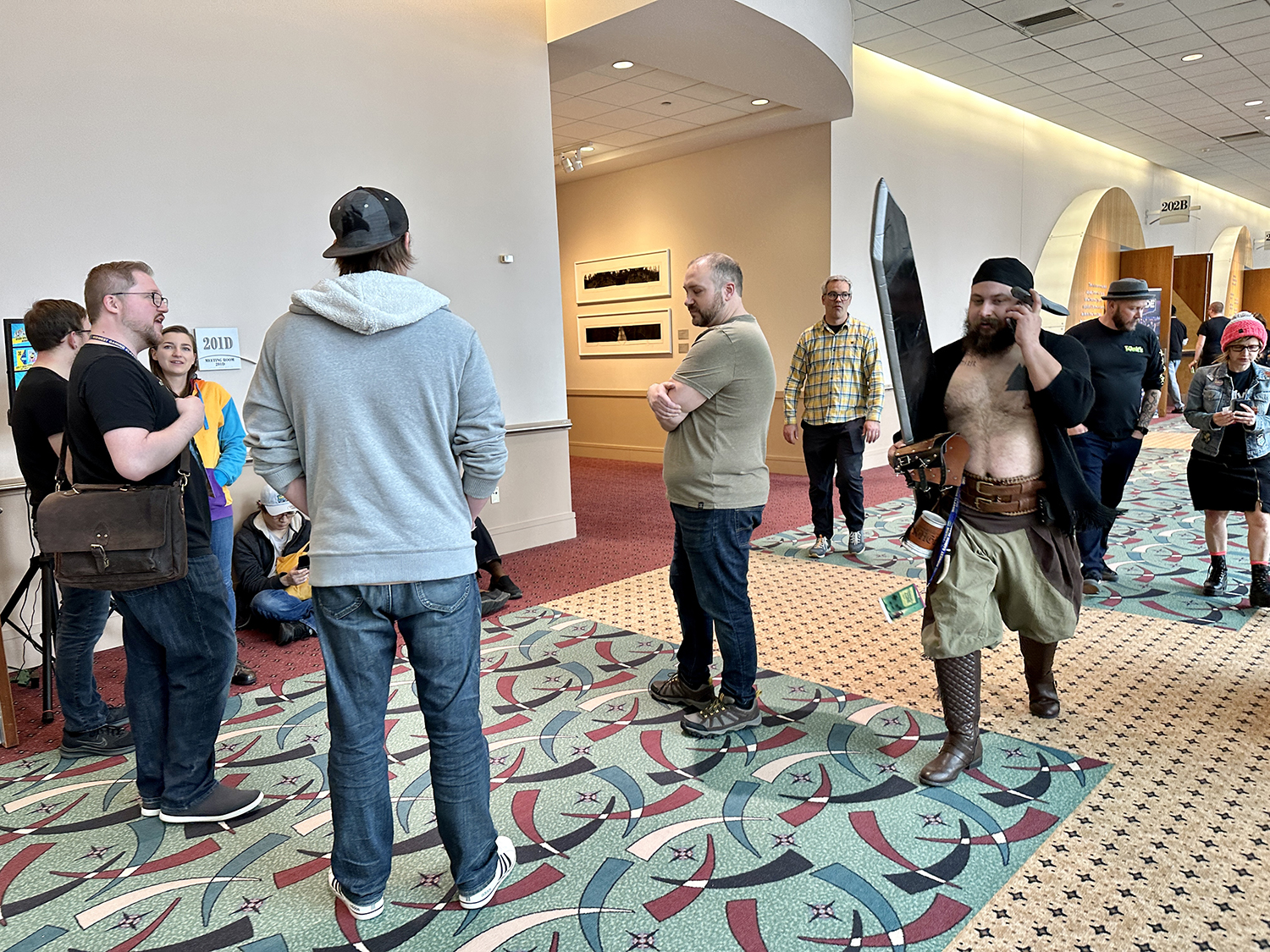 5:20 p.m. As I take in the sounds of video game musician Lacey Johnson singing the hell out of Pokemon banger "2.B.A. Master," I decide it's time to go. Yeah, I'm going to miss the reunion of a bunch of old Electronic Gaming Monthly reviewers at 6, but I think I've had my fill. Plus, my pinball game has been trending downhill ever since that Godzilla high score seven hours ago.
I walk to the lobby, wave goodbye to Dankey Kang, and chuckle at the dressed-to-the-nines older couple who are clearly in the wrong convention hall. (Wisconsin Center doorperson: "Are you here for the gaming convention?" Older man in a tuxedo: "No.") I'm a little peckish, so before I bus home I hit up 3rd St. Market Hall. This is the first thing I see. I know it's been there a while and I know it's unrelated, but it still feels like a sign. Once again, I walk away with a smile on my face.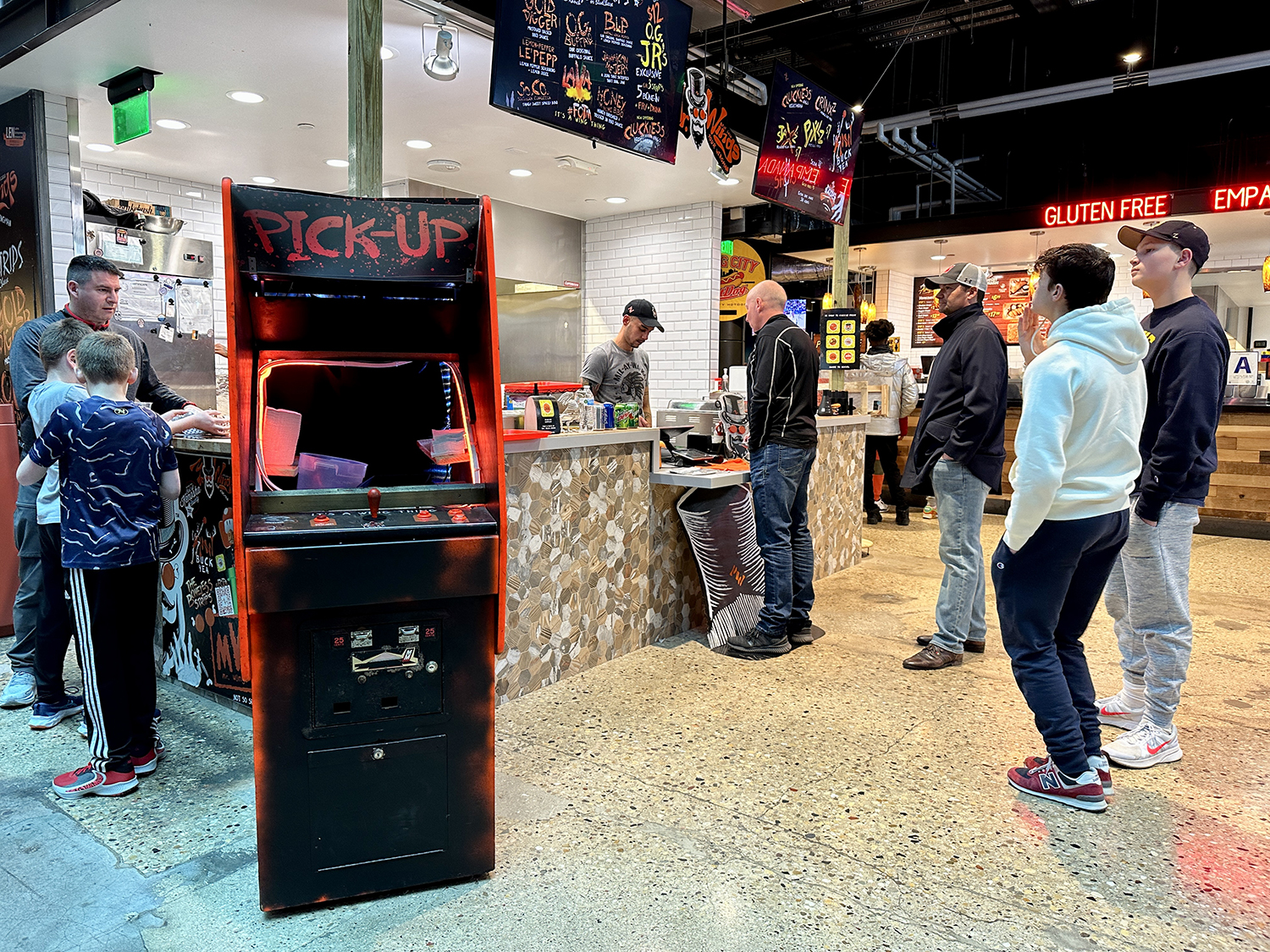 Exclusive articles, podcasts, and more. Support Milwaukee Record on Patreon.
---
RELATED ARTICLES
• 8 weirdly specific things I'm looking forward to at this weekend's Midwest Gaming Classic
• Ranking 20 video game systems for the 2022 Midwest Gaming Classic
• Now Milwaukee music is playing with power in the delightfully retro 'Space Raft: The Game'
• Disgraced video game champ Billy Mitchell was at the Midwest Gaming Classic, made a "statement"