Bay View isn't exactly hurting for pizza. Even with the recent loss of Little DiMarinis, the neighborhood is still bursting with a wide variety of pizza purveyors to suit almost any 'za craving. Places like Dom & Phil DeMarinis and the tucked away likes of Vinchi's serve classic Milwaukee thin crust. Classic Slice has huge single slices and tons of options for vegan and vegetarian customers. Anodyne and Santino's take a gourmet approach to their pizza. Deep dish hankerings can be satisfied at Tenuta's and the just-opened Rosati's. Speaking of franchises, Bay View is flanked on both ends by get-what-you-pay-for establishments in Pizza Hut and Toppers locations on Kinnickinnic Ave. If none of those places—or a few others we didn't mention—strike your fancy, the entire neighborhood is in Transfer's delivery area. In short, if you're in Bay View and you want pizza, you're covered.
While there's no shortage of slices in the neighborhood, market saturation isn't getting in the way of more pizza places opening in Bay View. As noted above, Chicago deep dish franchise Rosati's opened up shop on the edge of Bay View on April 9. A couple days earlier and a few miles away, Bay View got yet another pizzeria within its borders when Pizza Di Famiglia (2242 S. Kinnickinnic Ave., 414-988-0001) quietly came into existence. The by-the-slice place took over the small storefront when Jimmy John's made a freaky fast move to a new, parking meter-free multi-use building in Walker's Point over the winter. Less than two months later, Pizza Di Famiglia was ready to start serving…about one a block from the site the similarly-themed Strada Pizza so briefly occupied.
Can the newcomer with its "By The Slice, Buy The Pie" business model set itself apart in pizza-packed Bay View or is it actually possible to have too much pizza? Milwaukee Record paid an early visit to see if Pizza Di Famiglia was in the upper crust of the neighborhood's pizzerias.
The space: Like we said, this used to be a Jimmy John's. Not even factoring in the hard-to-avoid similarities with the exterior, the decorative influence of the pizzeria's predecessor is hard to shake. However, Pizza Di Famiglia does its best to fight the former tenant's franchise-mandated uniformity with oil paintings, Italian-influenced photography, and signage that's much more subtle and palatable than anything those walls had ever seen in the property's last iteration. There are 10 booths situated against one wall and a pub table beside a cooler that's stocked with tiramisu and homemade cannolis.
Everything to the right of the entrance has been cleared to give customers room to examine the long line of pre-sliced pizzas and place their orders over the lunch hour, when grabbing a quick dinner bite, or undoing some of the night's damage after bars close. Take note, party people: Pizza Di Famiglia is open until 3 a.m. Thursday through Saturday and until midnight every other day of the week.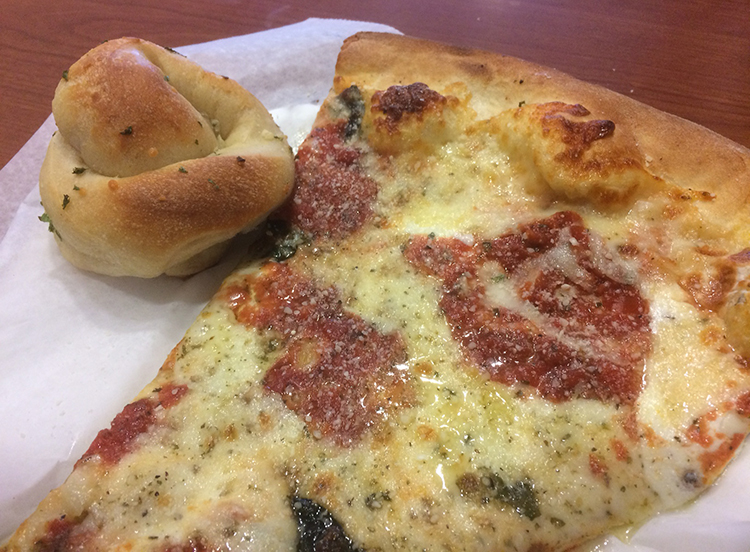 Milwaukee Record's food: Though by-the-slice seems to be Di Famiglia's bread and butter (crust and sauce?), customers can also "Buy The Pie" with the restaurant's selection of 14 pizzas. There are standard options like cheese, sausage, Hawaiian, and supreme along with a wealth of specialties like white spinach, buffalo chicken, two types of stuffed pizza, and one called "Grandma's." There are seven types of slices on hand daily, and other varieties cycled in periodically. We tried a slice of Grandma's ($3.95, the most expensive slice option) and felt it was a well-executed slice. The bottom was crispy, the blend of seven cheeses was soft and melted, and the dollops of tangy sauce complemented the generous dusting of basil. Every slice also comes with a garlic knot, which we used to sop up wayward sauce, cheese, and a few drops of grease from our paper plate.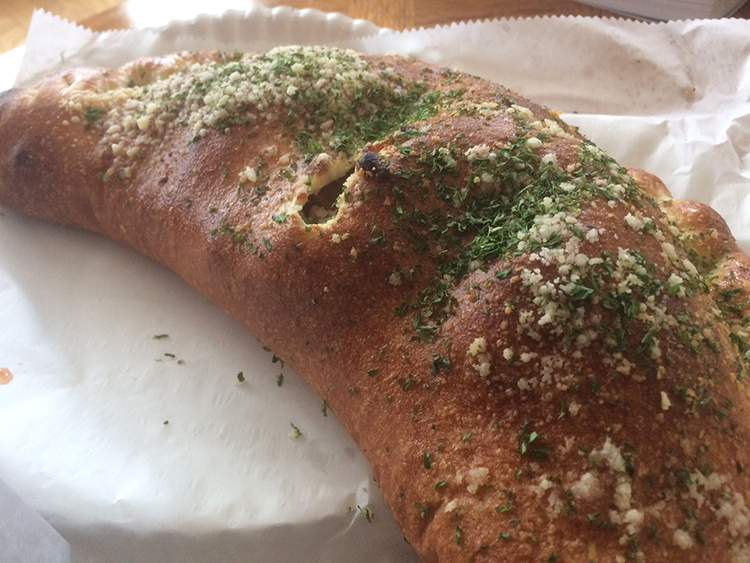 We enjoyed the slice as our calzone was being prepared. In addition to pizza, Di Famiglia serves up lasagna, mac & cheese, three types of salad, stromboli, and calzones. Within a few minutes, a huge mass of golden dough brushed with oil, Parmesan cheese, and oregano was brought to us and tested the structural integrity of our table. Covering two paper plates, the huge one-topping calzone ($7.99) was packed with gooey mozzarella, crumbles of fresh ricotta, liberally stuffed with spinach, and replete with thin slices of spiced sausage. It was gigantic—like a medium pizza was balled up and baked—and came with a container of cold marinara dipping sauce that cut through the amalgam of buttery crust, heavy cheese, and spiced sausage. We'll likely stick with pizza next time around, but the calzone is certainly a worthwhile alternative.
Walking past the dessert cooler, we couldn't resist ending our afternoon's indulgence with a cannoli ($3.50). The homemade combination of fresh, crispy crust with impossibly rich and creamy filling and chocolate chips brought a sweet balance to the savory main course. Seemingly thankful for the early business, the lone worker (who was friendly, fast, and professional throughout our experience) threw in an extra cannoli for free. We're ashamed to say it didn't survive the short drive home.
The verdict: Bay View doesn't need Pizzeria Di Famiglia, but one of the latest in a loooooooooong line of neighborhood pizzerias certainly isn't doing any damage—especially when comparing it to Jimmy John's. If you find yourself on Kinnickinnic Ave. and in need of a quick and cheap lunch or a satisfying after-bar snack, consider adding this newcomer to your Bay View pizza rotation.