For whatever reason, the piece of property at the bustling corner of Lincoln and Howell Avenues has been known to attract a particular type of business: Mexican restaurants. After serving as Taqueria Azteca's birthplace, 2301 S. Howell Ave. was the longtime home of Guanajuato (or "GTO") before it moved a few buildings south in early 2013 and gave way to the murals and new-age Mexican cuisine of Mr. Webo's. When Webo's closed a little over a year into its existence, chef/restauranteur and former Taqueria Azteca owner Frank Sanchez even attempted to raise start-up costs for a proposed "Mexican soul food tapas" restaurant called Sazón.
When Sanchez's GoFundMe campaign fell short, the property's distinctly Latin identity was threatened. Last month, new exterior signage broadcast a veritable breaking of the culinary cycle that's long existed at the high-traffic location in the heart of Bay View. On March 21, Strada Pizza opened for business and, in doing so, ended the streak of Mexican restaurants leasing the space. With pizza not exactly an under-represented commodity in the neighborhood in its own right, how would the "New York" style pizzeria fare in the infamous locale? In 30 minutes or less upon learning it opened, we rushed to Strada to have our first meal in a place we'd eaten many, many times before.
The space: GTO's endearingly dingy blue and orange paint job flanked by sprawling plant life is now a distant memory, as are the tacky graffiti skull murals that (for better or worse) set Webo's apart. Strada brings about a literal whitewashing of the divisive decor of its two most recent predecessors. The bones have been covered with a clean, creamy paint job. The tile flooring is brand new as well. The bar Webo's installed remains, but has been modified to serve as a counter, complete with cash register and pans of by-the-slice pizza behind a glass partition. What was once the bar back is now home to a hulking pizza oven. Along the southern wall sits a soda dispenser, cooler, and a trio of pristine wooden tables. Between the tables and a few stools along the Lincoln-facing window, Strada can seat about 20 patrons at any point. That's not much, but for a restaurant with a menu built for quick service and carryout, it's fine.
The service: Walking into the half full establishment just after the noon hour, we were quickly and warmly welcomed by a 30-something guy manning the counter. He kept himself busy as we examined the staggering menu hanging from Strada's ceiling. Once we figured out our order, the food arrived incredibly fast. When a group of six men walked in on their lunch hour, we observed the crew handle the onslaught of orders and cavalcade of questions expertly, even making a few jokes.
Milwaukee Record's food: Before ordering, we needed a solid five minutes to examine Strada's vast ceiling-mounted menu. Beyond both specialty and slices of 'za, Strada offers a confusing cluster of consumables such as 11 wraps and oven toasted sandwiches, 10 specialty burgers, seven salads, two varieties of wings, fries, soup and chili, smoothies, and (as an affront to the cafe king across the street) a host of coffee and other caffeinated beverages.
Though some of the burgers were calling out to us (we're looking at you, Inferno Nacho Burger!), we decided we couldn't make our inaugural pilgrimage to a place with the word "Pizza" in its name and not eat any. Of the pies out in plain view, a massive slice loaded with vegetables ($3.95) stuck out to us. With, like, 9,000 other options to sift through, we felt the need to try a starter size portion of the Chicken Avocado Ranch Salad ($4.98) to get a more thorough idea of Strada's versatility. The slice—complete with portabella mushroom strips, black and green olives, red and green peppers, and diced tomatoes—was a tad undercooked. The crust was crispy on the outside and fluffy inside, but the cheese was somewhat hardened (breaking off in chunks with each bite) and the sauce was lukewarm. Speaking of the sauce, it was a touch too sweet for our liking, but good nonetheless. The employee explained it was a secret family recipe, which struck us as odd, since the it wasn't off the beaten path whatsoever. Though not amazing by any right, it was up to snuff as far as single-slice pizza is concerned. The accompanying garlic knot was a nice touch, too.
The hearty Chicken Avocado Ranch Salad came with more encouraging results. A generous portion of lightly grilled chicken, about half an avocado, an entire roma tomato, cheddar cheese, cucumber, and a drizzling of light ranch atop an arugula-spinach blend more than made up for any of the pizza's (arguable) shortcomings. "Pizza" suffix be damned, there's no way we're not trying a burger the next time.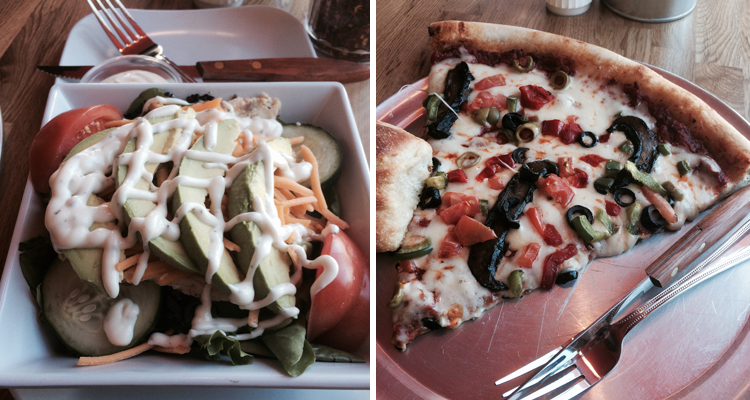 The verdict: With Classic Slice and two places with the DeMarinis surname within walking distance, Strada is nowhere near contention for Bay View's best pizza. However, an astoundingly vast and versatile menu for a place its size, gigantic portions, fair prices, and a great location makes the new restaurant a solid choice for quick lunch stops, cheap and satisfying post-bar sustenance, and a back-pocket option that offers fair-to-good versions of short-order standards.