Much like the rampant expansion craft brewing has experienced recently, the world of hard ciders is bursting with exponentially more brands that are creating exciting and new concoctions in effort to keep step with the ever-evolving tastes of a continually growing customer base. However, the difference between cider and its brewed brothers—which currently enjoys a sweeping presence on the majority of draft lines at countless so-called beer bars throughout Milwaukee and beyond—is the apple falls quite far from the tree in regard to the fruity intoxicants' availability at bars. Whether the results of craft beer's decades-long head start, apprehensive owners waiting to see whether this "gluten free" thing has staying power, the city's slowly changing tastes, or some combination of the three, it's not unusual for a patron in a Milwaukee bar to have their cider choice essentially made for them through the process of elimination.
Most establishments have bottles of Strongbow and cans of Magners in the cooler in addition to maybe another bottled brand or two and perhaps a tap line devoted to a core (sorry!) demographic. While the city's cider acceptance is slow on the uptake, the newly opened Lost Valley Cider Co. (408 W. Florida St., 414-885-5678) is the first Milwaukee bar to truly focus on this oft-overlooked and rapidly growing market of drinkers. Is basing a bar entirely upon a group of customers who are pretty much ignored everywhere else an ill-fated idea, or will Milwaukee look back someday and see this Walker's Point bar was on the right "cider" history?
The space: Just a few doors east of Iron Horse Hotel on the ground floor of the swanky Brix Apartment Lofts, Lost Valley doesn't look out of place in the slightest. The segments of the bar's exterior wall that aren't covered in bricks (or "brix") are lined with tall windows, which let in ample natural light. Aside from sunshine, a host of ceiling-suspended bulbs serve as the secondary source of illumination in the mid-sized bar with stools, chairs, and couches to seat about 40. Joining the lighting in the faux industrial motif is a metallic factory door emblazoned with the Lost Valley logo, reclaimed wood on the walls, and pub tables constructed from scrap metal and wooden apple boxes. A pair of weathered tubes resembling parts from a copper still host the 22 draft selections. In all, Lost Valley's interior is something we've seen many times before, but that's not necessarily a bad thing. While the decorative theme itself is something reclaimed from other establishments, the execution is refreshingly subtle when compared to many of its contemporaries. Also serving to set Lost Valley apart is the small retail portion, which sells canned and bottled brands along with 32-ounce "howlers" to-go (before 9 p.m.).
Milwaukee Record's drinks: Of the bar's more-than respectable 22 draft lines, 17 of them are devoted to cider, with no cameos from Magners, Strongbow, Woodchuck, or any of the other expected macros. Seattle Cider is probably the best-known commodity on tap. Instead of the usual suspects, Lost Valley offers selections from Wisconsin-based cider slingers like Restoration (Madison), Mershon (Stoughton), AeppelTreow (Burlington), Ferro Farms (Lake Geneva), as well as a few outliers like Michigan's own Uncle John's and—proud Milwaukee Record sponsor—Vander Mill, and a couple international brands. The remaining five lines pour two varieties of mead and a trio of lesser-known southeast Wisconsin and Illinois-sired beers.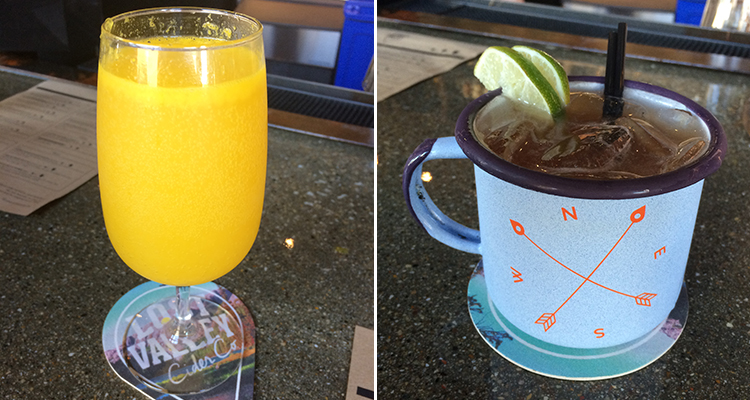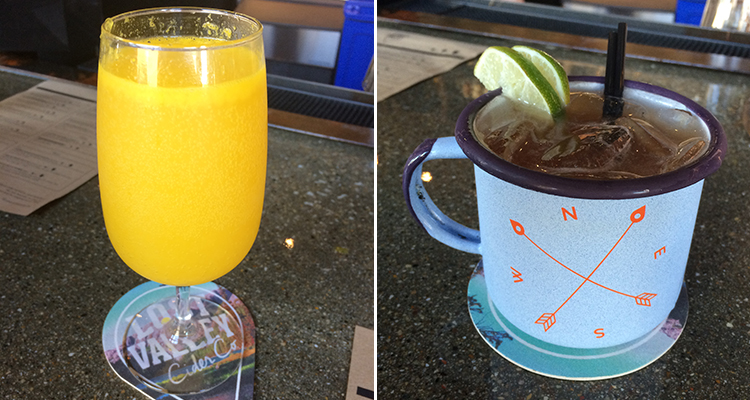 We opted to start off our Sunday cider session with a "Cider Mosa" ($7), a 12-ounce split of pulpy orange juice and Vander Mill Ginger Peach. While the Sunday special was a totally functional mimosa variation, we made quick work of the small and sweet starter and investigated Lost Valley's cocktail list in search of something more substantial for our second lap. We bypassed the first two cider-incorporating spirits and landed on the Mead Mule ($10), a confluence of Twisted Path vodka, ginger beer, lime, and Jinja Dragon Mead in an enamel mug. The sweetness of the ginger beer and refreshment of the ice and lime quickly relented to the boldness of the mead, which supplied a hint of honey in its own right. If the near-$1 per ounce price tag isn't enough to hold back a second round, the fact it'll put you on your ass could be. Evident as the mead is, this might be our favorite drink bearing the "Mule" suffix yet.
The verdict: Sure, some could bemoan a bar specializing in cider, the debatable gluten allergies of its customers, the alleged gentrification it might be accelerating, and its fancy hotel and luxury apartment surroundings. Those statements could even be true. However, in terms of cider selection alone, nobody in Milwaukee does it better. Those who are open to enjoying a sizable and largely local selection of apple-based beverages they've struggled to locate in area bars to this point will find their place at Lost Valley Cider Co.