Last week, we announced The Vanguard would be saying goodbye to 9 of its menu items. Even though some popular fare and other longer-tenured items—most notably the delicious likes of the Sartorelli, The Morita, and the Huntsman—have either been 86ed for good or removed from the menu until further notice, head chef Patrick "Paddy" Joyce enacted those difficult cuts in order to make room for eight new options on The Vanguard's just-updated menu.
Starting at 3 p.m. today, The Vanguard will be offering four new styled sausages, two "tube-less" options, one new poutine varietal, and a side. Oh, and the Bay View sausage bar will also serve five new seasonal cocktails crafted by Rissa Ruggles. Feast your eyes on The Vanguard's new and improved menu below.
Styled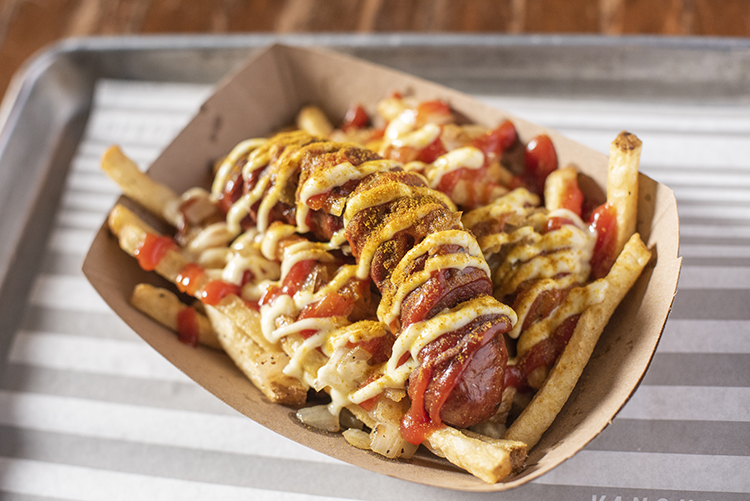 Berlin Currywurst (vegetarian and vegan versions also available)
Pork and beef frankfurter with grilled onion, mayo, ketchup, and curry dust served over fries.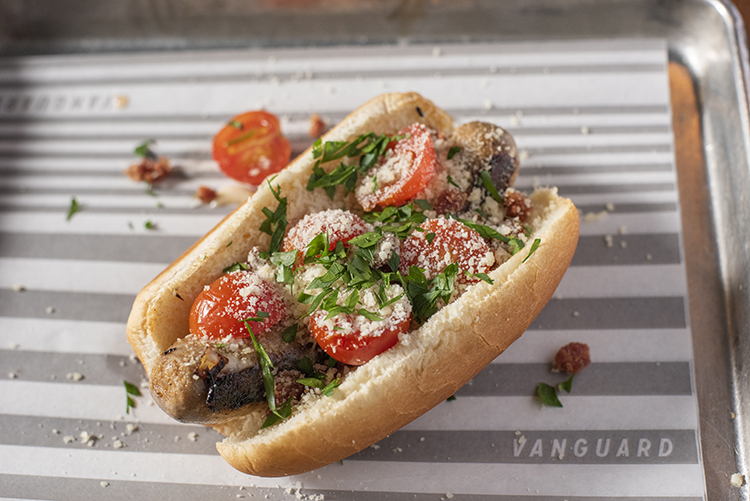 Hot Brown
Smoked turkey, pork, and bacon sausage with bourbon mornay, sherry roasted tomatoes, bacon, and Parmesan.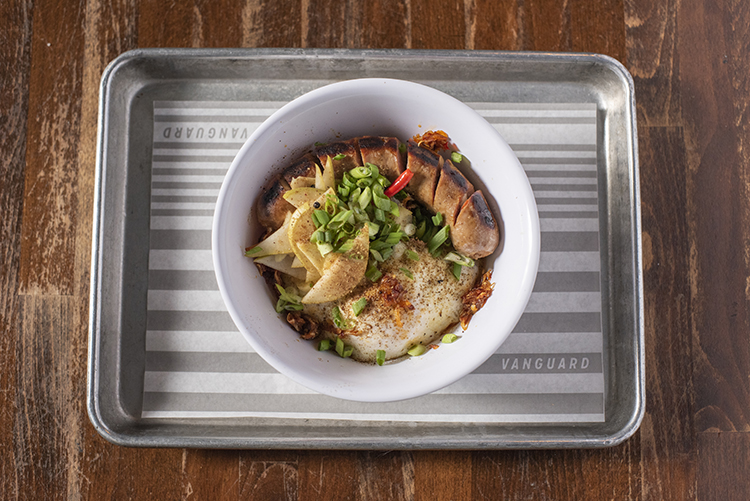 Lo Pan (vegan version also available)
Pork sausage with tofu, garlic, chili, and bean paste with pickled pears, house chili crunch, fried egg, szechuan pepper, and scallion served over white rice.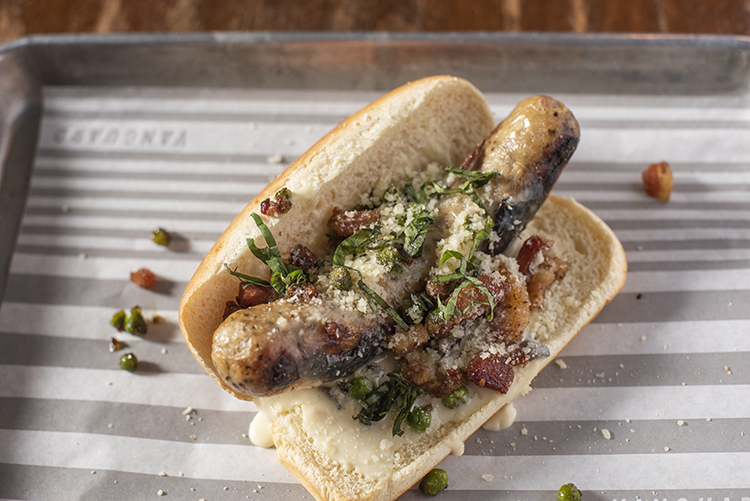 Fredo Gibbs
Chicken, pork, bacon, and romano sausage with mushroom alfredo sauce, peas, lardons, and an Italian cheese blend.
Tubeless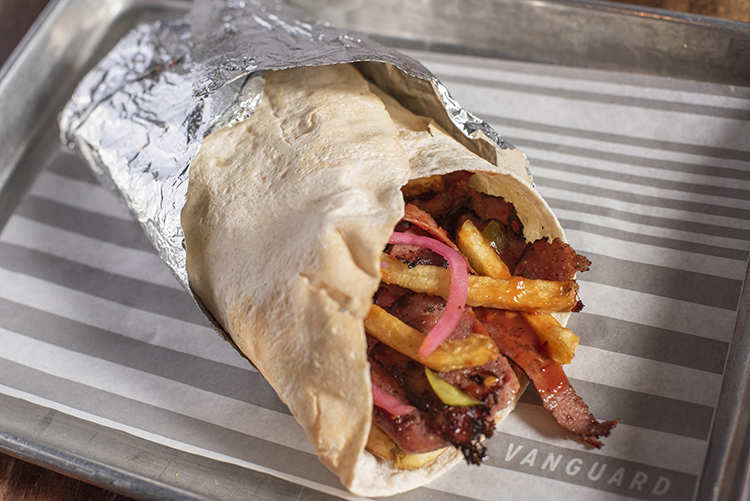 Tarkan (vegan version also available)
Lamb, chicken, and beef döner meat with garlic tahini sauce, pickled onions, house chili sauce, pickles, fries, lettuce, and tomato served on shrak bread.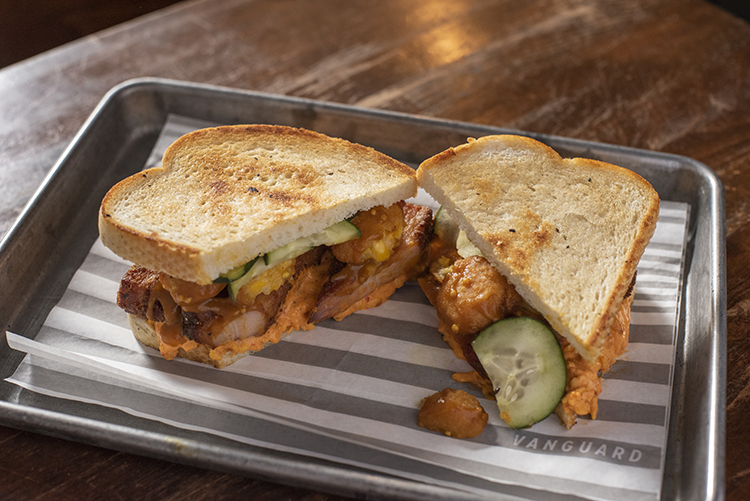 Pork Belly Sando
Crispy fried 24-hour pork belly with pimento cheese, mustard BBQ sauce, corn fritters, and house habanero pickles served on toasted sourdough.
Poutine + Fries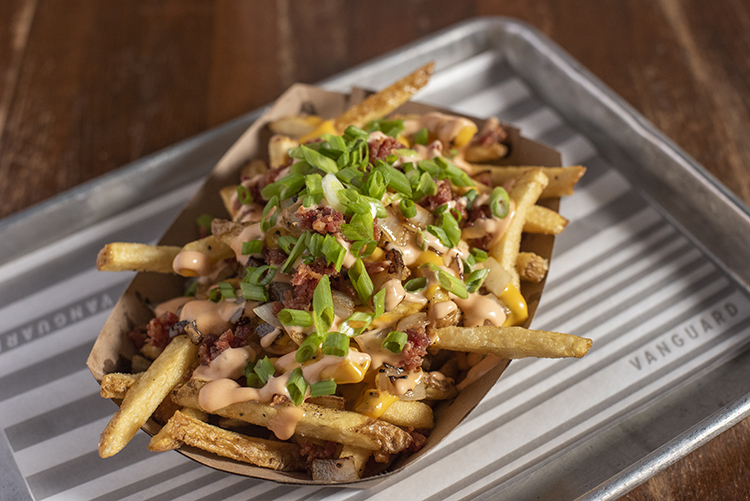 Animal Steele Fries (vegetarian and vegan versions also available)
Fries topped with whiz, grilled onions, OK Sauce, bacon, and scallion.
Sides
Twice Fried Potatoes (vegan version also available)
Crispy potato "chonks" with chimichurri, sarvecchio, and roasted tomato.
Seasonal Cocktails
Winter Sangria
Red Wine, Royal Combier, Laird's Applejack, Velvet Falernum, Creme De Cassis, Caramel, and Orange.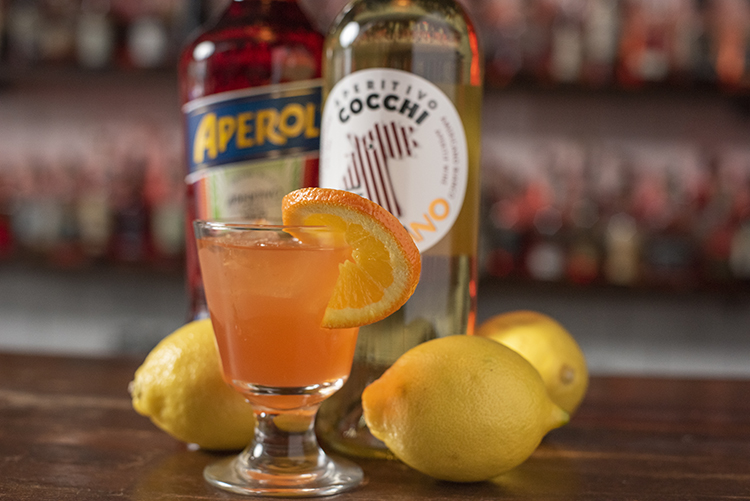 Rosa Mela
Aperol, Cocchi Americano, Cider, Lemon, and Orange.
Consuelo
Lunazul Reposado Tequila, Maple, Cantera Negra Cafe, Aztec Chocolate, and Cinnamon.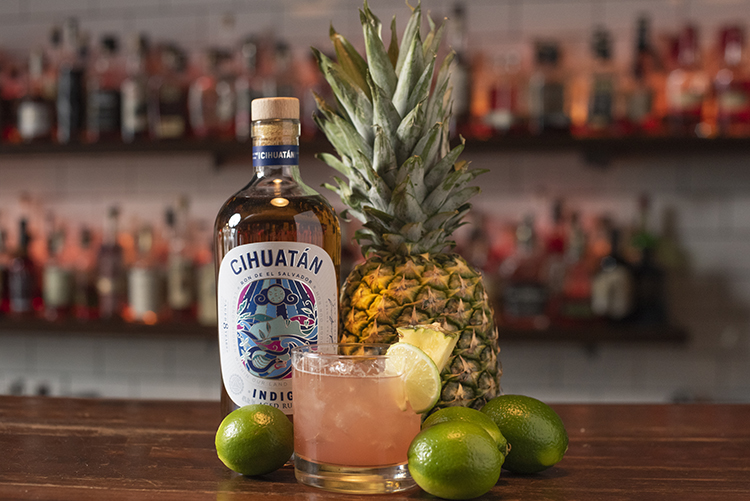 Arcadia
Cihuatan Indigo 8-year Rum, Pineapple, Lime, Butterscotch, Vanilla, and Cranberry.
King's Road
Suntory Toki Whisky, Canton Ginger Liqueur, and Orange.