It's an unprecedented and incredibly difficult time for bars and restaurants right now. Wanting to highlight local establishments who are keeping food quality high while also keeping its customers and employees as safe as possible, we're going to focus on restaurants that have completely shifted to carryout and/or delivery service in a series we're calling "Carryout Chronicles."
For years, people in and around Milwaukee were begging for the region to open an all-ages music venue. Others have been clamoring for another arcade to address the area's growing demand for gaming for just as long. Finally, metro Milwaukee got its wish in early 2019 when a group of passionate people with connections to the local music scene opened X-Ray Arcade (5036 S. Packard Ave., 414-998-0665) in the former site of The Metal Grill and Vnuk's Lounge. Since then, the suburban bar/arcade/venue has hosted the likes of The Lawrence Arms, Thurston Moore, Bad Cop/Bad Cop, John K. Samson, Tiny Moving Parts, Owen, Direct Hit!, Daikaiju, and a wide range of other local favorites and nationally-regarded independent musicians on its "Very Famous" stage.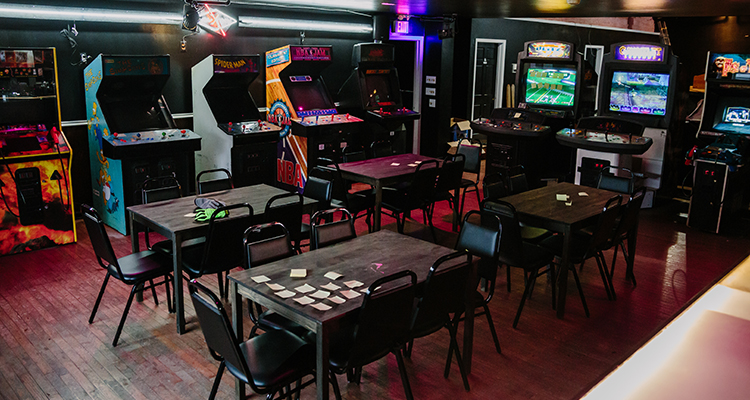 Earlier this month, X-Ray celebrated two years in business. Unfortunately, the Cudahy-based arcade, bar, and music venue has been unable to safely host concerts or allow people inside to play games for nearly half of its existence, as the establishment has closed for in-person service (excluding extremely limited patio seating on select weekend nights during warm weather months) last March on account of the COVID-19 pandemic. Since then, ownership has done its best to stay afloat by offering drinks to-go, expanding its line of amazing merchandise, and occasionally hosting Ste Martaen to sell vegan brunch in a carryout capacity.
Last weekend, X-Ray Arcade started offering customers another unique way to support the business while also getting a taste of "live" music and specialty pizza bagels in the process. When "X-Ray Takeaway" service officially kicked off last Sunday, we placed and order and gave the innovative new combo meal a try.
Policies And Procedures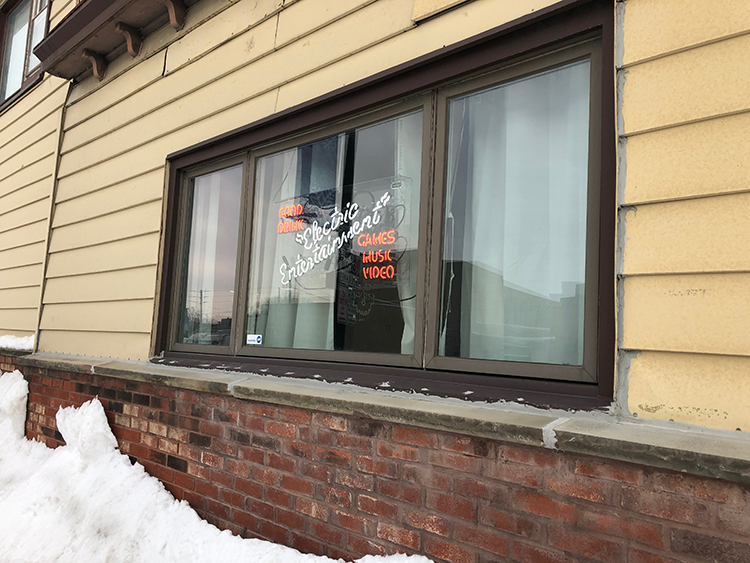 X-Ray Takeaway can only be ordered in advance and, at this point, is only available on Sundays. You can place a food order online (days in advance or day-of) and select a Sunday pick-up time between noon and 7 p.m. It's also worth noting that additional items, such as beverages (both alcoholic and non-alcoholic), Soothsayer hot sauce, and X-Ray merchandise can be added to carryout orders. Where else can you get a fancy pizza bagel, a bottle of hot sauce, some beer or cocktails, and a pair of X-Ray branded athletic shorts at the same time?!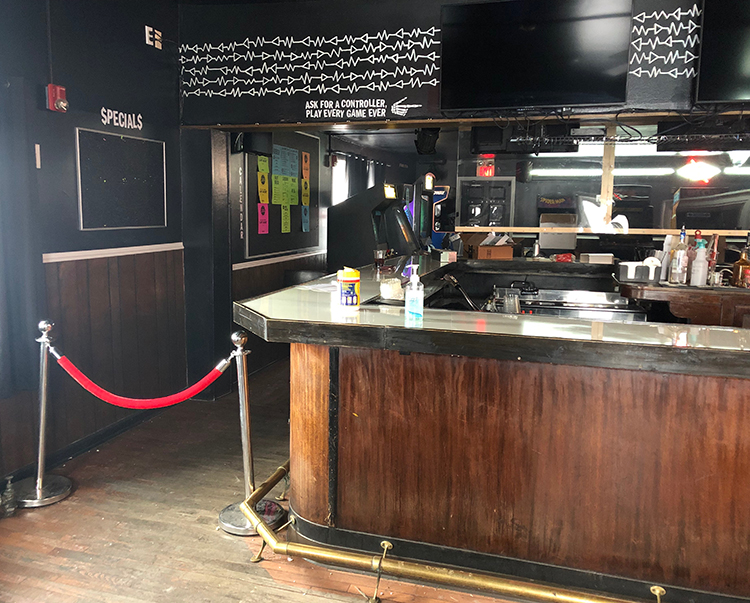 When your chosen pick-up time comes, you can mask up and enter the business through its main entrance. We imagine you can also call X-Ray to let them know you've arrived to coordinate curbside pick-up if you don't feel comfortable venturing inside. We made our way into the business, though, and gave the lone staffer our name. As we waited the two or three minutes for our food to be completed and packed up, we took an issue of Razorcake off a nearby magazine rack and read a Rev Norb column. In no time, our order was ready. We took it and our new punk periodical home to enjoy.
Carryout Quality
The X-Ray Takeaway menu consists of a small-but-satisfying selection of pizza bagels that are made in-house. Included among them are four "basic bagel" varieties and two special options that feature two loaded-up bagel halves per order. The first two specials are buffalo chicken and vegan spinach artichoke dip. In addition to offering a mixture of vegan, vegetarian, and meaty pizza bagel varieties, meals also come with a bag of Zapp's brand chips (a choice of regular flavor, Voodoo Heat, or BBQ). Add-ons and dipping sauces like giardiniera, ranch dressing, or vegan ranch dressing can also be included for a small additional charge.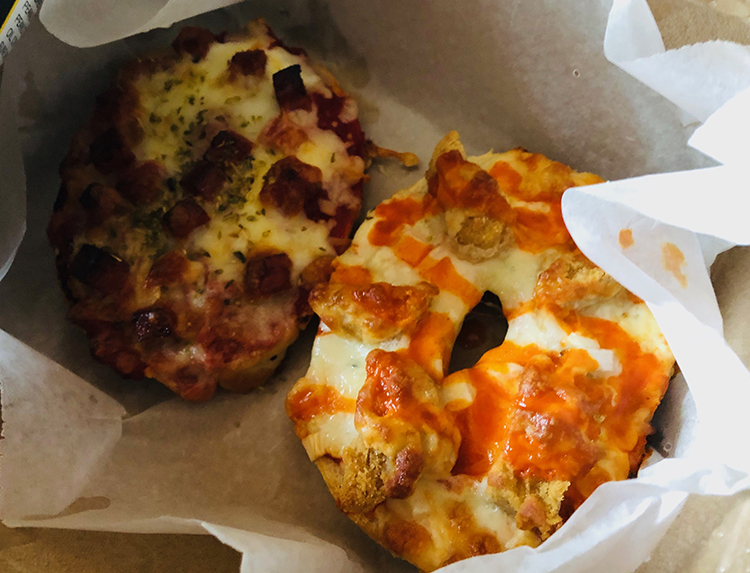 Full disclosure: we were actually invited to try two pizza bagel types during a trial period a couple weekends back, and we thoroughly enjoyed both of them. The Peppy Pizza Bagel (pictured top left) featured diced pieces of pepperoni, mozzarella and provolone cheeses, ranch, a generous scattering of oregano, and a pizza sauce base all melted atop a toasted plain bagel. The Buffy Bagel (pictured top right) has the toasted amalgam of chicken nuggets, blue cheese, mozzarella and provolone, diced onion, ranch, and buffalo sauce on a toasted plain bagel. With the addition of a ranch dipping sauce and a bag of Voodoo Heat chips, it made for a fun and flavorful lunch that we knew we'd be getting again at some point down the road.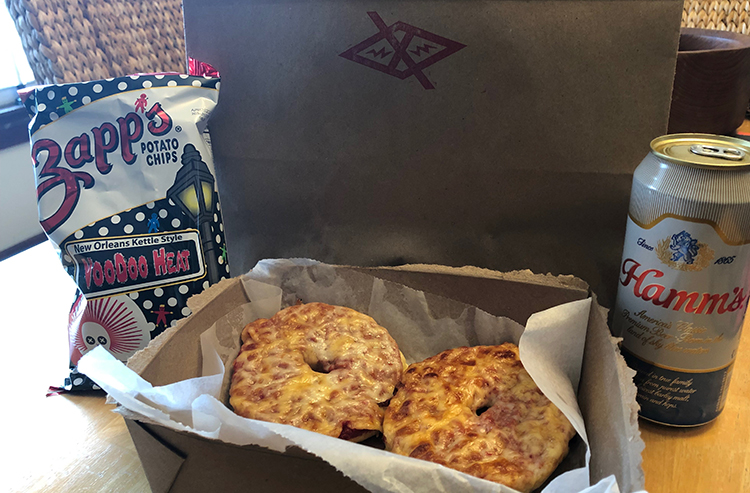 Well, "sometime down the road" happened the first Sunday the X-Ray Takeaway site was live. Having sampled two varieties already, we opted to take down a third kind. We decided to keep things simple this time around, with the Cheesy Pizza Bagel ($13) that offered the gooey, damn good grouping of melted mozzarella, provolone and gouda cheeses, along with ranch topping, a few dashes of oregano, and ample pizza sauce on two plain toasted bagel halves. Now fully won over by Zapp's Voodoo Heat chips, we had those as our side once again. And for old time's sake, we added one of our X-Ray standby beverages—a tallboy of Hamm's ($3)—to the order. The Cheesy option was good, but we're more likely to go back to the Peppy or Buffy (it's a toss up which one was our favorite) next time around.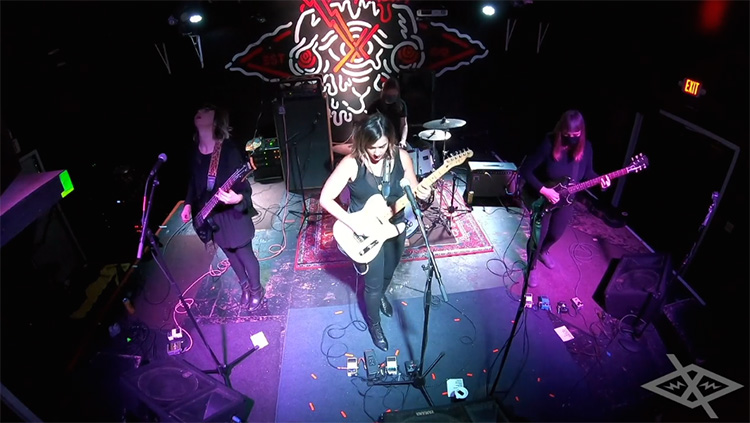 We'll admit that $13-$15 before tip for a pizza bagel (great as they are) is a bit on the pricey side…until you factor in the final component of these inventive "combo meals." To round out the meal, X-Ray gives customers exclusive/permanent access to a virtual concert with each purchase. The "live" show (via a link that's emailed after placing an order) features footage of a full-length performance by a band that was filmed on X-Ray's stage and mastered by Erik Atwell and Stillwave Studios. Last week's show was Milwaukee's own Fox Face. While we ate, we watched the garage rock outfit play songs from their newly-released album, End Of Man. With a Hamm's in hand and the X-Ray stage in view, things felt right…or at least a little less wrong, for a change. This Sunday's meals come with a performance by a Chicago band called Sweetie.
Other Info
We repeat: X-Ray Takeaway is only available on Sundays (at least at this point), but can be ordered any time before that. In addition to the pizza bagel types we mentioned earlier in this article, there are vegan "cheese" and "pepperoni" options, as well as both vegan and non-vegan spinach and artichoke flavors. It's been (quite accurately) said over and over again in the past 12 months that music venues were among the first places to close when the COVID-19 crisis came and they'll be among the last to reopen. So consider getting some food and drinks to spread some love and a little money to an all-ages venue that could use it. If pizza bagels aren't your thing, consider buying some X-Ray merch or donating to their still-active GoFundMe campaign so this independent arcade and all-ages venue is still around when the world bounces back and live music can safely return.