It's an unprecedented and incredibly difficult time for restaurants right now. It's especially tough for restaurants in Wisconsin, where COVID-19 numbers are currently off the charts. Wanting to highlight local establishments who are keeping food quality high while also keeping its customers and employees as safe as possible, we're going to focus on restaurants that have completely shifted to carryout and/or delivery service in a series we're calling "Carryout Chronicles."
Founded in 1999, Anodyne Coffee Roasters is a locally lauded business with a great reputation and outstanding caffeinated beverages. After starting the business on Brady Street, owner Matthew McClutchy moved the operation to a space at the corner of Kinnickinnic and Trowbridge in Bay View. The location served as Anodyne's flagship cafe and roastery until late 2013, when roasting operations moved to the growing local coffee chain's sprawling new Walker's Point cafe and events space. Suddenly left with extra room in its Bay View location (2920 S. Kinnickinnic Ave., 414-489-0765), owners decided to install a wood fire oven where the roaster used to be.
More than six years after christening the wood fire oven, Anodyne—a place that has crafted some of Milwaukee's finest coffee—now makes some of the city's best pizza. When the COVID-19 crisis hit Milwaukee in mid-March, Anodyne closed its Bay View cafe for in-person business altogether. More than nine months later, that's the way it has remained. Fortunately, they still offer beverages to-go by day and, yes, Neapolitan pizza in the evening. With all due respect to frozen pizza purveyors and area delivery chains who do the job well, we were looking to liven up our pizza pattern recently with an elevated execution we could enjoy at home. So we made our way to Anodyne.
Policies And Procedures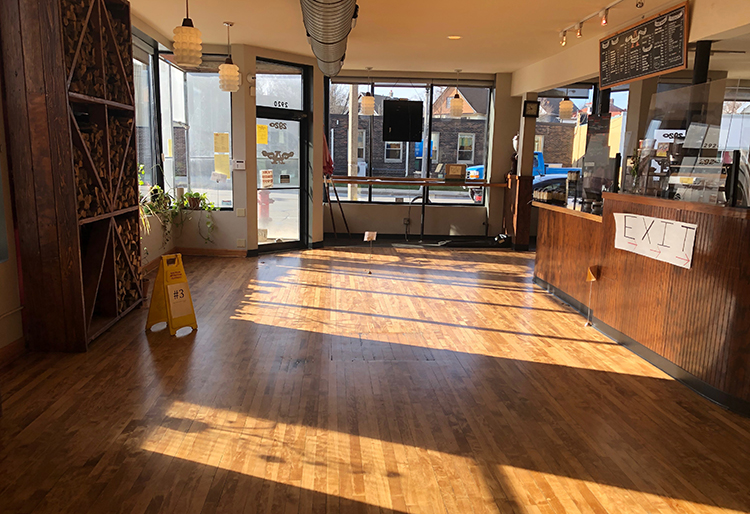 As noted above, Anodyne's Bay View Cafe currently operates under a carryout-only model. Walk-up service of coffee and espresso drinks is available 7 a.m. to 8 p.m. weekdays and 7 a.m. to 4 p.m. on Saturdays and Sundays. Customers are expected to mask up, place orders at the plexiglass-covered counter, await their beverages at one of the spaced-out and numbered stations, and leave from an exit-only door.
There's no indoor seating, but there are a couple of picnic tables outside. Pizza is available for pick-up weekdays from 4 p.m. to 8 p.m., but those orders must be placed in advance either over the phone (414-489-0765) or online.
Carryout/Delivery Quality
We placed an order online and were told it would be ready in five minutes. Doubting the rapid turnaround time, we waited about eight minutes before showing up and, sure enough, our order was ready when we got there. Touting "super fresh, super local" ingredients, the menu is full of enticing specialty pizzas. We started our order with a Funghi—featuring red sauce, wood fire-roasted Cremini mushrooms, and fresh Wisconsin mozzarella atop pillow-y gourmet crust—and added sausage ($16.75 including the additional topping). Between the high-caliber ingredients, the fresh and vibrant sauce, and the next-level crust, we made quick work of the delicious pie.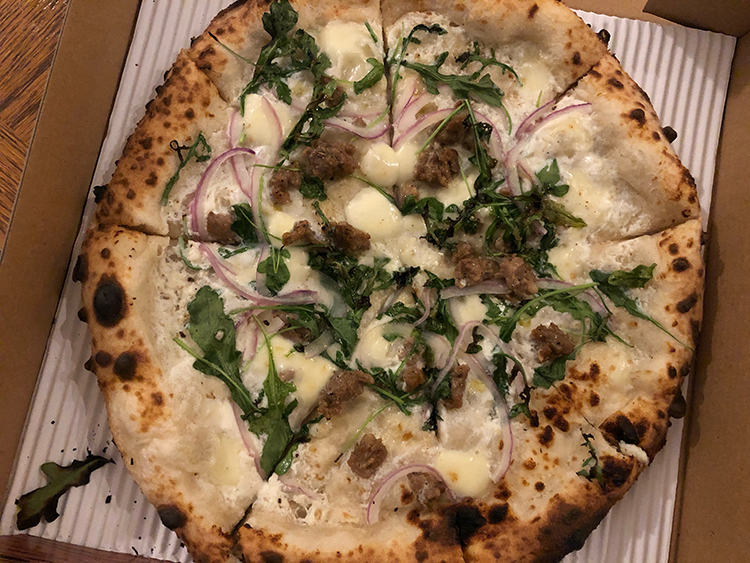 We also ordered the Bianca—featuring house made ricotta and roasted garlic white sauce, fennel sausage, and arugula—and added onions ($16.75 including the additional topping). It, too, was excellent and well worth the admittedly high price point.
Other Info
It's also worth noting there are some vegetarian and vegan options, a handful of non-pizza offerings like bruschetta and salad, and both ground and whole bean coffee available by the pound. Customers over the age of 21 can also order beer and wine by the bottle. This article's release is poorly timed, as Anodyne will be closed December 24 and December 25. But once Christmas is over, Anodyne's Bay View Cafe will be there to once again help you start your day right, get a mid-day jolt, and (on weekdays) end your night in delicious and locally-made fashion. The Cream City roaster has been a point of local pride since 1999. You can help them carry on into 2021 and beyond if you bypass nearby chains like Starbucks and Pizza Hut and, instead, make the decision to carryout some Anodyne.