It's an unprecedented and incredibly difficult time for restaurants right now. It's especially tough for restaurants in Wisconsin, where COVID-19 numbers are currently off the charts. Wanting to highlight local establishments who are keeping food quality high while also keeping its customers and employees as safe as possible, we're going to focus on restaurants that have completely shifted to carryout and/or delivery service in a series we're calling "Carryout Chronicles."
Since opening in 2015, Al-Yousef Supermarket & Restaurant (6329 S. 20th St., 414-301-5233) has stood as a shimmering visage on a crumbling, pothole-laden lot situated near the high-traffic, interstate-adjacent corner of 20th Street and College Avenue just beyond Milwaukee's border in nearby Oak Creek. While the business' primary identity is that of a Middle Eastern market, Al-Yousef's absolute best asset is its "restaurant" (more accurately a small takeout counter) that's shoved in a corner beside boxes of produce, rows of jars and tins, and stacks of tea.
We've been craving Al-Yousef fairly consistently since we first covered the supermarket and restaurant as part of our Tucked Away series in 2017 (when the photo you see above was taken), but once the COVID-19 crisis took hold of metro Milwaukee—and the rest of the country, for that matter—last March, we weren't exactly rushing to wait for our food in a crowded corner market. However, upon learning that orders could be placed online and hearing rave reviews about the staff's approach to safety amid a deadly pandemic, we decided we could wait no longer. Last weekend, we revisited Al-Yousef.
Policies And Procedures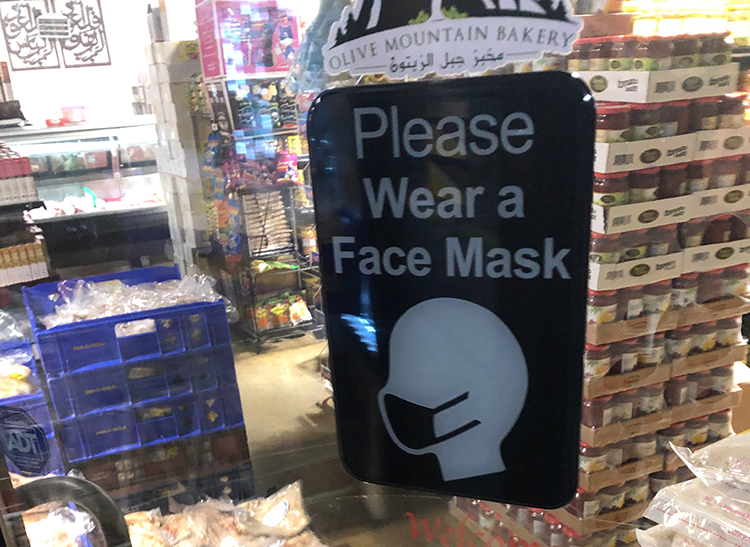 As noted above, Al-Yousef now offers online ordering, which allows customers to place an order that day (as soon as 20 minutes in advance) or for the following day in the case of large orders. You can also order over the phone or, if the mood suddenly strikes, just order in person at the counter.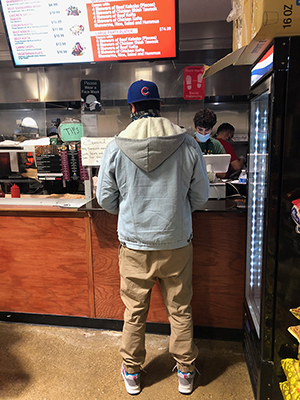 We opted for the online ordering method and selected a pickup time 40 minutes from when we submitted payment, wanting to give ourselves the ability to finish a playoff game we were watching and, to take our time to venture southwest of the airport and, admittedly, because we had our doubts that Al-Yousef would have everything ready for us in just 20 minutes during a Saturday dinner rush.
After finding a spot in the somewhat packed lot and masking up, we stepped inside the market and navigated past a few shoppers to take a spot in the spaced-out line at the store's northwest corner. After a wait time of maybe two minutes, it was our turn in line. We gave our name and instantly got our bag of goodies. There was no fuss, nothing to sign, and no cash or cards exchanging hands. Before we knew it, we were making our way back to Milwaukee proper.
Carryout Quality
Since Al-Yousef's restaurant has been operating exclusively under a carryout-only model since day one, literally nothing has changed in terms of its actual food quality. It's just easier to order now and it's both quicker and more efficient to pick up as well. And since nothing has changed in regard to the establishment's food service format, there was no need to pare down the menu to accommodate societal changes. All the greatest hits remain on the minute Middle Eastern purveyor's menu. It's also worth noting that even as the world outside this specialty shop and restaurant's walls has changed so much lately, the prices remain the same as they were pre-pandemic.
We made sure to stock up on falafel, getting a 12-piece bag for a paltry $3.99. We could ramble on for a long time about how good everything we've ever eaten at Al-Yousef is (and we will do that later), but it all starts with the falafel. It's crunchy outside, fluffy inside, spiced exceptionally, and a must-have if you're venturing all the way to Oak Creek for a carryout meal. If you're not in the mood for a dozen oblong orbs of deliciousness, you can get three pieces for 99 cents or nine for $2.99.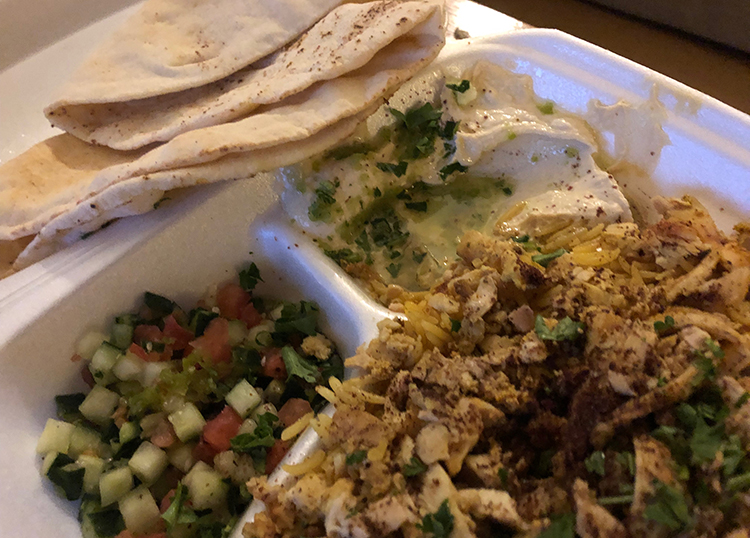 We were tempted to get SW Chicken Shawarma—a wrap with halal chicken, garlic sauce, pickles, and tomatoes—like we did for our 2017 article, but we reluctantly opted for the Chicken Shawarma plate ($8.99) instead because we wanted to see how the accompanying Basmati rice, cucumber salad, and hummus stacked up. Our risk paid off, as the sides were excellent and, when mixed with the chicken and Lebanon bread, delivered a bounty of flavors and textures that proved to be satisfying and comforting on a cold winter night. We had about half our plate for lunch the following day along with a few remaining pieces of falafel. All of it held up well, though the chicken was obviously less tender after a night in the fridge.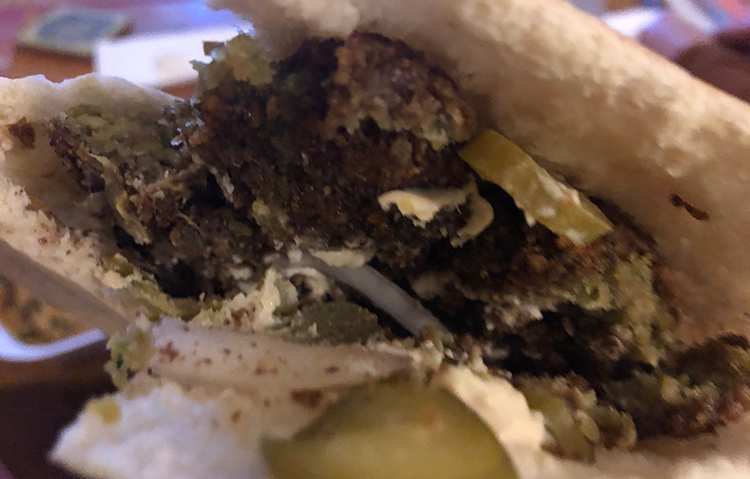 It was easier for us to pass up the SW Chicken Shawarma once we made the last-second decision to make our drive especially worthwhile by adding a Falafel Sandwich ($4.99) to the order. Note: you have to manually add ingredients to the sandwich from a dropdown menu of options or you'll just get a pita with some falafel in it. There's no charge for these add-ons. We decided to pair the pita and falafel base with pickles, hummus, raw onion, and tomatoes. Please excuse the terrible photo. We dove into this item so quickly that we didn't remember to take a picture until it was almost gone. If you're keeping track, our order (which included enough food for two large meals) came to less than $18 before tax and tip. It's cheap. It's delicious. It's meant to be enjoyed at home.
Other Info
Al-Yousef is open daily from 10 a.m. to 10 p.m., with online ordering hours running from 10:30 a.m. to 9:30 p.m. daily. There are numerous vegetarian options, as well as a number of chicken and beef items. For larger households or someone looking to stock up for a while, Al-Yousef also offers bulk "Party Platter" items that range from sides and dips to kabobs. It probably goes without mentioning, but in addition to offering food to-go, Al-Yousef is also an active grocery store. So after picking up and paying for your food in the restaurant potion, we recommend browsing the store for specialty beverages and desserts while you're there. The website is great, the protocols are dialed in, and the food is amazing. If you've been craving Al-Yousef and you have the ability to get out there, you honestly have no reason not to go.