Between beloved and well-established local staples and a steady wave of new bars and restaurants popping up in and around Milwaukee almost every week, worthwhile dining and drinking gems can occasionally get lost in the shuffle. With Tucked Away, Milwaukee Record digs deep with the hope of unearthing some of these gems.
By sheer nature of its location, Al-Yousef Supermarket & Restaurant (6329 S. 20th St., 414-301-5233) is not tucked away. The Middle Eastern market has stood as a shimmering visage on a crumbling, pothole-laden lot situated near the high-traffic corner of 20th Street and College Avenue on Milwaukee's southwest corner since it opened in 2015. Though the shop—and its towering exterior signage—aren't exactly hurting for visibility, Al-Yousef's absolute best asset is shoved in a corner beside boxes of produce, rows of jars and tins, and a stack of tea. However, those who manage to navigate the aisles and follow their nose to the nondescript counter in the quaint international market are in for something special.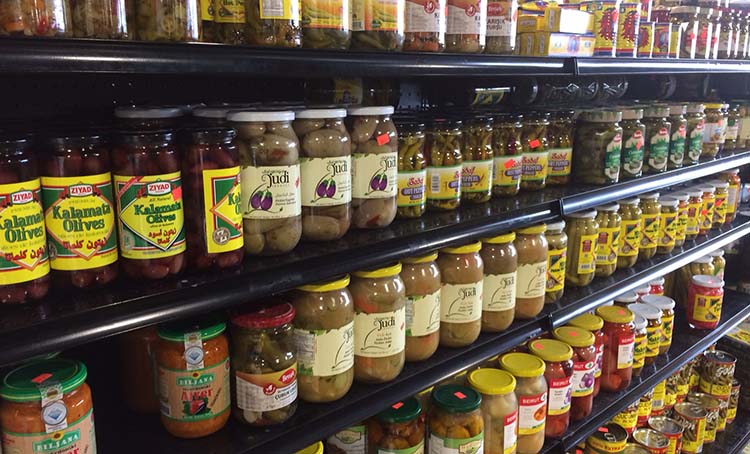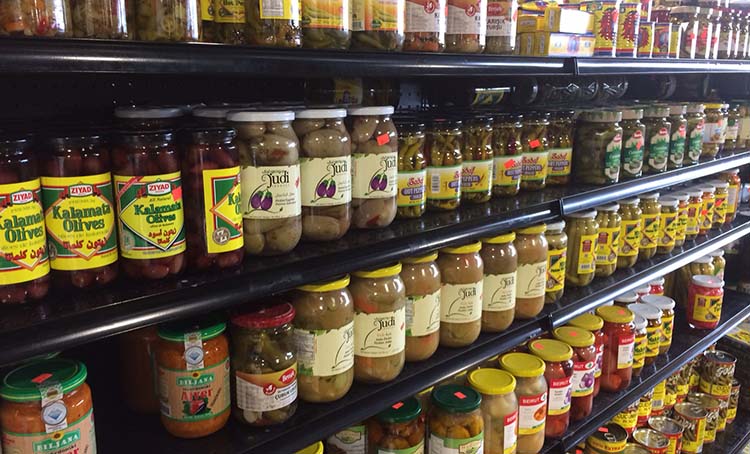 The space: As previously noted, Al-Yousef's primary identity is that of a grocery store. Roughly 10 aisles are packed tight with jars of pickled vegetables, olives, stuffed grape leaves, bags of rice and grain, fresh produce, specialty desserts, and universal bodega standards like gummy worms and soft drinks (except with Arabic and Turkish labels). Al-Yousef's "restaurant" portion is actually a small takeout counter that grants customers a firsthand glimpse of the grills, two spits with massive hunks of rotating chicken and beef, a deep fryer, and an ever-boiling caldron of rice. Overhead, three flatscreen TVs display charmingly out-of-focus images of menu items. There seems to be little rhyme or reason to the transaction process beyond placing ones order, shopping as the two- or three-person team prepares the food, and reiterating your order at the front register upon paying.
Milwaukee Record's food: With the lack of size, Al-Yousef's menu is small, but it bears some heavy-hitters. There's hummus, baba ghanoush, foul madammes, tabbouleh, and falafel that's made to order (the staff warns of the wait). Al-Yousef offers "sandwiches" or, more accurately, pita wraps like beef kabob, chicken shish taouk, falafel sandwich, and both chicken and beef shawarma. Of course, all those can be amended into entrees, but facing a 20-minute drive home, we opted for the more portable rendition that could be sampled on the go. Dave Begel would be proud.
As we examined the minute menu, we expedited our wait for falafel by placing an order for half a dozen balls ($1.99) on the spot. A dozen runs just $3.99, but we wanted to save room for hummus ($4.99) and some chicken shawarma with shrak ($6.99). While we awaited our order, we also grabbed a can of a Uludağ Gazoz—a clear cherry-flavored soda manufactured in Turkey since 1932—from the cooler (75¢).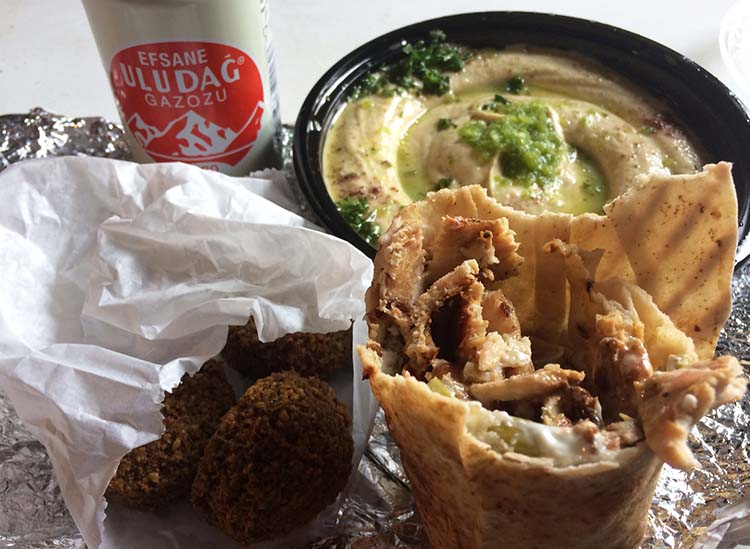 The shawarma was a lightly grilled pita jammed tight with chunks of succulent spitfire roasted chicken, fresh pickles, tomatoes, and an irresponsible smattering of a rich garlic sauce that has the consistency and (likely) the fat content of mayonnaise. It was essentially a deli sandwich with higher-caliber meat that was rolled up to go. Those left appalled by the sauce description can take comfort in knowing tahini can be subbed in. Billed as an appetizer, the hummus had portions to adequately serve three or four people. The creamy blend of chickpeas, green chili sauce, and oil put store-bought analogs to shame, both with its quality and its volume.
Finally, the falafel brought us home…literally. One bite of the crunchy deep-fried orbs of lentils, chickpea, sesame seeds, and savory seasonings in the driver's seat suddenly found us rolling through stop signs and pressing the gas pedal down a little more than before. Once home, we enjoyed some falafel pieces on their own. We dipped others in generous dollops of hummus. We tore one into pieces to stuff into our shawarma sandwich. From beginning to end, Al-Yousef was worth the wait…and the weight.
The verdict: Should you find yourself west of the airport or with a particular hankering for cheap, portable, and altogether wonderful Middle Eastern cuisine, treasure awaits you on 20th and College. Just turn right and go past the pickled eggplant and candy. You can't miss it. You wouldn't want to.