More than a year after its projected opening date, Bumstead Provisions will finally be in business next month. The Bay View bar, restaurant, corner shop, and deli will have its soft opening September 15, 16, and 18 (yielding to Bay View Bash September 17) before finally and officially opening to the public Monday, September 19.
"It's been heartbreaking at so many turns because we've been given dates for various benchmark happenings, then they'll get pushed back for whatever reason," Mike Bodow, co-owner of Bumstead Provisions and Twelve12 Hospitality Group (which also owns and operates Crafty Cow in Oconomowoc). "It's a little weight off our shoulders knowing we actually have a date. It's just a good feeling."
The unique Milwaukee venture will occupy two attached storefronts (2671-75 S. Kinnickinnic Ave.), one of which will operate as a traditional bar and restaurant, leaving the other to serve as a provisional shop that will sell everything from high-end condiments and grocery items, wine, six-packs and bombers of beer to go, knickknacks and candy, take home meals, and an extensive selection of deli goods made in-house.
The restaurant itself could fall under the bistro umbrella, with a focus on small plates, new takes on classic entrees, and charcuterie platters. Between approximately 15 tables and its bar, Bumstead plans to offer seating for 70 on its restaurant side. Speaking of the bar, there will be 15 (primarily) craft beers on draft, as well as Anodyne cold brew coffee. On the cocktail side of things, co-owner Devin Eichler has been creating unconventional versions of Wisconsin favorites, such as a Duck Fat-Infused Old Fashioned and Asian-inspired Tom Yum Bloody Mary. While there are certainly high-end elements on both the food and cocktail menus, Bodow hopes to blend quality cuisine with an atmosphere and accessibility that will make customers "want to stay and party."
That's shown in Bumstead's plans to sell pitchers of cocktails and, most interestingly, something of an upside-down special in which tallboys of beer will come with miniature sidecars of craft cocktails, which Eichler says is "different from any other [beer and shot menu] that [he's] personally ever seen." Some pairings are to include a 16-ounce can of Pabst with a mini Old Fashioned, a tallboy of Schlitz with a mini Bloody Mary, and a Modelo Especial accompanied by a miniature margarita. And yes, owners condone—if not encourage—enjoying a drink from the bar while browsing the provisional shop.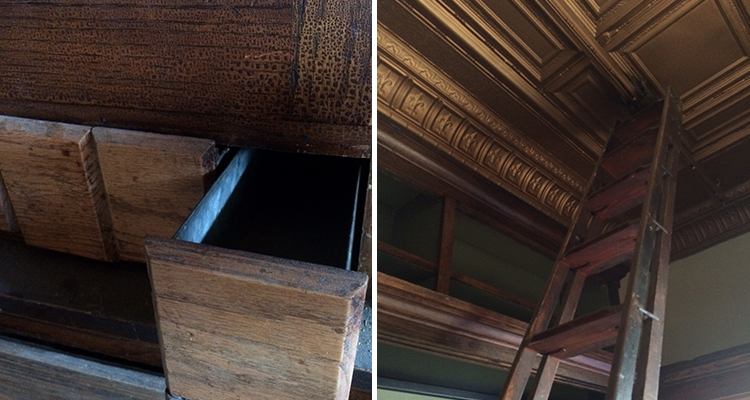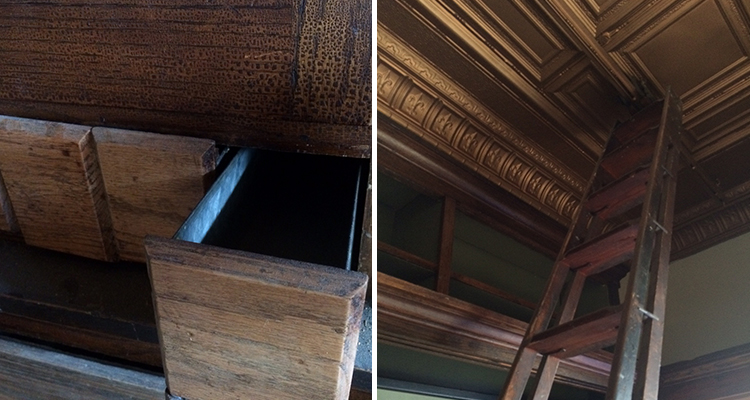 The shop will sell more than 100 types of beer, expected corner store mainstays like boxed macaroni and Sour Patch Kids (Bowdow's favorite), and will stuff its drawers and shelves leftover from the building's past life as a hardware store with things like bouncy balls, plastic figurines, and other toys. Bodow also noted there would be some high-end specialty items on the shelves, such as honeycomb, organic preserves, and locally-sourced fungi from Mushroom Mike (for whom Bumstead will be the exclusive Milwaukee retailer). The star of the shop, though, will be the deli and its menagerie of 18 made-to-order sandwiches that range from classics like honey ham, tuna, and bologna, all the way to signature selections like fried chicken and collard green combo "The Southern Gentlemen" and the "Southshore Farmer's Market," which crams farm-fresh veggies between slices of ciabatta bread. Check out our exclusive unveiling of the deli sandwich menu below.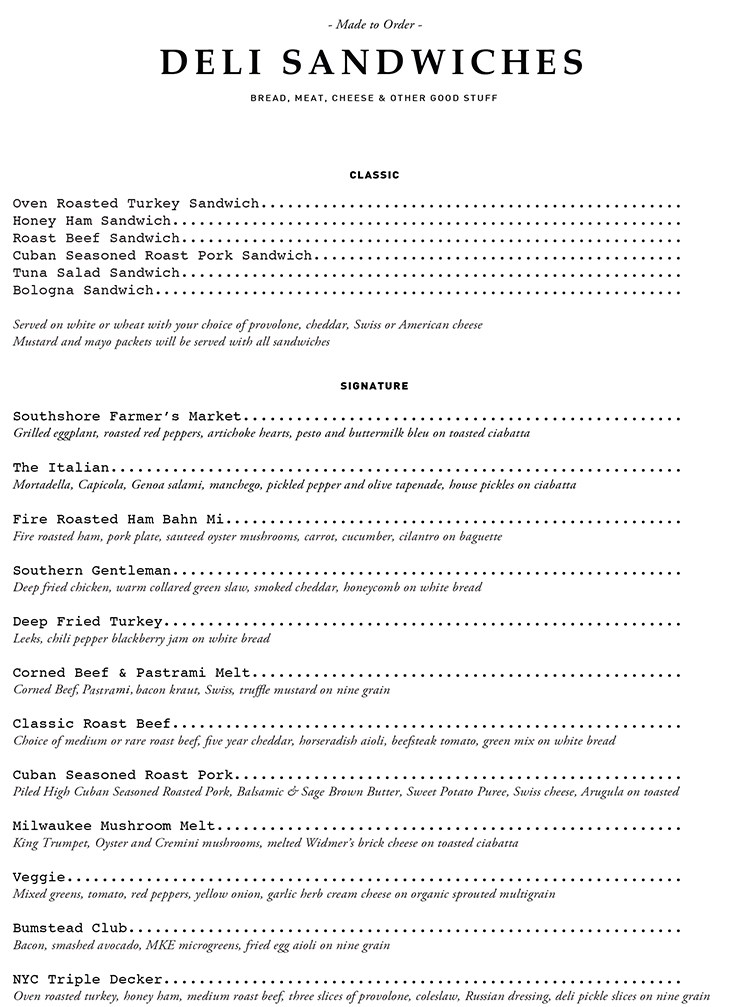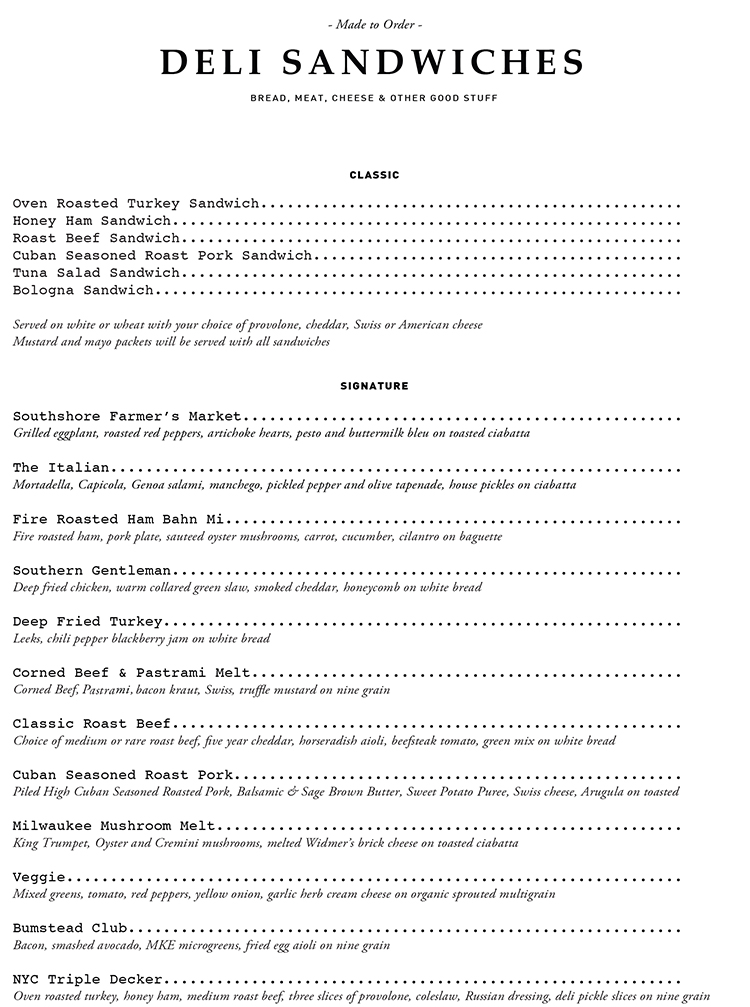 As if the restaurant's concept isn't already fun and interesting enough, Bumstead Provisions will also be Milwaukee's foremost gallery of Chris Farley paintings.
"We've commissioned an artist to do a bunch of really small paintings of Chris Farley that we're going to attach to the building going all the way around," Bodow says. "We're going to do Matt Foley, El Nino, Chippendales, Fat Guy In A Little Coat."
The last hurdle Bumstead must clear before its long-awaited opening is hiring a staff. Open interviews for all positions are being conducted August 15-18 between 9 a.m. and 2 p.m. at Anodyne's Walker's Point Roastery.