Milwaukee and its surrounding suburbs boast a wealth of great independent coffee shops, award-winning roasters, and other excellent area establishments where you can get a caffeine fix. We plan to celebrate some of these places in a bi-weekly series we're calling "Brewed City." This week: Joy Ride Cafe.
Bay View has an embarrassment of riches when it comes to coffee shop options. We've noted this before, but it's worth repeating. The neighborhood is home to an overwhelming abundance of coffee shops, cafes, and other synonyms for places that specialize in serving of delicious cups of Joe. Beyond the well-known local chains like Anodyne and Colectivo, area icons like Hi-Fi Cafe, multi-national conglomerates like Starbucks, and the brand new Interval Coffee location, there's another quality cafe in Bay View…and it's one that probably doesn't immediately come to mind.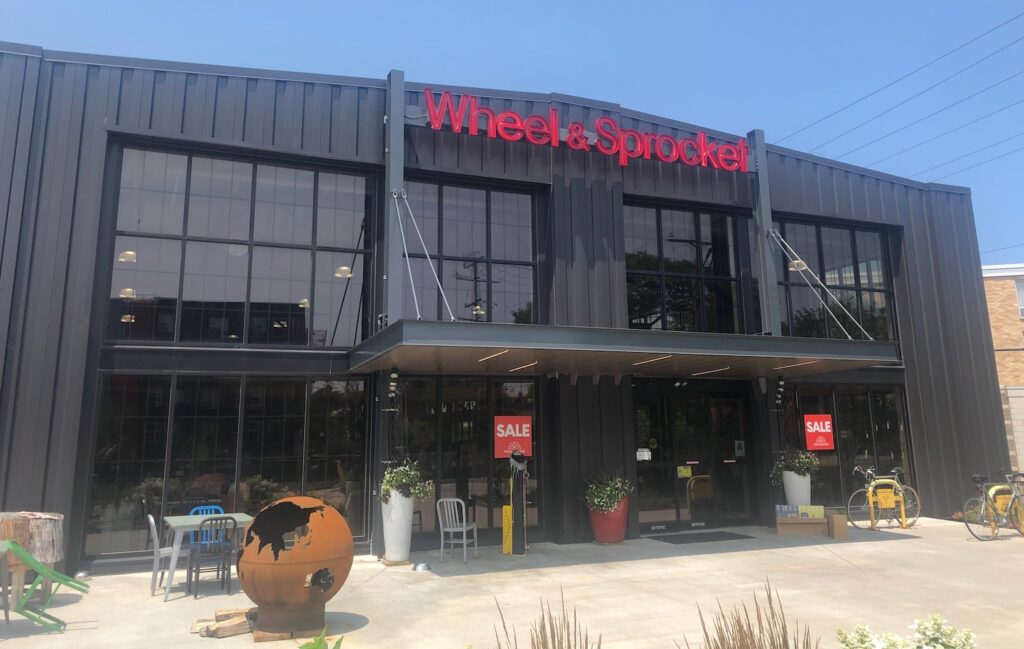 The reason for that is pretty simple. The particular coffee shop is located inside of another business. Though it's fairly well-hidden within Bay View's massive Wheel & Sprocket store, Joy Ride Cafe (187 E. Becher St., 414-234-5500) is worth the trip on its own because of its quality beverages, surprising food options, and a gorgeous space that's set back a block from the hustle and bustle of Kinnickinnic Ave.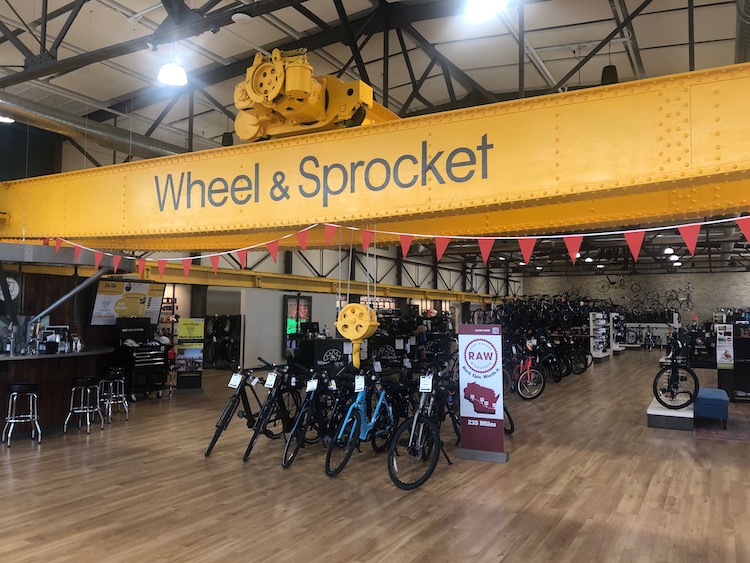 After experiencing close to 50 years of growth and success in the suburbs, Wheel & Sprocket opened a sprawling and pristine space in Milwaukee's Bay View neighborhood in late 2020. Part of the new store, which was in the works for roughly three years before opening, was Joy Ride Cafe.
The quaint in-store cafe is situated in the front-left corner of the bike shop. Though it's small compared to the rest of the store, there's room for a cluster of tables, chairs, and couches.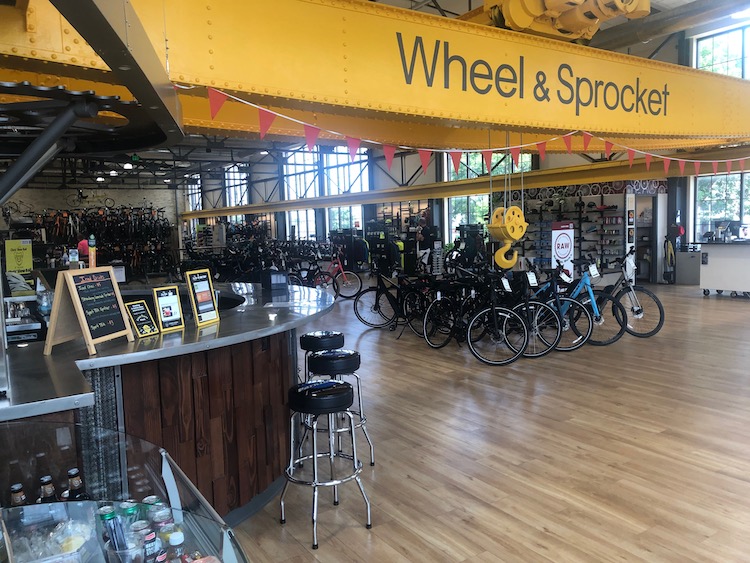 There's counter seating as well.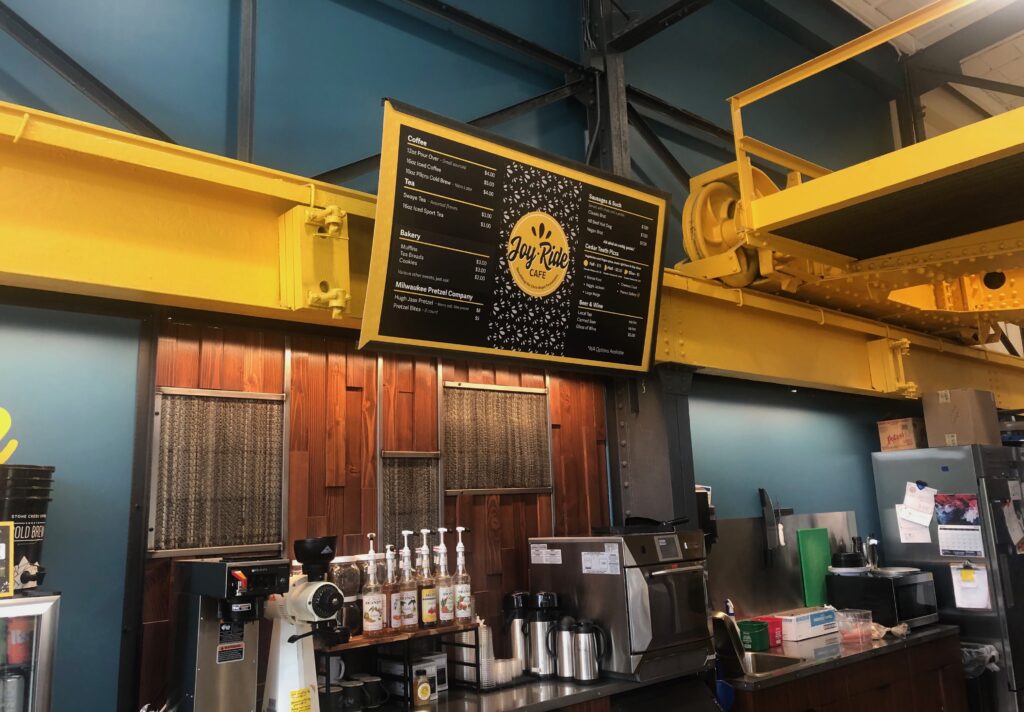 In terms of coffee options, the selection is somewhat limited (iced coffee, pour over, and cold brew), but customers can also enjoy teas, wine, and a respectable selection of mostly local beer.
We placed our order and browsed the store shelves in earshot of the counter. Within about three or four minutes, our goods were ready to enjoy.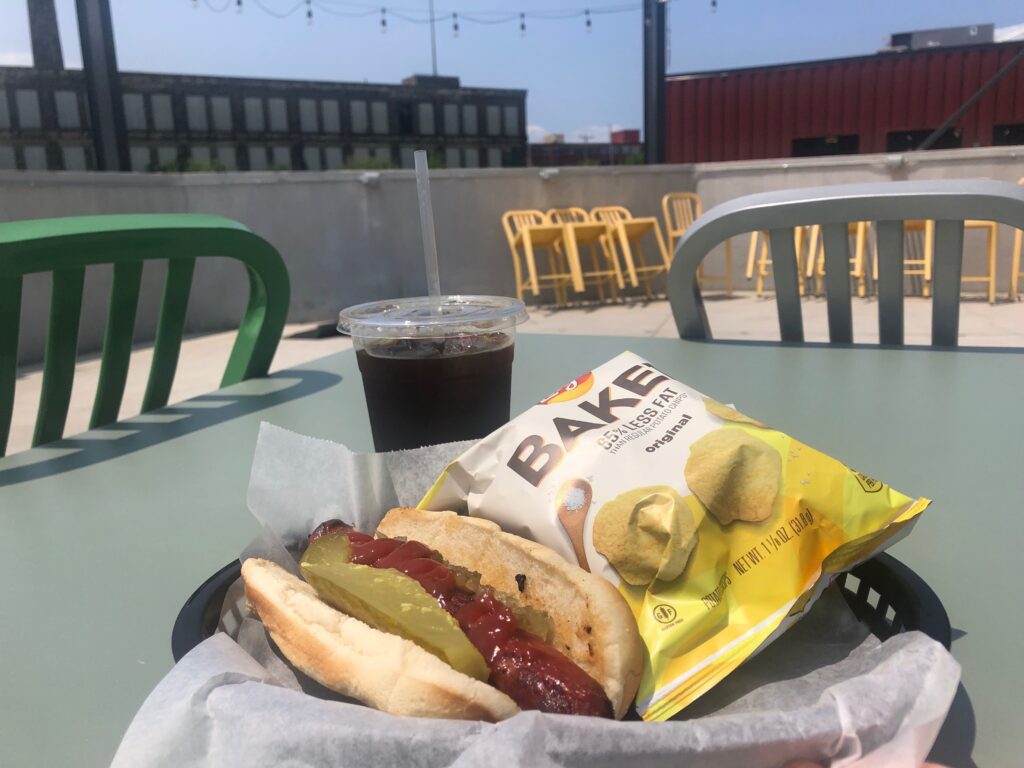 Oh yeah, did we forget to mention Joy Ride Cafe sells hot dogs? Well they do! We bypassed the bakery case, as well as other meal options like Cedar Teeth Pizza, hot pretzels, and brats (available in both regular and vegan varietals) in favor of a sizable all beef dog that came on a toasted bun with condiment packets (ketchup, mustard, and relish), a pickle spear, and a bag of chips (choice of original or baked original) for $7. We washed that down with a large Stone Creek cold brew coffee.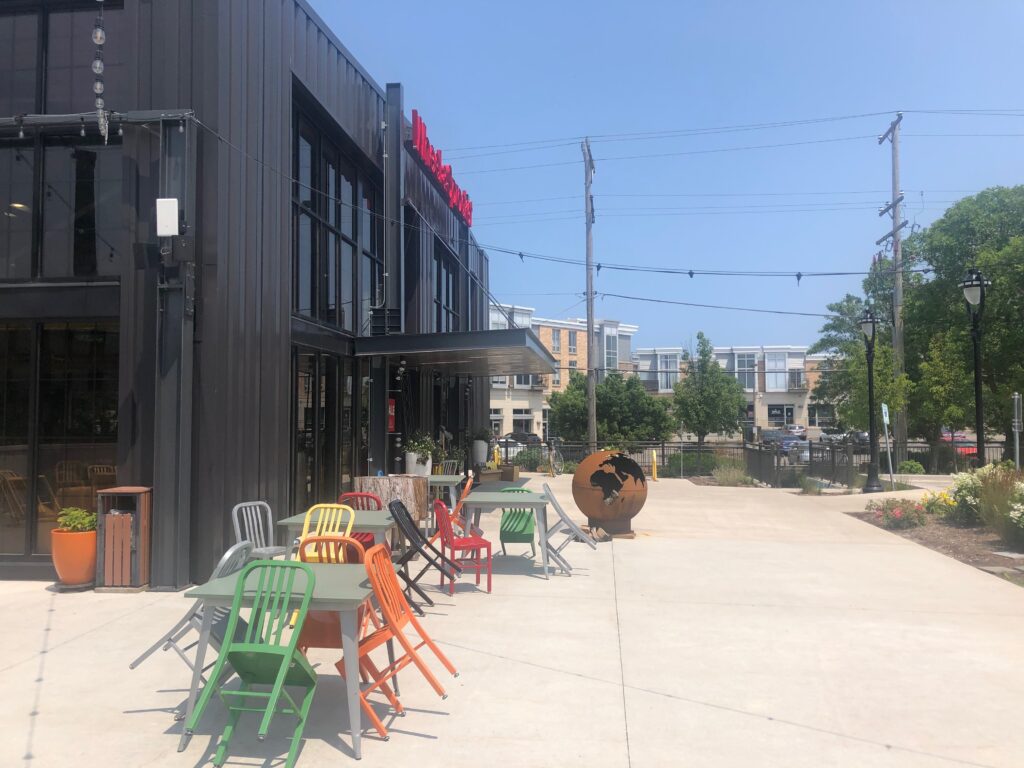 Since it was very nice outside (and because we didn't want the two people in the middle of a meeting inside the cafe to see us eating a hot dog we had just photographed alone in a bike shop), we ventured out to the Wheel & Sprocket/Joy Ride Cafe patio, which is spacious, pristine, and shockingly quiet for being located that close to the busy goings-on of Becher and KK.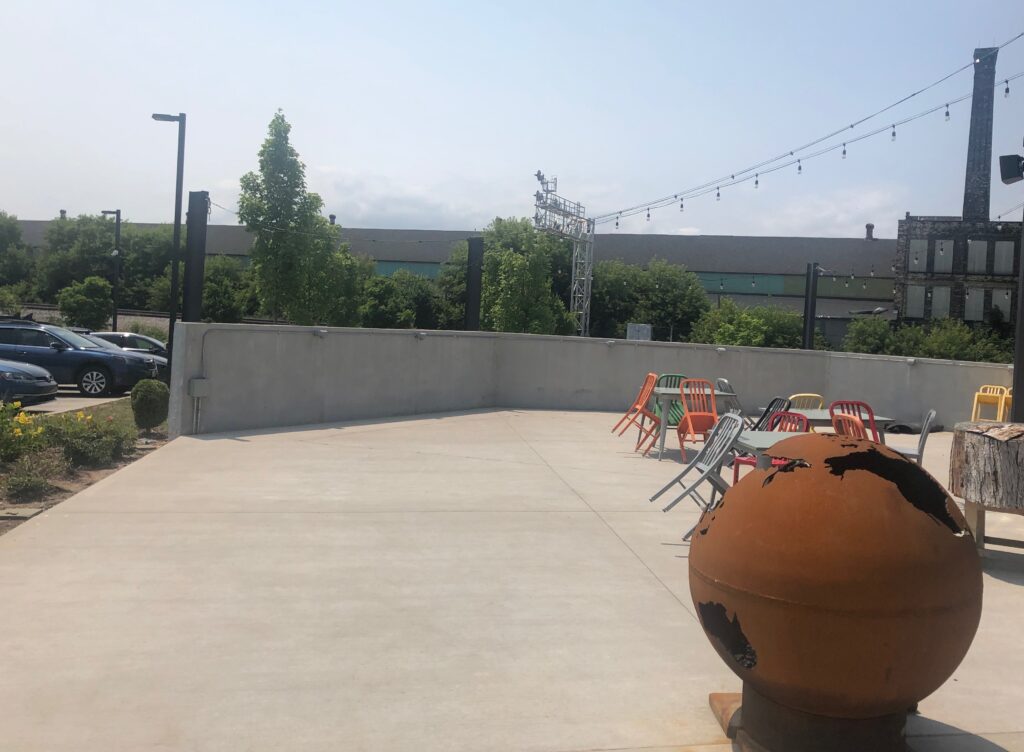 It was great having our own private patio space to enjoy a pretty darn decent dog and a legitimately good cold brew. Assuming the Brewed City Bump™ doesn't ruin this secluded secret, we're likely to spend more time out here either easing into the day with a morning coffee or relaxing with an after work beer and a pizza before the end of summer. Between the local drink selection, the on-site food options, the cool/somewhat tucked away space, and the fact that purchases support a great cause, Joy Ride deserves consideration amongst all the other great coffee shop options in Bay View. Next time you're in the neighborhood, take a joy ride to the little, overlooked cafe inside Wheel & Sprocket. We think you'll be glad you did.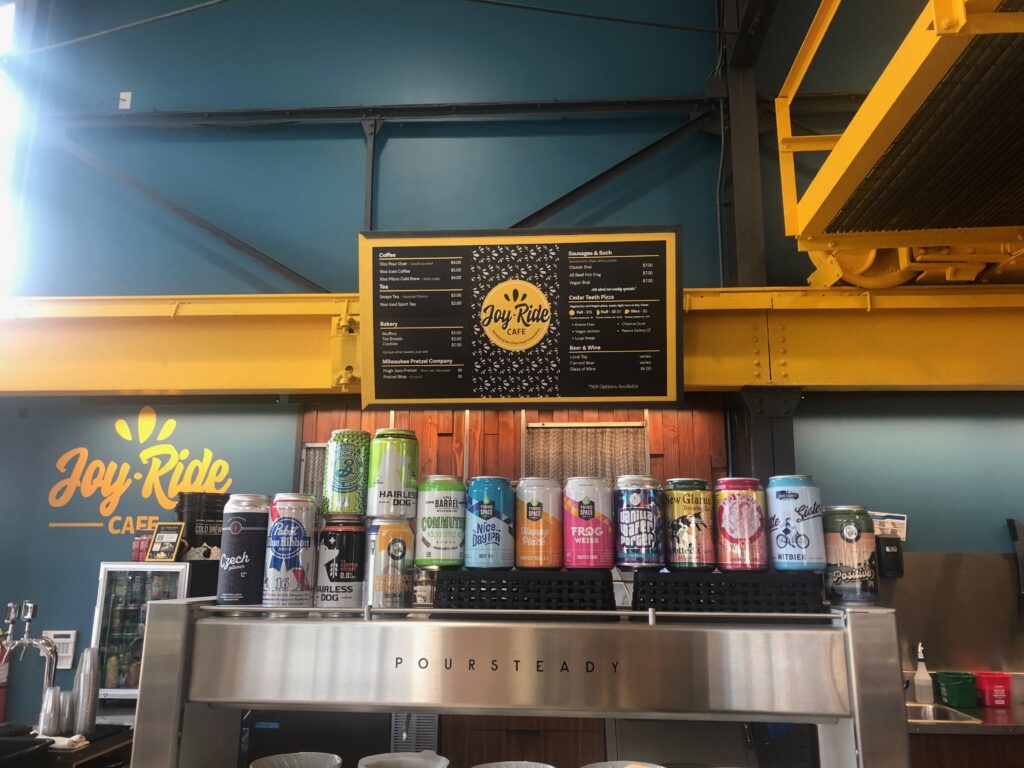 Exclusive articles, podcasts, and more. Support Milwaukee Record on Patreon.
---
RELATED ARTICLES