Some places come and go, while some places become icons. Mandatory Milwaukee is all about the latter. Join us as we revisit beloved and well-worn local staples with fresh eyes, and explore how they might figure in the city's future.
You'd be hard-pressed to find a family establishment that exudes the spirit of Milwaukee better than Koz's Mini Bowl (2078 S. 7th St., 414-383-0560). This year, the beloved south side bar and mini-bowling alley will celebrate 40 years in business.
Unlike a typical bowling alley, Koz's has four half-sized wooden lanes, smaller bowling balls, and a human rather than a mechanical pinsetters. Owner Justin Kosakowski notes that his lanes are also shorter than the ones used for duckpin bowling. "We call it 'mini duckpin bowling,'" he says.
"People come here and feel like it's a rec room," says Carol Kosakowski, Justin's mother, who takes care of the bar and various administrative tasks. "That's the charm of it."
Justin's father DuWayne Kosakowski, a factory worker and recreational bowler, opened Koz's, formerly Park View Lanes, in 1978. According to Justin, Milwaukee's south side had many mini-bowling options during the 1940s through the 1960s. When Koz's opened, it was the only bowling alley of its kind in the area.
Carol says the building dates back to the 1890s, and has always housed a restaurant or tavern, with rooming houses on the building's second level. Currently, Justin lives upstairs with his wife, Malayisa Curry, and their two children.
Justin feels Curry is essential to Koz's success. "She takes care of all of us. I'd say she keeps this business running," he says.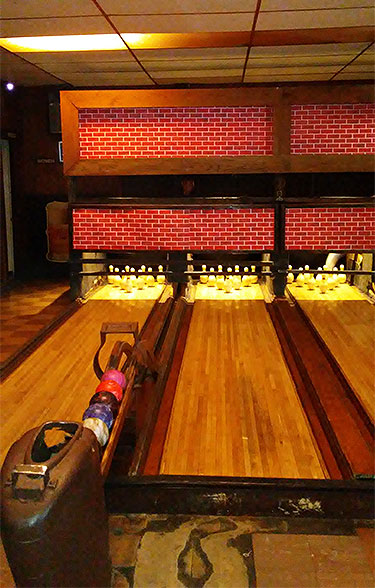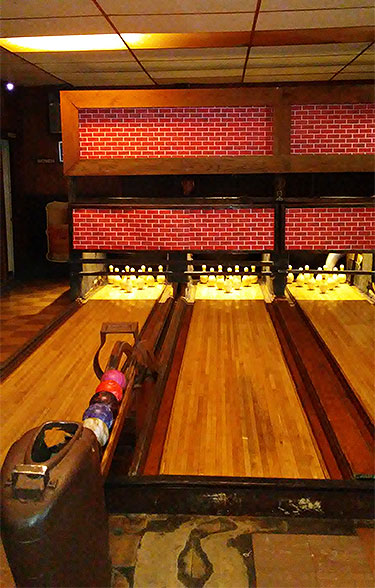 DuWayne passed away in the early 2000s, and after leaving college, Justin, who grew up throwing parties and entertaining people, took over Koz's, initially with his brother, in 2007. "I wasn't doing too well in school, and I had my foot in the door with the business here," he says. He is now the sole owner.
The business used to host league nights seven days a week, according to Justin. Now, the bar only has two: a coed league Tuesday night that runs eight weeks, and a men's league Thursday nights—which consists of some of DuWayne's former buddies—that runs for about 30 weeks.
Clientele may have changed a bit, but Koz's is busier than ever. The bar has been featured in both Esquire and Sports Illustrated magazines ("My dad would always say, 'We're what made Sports Illustrated famous,'" jokes Justin), and although the bar doesn't have an advertising budget, word of mouth brings Koz's plenty of customers.
Bowling lanes are sometimes booked months in advance, according to Justin. "Reservations are a must," he says. Bachelorette, family, and private parties, along with bus tours, such as the famous "Laverne & Shirley" tour out of Illinois, now provide the majority of the bar's business. Bowling games are $5 apiece. Koz's opens at 6 p.m. during the week, with bowling until bar close every night of the week.
On Saturdays and Sundays, Koz's opens at noon for all-ages bowling. "Grandmas and three-and-four-year-olds can be bowling together. It's a congenial vibe," says Carol.
If guests looking to bowl stop by Koz's and lanes are full, they can play darts or pool, or listen to the internet jukebox. Justin often gives out cards good for a free bowling game in the future so customers don't leave disappointed.
My husband Franz and I stopped in the bar on a Saturday in the late afternoon. A children's party was just ending, and parents and kids were trickling out.
Although all four lanes were booked for the evening, which is par for the course for weekends at Koz's, we enjoyed being bowling spectators. It was especially fun watching the pinsetters, mostly area teenagers, quickly and efficiently setting up the lanes for the next throw. Like his father, Justin has helped youth in the community by providing them with employment.
The bar was almost full, but we managed to get seats. We were warmly greeted by Justin, who was bartending and answering the phone, which seemed to be ringing off the hook. He handled everything with ease and a sense of humor—essential qualities for a good bar owner.
Franz and I were both charmed at the collectibles decorating the upper shelves, including a cast of W.C. Fields' head, vintage beer cans and taps, a framed Milwaukee Braves picture, and various Milwaukee brewery memorabilia.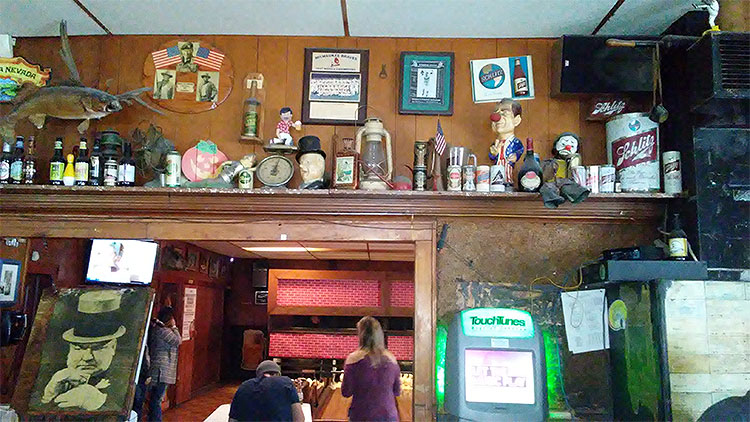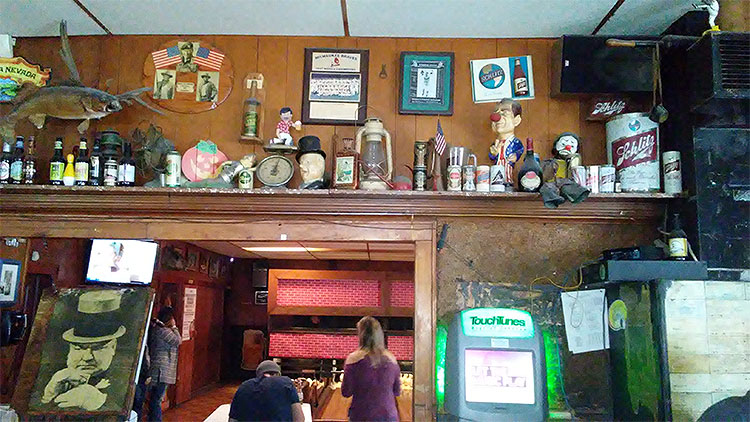 I was most struck by the lion skin behind the bar, with a small Green Bay Packers football jutting out of its side. Two TVs were showing NBA games, and Justin, who seemed to know most of the patrons, chatted with everyone.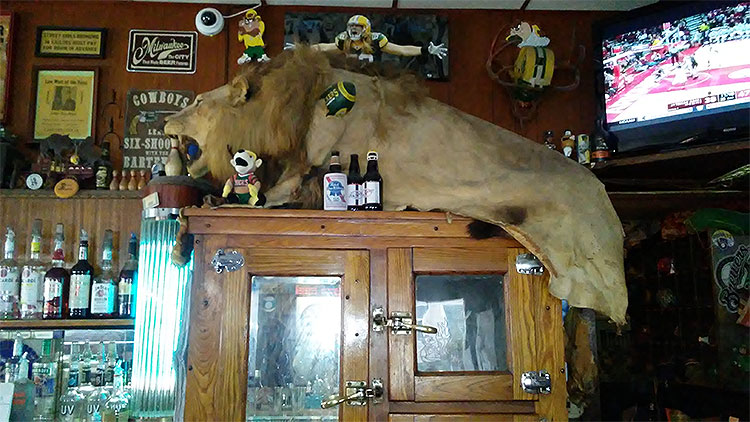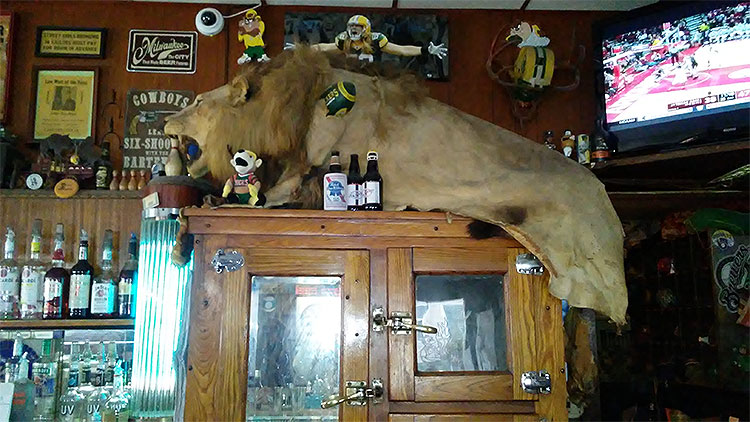 Koz's drink prices are very reasonable: $3 domestic beers, $4 imports, and $8 domestic pitchers, for example. The bar is cash-only, but there is an ATM in the corner.
While sipping our Miller Lights, Franz and I munched on De-lish-us brand garlic and onion potato chips and took in the friendly neighborhood ambience.
Mini-bowling aside, Koz's is a true part of Milwaukee tavern history, a lively and welcoming neighborhood bar and a great place to tip back a few beers.
Justin is happy to be a part of this history, and the community. "I've become quite connected with Milwaukee. It's been pretty special," he says.