Is Fleetwood Mac still a band? Following the passing of Christine McVie late last year, the group has at least been on hiatus, with only three members remaining from Mac's '70s-'80s heyday. However, while Mick Fleetwood and John McVie will probably have to reconvene the band at some point to have a viable touring option, Stevie Nicks nearly filled up the Fiserv Forum Tuesday night all on her own.
The 75-year-old songstress has forged a more successful solo career than any of her bandmates and remains the most recognized singer and composer out of the 18 or so musicians who've been official members of Mac over the course of its 55-year existence. And while she could've easily populated her setlist solely with her own material, much of her two-hour set was devoted to paying tribute to fallen heroes and collaborators.
Chief among those tributes was someone near and dear to almost any Milwaukeean likely to be attending a Stevie Nicks concert: Tom Petty. When the lights went down to signal the start of her show, Petty's "Runnin' Down A Dream" blasted out of the PA as Nicks and her band took the stage. A few songs into her set she told a story of Petty offering her "Stop Draggin' My Heart Around" for her 1981 debut album Bella Donna. "So I go the next day, and I meet Tom, and he's everything you would have wanted him to be, girls…really sweet, really Southern, really a gentleman. And so we got the song done that night."
Mike Campbell, Petty's chief collaborator for his entire career, took over lead guitar duties for Fleetwood Mac following the 2018 dismissal of Lindsey Buckingham, but for her solo tour Nicks has stuck with Waddy Wachtel, her collaborator since before Nicks even joined the Mac; he played on her duo album with Buckingham—Buckingham Nicks—back in 1973, and he was really the only focal point of Tuesday night's show other than Nicks herself, though he didn't take many opportunities to show off.
The show kicked off with "Outside The Rain," a deep cut off Bella Donna that segued smoothly into Mac's "Dreams" to the delight of the crowd. While most of the set was comprised of decades-old material, Nicks did play one song from each of her two 21st-century studio albums, delivering "Fall From Grace" early in the set and saving the most recent, 2011's "Soldier's Angel," for near the end. Amazingly, this song got one of the most ecstatic responses from at least one pre-teen girl sitting near us, who jumped up and down and yelled "I love this song!" as Nicks introduced it.
The crowd obviously skewed older than, for instance, the fans at last week's Paramore show, but it was cool to see a wide range of ages throwing themselves into this experience—even though for the first half of the show, it was Stevie's chatty charisma that carried the show as much as the music. Her eight-piece backing band (which she didn't introduce at any point) didn't do much to assert themselves until "Gold Dust Woman," which built into a post-rock roar that would've drowned out even Hole's noisy 1996 cover of the song.
The only other opportunity for stretching out musically came with the set-closer, "Edge Of Seventeen." Watchel took liberties with his iconic single-note riff, adding a few extra minutes onto the introduction of the song with a Slash-esque guitar solo. At this stage of her career, Nicks could easily be perched on a stool, crooning quietly, yet somehow she seemed right at home basking in what was now a big arena-rock show.
With plenty of solo and Mac material still on the table, Nicks surprised everyone for the encore with yet another Petty tribute: "Free Fallin,'" which she'd actually recorded a cover of in 1996 for the soundtrack to Party Of Five, of all things. It says a lot about Petty's long shadow of influence that a legend of Nicks' stature would devote so much of her show to his memory, but images of various rock idols flitted across the video screens throughout the night, sometimes in seemingly haphazard fashion. It's easy to forget, though, that rock and roll was its own community before it became a ubiquitous part of culture, and the elders who still tour always make a point of showing how connected they all felt.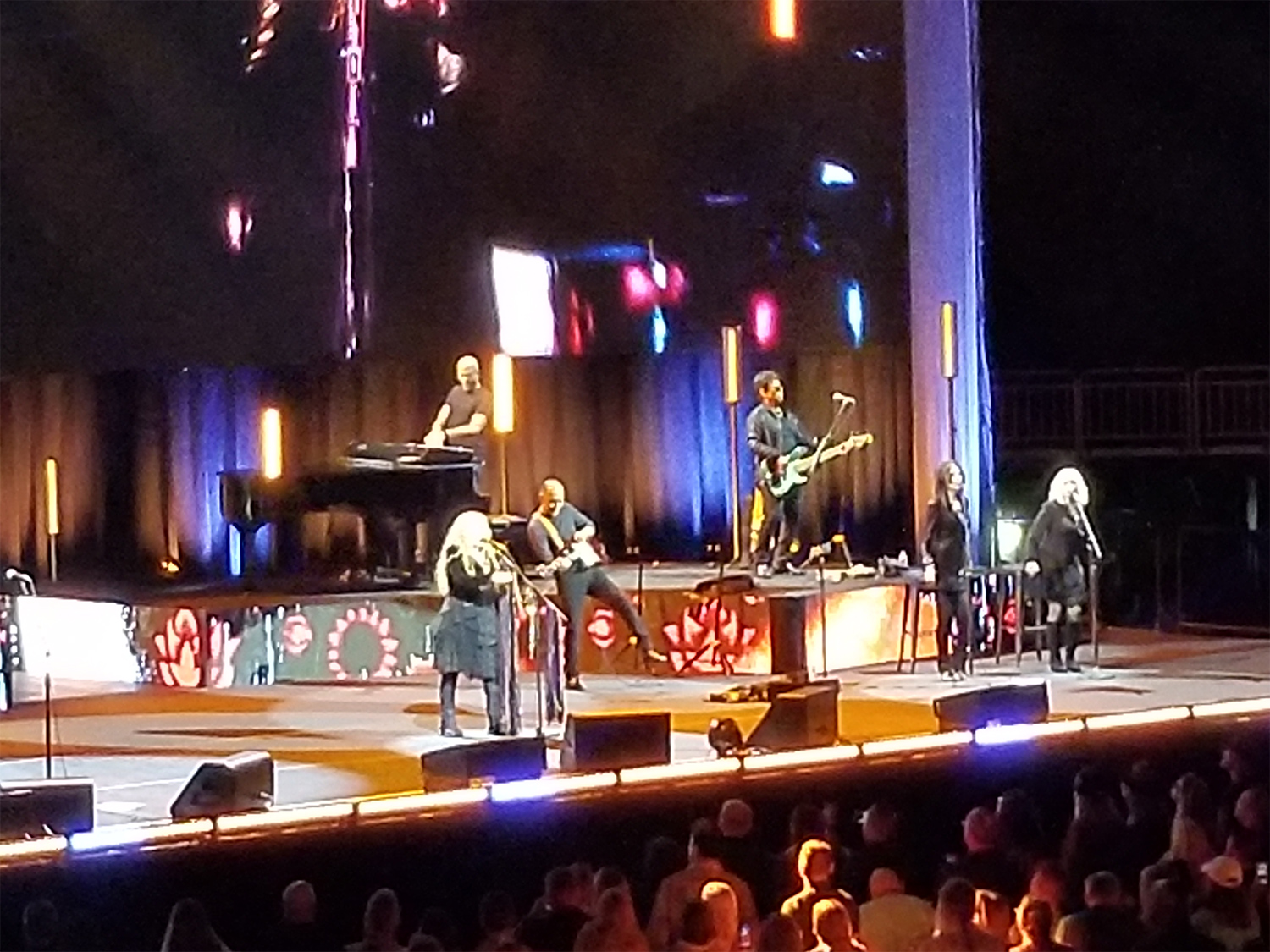 Nicks saved the most poignant tribute for last, of course, dedicating "Landslide" to Christine McVie, with whom she'd shared the meteoric rise to fame on Mac's 1975 self-titled multi-platinum album. For anyone who was around during their ballyhooed 1995 reunion and live album The Dance, that re-recording of "Landslide" was inescapable; performing the song Tuesday night, Nicks hardly seemed to have aged in the intervening years.
Nicks revealed her secret to staying grounded earlier in the set while talking about going from waitressing to fame and fortune in the span of a few months: "I used to just take my mattress off my bed, put it on the floor, and put a really pretty coverlet on it and some flowers, and I'd sit down and I'd go, 'I'm. Still. Stevie.' And the funny thing is, I still do it."
Exclusive articles, podcasts, and more. Support Milwaukee Record on Patreon.