Roughly two years after falling victim to the COVID-19 pandemic—and roughly one year after returning in drive-thru and carry-out form—American Memorial Serb Hall's ever-popular Friday fish fry is set to return in all its dine-in glory. Yep, beginning Friday, February 17, Friday night fish fry at Serb Hall (5101 W. Oklahoma Ave.) will truly be back.
"IT'S BACK," proclaims a press release. "Serb Hall's Classic Icelandic Fish Fry: 2- or 3-piece original deep-fried block/square cut cod dinner served with a choice potato (french fries, garlic mashed or Serbian potato salad), Serb Hall coleslaw and salted marble rye bread w/butter."
Also available: "Serb Hall's Traditional Fish Fry (deep-fried, baked or Serbian style): 2- or 3-piece of hand breaded cod dinner, with a choice potato (french fries, garlic mashed or Serbian potato salad) Serb Hall coleslaw, salted marble rye bread w/butter, fresh lemon and tartar sauce."
Dine-in fish fry will be available every Friday from 3:30 p.m. until 8:30 p.m. (Drive-thru fish will be available, too.) During Lent, beginning February 22, drive-thru fish will also be available Wednesdays from 3:30 p.m. until 8:30 p.m.
Reservations of 8 or more are accepted for dine-in. (Call 414-545-6030.) Drive-thru fish will be available on a first-come, first-serve basis.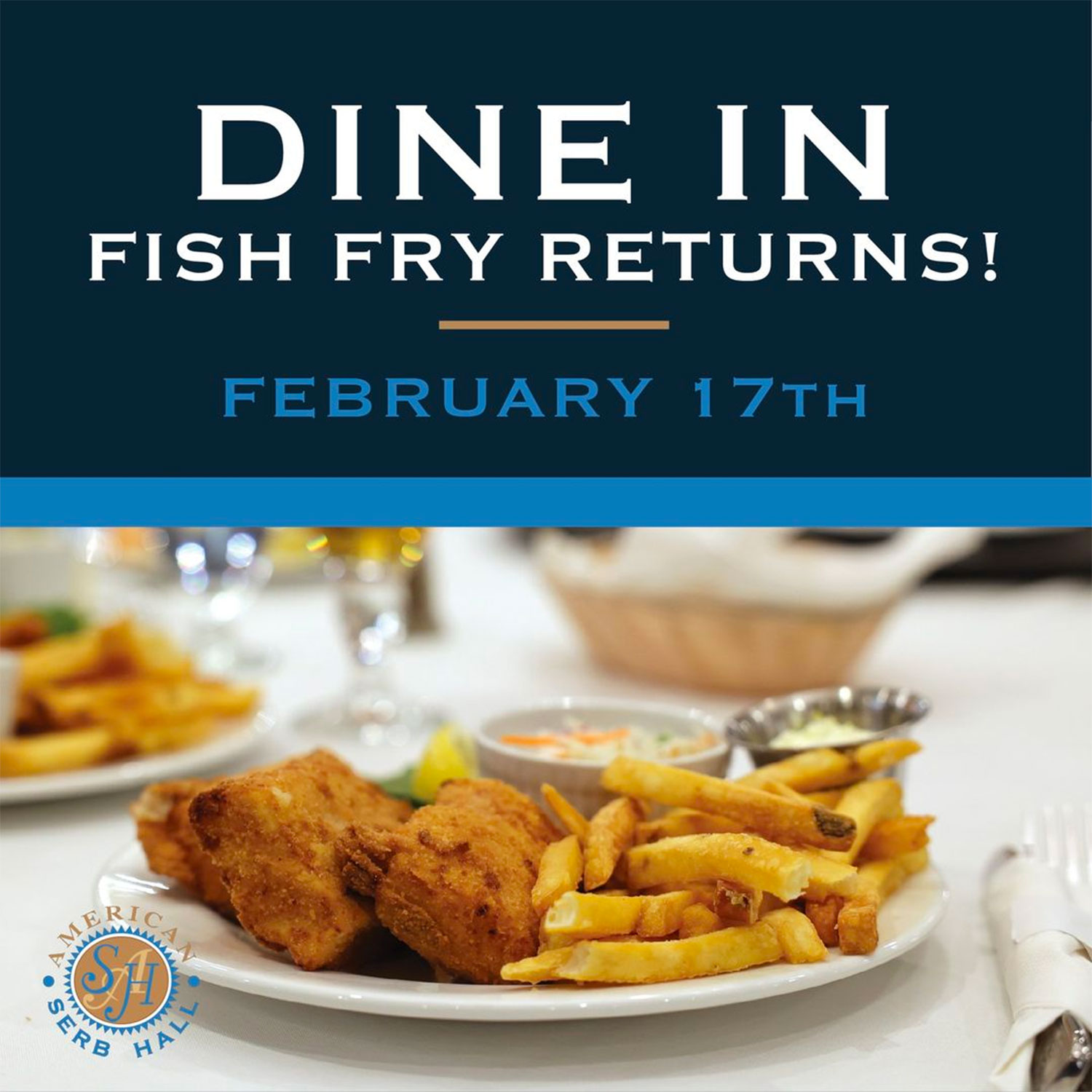 And yes, Serb Hall was the site of a number of delightful rallies in the months before its initial closure. In November 2020, a defiantly anti-mask "Defend Your Vote" rally ended with Serb Hall manager Nicholas Alioto getting pushed and/or falling to the ground amidst a hostile crowd. Alioto, who had previously tested positive for COVID-19, died two weeks later of hypertensive cardiovascular disease.
WATCH: The moment a #defendyourvote rally in Milwaukee abruptly ends after a representative for the venue ends up on the ground: @fox6now pic.twitter.com/KRHE2OBFvk

— Cassidy Williams (@CassidyWtv) November 14, 2020
In a 2018 fish fry review, Caleb Westphal dug into Serb Hall's earlier political history:
John and Jackie Kennedy campaigned at Serb Hall two days before the Wisconsin primary in 1960. On Good Friday in 1972, the Friday before Wisconsin's primary, four Democratic contenders showed up at Serb Hall's fish fry: Hubert Humphrey, George McGovern, John Lindsay, and Ed Muskie. The Milwaukee Journal reported that Humphrey was the only one of the candidates to sit down for a full meal, although the paper did include a photo of Muskie stuffing his mouth with fried fish while standing. George Wallace had rallied there the previous evening; Hunter Thompson had been there for it, and wrote in Fear And Loathing: On The Campaign Trail '72 that Wallace had "jerked this crowd in Serb Hall around like he had them on wires."

The list of candidates who have stopped at Serb Hall goes on and on. Ronald Reagan campaigned there in 1980. George H.W. Bush bowled—and slipped and fell onto—one of its lanes in 1984. John McCain was there in 2008, and Mitt Romney made a stop in 2012. In 2016, Ted Cruz and John Kasich gave speeches there at an event that included a Friday fish fry; Cruz was headquartered there the following week when he beat Donald Trump in the Wisconsin primary. Stops at Serb Hall for campaigning, a fish fry, or a little of both have been a part of state and local candidates' routines as well. Even Mayor Barrett has gotten in on the fun.
Exclusive articles, podcasts, and more. Support Milwaukee Record on Patreon.
---
RELATED ARTICLES
• 254 consecutive Friday fish frys and counting: Serb Hall
• Serb Hall's Friday fish fry is back (in drive-thru and carry-out form)
• Sup. Czarnezki: Another Milwaukee icon (Serb Hall) falls victim to COVID-19
• Ald. Borkowski: Losing a South Side landmark (Serb Hall)
• "Defend Your Vote" rally returns to Serb Hall tomorrow, this time with ex-Sheriff Clarke
• Milwaukee GOP planning sad "Defend Your Vote" rally tomorrow at Serb Hall
• Serb Hall removes presidential portraits, Ald. Bob Donovan fires off "PC culture run amok" statement