Face it. Unless you're the type of person who is still going out to bars and restaurants with reckless abandon for your health and the health of others, it's probably been a while since you've had a quality drink. Now months into what looks to be an unending pandemic, you've surely had you fill of canned and bottled beverages. You've gotten sick of that one drink you can make at home kind of well (ours is a gin and tonic with bitters and lavender extract!). And you've probably failed to replicate the bar-caliber results with one of those build-you-own old fashioned or bloody mary kits you bought somewhere.
If you're looking for a great summer-suited drink to enjoy in the comfort and safety of your own home, Milwaukee thankfully has a handful of options. If you're looking for some unique ways to beat the heat and catch a buzz, we recommend placing a carryout order from one of these local establishments.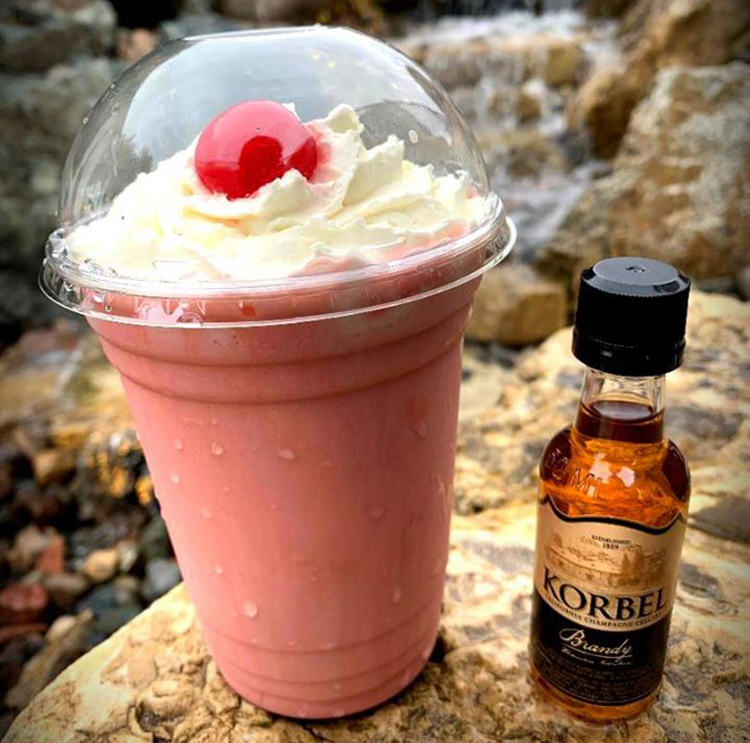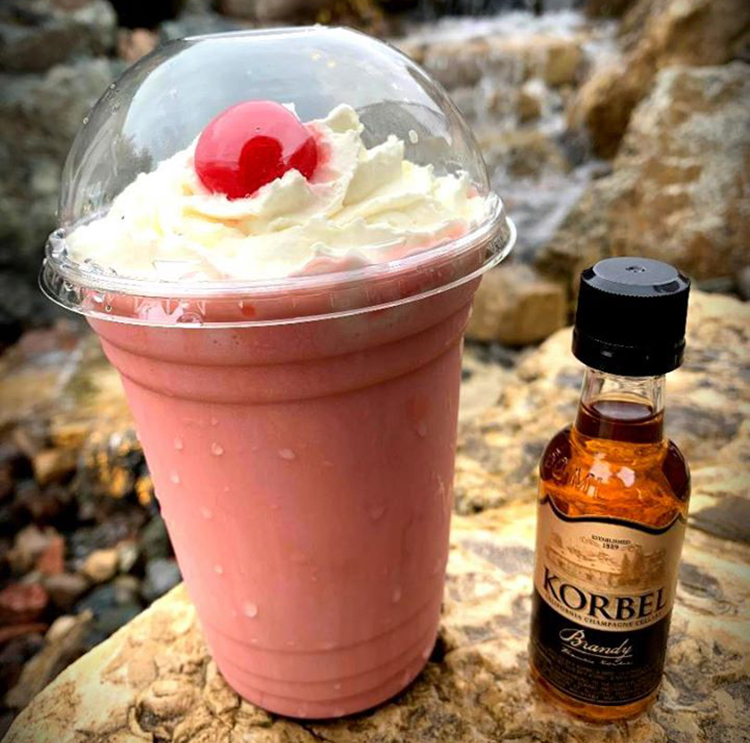 At Random
Originally opened way back in 1964, At Random had fallen on some tough times in recent years. However, Bryant's and The Jazz Estate owner John Dye came on as owner in 2018 and brought newfound energy and some much-needed updates to the Bay View cocktail lounge in the process. Adding to the array of interior improvements and drink list updates, At Random has also made some changes to stay solvent during the COVID-19 crisis. Not only did the bar just open a socially distant Ice Cream Social Patio, they also sell their cocktails and trademark ice cream drinks to-go.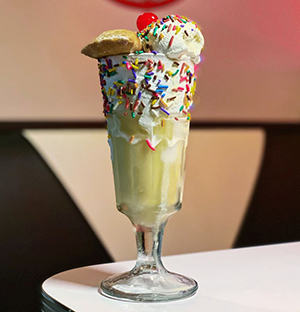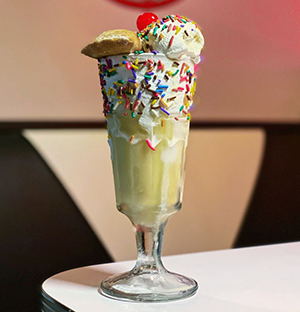 Don's Diner
Back in the "before times," Don's Diner in Walker's Point brought you the absolutely crazy/awesome 10¢ Martini Lunch special, briefly turned into a Stranger Things-inspired ice cream parlor, and served gigantic old fashioneds in a legitimate Crock-Pot. Even though times have changed significantly these past few months, Don's is still doing weird shit with wonderful results.
Beyond transforming into a full-fledged general store that also serves up delicious burgers, Don's also continues to sell its beloved boozy milkshakes, including Don's Famous Wisconsin Old Fashioned Milkshake (pictured above) and other shakes that can be customized and amplified by adding a shot of liquor. You can order the Wisconsin Old Fashioned Milkshake, and a wide variety of other ice cream-y cocktails, to-go.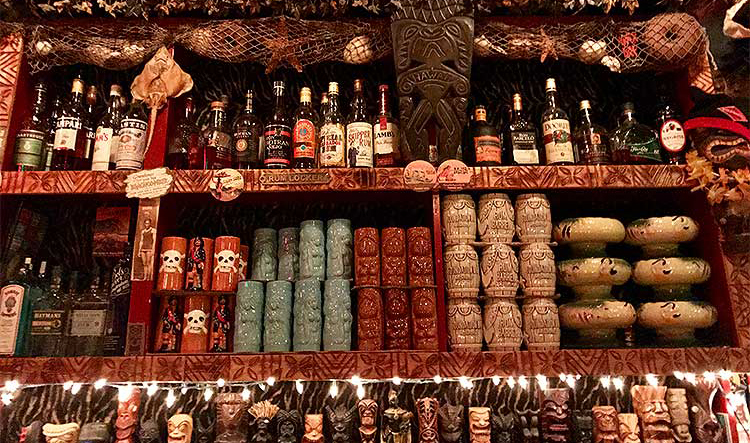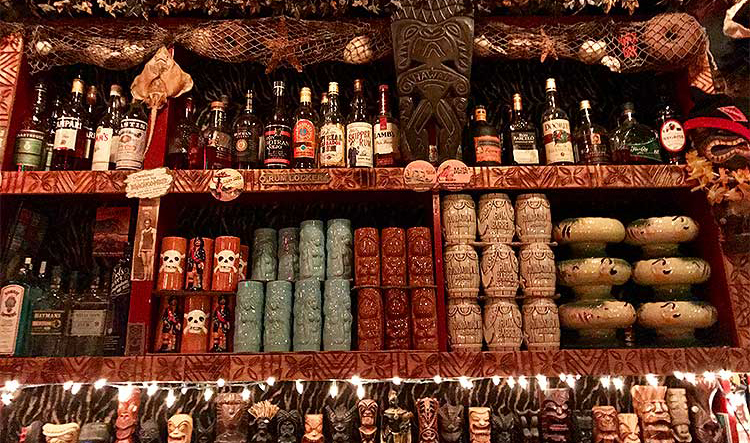 Foundation Tiki Bar
What can be said about Foundation that we haven't said already? The venerable Riverwest drinking staple has been a tropical treasure in a not-so-tropical town. Even as the pandemic has forced the island cocktail institution to adjust the way it does things, Foundation has adapted to the situation by offering a variety of large cocktail kits for $75 (each of which make 12 cocktails) and small cocktail kits for between $21 and $24 (with three servings apiece). We don't know you, but we're willing to bet you can't make a Mai Tai or a Jamaican Sour even half as well as the fine folks at Foundation can.


Lost Valley Cider Co.
Since becoming Milwaukee's first dedicated cider bar when it opened in spring of 2016, Lost Valley has expanded its operations to offering its own line of products. This year, in addition to offering its growing and ever-improving ciders on draft both on site and elsewhere in the area, Lost Valley has also started making cider pops (see the article's main image) and frozen cider slushies (see above) in a wide range of flavors. Stop by the Walker's Point cider bar to cool off with a pop or slushie on Lost Valley's patio or pick some up to have on hand for your next socially distant outdoor hang.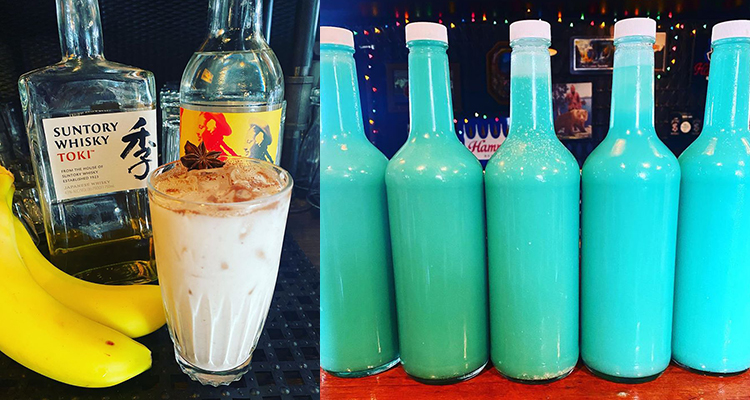 The Mothership
Though The Mothership hasn't been open to the public since mid-March, the "VERY SERIOUS" Bay View bar has stayed active by selling growlers and six-packs of beer, as well as inventive cocktails that are tailor made for backyard enjoyment. Recent creations include a whiskey drink made with sushi rice, sesame horchata, and banana puree (picture top left) and bottles of premixed Blue Hawaiian (top right).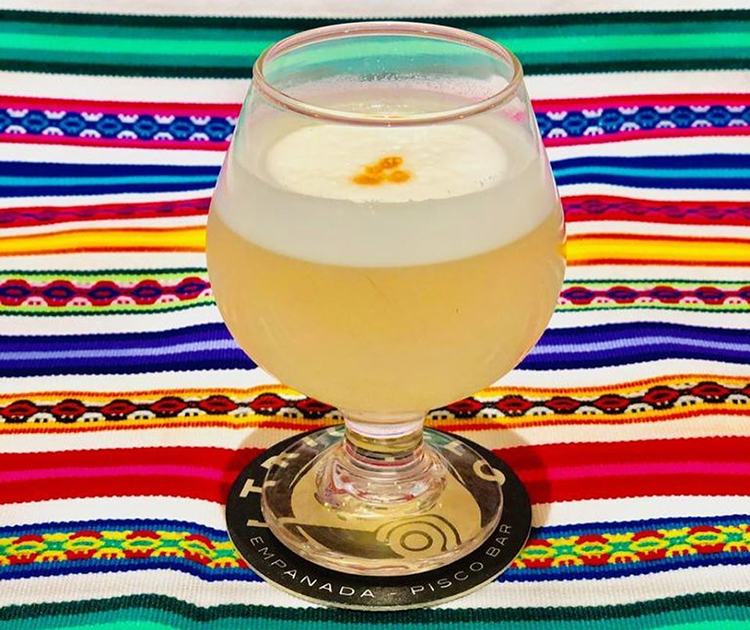 Triciclo Perú
By now, you know you can get Triciclo Perú's delicacies at The Vine beer garden in Humboldt Park, pick up take and bake frozen empanadas to eat at home, feast on their fare at area farmers markets, or just dine at a picnic table in a yard outside their new Vliet Street location. However, you might not be aware that you can also get some of their tasty Peruvian cocktails to-go. If you're hankering for a pisco sour, place an order for pickup at their restaurant to get your fix.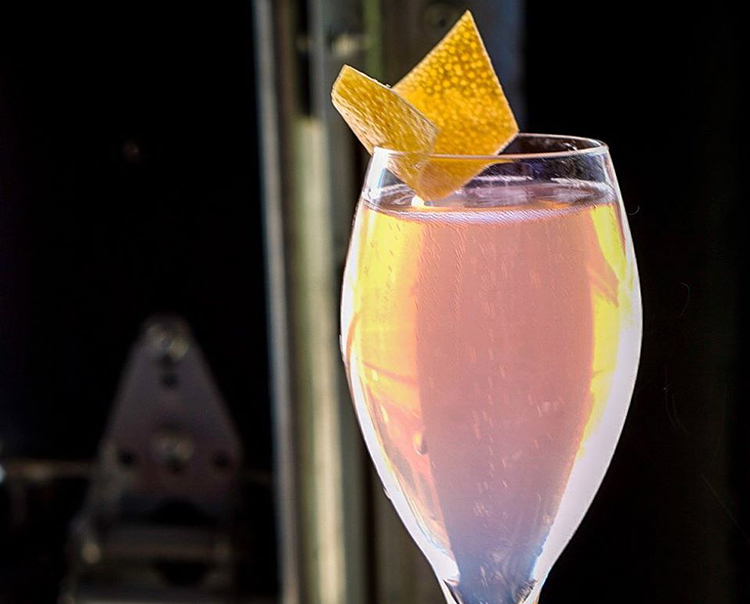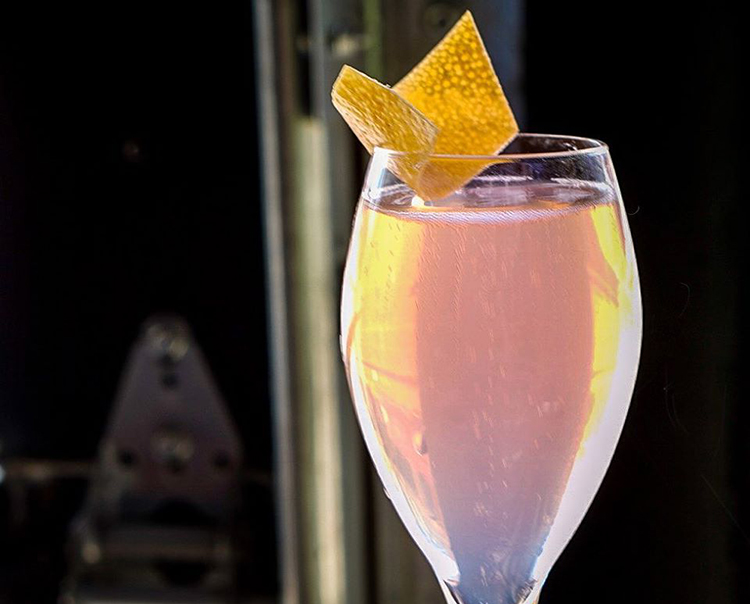 Twisted Path Distillery
While Twisted Path still isn't serving drinks in its tasting room, the Bay View distillery is offering high-end cocktails in a to-go capacity. Homemade vodka lemonades and margaritas are fine and all, but if you're looking for an elevated evening of drinking to shake (or stir!) things up, check out Twisted Path's arsenal of professionally made carryout cocktails like its dark rum old fashioned, its smooth Aggressively Friendly (pictured above), or a refreshing Cucumber-Ginger Cooler.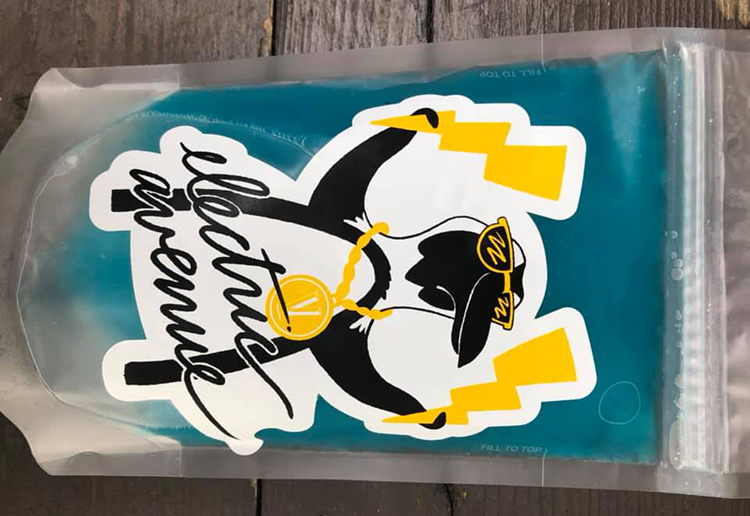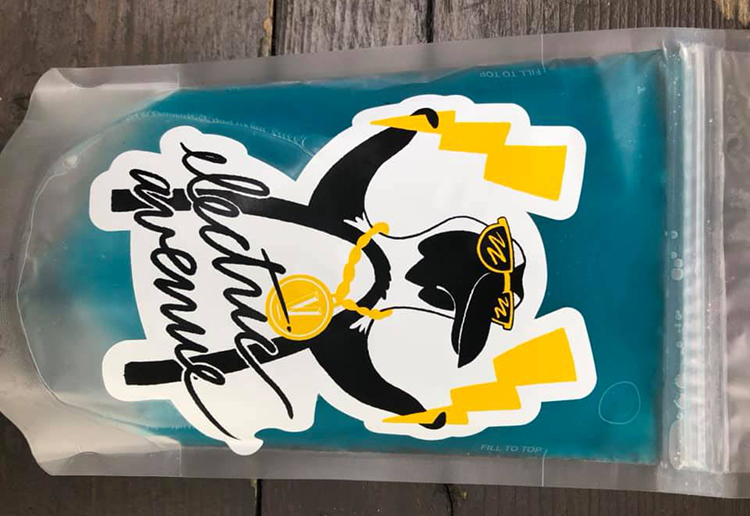 The Vanguard
Following months of inactivity in hopes things would return to normal, The Vanguard finally reopened (in a carryout capacity only) in June. In addition to selling the delicious items on its everyday menu, the Bay View sausage bar has also started selling to-go beer and home grilling packs. Last week, they also started offering a "Capri Sun-style cocktail" called Electric Avenue that's served in a plastic pouch. So next time you grab a sausage, some poutine, or a Dirty Burger, consider washing it down with one of these bright blue babies.
BONUS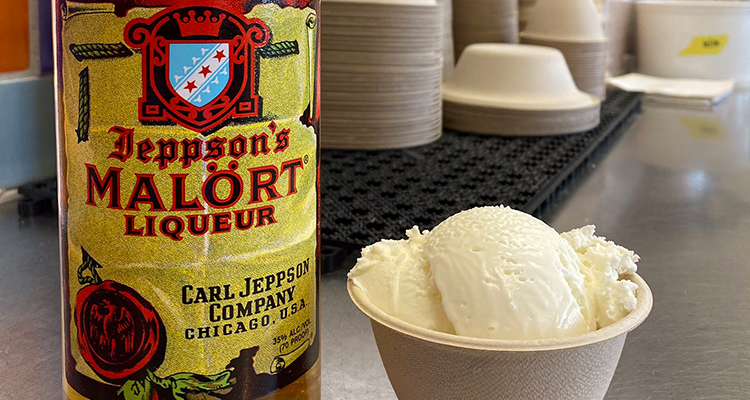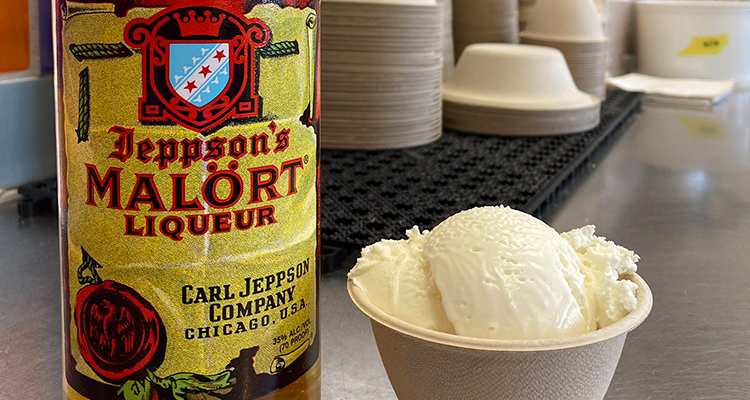 Purple Door Ice Cream
Okay, so this technically isn't a drink, but we couldn't make a list of unique, booze-infused ways to keep cool in Milwaukee this summer without mentioning Purple Door's ice cream that's made with Jeppson's Malört. After taking social media by storm and satisfying hoards of customers with a very specific taste in spirits in June, Purple Door made the in-store specialty available to order in pints. Pick some up today. Or don't. We can't tell you what to do.