Caleb Westphal hasn't missed a Friday fish fry since 2013. Follow along with his never-ending adventures here.
There is a yearly Friday tradition in America where people stand outside of stores in the dark and cold until they open, and then rush inside to buy toys, televisions, and other soon-to-be-trash that won't bring their lives any lasting fulfillment. Okay, this may sound like a cynical view of Black Friday, so let me assure you, I'm not a complete anti-consumerist. I have my own consumer-filled Friday tradition, and it doesn't just happen once a year, it happens every week: the Friday fish fry. Still, when Black Friday hit last week, I headed far away from the thick of high-end boutiques and bloated big-box stores—and away from the commotion and bustle of Milwaukee—to get a fish fry in a place of relative solitude.
I'd driven past the Brookwood Inn (W343 S10206 Hwy E, Mukwonago, 262-5943030)—also commonly known as the Brookwood Pub and Grill, or simply as Brookwood—a few times before, while on my way to the Nite Cap Inn in Palmyra. Located on the southeast corner of County Trunk Highways LO and E, about five miles west of Mukwonago and three miles southeast of Eagle, the Brookwood Inn has been on my list of places to check out since I first saw their marquee lit with the words "best fish fry."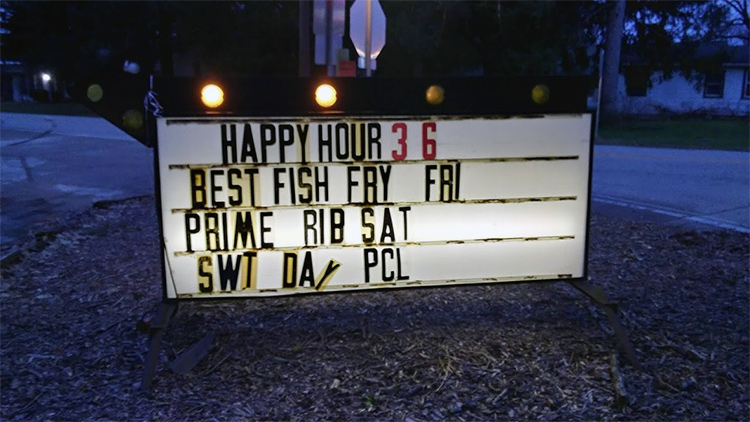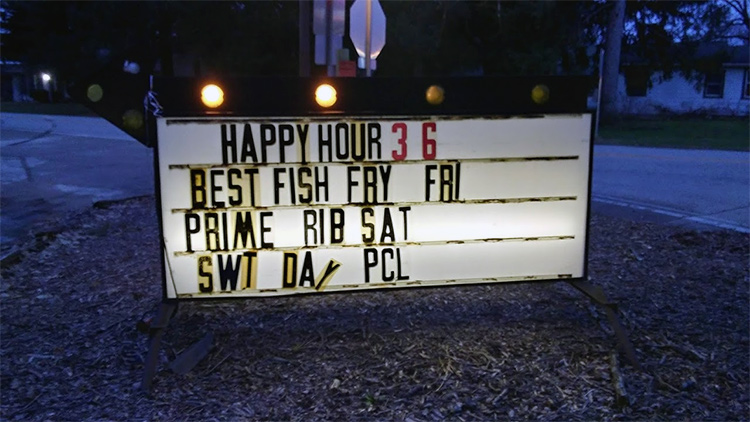 When I arrived at 4:30 p.m., the time that they open for dinner (the bar opens an hour and a half earlier), I was immediately greeted by someone at the front podium and brought to a seat in the dining area, where two of the roughly 15 tables were occupied. (In the 45 minutes or so I was there, no more than five tables were occupied at a time.) "Where the hell is everybody?" I thought. "This is Friday, isn't it?"
With tablecloths (albeit of paper) and glassware on the tables, a stone fireplace, and etched glass windows, the Brookwood Inn feels somewhat like a rustic supper club. And yet, the rather worn carpet and floors, the unlit nature of the fireplace, yellowed newspaper clippings in the entryway, and relative emptiness of the place gave me the impression that perhaps it was a shell of its former self—as if its time had passed. It seemed its prime was likely decades in the past.
Indeed, between 1983 and 1989, the building was home to the famed Inn of the Four Seasons, which regularly had 200 customers on a weekend night, and was known for its Sunday brunches and for hosting once-a-month gourmet dinners. Patrons often waited well over a year to get a spot at one of the gourmet meals, where they were served eight or 10 courses and were waited on by servers in tuxedos. According to the December 18, 1983 Milwaukee Journal, before being the Inn of the Four Seasons, it had been a pool hall and disco bar, and going back even further, it had been a "1920s gas station with a Prohibition era bar." Following its time as the Inn of the Four Seasons, it briefly was J.Z. Mitch's before opening as the Brookwood Inn in 1993.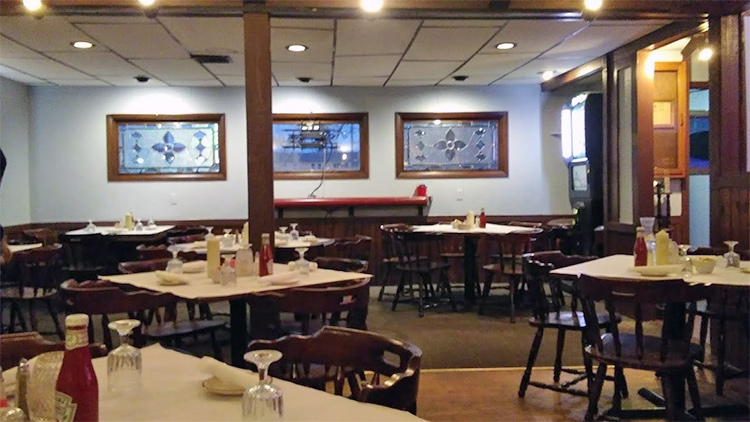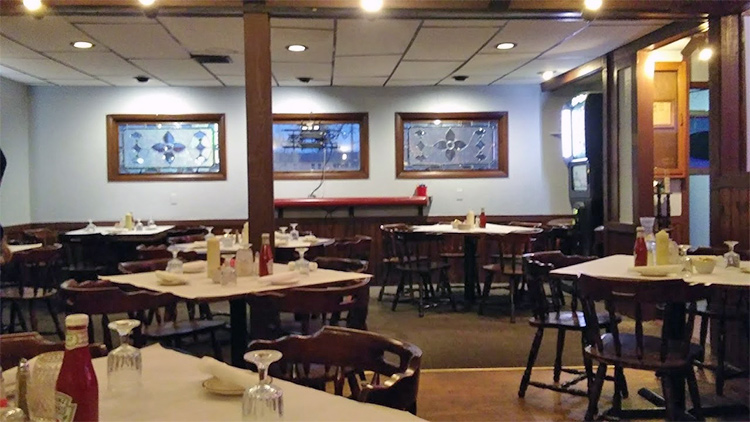 Regardless if the Brookwood Inn can now check off all the boxes of fine dining, it still has charm, and I am more concerned with its fish fry anyway. Options on the menu include beer battered cod ($10.95 for 3 piece/$13.95 for all you can eat), baked cod ($10.95), and perch ($12.95). The potato choices are fries or "potato cakes." A salad or soup (like clam chowder!) is also included with each fish fry. Like a patellar reflex, my mouth asked for a Brandy Old Fashioned Sweet, and for the all-you-can-eat cod, potato cakes, and chowder.
Throughout my time at the restaurant, I was given great service. What particularly stuck out was that I was often given options. This started off with the Old Fashioned. Did I want it in a tall or short glass? Did I want a garnish, perhaps olives or cherries? Oftentimes I order one and am asked nothing about it—this was not the case here. The drink was muddled and well-balanced, and could run with the best of those at most cocktail bars and supper clubs.
The rye bread, coleslaw, and clam chowder soon arrived. The rye was of the lighter marble variety, being fresh and thick, but not unlike many others. I was asked if I wanted more after I finished it, but declined. The coleslaw came family style in a bowl. I couldn't tell if it was homemade, but regardless, it wasn't bad, and had a taste and creaminess that was reminiscent of what I'm given at Walleye Weekend every year. The chowder was stellar. Creamy and topped with a bit of parsley, it had a balanced blend of generously sized pieces of clams, potatoes, and celery, and appeared to have been freshly made.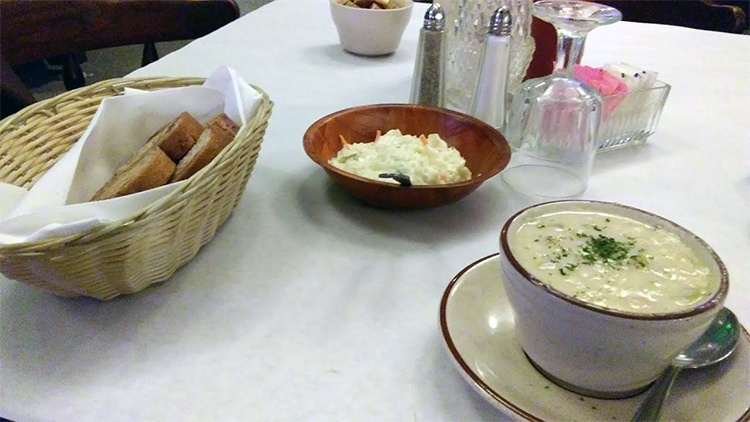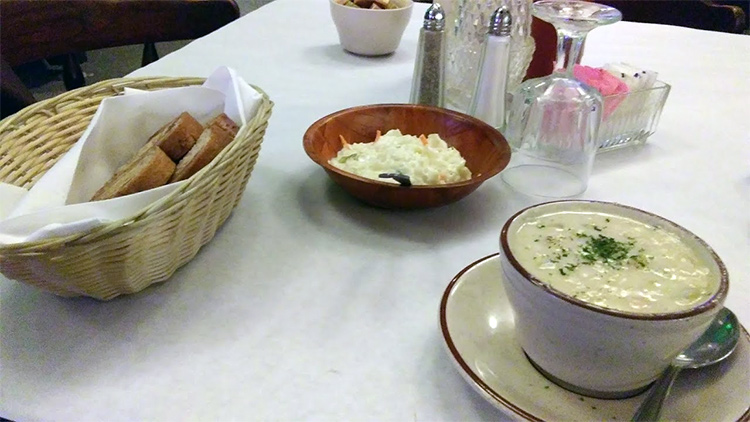 Two potato cakes and three pieces of cod came out on the main plate. The cakes were thicker than most potato pancakes, but smaller in circumference, and were lightly browned on their outside, with a consistency not too far removed from mashed potatoes on their inside. Minced onion, cheddar cheese, and flecks of green herbs were also evident in them.
The batter on the cod was relatively thick and held the fish together well, and there wasn't any greasiness to it. Scarcely any beer flavor was present, and overall its flavor was rather temperate. The fish itself was of a standard, satisfactory quality. The bottle-on-the-table tartar had a prominent dill flavor, and nothing particularly magical happened when it was wedded to the fish. Although the fish didn't take my breath away, it was still pleasant, and I had two more pieces.
I don't believe I'd place the Brookwood Inn on a list of places that absolutely have to be stopped at for a fish fry or for general dining, and yet I wouldn't discourage a stop there either. I hope it packed up later in the evening and that they usually get bigger crowds than what I witnessed. If you are a Milwaukee resident and you find yourself on the southwest side of the city, or if you live in a southwest suburb, you likely won't be disappointed if you add this restaurant as a stop on your fish fry circuit. They may not have the "best fish fry," and I'm not sure I'd call it "amazing," like this guy, but I wouldn't try to change his mind either. They are selling something of quality at a reasonable price, and you don't have to wait around until next Black Friday to buy it.
Takeaways: The feel of a small, well-worn supper club; great service—my server asked me if I wanted lemon in my water and even picked my coat off the floor when it fell off my chair; commendable Old Fashioned; the chowder was close to excellent and was included with the meal; they aren't potato pancakes, they are potato cakes, and they have some onion and cheese in them, and they are good; satisfying but not overly exciting fish and tartar; the Brookwood Inn also does catering.