Caleb Westphal hasn't missed a Friday fish fry since 2013. Follow along with his never-ending adventures here.
Last summer, I attempted to go to The Depot Tavern in Caledonia (11402 County Road G; 262-835-2272) for a fish fry, but when I arrived I found they were closed—they were spending their Friday selling blooming onions at some festival instead of frying up fish. It turned out alright, though, as I ended up getting what became one of my favorite fish frys of 2018, at Cliff's Boathouse Cafe in Racine, an establishment that has unfortunately since closed. I said at the time that there was a chance I'd head back to The Depot at some point. Forty-one Friday fish frys later, I was there.
Two trains, one of which was an Amtrak, zipped by each other next to the building as I entered it. Perhaps it was my imagination, but it felt like the ground—or maybe the whole building—was shaking as I walked inside, as if the whole place might tumble. The weathered walls and slight concavity of the main room's ceiling clued me to The Depot's age, but more than anything, those elements brought out an inviting quaintness, as did the rather small size of the place. Every table was full—it was Good Friday, after all, the grand finale of a six-week fish binge—and my friend and I were told it would be about a half an hour wait for a table. We found a spot at the bar in the meantime, and I nursed a Brandy Old Fashioned Sweet, which was well-muddled, poured with Korbel, and topped with an orange slice and maraschino cherry.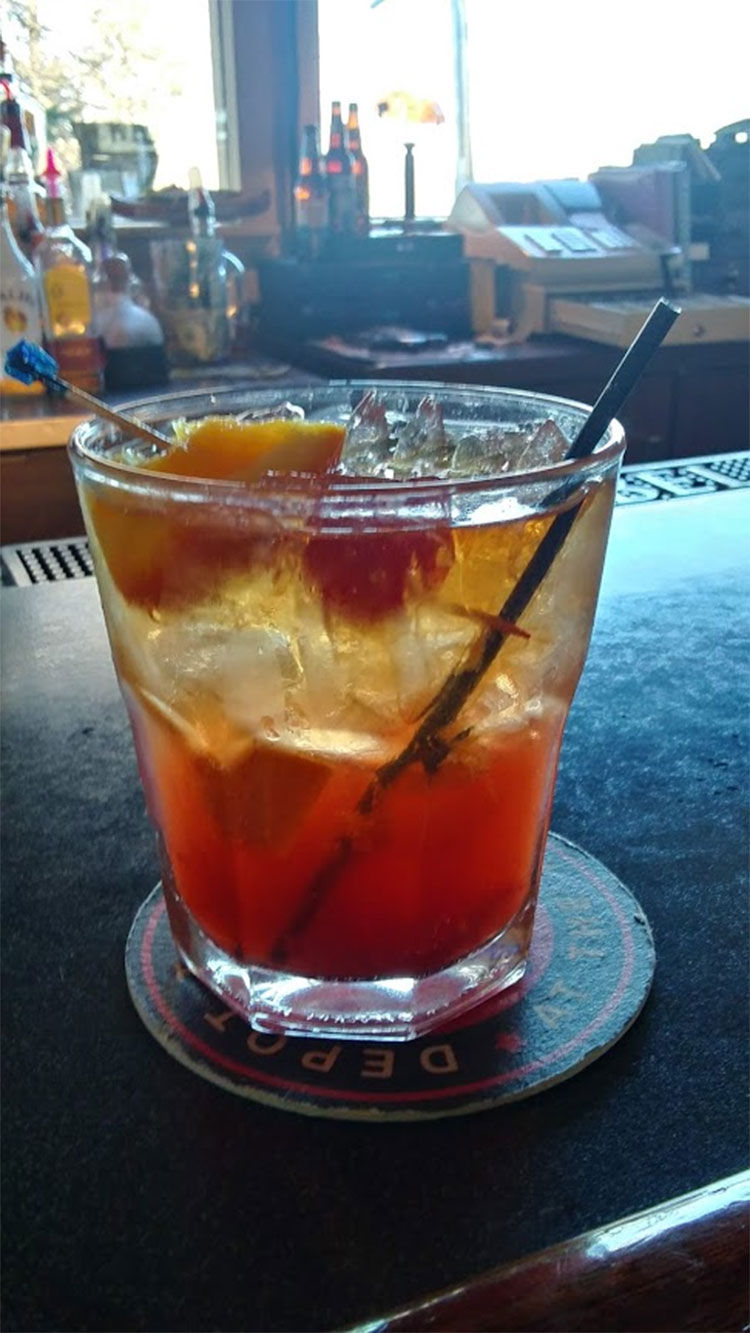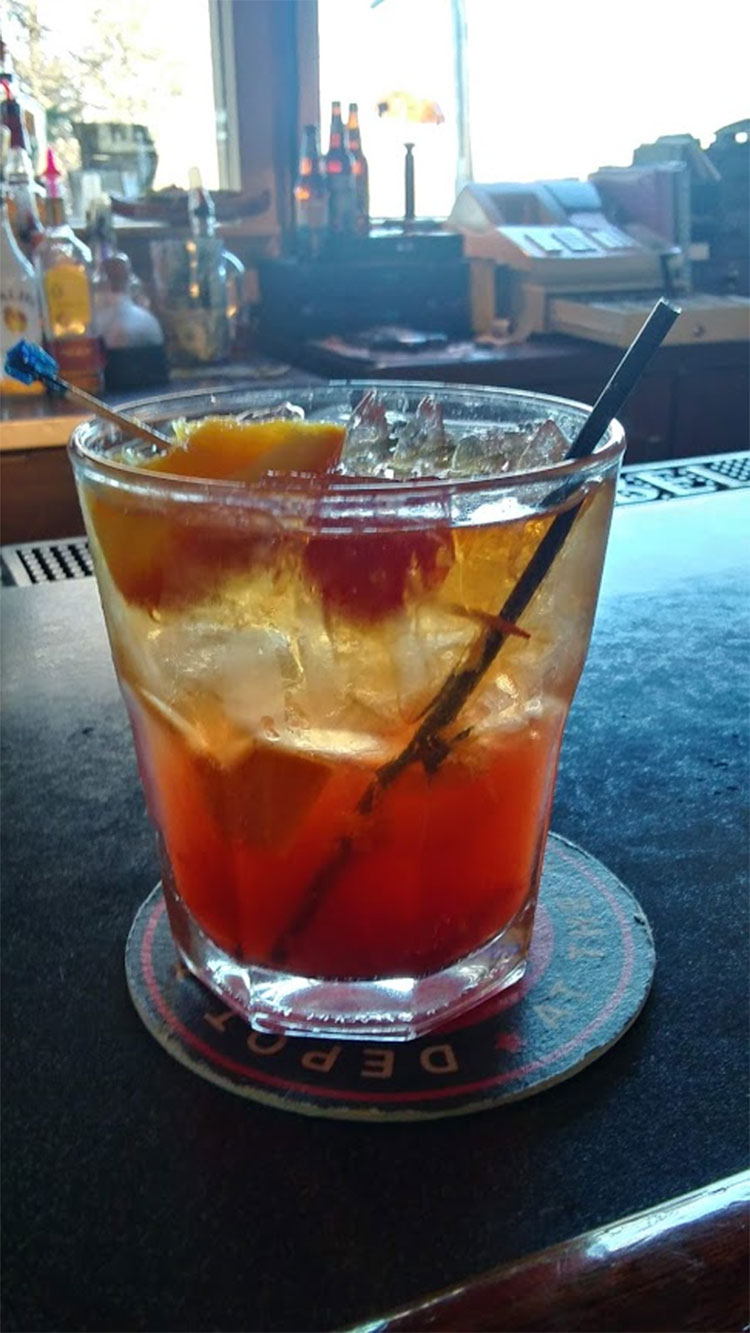 Located on County Road G (5 ½ Mile Road), in an area of Caledonia that was once known as Stearns Crossing, The Depot has been owned by Mark and Sue Gracyalny since 2012. Besides fish frys, some other highlights of their menu include broasted chicken and homemade mac & cheese, and they have "Supper Club Saturdays," when relish trays, cheese, bread, and crackers accompany meals. The building originally was home to Caesar's Tavern, which opened on July 1, 1936, according to The Depot's Facebook page. The tracks it sits adjacent to were once part of the Milwaukee Road, and Caledonia's real train depot stood on the opposite side of them—the west side—and was in operation from 1874 until 1956.
The half hour wait eventually turned into an hour, and I began to get restless, but the call eventually came. Seafood options on the menu include Atlantic cod ($10.95 for 3 piece/ additional pieces $2), grilled cod ($14.95 for a cod loin served on arugula with parsley buttered potatoes and tomatoes), lake perch ($13.95 for 4 piece), fantail shrimp ($11.95 for 6 piece/ additional pieces $.95), half and half ($13.95 for choice of two of perch, shrimp or cod), and the deluxe platter ($15.95 for perch, shrimp, and cod). The Depot's potato options are french fries or parsley buttered potatoes, and they can be replaced with mac & cheese or a dinner salad for $1.50. Coleslaw can be substituted for cottage cheese. I went with the half and half of perch and cod with the french fries.
I was so excited when the food arrived that I knocked my beer halfway over while reaching for the ketchup, and some of it went into the food basket. Luckily, only some of the french fries became casualties, and the fish was saved. The fries that didn't get bathed in beer were crisp and satisfying. Sure, I kept eyeing up the mac & cheese my friend had opted for, but I was fine with my decision. The rye bread had a hypnotic swirl pattern and was of above average quality, while the coleslaw was extra creamy with both red and green cabbage, as well as carrot slivers.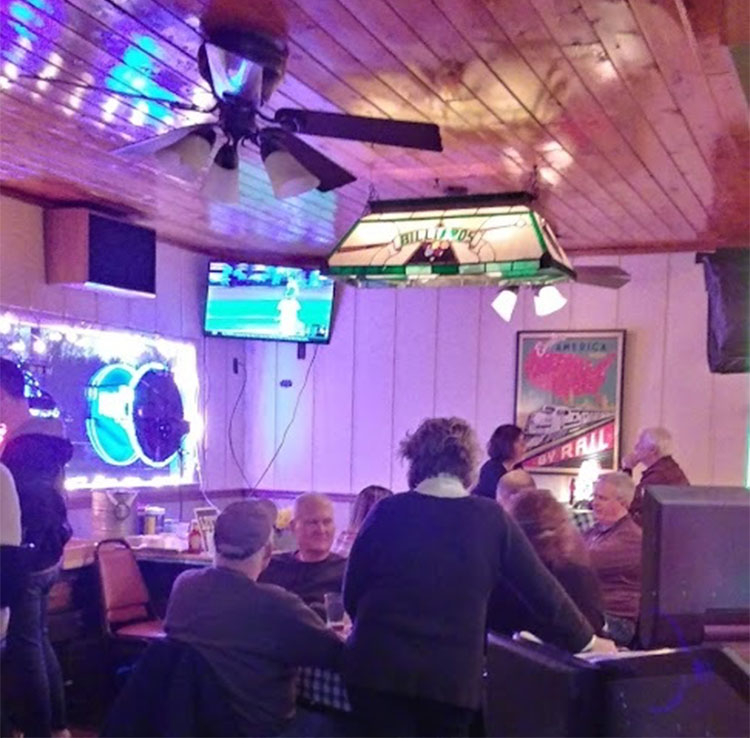 The breading on the fish was outstanding, mainly on account of its perfectly balanced texture. Being that the fish had been fried for just the right amount of time helped make the breading stand out as well. It was quite mild in flavor, however, which sometimes can feel bland, but that was not the case here. When it came to the fish itself, the cod consisted of thick and flaky white morsels, while the flavor of the perch was pretty mellow.
Now, I usually say something about the tartar sauce having pickles in it, but this tartar sauce was extra pickle-y. If you are into pickles, this would likely be your thing. During my research I also found that a pickle factory used to be located nearby, which is funny to me for some reason.
There are various desserts available at The Depot, both alcoholic (like Brandy Alexanders and Grasshoppers) and nonalcoholic (like homemade pies and cheesecakes). But the fish fry was all I needed. Want to feel like you are far away from Milwaukee while not even driving for a half hour? Heading to this countryside tavern for some fish should do it. You'll probably just want to check in advance to see that they are open, so you don't end up showing up to a locked door like I did last year. Ironically, it just so happens that they are closed this week. So, ah, maybe check back next week?
Takeaways: A tavern next to some train tracks; the place is pretty small, but not quite small enough to imagine that you are eating in a boxcar that fell off the train tracks; the wait was longer than expected but the place was packed; hypnotizing rye; extra creamy slaw; commendable fries as long as you don't spill beer on them; combo fish options; the handbreading on the fish was the standout part of the meal; high quality cod and mellow perch; the ghosts of the old pickle factory are putting extra pickles in the tartar; they have homemade pies and ice cream drinks and other desserts; they are cash only and their "vintage" ATM has the smallest screen imaginable and says it is "dialing" when you plug in your information and it doesn't like to give out receipts. Honorable Mention.