Though Milwaukee dining is evolving, expanding, and improving at an incredible clip, the city still hasn't shaken its obsession with the almighty burger. And why would we? Milwaukee is blessed with an endless array of pattied delicacies to suit any taste. While the concept of this staple of American cuisine is simple, every restaurant does something a little different to make theirs special.
We could transition into a full-on burger review outlet and we still wouldn't crack the surface of Milwaukee burger greatness, but with Randy from Trailer Park Boys coming to Turner Hall this Friday as part of his Cheeseburger Picnic tour, we figured this would be a good excuse to acknowledge 11 of our favorite friggin' cheeseburgers in the area.
Camino — The Burger
This seems right up Randy's alley. Camino is so confident in "The Burger," the Walker's Point bar and restaurant made it the only burger available on its menu. Frankly, it's all you need: a half pound Wisconsin beef patty, a slice of American cheese, and grilled onions smashed between a brioche bun. There's also a pickle medallion on top for flavor and a fancy touch. Camino also gives customers the option to add on a variety of toppings, but why mess with perfection? Though not flashy, The Burger is quietly a top five local cheeseburger contender. Plus, they're only $5 on Mondays…meaning Randy probably wouldn't have to resort to working as "Smokey" to put a few of these in his gut.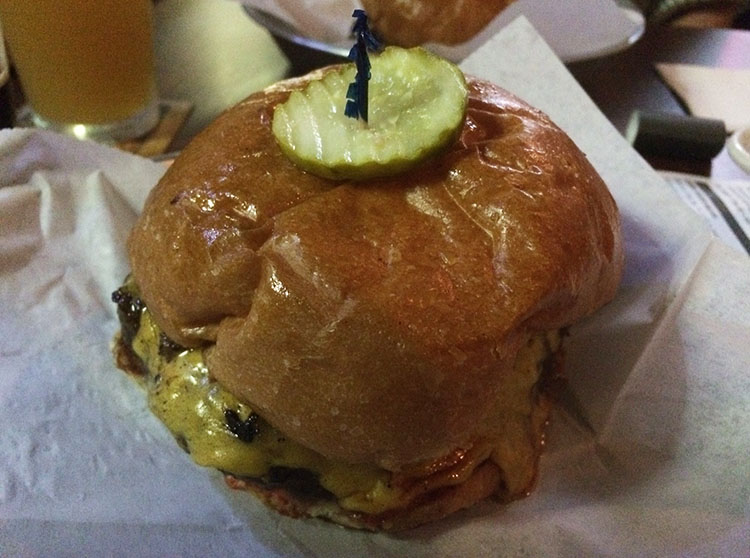 Crafty Cow — Bacon Cheddar
Bay View's Crafty Cow also offers $5 cheeseburgers every Monday. Though the special is similar to Camino's, the burgers are remarkably different. The "Juicy Lucy" burgers are stuffed with Weyauwega cheese and an eclectic range of other toppings. Our favorite is the Bacon Cheddar, which is simple-yet-satisfying. We think Bobandy would approve.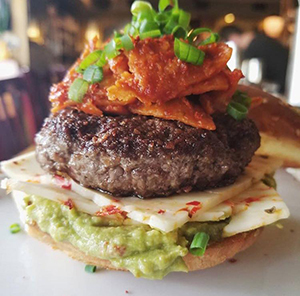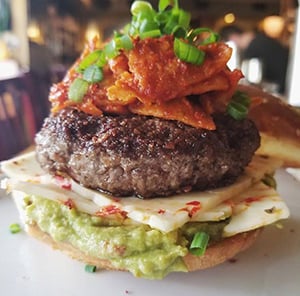 Goodkind — Burger Night Special
Also located within the suddenly burger-rich borders of Bay View is Goodkind. Though the restaurant is far too fancy to let Randy in without a shirt, they'd probably bend the rules to serve him one of their specialty burgers out on their patio. Every Tuesday, the critically acclaimed restaurant loosens its necktie to offer a different burger invention for an affordable price.
The themes and ingredients change every week, but the one constant is the delectable Carlisle Beef Patty that's raised right here in Wisconsin. This refined bovine preparation also comes with a beer pairing. If beer isn't your thing, you can just point at something on the cocktail list and let the liquor do the thinking.
Kopp's Frozen Custard — Bacon Cheeseburger
From our own Josh Hoppert: "We're enormous fans of the Kopp's Frozen Custard bacon cheeseburger, or a double bacon cheeseburger if we've had a rough day. It's salty and gooey and crispy in all the right places, with Nueske's bacon tying the whole thing together. We keep it pretty simple, topping it with ketchup, mustard and pickles."
Factor in the availability of custard nearby and you've got yourself a meal that's worth frigging off to the suburbs to get.
Mazos Hamburgers — Bacon Cheeseburger
Mazos Hamburgers has been serving up outstanding burgers since 1934. The interior and the prices haven't changed much since then. Thankfully, the menu hasn't changed much either. The highlight of the seminal south side establishment's limited offerings is the Bacon Cheeseburger, which is bolstered by fresh, never frozen, ground daily beef. It might take a while to get your food sometimes, but it's worth the wait…and the weight.
Merriment Social — Whatever The Happy Hour Burger Special Is That Day
Anyone who's watched enough Trailer Park Boys knows that Randy is easily persuaded. Though Mr. Lahey (RIP) frequently led his partner into trouble, Merriment Social's kitchen staff can be trusted to continually come up with interesting and unbelievable cheeseburger creations to be placed between two pillow-y milkbuns. At just $5 a pop during happy hour every weekday, Randers could probably take a few of these to the dome without much trouble.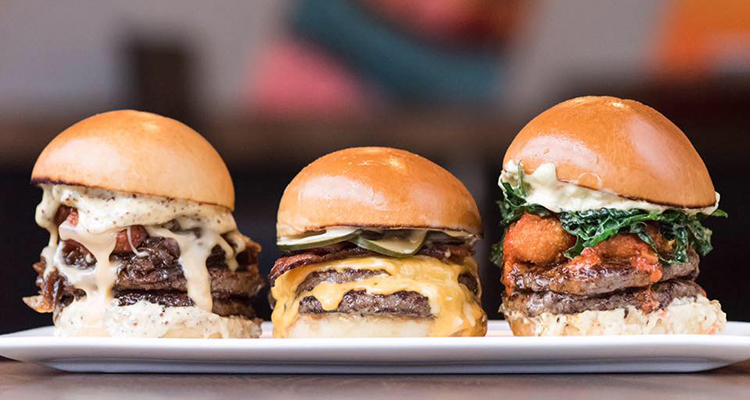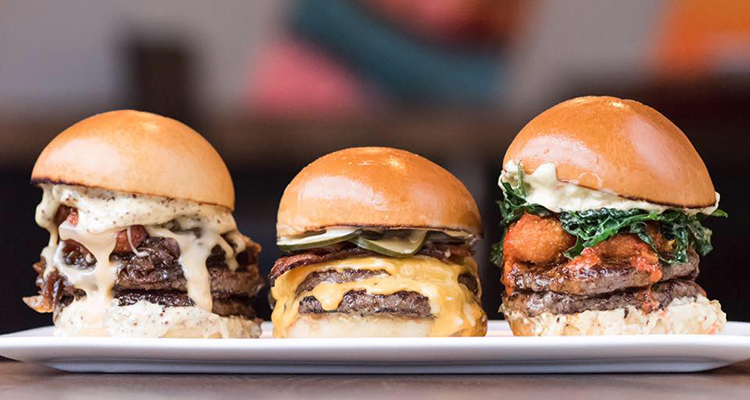 Nite Owl — Cheeseburger
Nite Owl looks like it could be straight out of Trailer Park Boys. When ignoring its proximity to the airport and its now-busting Layton Avenue surroundings that came to be since the seasonal drive-in opened generations ago, this classic cheeseburger relic from Milwaukee's past could pass for a hangout the boys would frequent in Nova Scotia.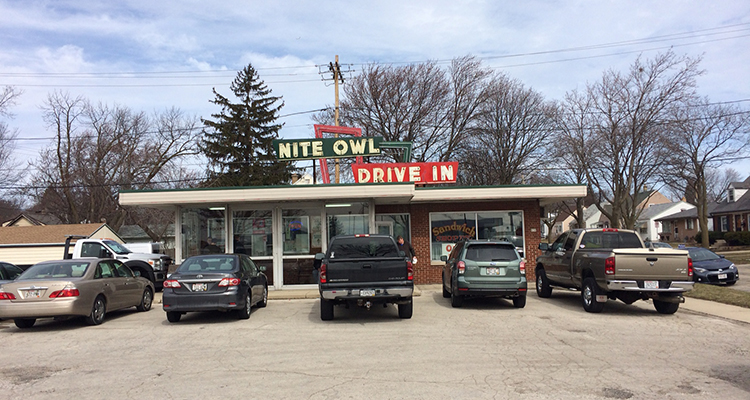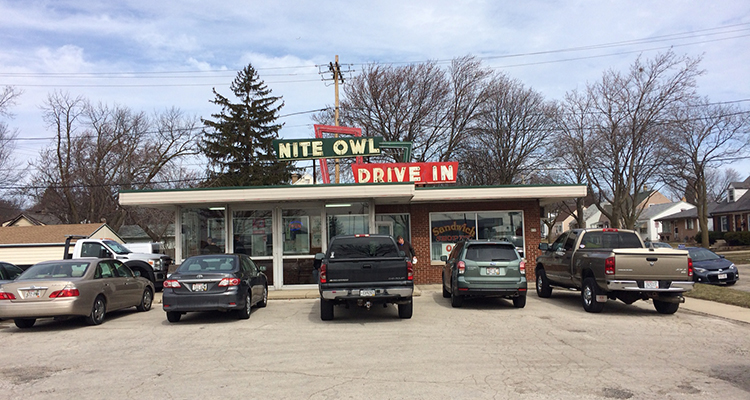 Oscar's Pub & Grill — "The Big O"
DEEEEEEEEEEEEEEEEEEEEEEEEEEEEEEEEEEEEEEEEEEEECENT!!! "The Big O" at Oscar's is the best burger in Milwaukee. This should be treated as fact from now on.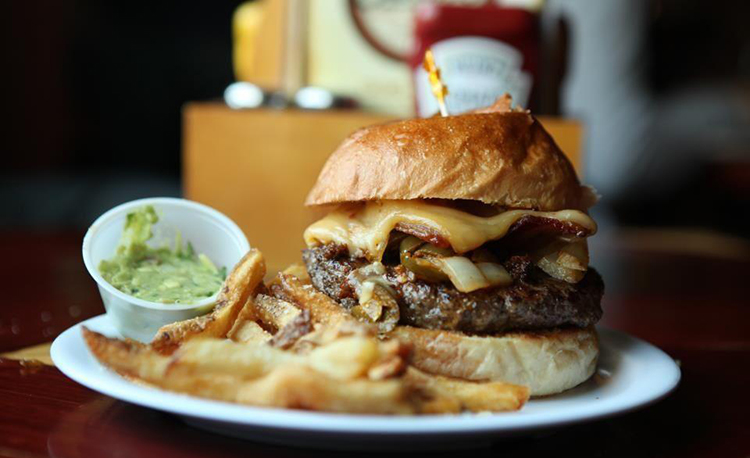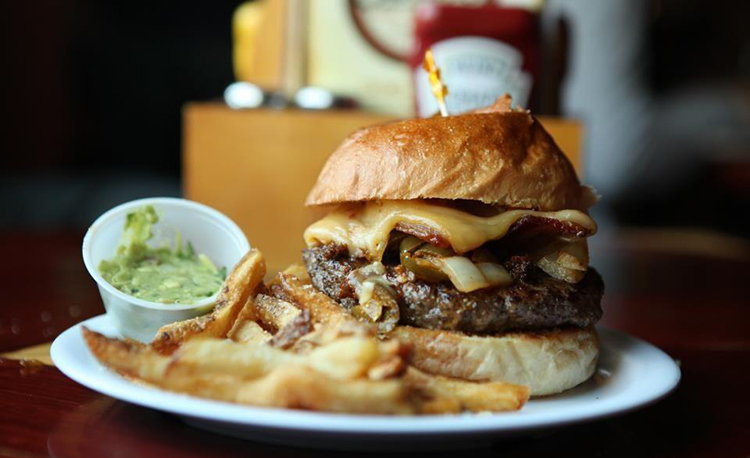 Sobelmans Pub — The Sobelman
Though Sobelmans' lofty claim of having the "best burgers" isn't accurate (see directly above), the popular food and gigantic bloody mary purveyor does make some damn fine burgers. Chief among them is its namesake, The Sobelman. It features a grilled beef patty that's covered with three cheeses, fried onion, bacon, and diced jalapenos. If you're looking for a cheeseburger picnic in or around the Menomonee Valley, there's simply no better place.
Stack'd Burger Bar — Housemade Black Bean Veggie Burger
In spite of his cheeseburger obsession, Randy has been known to work vegetables into his diet from time to time. He eats corn dogs, fries, and….okay, that's about it. Wait, is mustard a vegetable? Anyway, should Randy ever decide to turn things around and shy away from beef when he's in Milwaukee (or if you're looking for a good meatless alternative), Stack'd offers a top-notch black bean burger, which is made and pattied fresh in house.
The Vanguard — Thee Durty Burger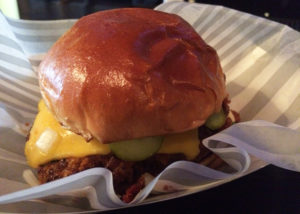 Last but certainly not least is Thee Durty Burger. Since opening in 2014, Vanguard has offered this homage to Trailer Park Boys as one of the venerable sausage joint's few "tube-less" specialties. Though a far cry from the grrreeeeeeeasy burgers Philadelphia Collins (RIP) served up at his Dirty Burger truck, Vanguard's rendition maintains the trashy charm of the original. An amalgam of meat left over after making sausages is combined and pattied, then topped with bacon, lettuce, raw diced onion, pickles, tomato, Velveeta cheese, and "ok sauce." Each one is different, but they're all delicious. Like the show it honors, Thee Durty Burger may seem rough around the edges at first, but once you give it a fair chance, you're probably going to love it.
We love it, but that might just be our opinion. To put it to the test, we're going to eat a Durty Burger with Randy before Friday's show and see what he thinks.