Have you noticed a bunch of painted parking corrals for those wonderful/infernal electric scooters popping up on streets and sidewalks throughout Milwaukee? Have you wondered to yourself, "What's the deal with these seemingly new painted parking corrals for those wonderful/infernal electric scooters?" Well, wonder no longer.
The Department of Public Works tells us that a contractor is in the process of installing roughly 70 of the corrals in areas of high scooter ridership—i.e. the East Side, Riverwest, Harambee, King Drive, Walkers Point, and Bay View. The corrals are being painted on streets in no-parking zones, and on sidewalks in "furniture zones" (the section of sidewalks that contain things like benches and utility poles). The DPW determined the locations using data from where rides most frequently occur.
So, um, what are they supposed to do? The DPW tells us that the corral locations "will be shared with scooter companies so they can deploy scooters in them, and incentivize riders to park in them." So there you go!
Three electric scooter companies—Bird, Lime, and Spin—are currently allowed to operate in Milwaukee thanks to a Dockless Scooter Pilot Study. The pilot study is in its second year, having first started in 2019. (It was put on pause in 2020 due to the COVID-19 pandemic.) The pilot study is meant to "evaluate the effectiveness of dockless scooters in Milwaukee for the purpose of determining how to best incorporate scooters into the transportation landscape moving forward." The 2021 study began in June and will expire at the end of the year.
And now for the $65,000 question: Who's paying for the parking corrals? "Parking corrals are being paid for by Bird out of their 2018 settlement with the City," the DPW says. As you may recall, Bird paid Milwaukee a cool $65,000 in 2018. The settlement came about after Bird just went ahead and dropped a fleet of scooters throughout downtown Milwaukee in the summer of 2018, even though the scooters were technically illegal and violated state statutes. In 2019, Gov. Tony Evers signed a bill allowing (and regulating) electric scooters throughout the state.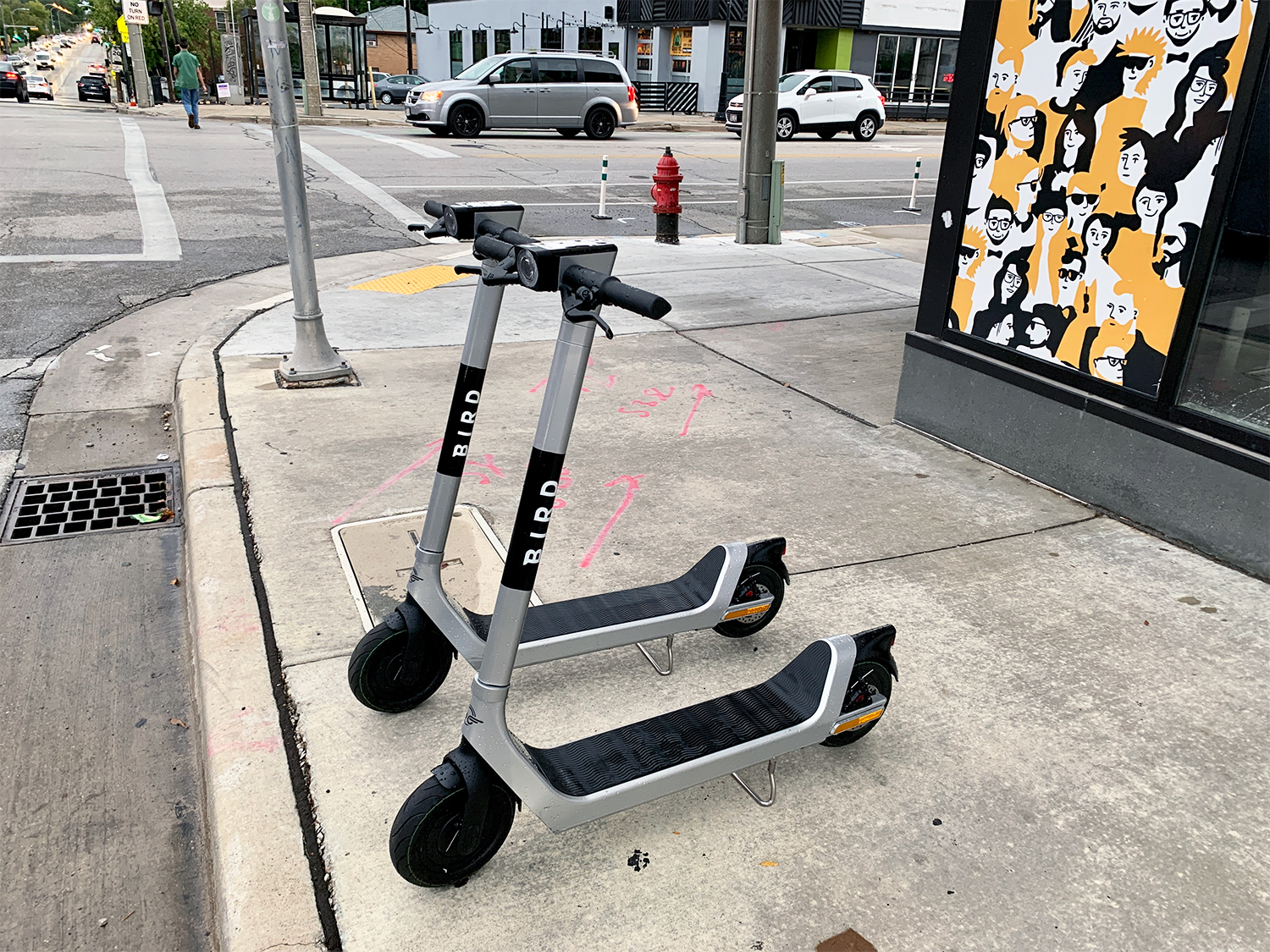 The parking corrals are just the latest bit of Important Milwaukee Scooter News. Last month, the DPW announced that Bird, Lime, and Spin would be prohibited "from deploying or allowing new trip starts in Zone 1, which encompasses the downtown, near west side, near south side, and lower east side." The so-called "pause" came courtesy of a consultant who "monitored 15 intersections with high ridership for 15 total hours in Zone 1 throughout a two-week period in late June to early July." The results, according to the DPW, "showed that approximately 30% of all trips through these intersections occurred on the sidewalk." A provision in the city's pilot program prohibits new scooter rides in the downtown area if sidewalk riding tops 10%.
A total of 139,045 rides were recorded in June. In July, 158,662 rides were recorded. In August, 70,558 rides were recorded. The city receives $0.15 per ride taken, "which pays for program-related costs and can be used for new infrastructure that supports scooters such as these new parking corrals and new bike lanes," says Alderwoman Marina Dimitrijevic.
The DPW says it will continue to evaluate the need for more parking corrals after the current crop is installed.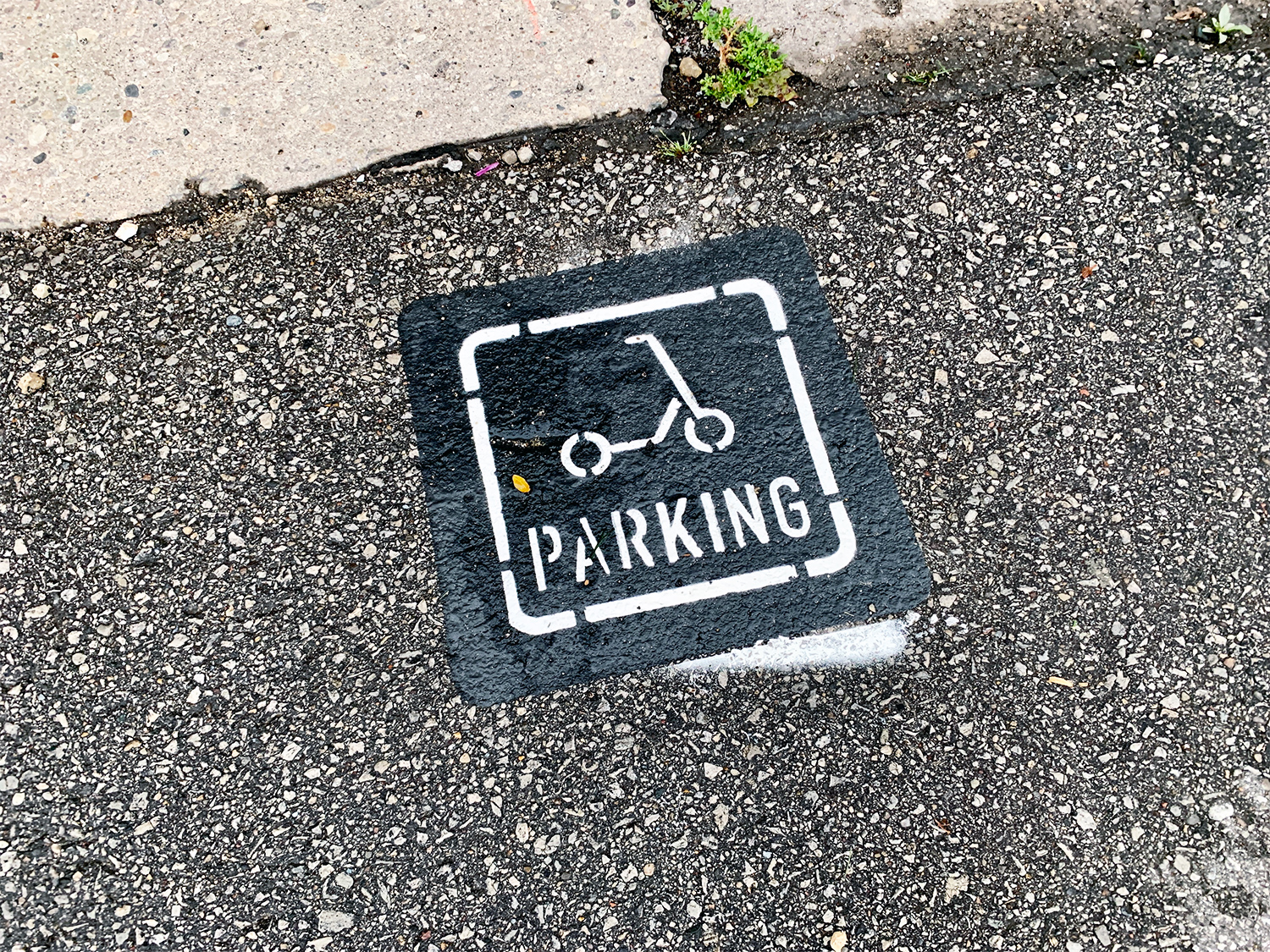 Exclusive articles, podcasts, and more. Support Milwaukee Record on Patreon.
---
RELATED ARTICLES
• Popular, convenient scooters made less popular, convenient with downtown "ban"
• Today: Milwaukee's mask mandate ends, Milwaukee's electric scooter season begins
• Those scooters are coming back
• Scooter pilot study from 2019 deemed a success, new pilot study recommended for 2021