Every Friday, Stuff We Missed looks to other Milwaukee publications (and beyond) for, well, stuff we missed throughout the week. This week: those darn electric scooters!
• Here's the funny thing about those darn electric scooters: they're really fun, they really convenient, and a lot of people use them. Yes, ever since Bird, Lime, and Spin scooters were allowed to once again operate in the city via a pilot program that began this summer, the companies have tallied more than 298,000 total rides. Whoa!
But all things popular and convenient are destined to become less popular and convenient—especially when illegal sidewalk-riding is involved. Earlier this week, the City of Milwaukee Department of Public Works (DPW) announced that Bird, Lime, and Spin "will be prohibited from deploying or allowing new trip starts in Zone 1, which encompasses the downtown, near west side, near south side, and lower east side." Here's what that sizable zone looks like: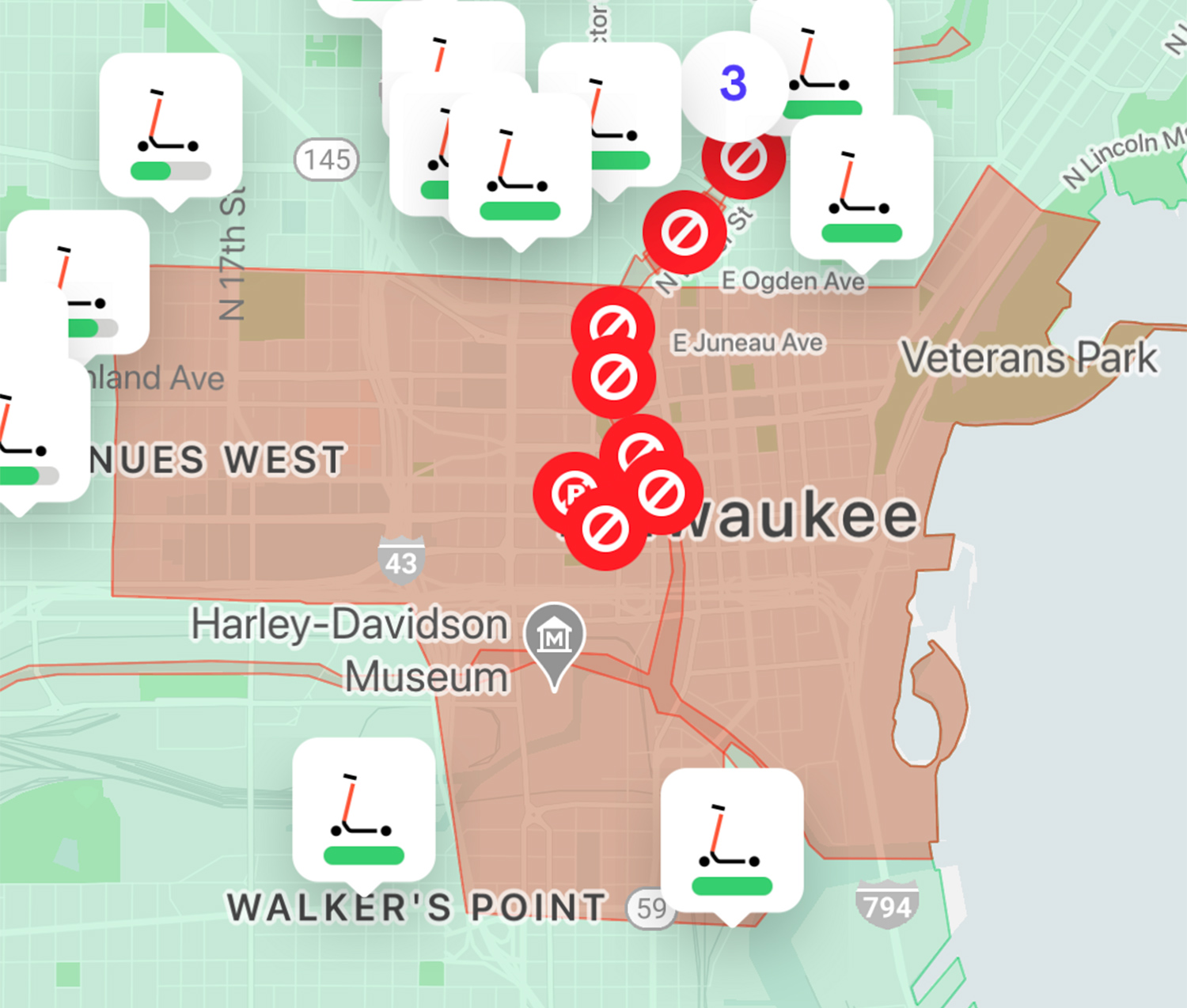 This so-called "pause" comes courtesy of a consultant who "monitored 15 intersections with high ridership for 15 total hours in Zone 1 throughout a two-week period in late June to early July." The results, according to the DPW, "showed that approximately 30% of all trips through these intersections occurred on the sidewalk." A provision in the city's pilot program prohibits new scooter rides in the downtown area if sidewalk riding tops 10%.
According to the DPW, approximately 27% of the 298,000 scooter trips this summer began in Zone 1. [Urban Milwaukee]
• The Democratic National Committee (DNC) has invited Milwaukee to throw its hat in the ring for a chance to host the 2024 Democratic National Convention. Again. As you may recall, Milwaukee kinda-sorta-not-really hosted the 2020 DNC, which was more or less completely virtual (and/or canceled) thanks to COVID-19. More than 20 other cities have also been invited to apply for the 2024 DNC. [FOX 6]
• This week in Move Over, Beneath-The-Freeway Pickleball Court news: Milwaukee Downtown and the Historic Third Ward Business Improvement District #2 are planning to build a downtown dog park "on state-owned land underneath the freeway between W. Clybourn St., W. St. Paul Ave., the Milwaukee River and N. Plankinton Ave. in Westown." Oh, and they'd like you to vote for the project in PetSafe's Bark for Your Park contest. PetSafe will award the top five vote-getters $25,000 each. (Five runners-up will get $5,000 each.) You can vote HERE. [Urban Milwaukee]
• Milwaukee County Transit System (MCTS) announced that all Freeway Flyer routes (40, 43, 44, 46, 48, 49, 79, and 143) will resume service on Monday, August 30. [MCTS]
• Speaking of MCTS, here's how to get to the Wisconsin State Fair on the bus. [MCTS]
• Holy crap. That loooooong-awaited macaroni and cheese place on Brady Street, Mac Shack, is finally open. The restaurant (located at 1701 N. Humboldt Ave., to be exact) was first announced way back in 2019. [OnMilwaukee]
• Speaking of loooooong-awaited stuff, the guy who salvaged the Johnson's Park dinosaur way back in 2017 is almost ready to do something with it! [OnMilwaukee]
• If you still haven't checked out that "Beyond Van Gogh: The Immersive Experience" exhibit at the Wisconsin Center, you're in luck! The exhibit (which is already the highest grossing event in Wisconsin Center District history) has been extended to October 31. [Milwaukee Business Journal]
• Tweet of the Week! [Twitter]
Just a couple of Wisconsin legends. Somebody get Bud a superslice pic.twitter.com/hCJn89Ai0T

— Frank Madden (@fmaddenNBA) August 6, 2021
• Have a great weekend, Milwaukee! Go Brewers!