Milwaukee has its share of remarkable DJs, but few have reached the level of skill and adoration as DJ and 88Nine Radio Milwaukee personality DJ Bizzon. The self-taught and extraordinarily tall Bizzon has become one of the most sought-after DJs in the city—so much so that he was recently called upon by the Gods of Summerfest to open for DJ Jazzy Jeff, Lil Uzi Vert, and J. Cole. But the desire for his services go beyond DJing. There's another side of the prolific DJ that is unmatched: his love for his community and the people in it.
Bizzon has poised himself as an activist for social justice, a teacher, and a critical member of Milwaukee's hip-hop culture. He's been seen protesting some of recent history's atrocities on the concrete and on social media. After detaching himself from the world of non-profits, Bizzon created Scratch Sessions, a DJ fundamentals class for youth 12-19.
"If you give a young person something to do, they'll do it," Bizzon says. "Whatever it is, they're going to do it whether it's positive or negative. So when it comes to young people, who need more support than others, they are going to be interested. They are looking for something to do. We just have to be there at that moment when they're looking for something. It's on us."
In an effort to further understand what it's like to be the gentle giant, Milwaukee Record tagged along with DJ Bizzon for a few days. Three days, to be exact. In those three days we will learn one simple thing: some people are just dope.
DAY 1: THURSDAY, JULY 12

DJ Bizzon enters the Mitchell Street Public Library on Milwaukee's south side with roughly 100 pounds of DJ equipment in tow. After making several trips between his car and the storage area of the library he begins setting up five DJ stations for today's Scratch Sessions class. The stations are a combination of his own equipment and equipment donated specifically for the program. Typically he would have help from other local DJs, who volunteer to teach, but due to today's small class size Bizzon is on his own.
He begins by having the students who have progressed a bit faster practice at stations alone, while he starts teaching the more novice students at a different station. Keep in mind this is all free. "One of the largest barriers for anyone to get involved with DJing is access, which is why the Scratch Sessions are free," he says as he motions the kids towards the turntables and mixer in front of him.
Roughly five minutes later each kid is taking a turn scratching while counting out "1,2,3,4…" The technical side of DJing is important, but DJ Bizzon also teaches his students another side: the business. While there can be a certain glamour that comes with being a DJ, there are also several drawbacks. DJ Bizzon teaches the kids how to create and sustain their own businesses while avoiding some of those negative situations.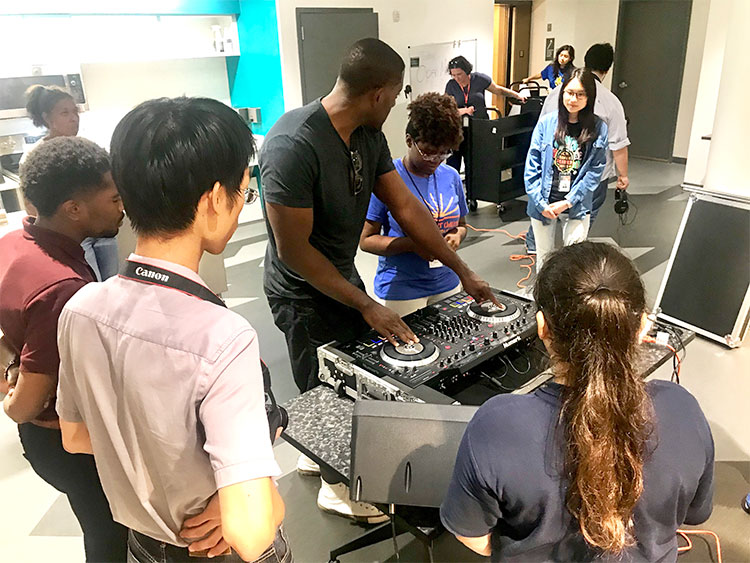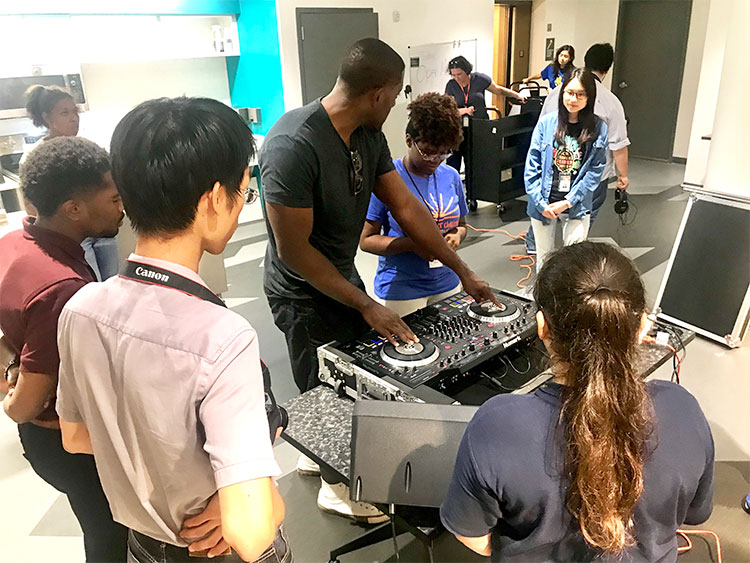 DAY 2: FRIDAY, JULY 13
At around 9 p.m. Bizzon begins setting up his turntables and mixer at Bay View's famed Highbury Pub. Every Friday for the last five years DJs JDL, D.M.T., and Bizzon have met up here to spin the best old-school hip-hop in the city. This is NEEDLE2THEGROOVE.
The three DJs tag team between four turntables to provide the always-heavy throng of partygoers with yams (a word Bizzon claims to have invented). The evening eventually turns into a competition of musical obscurity, making for an intriguing listen. The patrons can best be described as diverse. People flock from every corner of the city to hear the three demolish the small soccer pub every single week. This is where Bizzon connects most to the people. As there is no stage, anyone can walk up and chat with him and make requests. This would drive most DJs nuts, but Bizzon revels in it.
DAY 3: SATURDAY, JULY 14
It's a balmy 90 degrees outside and the historic Rave/Eagles Ballroom doesn't have A/C. Fans eager to see West Coast icon Ice Cube brave the heat and huddle in front of the stage. To their delight Bizzon is the opening DJ accompanied by hype man, friend, and co-worker Jordan Lee of 88Nine. Bizzon keeps the sweltering crowd enthusiastic with a variety of '90s underground hip-hop, some 2000s yams, and a sprinkle of trap. Basically, he plays something for everybody. He ends his set with "International Players Ball (I Choose You)" by UGK. Jordan stands patiently in front of the DJ booth with his hand on his heart and his hat in his hand, awaiting the bass to drop. It's hilarious and passionate at the same damn time.
I ask Bizzon if he ever gets nervous opening for such big artists. "No," he says. "I get nervous afterwards."
After the Ice Cube extravaganza Bizzon is whisked off to his next gig of the evening at Company Brewing. This event is a joint venture between Bizzon and So Greedy, a local event planning and promotions company. Tonight's theme is Bad Boy and Cash Money Records versus Death Row and No Limit Records. Accompanied by videos playing in the background, Bizzon flies through some of the best Biggie, Lil Wayne, Snoop Dogg, and Master P jawns imaginable. The dense crowd dances until bar close. Many a weave are sweat out. At the end of the evening Bizzon appears unfazed; most of us would be in a coma, splayed across a couch. For him it's just a Saturday.
After a rough few weeks Bizzon is off to Seattle…wait, for more info on DJ Bizzon, check out his in-depth interview on the podcast Awkward Conversations with Jank. We pretty much cover everything except what his name means. Perhaps we'll never know.
Need to contact Bizzon? Hit him up here. Don't be a dick. Serious inquiries only.
Listen to "Awkward Conversations with Jank: The DJ Bizzon episode" on Spreaker.