Every Friday, Off The Record looks to other Milwaukee publications (and beyond) for bits of news we missed throughout the week.
• Is it Friday? Yes, it's Friday. That means it's time to put yet another week behind us, prepare ourselves for yet another weekend, and check to see if Milwaukee showed up on yet another "most dangerous cities in America" list. Let's see here…
Ah. Yep, it totally did. Earlier this week, Esquire rounded up the 10 most dangerous cities in America, and, using data and info from the FBI, Law Street, and WLKY.com, ranked Milwaukee at #6—"up" one spot from #7 in 2014. Well, it could have been worse. It could have been…oh. This list only uses data from 2014. It doesn't include statistics from this year, which is currently Milwaukee's most violent in a decade. And it's only October. Fuck this shit, Milwaukee.
• In more FTS, M news, the John Henson/Whitefish Bay jewelry store racial profiling debacle made national news this week. A lot of national news. Closer to home, James Causey weighed in on the matter for the Journal Sentinel (comments disabled, thank Christ), Robert Smith wrote a "letter of fellowship" for Milwaukee Magazine, and Bruce Murphy searched for the incident's "real meaning" for Urban Milwaukee. FOX6, meanwhile, released the 911 calls from the incident.
• Someone put a fake knife through the head of a Scott Walker mask at State Fair Park's Halloween Express and everyone had a shit fit. Well, WISN 1130 AM radio host Dan O'Donnell did, anyway. Here's the picture that O'Donnell snapped and posted to his blog: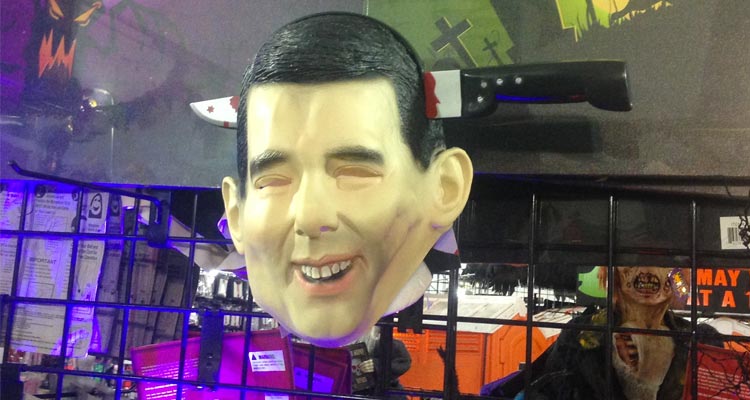 And here's a picture of O'Donnell, in case you were wondering:

Anyway, WISN rounded up the entire non-story (it was a customer prank, apparently), and included some great quotes from random shoppers:
"People take politics serious so I guess, just varies by person I guess. I don't have an issue with it."

"I wasn't too offended by it."
If anything, the non-story is a good reminder that we all have less than a week to get offended by dopey Halloween costumes. (Get to it!) Oh, and that this kind of thing would never fly at Discount Halloveen.
• On to some good news. Noisey gave Milwaukee's exploding DIY hip-hop scene a huge shout-out this week. Artists profiled by the Vice music site include WebsterX, Bliss & Alice, IshDARR, Reggie Bonds, Klassik, Yo-Dot, and Milo. 19-year-old IshDARR followed up his nod by telling Mountain Dew's online magazine Green Label his secrets to touring the world. (Also: Mountain Dew has an online magazine!)
• Brooklyn Vegan revealed that The Promise Ring (!) will reunite (!!) and play their classic album Nothing Feels Good in its entirety (!!!) for a New Year's Eve show (!!!!) in Chicago (damn). Meanwhile, Pitchfork gave the 1997 album its "Best New Reissue" stamp of approval.
• The NBA, Milwaukee Magazine, OnMilwaukee, and the entire city gushed over the news that Sobelman's Pub & Grill will be coming to the Bradley Center this season. Never mind, as pointed out by Urban Milwaukee's Jeramey Jannene, that the deal was announced 10 months ago by the Marquette Wire.
• Remember when The Shops of Grand Avenue were sold at auction last year, and the new owner proclaimed to the city that he was going to "bring new life to the mall"? Well, that hasn't happened. At all. Milwaukee Business Journal's Alison Bauter roamed the empty halls of the tomblike downtown mall (we still love the food court, FWIW) to find out why.
• Former Milwaukee musician Pezzettino/ZETI/Margaret Stutt may live in Oakland these days, but she's still making music with Milwaukee musicians. Her latest album, Leaves Through An Open Window, was self-released this week, and features guest spots from Allen Cote and Nez. It's lovely.
• Oh, The Huffington Post named Milwaukee's "Upper East Side" one of the best neighborhoods for trick-or-treating in the U.S. So that's something nice, we guess. Have a good weekend, Milwaukee.