Every Friday, Stuff We Missed looks to other Milwaukee publications (and beyond) for, well, stuff we missed throughout the week.
Nearly three years after the west side of Milwaukee's Hoan Bridge was covered in Instagram-friendly lights, both sides of the iconic bridge are set to receive a decidedly less flashy upgrade: a six-foot-tall, back-mounted chain link safety fence.
Last summer, the Wisconsin Department of Transportation announced a project to "install safety fencing to address concerns resulting from debris (such as snow, ice, tires and auto parts, and trash) falling from the bridge down below and to limit access to the railing." Earlier this week, officials finally opened a $3.1 million contractor bid for the project.
"One bid was received from Pewaukee-based Century Fence Co., for $3.07 million," reports the Milwaukee Business Journal. "The DOT has not yet determined whether to accept that bid and award the contract."


The roughly 9,000 feet of fencing will be installed on top of existing concrete parapets. As for the need of the fencing, the DOT further explains:
Located beneath the Hoan Bridge is the Summerfest grounds, MMSD and the Port of Milwaukee. Falling debris could result in worker and pedestrian safety concerns such as people below the bridge getting injured as well as property being damaged. Summerfest is one of the largest music festivals that hosts over 800 bands and 900,000 fans each year. MMSD is a regional government agency that provides water reclamation and flood management services. MMSD has reported at least 30 safety incidents in 2018 to 2019.
The estimated four-month contract could begin this summer. "The bridge's six driving lanes would remain open during the day throughout the project, but contractors could close a driving lane in each direction for night-time work," says the [Milwaukee Business Journal].

• The glory days/weeks of being able to buy a beer until the end of the 8th inning during Brewers games are over. Roughly one month after the alcohol cutoff was moved from the end of the 7th inning to the end of the 8th (because of faster and shorter games, dontcha know), the Brewers have reverted back to the old "end of the 7th inning" policy. "We've got two homestands under our belts and there have not been any serious issues with general behavior related to the extended sales," Brewers spokesperson Tyler Barnes says. "But what we've found is that the amount of time we've extended it by averages it out to 15 minutes extra. Because it's late in the game, the sale of alcohol and all concessions drops off a cliff once you get to the eighth inning. The amount of sales we were experiencing was just not significant." [MLB.com]
• Earlier this month, Downtown Milwaukee announced its "Summer In The City" program would include a once-a-month transformation of Red Arrow Park into a roller-skating rink. Cool! Even cooler? Allowing roller skating at the downtown park all summer long! Yep, you can now totally roller skate (and roller blade) at Red Arrow Park from 10 a.m. until 3 p.m. Monday through Friday, and 9 a.m. to 5 p.m. on weekends. "No daily rentals are available at this time," says [WISN 12].
• Big changes are coming to 3rd Street Market Hall! The former Photoverse Selfie Museum space will be opened up to make way for The City Fountain, a "self-serve beer hall concept" that will feature "a self-dispensing tap beer wall that puts the guest in full control of their beer-tasting journey." City Fountain could open as early as late July. (R.I.P. that wall of TVs and Nintendo Switches?) [OnMilwaukee]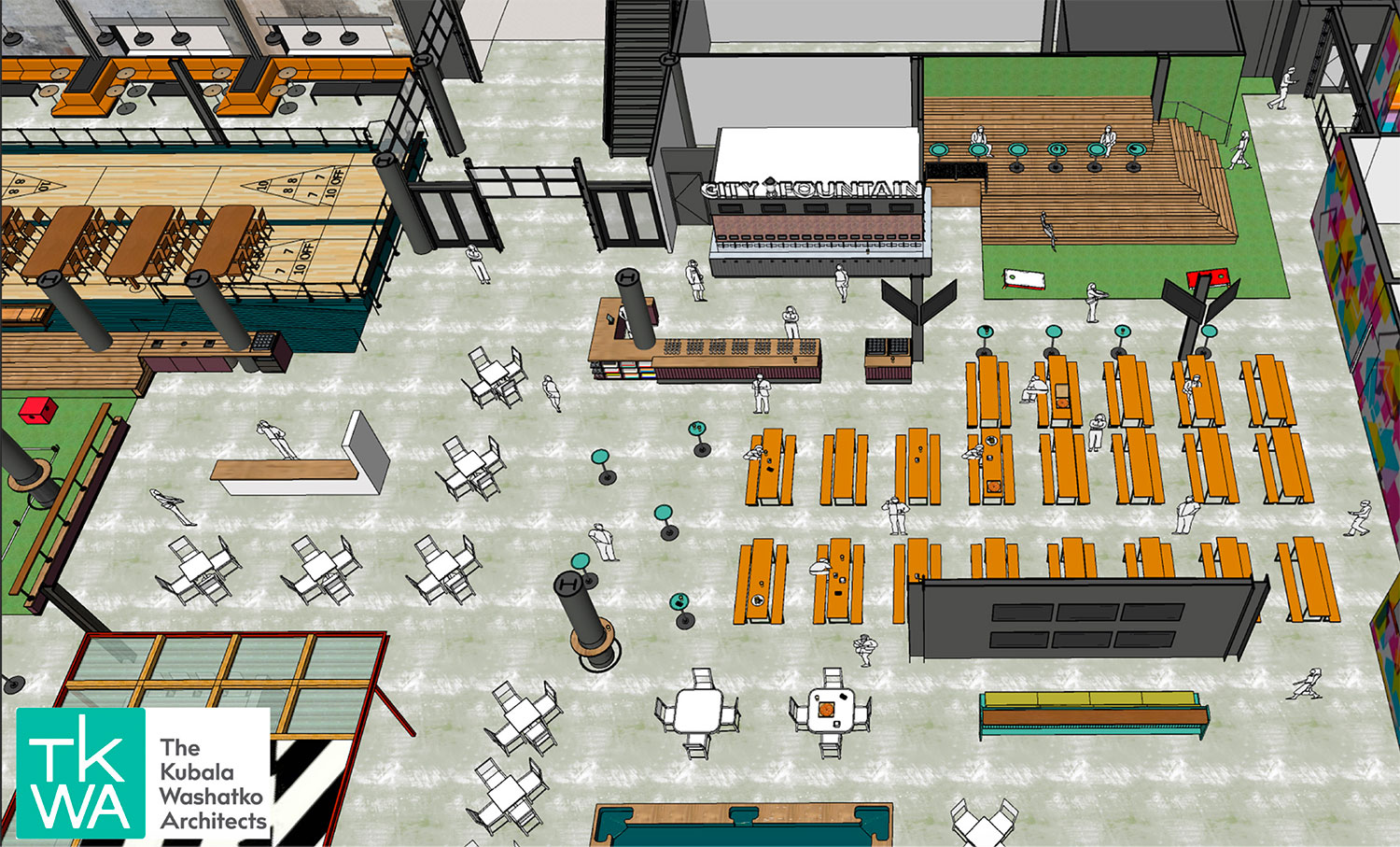 • The old Wisconsin Pizza Authority, 1888 N. Humboldt Ave., is gonna be an Indian restaurant now. Owners of The Curry Hut, 9809 W. Oklahoma Ave., plan to open a second location of their restaurant at the Humboldt space this summer. [Urban Milwaukee]
• Saturday, May 13 will be the last day of business for Funky Fresh Spring Rolls at the Sherman Phoenix Marketplace. After that, the funky business will concentrate on retail. "I am choosing to focus my energy on making the Funky Fresh brand a national food brand and household name," owner TrueMan McGee told [OnMilwaukee].
• New Milwaukee-tastic song from Milwaukee band The Keystones, "Newport"! [Spotify]
• Kitchen Kings, a "takeout-only restaurant that's expected to operate into the early hours of the morning," was gonna open in the former Mr. Senors space on the East Side, but now it's gonna open in the revolving-door former Sticky Rice space at 1000 E. Locust St. in Riverwest. [Urban Milwaukee]
• 1033, an "elevated 14-seat eatery featuring small plates, a raw bar and more," is set to open in the former Laughing Taco space, 1033 S. 1st St., later this month. [OnMilwaukee]
• Have a great weekend, Milwaukee! And thank YOU, Coach Bud!
View this post on Instagram
Exclusive articles, podcasts, and more. Support Milwaukee Record on Patreon.