On Thursday, October 19, in the year of our lord 2023, actor Jason Momoa descended on Wisconsin to sign bottles of Meili Vodka, a brand co-created by Momoa and buddy Blaine Halvorsom. Two signing were held: the first at the Costco Wholesale in New Berlin, the second at the Total Wine & More in Brookfield. Milwaukee Record's Matt Wild (that's me) waited in line for three hours at the Costco signing. This is his minute-by-minute report.
8:24 a.m. – I arrive at the New Berlin Costco a tired and broken man. I've been awake since 3 a.m. (don't ask) and I'm bracing myself for a day that involves documenting a celebrity vodka signing, taking photos of a Nintendo-themed bar pop-up, and picking up hockey equipment from the Brewers (again, don't ask). I grab my McDonald's coffee and slouch across the parking lot. It's 53 degrees, overcast, and wet. There are hundreds of people already in line for the 10:30 a.m. signing.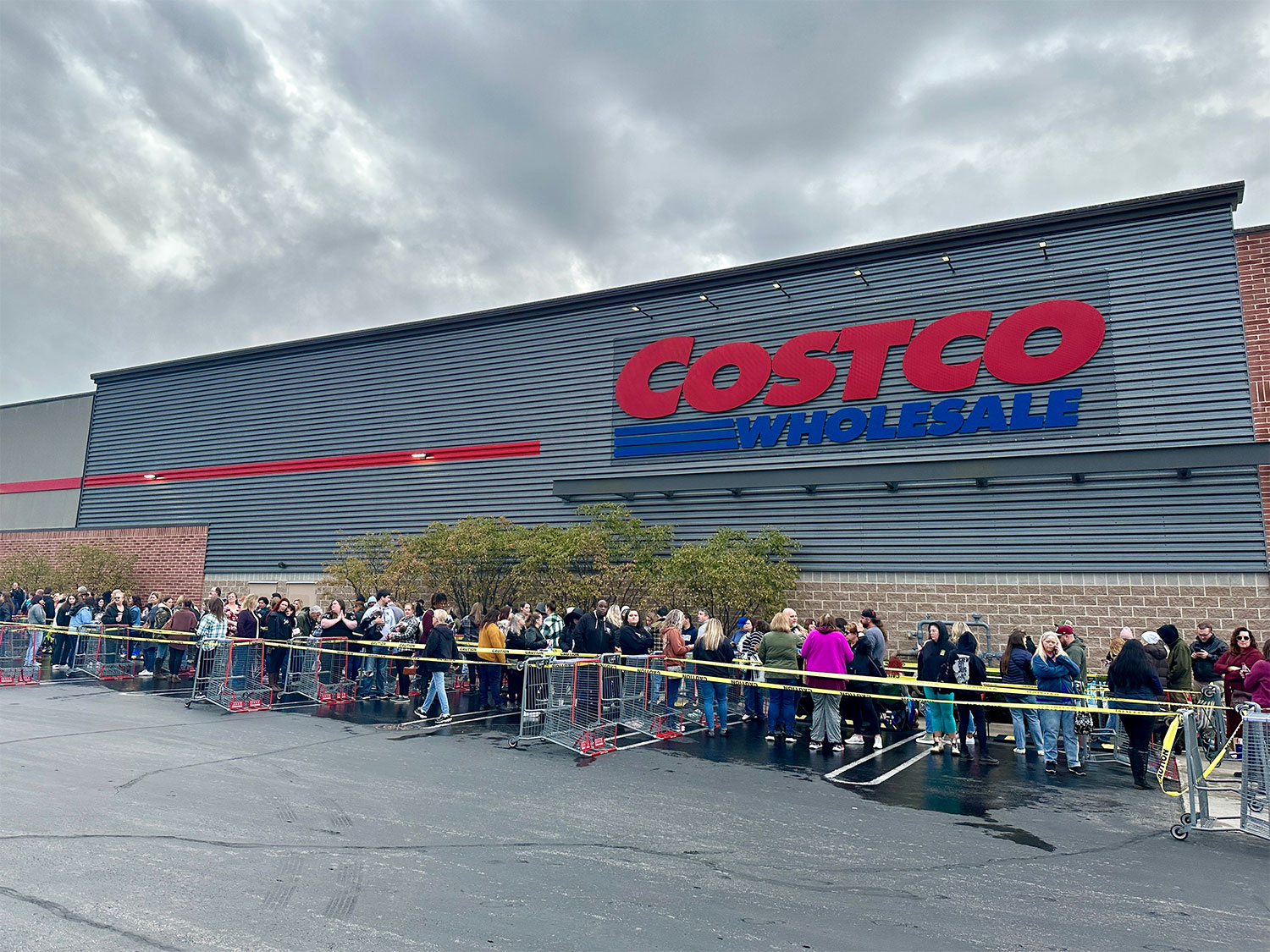 8:26 a.m. – I take my place in line. It runs three layers deep along the south side of the warehouse, and has been fashioned from caution tape and overturned grocery carts. In line with me are oodles of Jason Momoa superfans, at least three (3) newborn babies, and Milwaukee drag queen legend Ester Flonaze. Idle chatter reveals that the folks at the head of the line—all of them sitting on lawn chairs and covered in blankets—have been camping out since 10 p.m. last night.
8:29 a.m. – Treading lightly in the land of demographics, I guess that the crowd is approximately 70% women. A nearby group of ladies is rarin' to go: "He's SO hot!" "He's REALLY hot!" "He's a masculine force!" An older woman in their group known only as "Granny" has different thoughts: "I don't even know who this guy is!"

8:38 a.m. – Okay, time to address the question that countless Facebook commenters have likely already asked without reading the article: Why? Why am I here today? My Jason Momoa knowledge can be boiled down to A.) he's Aquaman, and B.) he was in Game Of Thrones. I saw Aquaman when it came out in 2018 and I couldn't tell you three things about it in 2023. And even though I'm a huge dork, I've never seen a second of Game Of Thrones and I've never read George R. R. Martin. (I'm more of a Brandon Sanderson guy; hit me up if you want to discuss the Cosmere!)
No, I'm here today because THE PUBLIC DEMANDS IT. You see, back in 2015 I waited for eight hours at the Oak Creek Woodman's to get a signed bottle of vodka from rapper 50 Cent. The subsequent article—a minute-by-minute report of my time spent in line—was a big hit and has proven to be one of our most popular pieces. So when news dropped that Momoa would be doing a couple of local vodka signings, approximately 8,000 people reached out to me asking if I was planning to go. And who am I to disappoint?
But you know what? I'm genuinely happy to be here today. I've been in a bit of a funk lately and I haven't written this kind of piece in a while. Call it How Matt Got His Groove Back: Aquaman v. Costco.
8:42 a.m. – Mother to her newborn baby: "Who's a little fangirl? Who's a little fangirl?" Elsewhere, Ester Flonaze and company are signing Cher's "If I Could Turn Back Time."
8:56 a.m. – Trouble arrives via a Costco woman making her way through the line and asking if everyone is a Costco member. You apparently need to be a member in order to step inside and get your Jason Momoa vodka. This is trouble for me, at least, because everyone seems to be a member except me. Costco woman: "Are you a member?" Me: "Of what?" Costco woman: "Oh boy."
9:04 a.m. – Everyone starts screaming and waving. Is he here? Is Jason Momoa here? No, it's just a dude on the roof of the building flying a drone. Folks hoot and holler as the drone buzzes by. In the past 40 minutes, the line has doubled.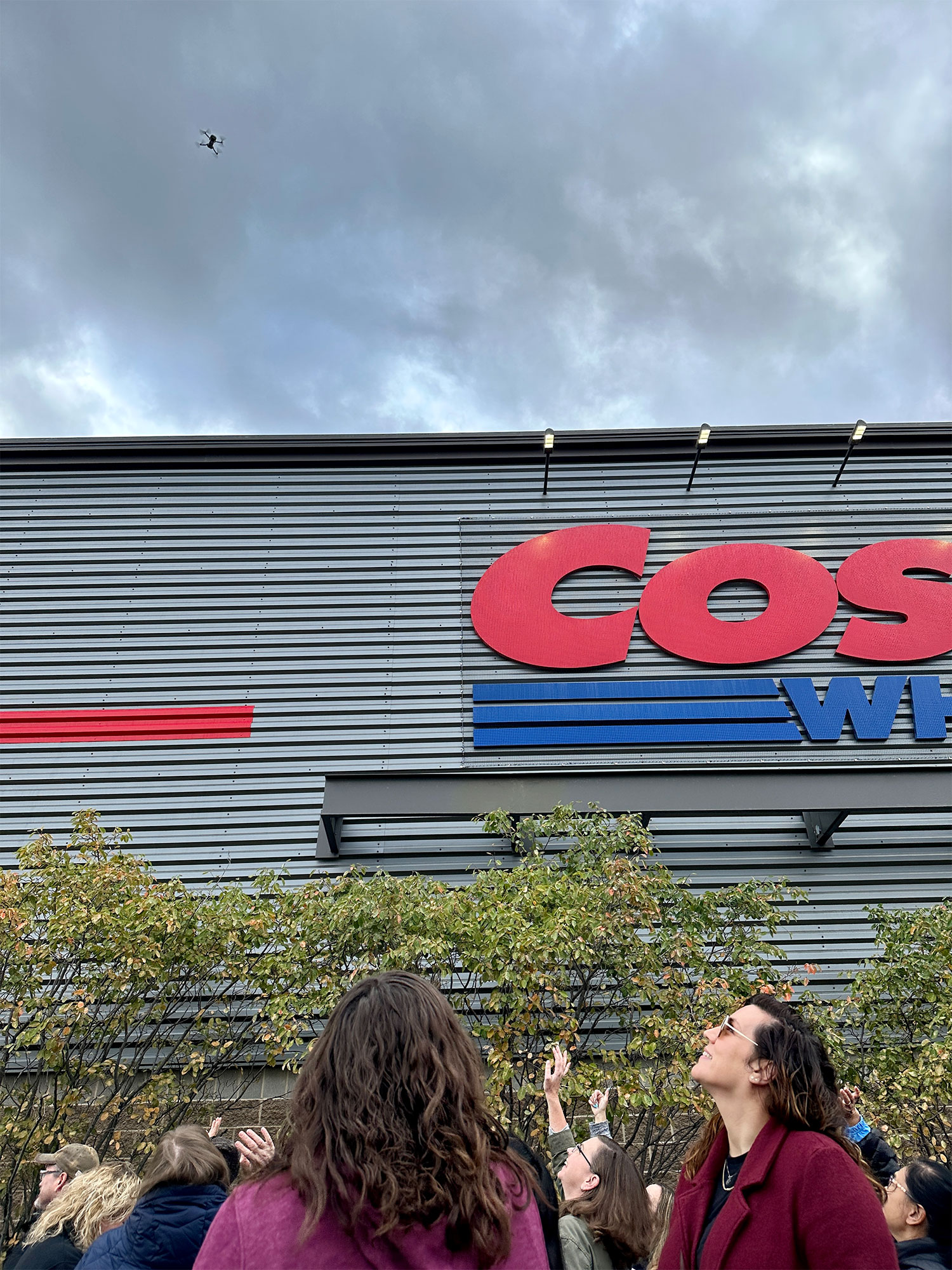 9:09 a.m. – "You're not really signing up for Costco, are you?" It's my wife, calling after having seen my tweet about the Costco membership thing. "I don't know, it's only sixty bucks," I say. "We can write it off." There's a long pause. "Okay," my wife says, "we need some new windshield wipers. Get some windshield wipers while you're there."
9:18 a.m. – You're looking at a new, proud, and digital card-carrying member of Costco! I feel like royalty. The line has been gradually tightening up and there's a guy showing everyone a selfie of himself and actor Michael Shannon, who played General Zod in those new Superman movies.
9:32 a.m. – I spot a shirt with three big check boxes on it: "Single" (unchecked). "Taken" (unchecked). "Mentally Dating Jason Momoa" (checked).
9:39 a.m. – The ladies near me are talking about using fake tampons to smuggle booze into Summerfest. "I have a lot of different tactics!" one of them says. Granny cackles in approval.
9:46 a.m. – It's the first sign of a TV news crew! WISN 12, I think. It's a Positively Milwaukee (or New Berlin) day!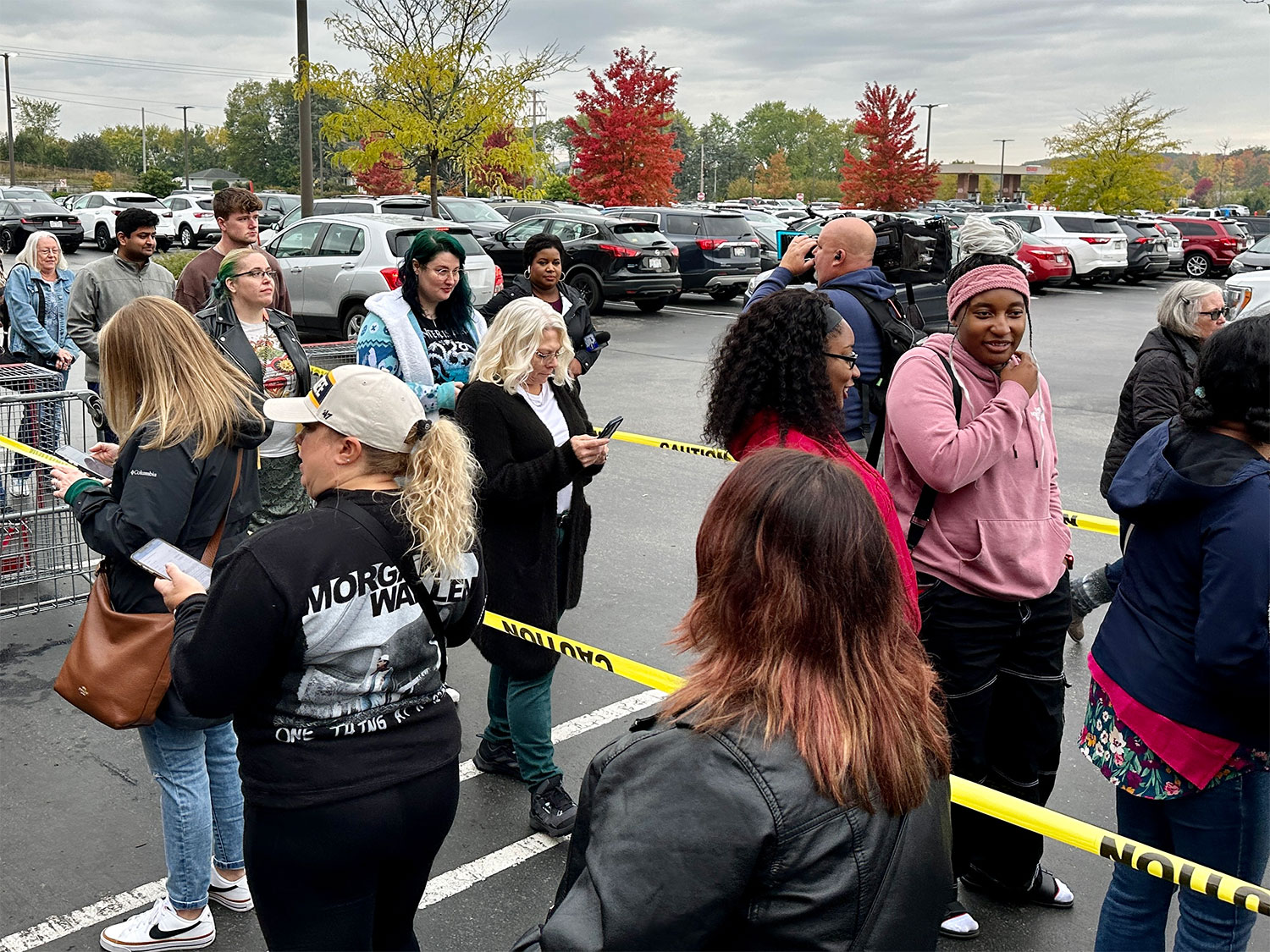 9:50 a.m. – Overheard: "I'm excited to find out what his hands feel like!" "I'm just going to lick him!" Folks, I say this with the utmost respect and journalistic detachment, but this line is getting horny.
9:54 a.m. – Some uniformed military folks walk by. Everyone applauds. Thank you, troops.
10:10 a.m. – OH MY GOD HE'S HERE! JASON MOMOA IS HERE! Amidst a wave of deafening screams and hoisted smartphones, Momoa and a small posse appear at the south end of the line and make their way towards to entrance. Dude waves to the crowd and dishes out high fives. He looks great. Everyone loses their shit. As a friend will say on my Twitter feed: What a truly bizarre life that must be.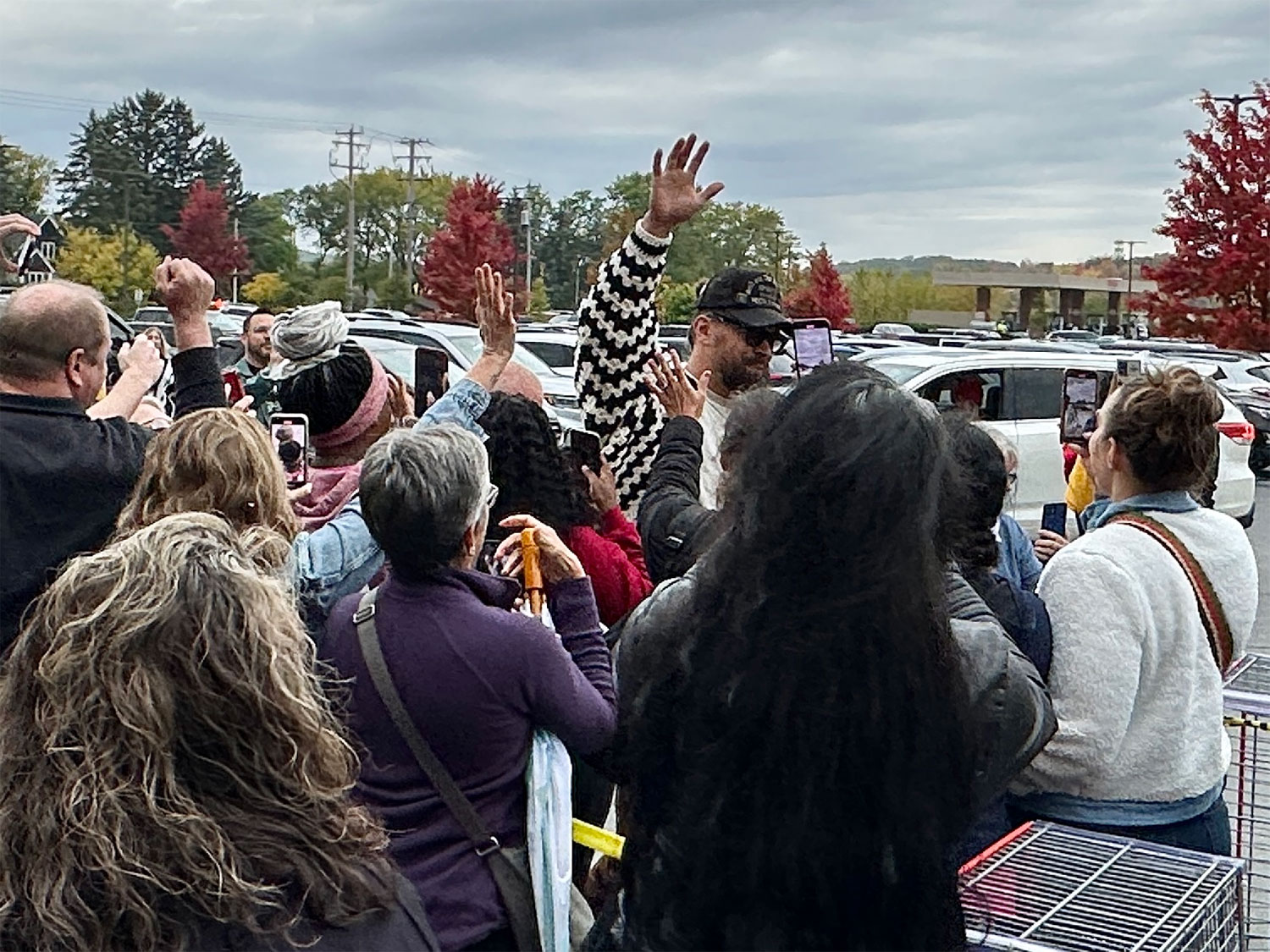 10:12 a.m. – Momoa is long gone (for now) but the line is still electric. Everyone is laughing. Babies are screaming. Women are taking selfies with security guards for some reason. There's talk of Costco confiscating membership cards if you try to get in with someone else's. Hey! Maybe Momoa will do his signing outside! "He better not," grumbles Granny. "I'm cold!"
10:29 a.m. – Someone from Momoa's crew pops out of the warehouse door and addresses the crowd. I can't hear him but people start to cheer. Hopefully a good sign!
10:39 a.m. – Ten minutes later, nothing has happened. Some folks are getting restless. "Let us in! Let us in!" a few ladies chant.
10:45 a.m. – Someone else from Team Momoa—maybe Blaine Halvorsom? I'm not sure—is making his way through the line and handing out decorative Meili Vodka pins. Two women ahead of me share a tin of breath mints.
10:59 a.m. – Pin guy: "Have you tried our vodka?" Ladies near me: "No." Pin guy: "You look like you should try our vodka!" Ladies near me: "She's 57 years sober, sir!" Pin guy: [moves on] "Have you tried our vodka?"

11:01 a.m. – The line is moving! And quickly! And why does it suddenly smell like chocolate chip cookies? Someone totally baked this dude chocolate chip cookies, didn't they?
11:07 a.m. – A Costco guy appears and explains that Momoa is finished signing the vodka bottles and that he'll soon be making his way through the line and taking selfies with each and every person in it. Huh? That wasn't the plan! He's supposed to sign them live! What about the lady who wanted to touch his hands?
11:10 a.m. – After nearly three hours of standing next to her, I finally talk to Granny. Or, should I say, Granny suddenly starts talking to me. She's had it: "I'm 78 years old! I've never done anything like this in my life! My patience is just about gone!" She asks me why I'm here today. Not wanting to get into the (dumb) reason, I fudge a story about my wife being a big Jason Momoa fan. "I thought so," Granny says, looking pleased. The gals with her calm her down and they all dip out of line for a quick smoke break.
11:16 a.m. – The first people to get their signed bottles of Momoa vodka skip out of the Costco warehouse door. "It was worth the wait!" they exclaim.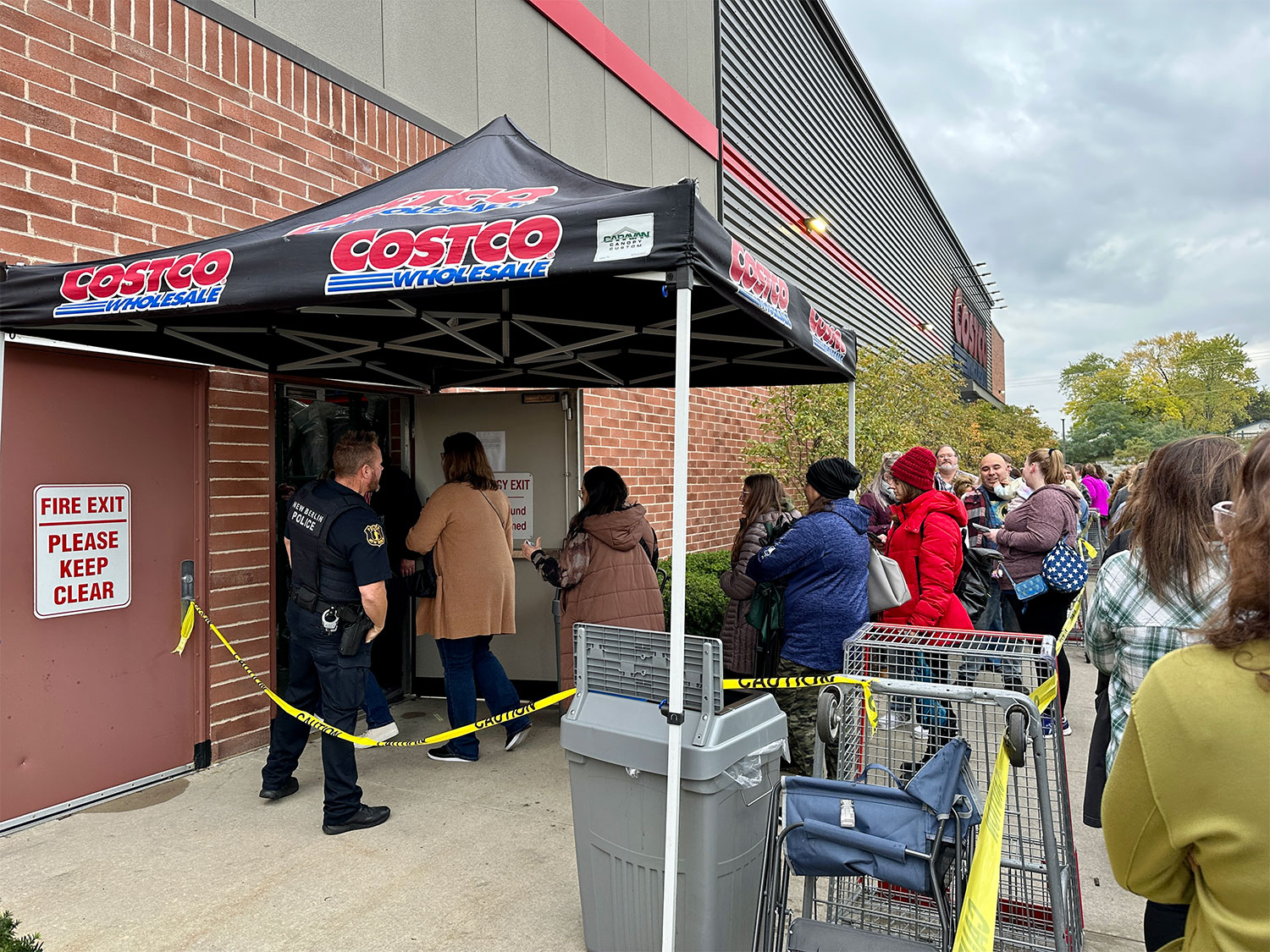 11:28 a.m. – "I notice you've been writing everything down. Is that for your wife?" Uh oh, my ruse is up. One of the ladies with Granny asks why I've been typing stuff on my phone—time stamps and all. Well, there's no use hiding it: I explain that I'm a writer for a website called Milwaukee Record, and that I'm here because I did a similar thing with a 50 Cent vodka signing eight years ago. "Have you been writing down everything we've been saying?" she asks. "Oh no, not at all," I joke. "Okay, maybe everything." Everyone laughs.
11:29 a.m. – Woman: "So how did you get into writing?" Me: "Oh, it's not a very interesting story. I used to be the editor for a site called A.V. Club Milwaukee, which was bundled in the back of The Onion. But when The Onion stopped printing in 2013, another writer and I decided to…"
11:30 a.m. – Woman: "OH MY GOD HERE HE COMES HERE HE COMES!!! AHHHHHHHH!!!"
11:32 a.m. – Yep, here he comes! Everyone is instructed to squeeze to one side of the line and put their cameras in selfie mode. Momoa pauses at each person, posing for a photo. When he gets to me he puts a hand on my shoulder and quietly says "Yeeaahh!" in a way that reminds me of those old "Whassup!" commercials. Here's the selfie I snap: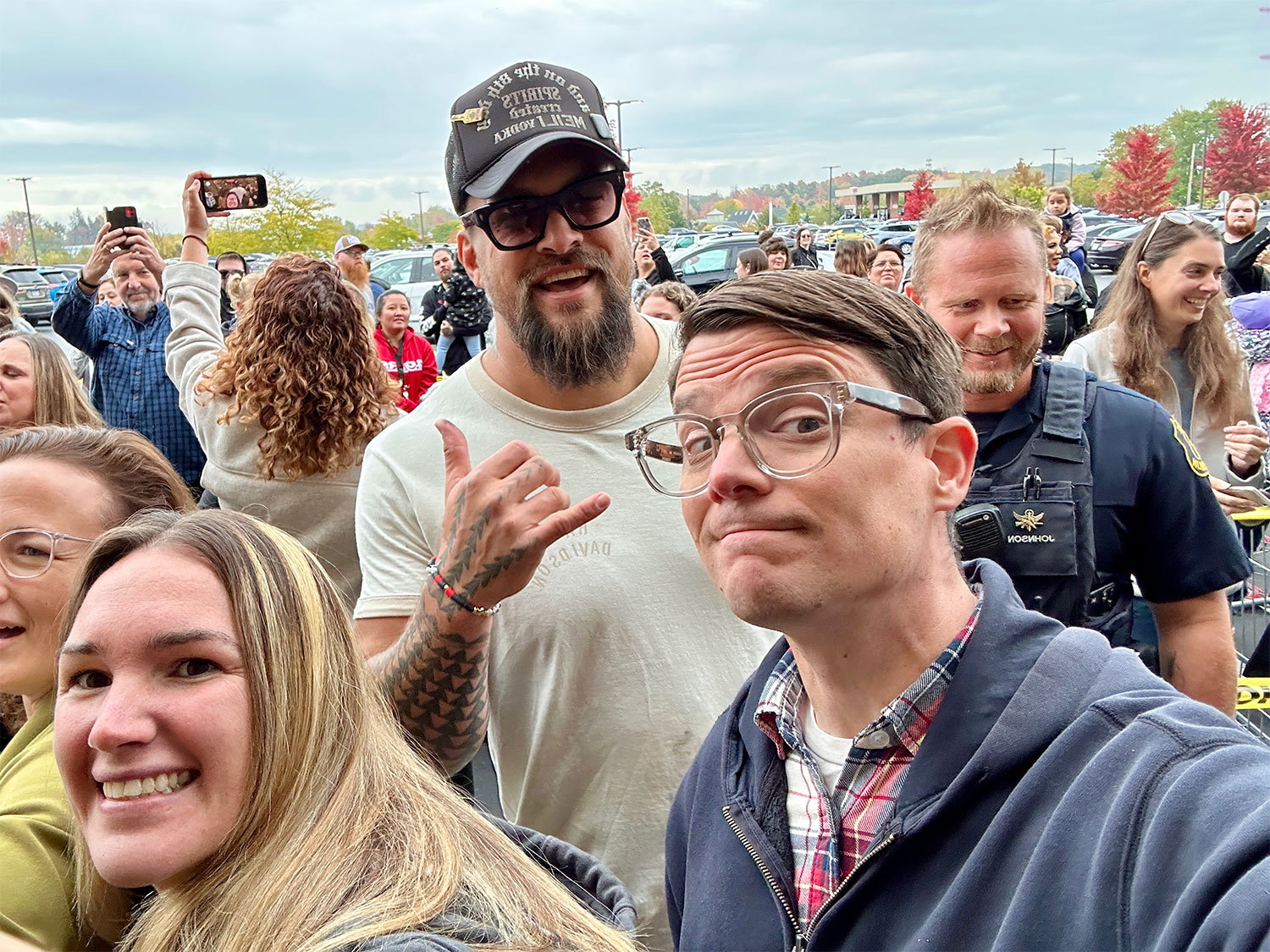 11:33 a.m. – And that's it! I hop out of line and chuckle to myself as I think about the past three hours. The people! The quotes! Jason Momoa! Granny! I'm glad I did this, glad I stood out here and had some fun with a bunch of strangers. Goodness knows we all need some frivolous fun in our lives these days.
11:34 a.m. – It isn't until I'm in my car and halfway out of the parking lot that I realize I've left without actually going inside and buying a bottle of vodka. And that because of that, I bought a $60 Costco membership for nothing. And, most troubling of all, that I'll be coming home without windshield wipers. Hmm. How far is it to Brookfield…
Want more Milwaukee Record? Subscribe to our free weekly newsletter and/or support us on Patreon.
---
RELATED ARTICLES
• Jason Momoa will sign bottles of vodka in New Berlin and Brookfield on Oct. 19 and we're going
• 50 Cent vodka signing at Oak Creek Woodman's: A minute-by-minute recap