In the beginning when God created the heavens and the earth, the earth was a formless void and darkness covered the face of the deep, while a wind from God swept over the face of the waters…
God saw everything that he had made, and indeed, it was very good. And there was evening and there was morning, the sixth day. [Genesis 1:1-2…31]
And on the seventh day God finished the work, and he rested. [Genesis 2:2]
The Packers of these past two months have not been a totally formless void, but they could certainly benefit from a good, strong burst of energy pushing them into new formations. If Aaron Rodgers is to approximate such a divine wind, there is a looming parallel: He will have to create victories for six straight weeks, and then—on the seventh week—he can rest.
Because that will be the off week before the Super Bowl.
This legendary journey must begin where South Mint meets West Stonewall, on the western point of diamond-shaped uptown Charlotte. Exactly one month ago, I was able to inspect the exact spot where this battle will commence on Sunday noon.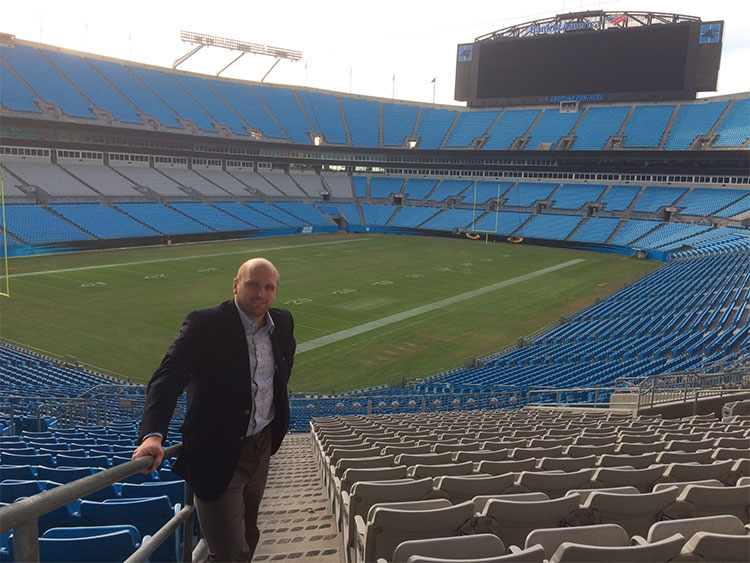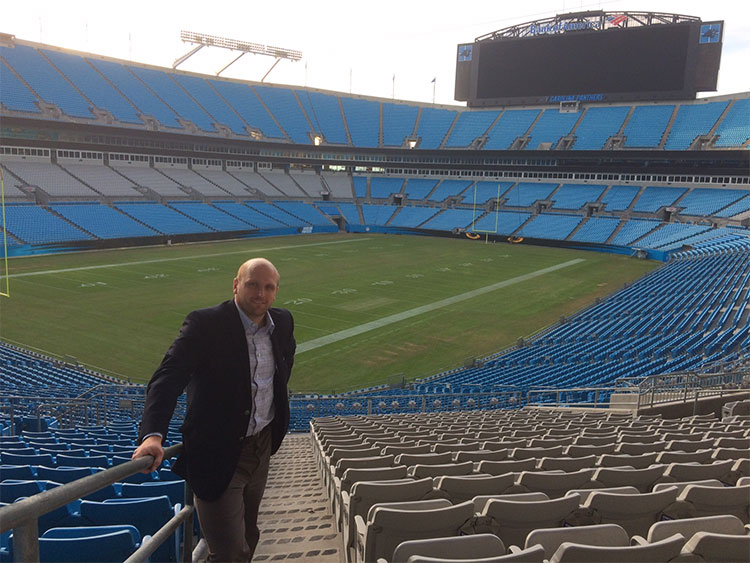 The service drive into the stadium, which the Packers will take—and through which I entered on a coach bus loaded with municipal officials ostensibly learning about "Urban Sports Venues and the Partnerships Behind Them"—is left (west-ish) off the curve of South Graham Street, right after you pass this monstrous sculpture of the single human who owns the football team named for two states with over 15 million total residents.
Outside of Lambeau Field, we have some sculptures, too. One is of the fans, and the other two are of the player/coach who helped get the team going (Curly) and the coach who brought us back to glory (Vince). None of the humans sculpted on the north plaza of our stadium have the unilateral power to sell our team. Because it's our team. Literally. But in the Carolinas, not only are they at the mercy of just one man—they also have to pass by him in bronze every time they enter the palace.
SCOUTING CAROLINA
The Panthers this decade are hard to figure. They were the worst team in the league in 2010, which meant they could select #1 Cam Newton with the first pick of the 2011 draft. (The champion Packers picked last that year, selecting Derek Sherrod.) Then Carolina won six games, then seven, then twelve—until they lost at home, after the playoff bye, to the same Colin Kaepernick who beat the Packers at Lambeau the week before. The next year they won just seven games, but somehow made the playoffs and even won a postseason game. Then, in 2015, they steamrolled the league, losing just one game all year until the quarterback-less Broncos somehow embarrassed them in the Super Bowl.
Last year they were terrible again, winning just six games.
Now these 2017 Panthers have nine wins and four losses. They beat the 10-3 Patriots but lost to the 4-9 Bears.
Are they any good? As long as their leader is this petulant and this dismissive, it will always be hard to predict. The quick scout on Mr. Newton says that he can't be tackled, but also that he can't throw. He's never had less than ten interceptions in a season, and never completed more than 62% of his passes.
The big uglies in front of him might be the best he's ever had. #67 Ryan Kalil is playing center again, after missing ten games earlier this season. He's a 32-year-old five-time Pro Bowler and now his younger brother, 28-year-old #75 Matt Kalil, is playing left tackle for way more money than he's worth. The other tackle, #60 Daryl Williams, is still on his rookie contract, but is the second best tackle in the league (after our own David Bakhtiari) according to Pro Football Focus. The guards, #68 Andrew Norwell on the left and #70 Trai Turner on the right, both started in the Super Bowl two years ago, and have only improved since.
The running backs behind Mr. Newton are also pretty darn good. #28 Jonathan Stewartbeat the Vikings with long speed last week before hitting them right in the mouth at the goal line not once but twice. He's the primary rushing option, and his backfield mate, #22 Christian McCaffrey, is the primary receiving option, especially on early downs.
McCaffrey, this spring's 8th overall draft pick, is a special talent, so his 60+ catches through 13 games is not surprising, but the fact that he's leading the team in receptions is a reflection of how sparse the other options are, and how inconsistent the quarterback is.
#88 Greg Olsen has been a great tight end in the past, but is now old and injured. #17 Devin Funchess is a big, strong (but not fast) wide receiver who pairs well with fast options across the field—like Philly Brown and Kelvin Benjamin used to be until they both left for Buffalo this year—but he is currently aided by a bunch of nobodies and therefore can't get open against so much safety help.
Make no mistake, the strength of this team is the defensive front seven, and the mainstays are the same as they were two years ago for that 17-2 squad: #99 Kawann Short at the point and #59 Luke Kuechly right behind him.
315-pound Short's interior linemate, #99 Star Lotulelei, is playing his way out of town so far this year, but #92 Vernon Butler, the guy the Packers passed on last year to draft Kenny Clark instead, is not yet earning his way onto the field.
The edge lineman, #97 Mario Addison and former Packer #90 Julius Peppers, are stuffing the stat sheet (9.5 sacks each already) but neither influence the offensive schemes the way Short and Kuechly do.
Next to Kuechly is old man #58 Thomas Davis, Sr., who at 34 has finally earned that suffix. He can still get to either sideline with oomph.
It's beyond the front seven where things get really iffy. Most of their corners are mid-round draft picks from last year, and none of them stand out. The only veteran is wanna-be-slotback #41 Captain Munnerlyn, but he's throwing tantrums instead of displaying leadership this week. Both safeties have been around the block, and are in that journeyman sweetspot: not in any danger of getting cut nor of getting their agents rich, neither.
HOW THE PACKERS MATCH UP
Even with Aaron Rodgers under center, this Panther defense at home is tough to crack. Exhibit A is the last time Aaron himself tried to do so, two Novembers ago, when the Packers were 6-1 and the Panthers were 7-0. That Charlotte showdown ended in a 37-29 loss. With nine minutes to go, the score was 37-14. At halftime it was 27-7.
In that game, Aaron was sacked four times by two interior lineman, one middle linebacker, and one safety. All four of those marauders are still wearing Carolina jerseys. But the starting corners that day, Josh Norman and Peanut Tillman, are long gone, meaning that Aaron should be able to find open receivers more quickly this time, hopefully before the rush is even close to his healing collar bone. He did a lot of dancing in the pocket in that game, because James Jones simply could not get open against Norman.
The most intriguing part of Sunday, despite the obvious drama of Rodgers's return, will be their offense vs. our defense. At cornerback, our best healthy cover guy appears to be Damarious Randall. Given that Devin Funchess is their only starting-caliber wide receiver, we should expect Randall to follow him across the field. Just like he did two years ago when both were rookies and Funchess beat Randall deep in the first quarter from wide right for a 52-yard bomb, and then again in the fourth quarter from the slot left for the touchdown that put them ahead by 23 with just nine minutes left.
Other than Randall, our best corner options are Josh Hawkins, fast but imprecise, and Demetri Goodson, experienced but recently surgically repaired. He's healthy again for the first time in awhile, and one of the last games in which he played meaningful snaps was two years ago in Charlotte. So both Damarious and Demetri know this quarterback and this stadium—although most of their 2015 memories are not good ones.
Pass coverage can only be as good as pass rush, of course, and thus the game may very well turn on Clay Matthews's and Nick Perry's ability to pinch the pocket, and Blake and Jake's ability to spy Cam once he's off his throwing foot.
Cam does a lot of ball-fakes and misdirection in the backfield. His receivers are not good enough—and his throwing accuracy is not consistent enough—for the Panthers to run a classic pro style passing attack. They look more like Curly Lambeau's Notre Dame Box from the 1920s and 30s than most 21st century NFL offenses.
That means this game may be won or lost schematically: If our linebackers guess right, their offense won't be able to do much. Much of this game will come down to Dom Capers subbing in the proper packages, and then Morgan Burnett making the right pre-snap adjustments.
On the other side of the ball, Keuchly and Davis usually do guess right, so Rodgers will have to be on his toes, and McCarthy may have to call some misdirections of his own in order to get the second level flowing the wrong way.
UNITING NORTH AND SOUTH
"Two States. One Team" is the motto plastered all across the Panthers website and inside the stadium. From our Yankee perspective, this might not seem like such a big deal. The Dakotas, for instance, do they really need to be two states?
But for the Carolinas, the dividing line has real historical meaning. North was more like Virginia, which meant coastal, intellectual, and tobacco. South was more like Deep South, which meant debutantes, heat, and cotton. There was also a huge distinction between East and West, especially in the wide state of North Carolina. Until recently, nobody lived in the western elevations. The piedmont foothills, where Charlotte sits 748 feet above sea level, never had much population—which meant it also never had many slaves.
Much has been made of historical geography this week in the wake of the huge black voter turnout in Alabama on Tuesday, which helped prevent a homophobic pedophile still pining for the days of slavery from becoming a U.S. Senator. It turns out that a map Lincoln used in 1861 that showed where the most people were enslaved still pretty accurately describes where black people live today in the Deep South—and thus where the Democratic votes are in the 21st century.
Take a close look at that 1861 map, and you will see that, compared to its neighbors above and below, North Carolina did not have as many slaves. This might help explain why Charlotte became a place toward which the grandchildren of sharecropping and the children of Jim Crow wanted to migrate. One hundred years ago Charlotte, with under 50,000 residents, was less than 10% the size of prewar Milwaukee. Now Charlotte, with 842,000 residents, is considerably bigger than we are.
This recent population explosion (almost 100 thousand new citizens every decade for a century) means that almost no one in Charlotte today is from Charlotte. It is often called the capitol of the New South (although Atlanta competes for this title, too) and, when you walk its uptown streets, you can really the feel the energy of this growth. Unfortunately, outside of the central business district, you can't even walk at all, because they failed to install sidewalks and through streets.
Even though Charlotte is a brand new city, and so many of its residents were trying to escape the entrenched white supremacy of the more populated Black Belt and coasts, the patterns of American racial disparity are replicated there, as they are in Milwaukee and almost everywhere in this country. People move, but inequality doesn't.
When I was there last month, the city had just elected Vi Lyles as its first black female mayor. Along with her came several new council members, including Braxton Winston, who started by fighting the power until he joined it. I met Mr. Winston at a workshop titled "A Public Health Approach for Reducing Crime" where he spoke up about the problems of his city. It ranks 50th out the biggest 50 cities, he said, for upward economic mobility out of poverty, even though it has so much new wealth. And he summarized the shape of its racial divisions as "the crescent and the wedge," shapes used to describe the mostly black neighborhoods to the west, north, and east of uptown, and the mostly white neighborhoods to the south.
The exact shape of our dividing lines might be a little different, but Milwaukee is no stranger to racial segregation and entrenched poverty. There is a long history in this country of hopeful migrations (we would not exist at all without them), but the ideology of white supremacy seems to follow us everywhere we go, determining the patterns of where we live, what we learn, and how much we earn.
But the power to create is always balanced by the power to destroy (as any reader will discover if they keep turning the pages of Genesis). Human beings created race. It took hundreds of years. Hopefully the opposite task will be quicker. Last month's elections in Charlotte, and this week's in Alabama, might be a start.
Speaking of starts, Genesis Chapter One and Verse One of Chapter Two are featured on this week's PackerVerse radio show. Nik and Jim perform dueling readings of different translations, and all callers agree that Aaron will need a break six weeks from now.