Less than a week ago, we invited you to FieriCon. Organized by Milwaukee native Andy Holcomb (who currently lives in Chicago), the event aims to honor polarizing Food Network personality Guy Fieri and transform the Walker's Point neighborhood into Flavortown, USA for six-plus hours on August 25.
Since last week's announcement caused unexpected levels of excitement—surprising both Holcomb and some local bars that weren't previously aware they were going to be part of this whimsical bar crawl—there have been some new developments. The organizer was kind enough to send a series of updates our way.
"This event was just some Guy Fieri enthusiasts that wanted to day drink and dress up as the man himself," Holcomb says. "When you broke the story, it went from zero to hot sauce really fast."
After the article, Holcomb says some Walker's Point bars reached out to him to ask if they could get in on the fun. With no locations finalized and the newfound realization that the event had likely outgrown some spots, a few adjustments were made.
"I figured I would make the first eight [bars to ask] Flavor Town," Holcomb says. "I am still working out the times a little, and I may have to break things up into groups if it gets to big."
Presently, O'Lydia's (originally the final destination) will start things off at 2 p.m. Since the original map came out, Great Lakes Distillery has been added to the mix, as well as current final stop, Drink Wisconsinbly. The updated schedule and list of participating bars can be found on this map Lone Shoe Graphics made for the occasion.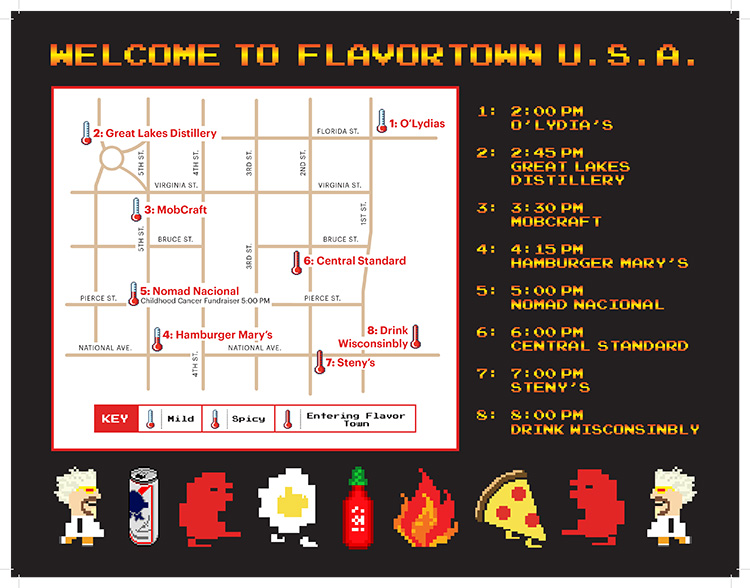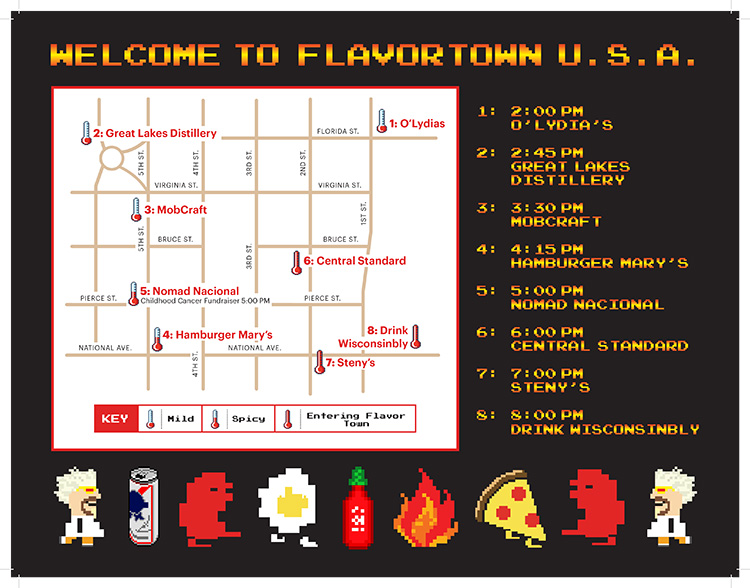 Another newcomer to the flavorful festivities is Nomad Nacional, which will be hosting a Childhood Cancer Fundraiser in its spacious south parking lot from 5 p.m. to 10 p.m. that night. The FieriCon stop at Nacional is scheduled for 5 p.m. to coincide with the fundraiser and hopefully add a beneficial aspect to the cosplay affair.
"A bunch of Fieris will be attending, and Fieri hates cancer more than bad buffalo wings," Holcomb says.
Now well aware of the interest Milwaukee has in FieriCon, Holcomb also made it easier to keep up on what's happening leading up to the event and potential changes day-of changes on August 25. He's made an official Facebook event. He also had his friend Spencer Charczuk make an interactive map for use on mobile devices.
While the noble bar crawl idea has already grown far beyond his expectations, the spirit of the idea is still simple: dress like Guy Fieri, embrace all things Flavortown, and tip your bartenders.
"I am very excited," Holcomb says. "I get to day-drink with a ton of people dressed as Guy Fieri and ask what Flavortown means to them."