There's something inherently depressing about rounding up a bunch of ways to celebrate Halloween at home, but here we are. Please stay at home this week and weekend (Halloween falls on a Saturday this year—UGH) and maybe check out a few of the virtual events below. (All text comes from their respective descriptions). Oh, and check out Host (pictured above), which is about a haunted Zoom call. It's really good!
MONDAY, OCTOBER 26
Seasonal holiday music.
LISTEN/WATCH: twitch.tv/demix_013
SUPPORT: thedemixlives.com // demix.threadless.com
THURSDAY, OCTOBER 29
Boswell Book Company and the Whitefish Bay Library presents the long-awaited third mystery by Juneau Black, the writing team of Jocelyn Koehler and Sharon Nagel.
Shady Hollow is a cozy small town filled with woodland creatures who live and work together. The local fall election is coming up and the campaigning is unusually fierce, since Deputy Orville Braun is running against been-in-office-forever Chief Meade. In the midst of this unexpected tension, a murder is announced, but there's a twist: the victim is still alive!
Juneau Black is the pen name of authors Jocelyn Cole (you might also know her as Koehler) and Sharon Nagel. They share a love of excellent bookshops, fine cheeses, and good murder (in fictional form only).
Mirror Lake is available at https://www.boswellbooks.com/book/9781942316435 for 10% off at least through November 6.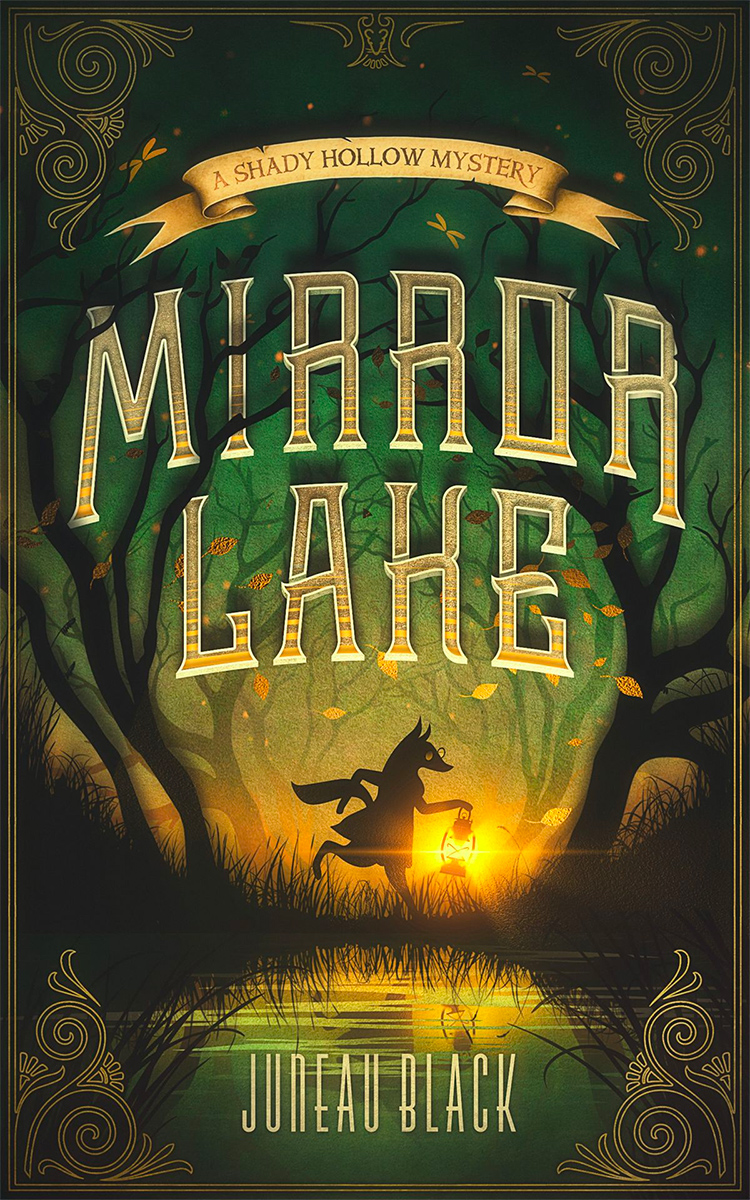 Tricks and treats… Mike Krol's Halloween Deadstream Thursday Oct 29th 9pm EST and will be available for replay 72hrs after.
Tickets: https://noonchorus.com/spectrasonic-presents-mike-krol/
A portion of the ticket sales using our link supports spectrasonic
From Mike: BOO!!! ANNOUNCING: OCTOBER 29, 9PM EST, MY FIRST (AND PROBABLY LAST) VIRTUAL CONCERT EXPERIENCE!!! Expect everything you've come to love/hate from my touring live show (costumes, strobe lights, smoke machines, distortion, mistakes, comedy) but from the comfort of your living room! I will be performing deep cuts and reworking "fan favorites" with a drum machine, 4-track, and semi-full backing band… all while a SPOOKY HALLOWEEN STORY unfolds! Is it a concert, or is it a short horror film? OR is it another attempt for unemployed musicians to make money?? There's only one way to find out: TICKETS ON SALE NOW!!! https://noonchorus.com/spectrasonic-presents-mike-krol/
SATURDAY, OCTOBER 31
Tune in on Halloween for some of the spookiest programming imaginable. Rolling from midnight to midnight, your regularly scheduled program has been taken over by ghouls and goblins. For example, Saturday Morning Car Tunes has become Saturday Morning Creepy Car Tunes! Each show will highlight Halloween in the best way possible…screams…chills….and extra scary tunes.
WMSE is very excited to announce they will broadcast the original War of The Worlds featuring Orson Wells at 5:30 p.m. Station manager and DJ Tom Crawford will bring "The Saturday Night Scream" from 6 p.m. to 9 p.m. "I've always loved doing radio on Halloween. WMSE has a long tradition of providing exciting radio—be it the live read of War of The Worlds at Discovery World, broadcasting Mark Borchardt's exciting radio dramas or bringing in voice processors, scary movie, and tv clips to create a pretty terrifying, but fun, radio experience.
Midnight to 3 a.m. – D.E.D Radio with DJ Asche
3 a.m. to 6 a.m. – Boo-City Brutality
6 a.m. to 9 a.m. – Creepy Car Tunes
9 a.m. to 11:30 a.m. – Saturday Blues Howl
11:30 a.m. to noon – Scary Story Time
Noon to 3 p.m. – Boooooo-gie Bang Gang
3 p.m. to 5 p.m. – Why My Head Hurts – there's an axe in it!
5 p.m. to 5:30 p.m. – Milwaukee Shock Posters
5:30 p.m. to 6 p.m. – War of The Worlds
6 p.m. to 9 p.m. – The Saturday Night Scream (Mark Borchardt's "Nightrun" at 8 p.m.)
9 p.m. to Midnight – Transylvania Radio
Greetings humans! On Halloween this year, Subspace will be doing an extra fancy Streaming HALLOWEEN SPECIAL Online Spectacular!
Staying home to avoid getting the plague for Halloween this year? We will be Streaming ~2~ Special sets on Saturday October 31!
Our 1:30 PM Set is for our friends across the pond and anyone else who wants an early dose of the ol' Ultra Heavy™! We'll be playing some very spoopy tracks, usually EBM ish but we always reserve the right to get weird.
Our 9:00 PM Set will be our OPERATING TRACKS Super Scary Halloween Virtual Dance Party for MAD PLANET! Tune in for EBM, Industrial, Goth, and more to celebrate the Hallowness of the Eve!
We will also be promoting the gofumdme campaign set up for MAD PLANET! (you don't have to wait until then to help, check it out @ https://www.gofundme.com/f/mad-planet-fund )
Aside from just playing tunes and such, We will be highlighting some of our personal favorite Halloween related things, such as movie clips or video games or comics or whatever. As always, our chat is generally a very lively place, feel free to come talk about things you like about All Hallow's Eve!
With Halloween falling on a Saturday this year, and the pandemic cancelling traditional parties and trick-or-treating, who ya gonna call?
We're reviving our Saturday night #MKEsingalong on Oct. 31, and the song choice, naturally, is "Ghostbusters."
Join in on Halloween night at 7pm from wherever you may be – socially distanced with family or friends, singing or dancing, and even in costume if you'd like. Tune in to 88Nine Radio Milwaukee for a live, on-air play of the song, or follow "The How To" below. When you're finished, upload your videos to social media with the tag #MKESingalong.
Community Partners – 88Nine Radio Milwaukee, Imagine MKE, Metcalfe Park Community Bridges
MUSICAL TRICK-OR-TREAT FOR METCALFE PARK KIDS
With trick-or-treat on hold in many communities, we're also asking our neighbors, friends, and #MKEsingalong participants to make a $5 donation towards a musical recorder instrument for children in the Metcalfe Park, Milwaukee, Wisconsin neighborhood.
For less than the cost of Halloween candy – you will give a child the gift of music by providing them with an instrument, as well as virtual instruction from a WCM faculty member.
Metcalfe Park Community Bridges will distribute the recorders to families through their "Be the Bridge" Mutual Aid Initiative, which has been delivering food, COVID-19 information & resources, masks & PPE, family activities, and more to 2,000 households on a bi-weekly basis.
Donate Here –> https://www.facebook.com/donate/725302351397636/?fundraiser_source=external_url
THE HOW TO
1. Pull up the lyrics (if you need them).
https://www.azlyrics.com/…/rayparkerjr/ghostbusters.html
2. Right at 7pm, tune in to 88Nine Radio Milwaukee (88.9FM / radiomilwaukee.org / ask your smart speaker to play 88Nine) for a live on-air broadcast of the song, or queue it up on Spotify, CD, whatever. Note: if you use YouTube, they'll probably have an ad that you'll need to skip in advance.
3. Record yourself and livestream/upload your videos with #MKESINGALONG.
4. Give a child a recorder instrument by making a $5 donation
Old World Wisconsin's popular Halloween event returns virtually in 2020. Troves of supernatural tales brought to Wisconsin over the generations come to life as you gather 'round the glow of your computer or phone and hear Lady Death share a collection of some of our favorite legends and lore. On these nights the veil is thin, and as our guide, Lady Death can take us to the other side where these tales are more than stories, they come alive. Are you ready? Stories include Baba Yaga, Herne the Hunter, Nacktcrap, and Anansi The Spider. Cost: This event is FREE and open to the public. The event will be streamed on Old World Wisconsin's Facebook page. Performances at virtual Legends and Lore are done in collaboration with Kettle Moraine School for Arts and Performance. Learn more.
Celebrate Halloween with us! Your Halloween Party Pack has everything you need to get in the spirit of spooky season! Whether you're hosting a small group for trick-or-treat and are looking for some treats for the adults, or you want to join our Zoom party on Saturday 10/31 at 7:30pm, we've got you covered with fall snacks and plenty of beer! If you plan to join the Zoom party, get your costume ready!
🔗 bit.ly/spookymob
.
Your Halloween Party Pack includes:
🧟‍♀️ 16oz Apricot Existence Belgian Style Sour Ale
🧞 16oz Thai'd Up Thai Basil Gose
🕷️ 16oz MC Amber
🕸️ Mixed 4pk-2 Boo Brew (Woo Brew), 2 Peanuttin' Butter Than This Porter
🧛 That Salsa Lady orange pepper Urban Garden salsa (4oz), queso (4oz) & original chips
⚰️ Pop's Kettle Corn Pumpkin Spice Popcorn (medium bag)
🔮 Carrie's Crispie's Caramel Apple Crispie
👻 Pop's Market Place caramel apple of your choice (plain, peanut coating, or sprinkle coating)
.
Zoom party will feature:
👿 Costume contest
🎃 Pumpkin carving contest
💀Halloween trivia
👽 Halloween bingo
🧙 Suggested pairings from your kit!
.
Add-ons:
🎃 Large pumpkin $6
🎃 Small pumpkin $4
🔥 Spice up your Halloween by adding on That Salsa Lady's FOG (Flamin Hot Chips with onion and garlic) and Death Wish spice mix for $8.50 so you can make your salsa and queso as hot as you'd like it!
.
Add a Kids Party Pack for $10. Includes:
🍎 Pop's Market Place caramel apple with sprinkles
🍫 Jazzed Up Marshmallows hot chocolate mix + Pumpkin Pie marshmallows
🍿 Pop's Kettle Corn Spooky Mix (small bag) (a mix of kettle corn, coconut oil sea salt, and candy corn)
.
Date/time of Zoom event: Saturday, October 31 at 7:30pm
Orders close: Wednesday, October 28th at 8pm
Pick up begins: Saturday, October 31 at 1pm
.
🔗 bit.ly/spookymob
HEY GIRLS AND GHOULS! Here's the trailer for my Saturday night Halloween show streaming live on October 31! Tune in at 8 PM CST here and at www.mixcloud.com/live/djtikinaut Guaranteed to scare the groove out of you!