It's all come down to this. Following a month-long competition that found a field of 64 worthy Wisconsin locales facing one another in five heated rounds of voting, our Wisconsin Cities Bracket field has dwindled to just two remaining places. Over the course of the tournament, more than 300,000 total votes were cast. There was some campaigning for votes, a fair number of upsets, and lots of whining in the comments sections. Now that the dust has settled, we're now left with a Final Round matchup very few could have envisioned at the beginning of the competition: Rhinelander vs. Menasha.
With the help of voters, Rhinelander—the land of the Hodag and the leading vote-getter so far—breezed through the Northwest Region before demolishing Madison in the semifinals. Meanwhile, Menasha—the papermaking punching bag of the Fox Cities—shocked its way through the Northeast Region and toppled West Allis in the semifinals to earn its place in the Finals. Do you believe in miracles? Yes!
The Finals run from March 30 (that's today!) through 11:59 p.m. CST on March 31. Another change for this round: Votes are limited to one per IP address. The Final Round of Milwaukee Record's Wisconsin Cities Bracket sponsored by Lakefront Brewery (and a JPG of the bracket itself to this point) can be found below!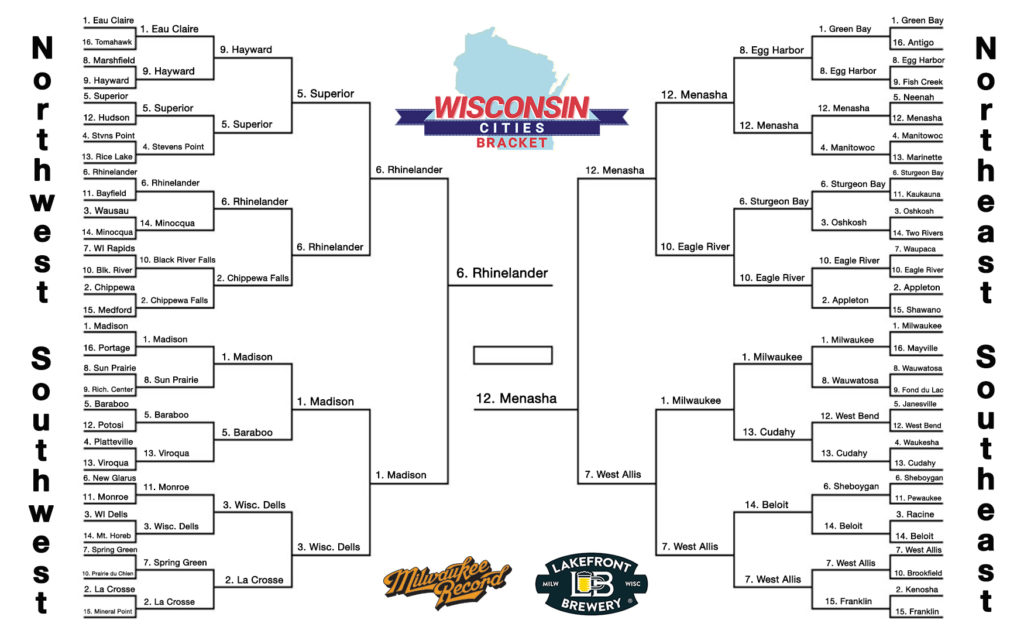 Exclusive articles, podcasts, and more. Support Milwaukee Record on Patreon.
---
RELATED ARTICLES
• Vote in Round 1 of our Wisconsin Cities Bracket
• Make your picks in Round 2 of our Wisconsin Cities Bracket
• Only 16 places remain in our Wisconsin Cities Bracket
• Only 8 Badger State destinations remain in our Wisconsin Cities Bracket
• We're down to just 4 places in our Wisconsin Cities Bracket