After four rounds of locally-focused competition, a tournament that started with a field of 64 worthy Wisconsin locales has now been reduced to just FOUR remaining Badger State destinations. Rhinelander breezed through the Northwest Region and earned the most votes in the tournament so far. Madison excelled through the Southwest Region and remains the only top-seeded city left. Menasha shocked the Northeast Region en route to a spot in the semifinals. And West Allis toppled Brookfield, Franklin, Beloit, and mighty Milwaukee in order to claim Southeast Region supremacy.
Now that just four cities remain, we're ready to introduce an exciting new element to the Wisconsin Cities Bracket. The winning city will receive a hand-delivered award from us declaring it to be Wisconsin's Best City. It will also get a case of Lakefront beer. Best yet, Milwaukee Record will temporarily transform into "[insert name of winning city] Record" for one day, during which we'll publish a bunch of articles about that city.
Round 5 started March 27 and lasts through March 29, and the Finals will run from March 30 through 11:59 p.m. on March 31. Vote early and vote as many times as you'd like. Round 5 of Milwaukee Record's Wisconsin Cities Bracket sponsored by Lakefront Brewery (and a JPG of the bracket itself to this point) can be found below!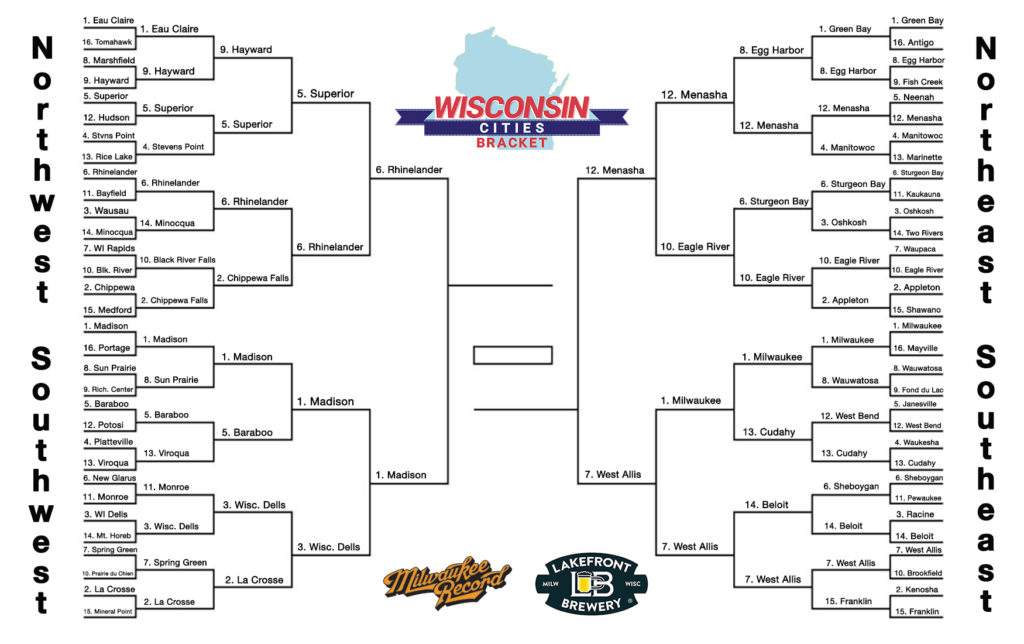 Exclusive articles, podcasts, and more. Support Milwaukee Record on Patreon.
---
RELATED ARTICLES
• Vote in Round 1 of our Wisconsin Cities Bracket
• Make your picks in Round 2 of our Wisconsin Cities Bracket
• Only 16 places remain in our Wisconsin Cities Bracket
• Only 8 Badger State destinations remain in our Wisconsin Cities Bracket