Even though it's already snowed a few times, the daylight hours have dwindled significantly, and the Packers are nearly eliminated from playoff contention, today is technically the first day of winter. Yes, the season most of us dread finally started today. Though winter's arrival officially ushers in a cold, harsh, and emotionally-testing period of inactivity that lasts until mid-March, Milwaukee has made sure to combat the seasonal doldrums with a ton of great shows in recent years.
The city will once again be abuzz with a steady helping of top-tier touring comedians and bands, stacked local shows, and even a festival or two thrown in for flavor. If the prospect of another Wisconsin winter has you down in the dumps, here are 23 standout events that might help warm your spirit. And check out this list of 90 other Milwaukee-area things to help you make it through winter. Okay, let's get to the events!
Wednesday, December 28
Milwaukee Record presents 'Uncle Buck' at Avalon Theater
We're ending our 2022 Avalon Theater movie series on a high note with TWO screenings of Uncle Buck. This 1989 film was written and directed by John Hughes and stars the incomparable John Candy as an abrasive and misunderstood man with the best intentions. Candy—who plays the titular Buck Russell—is joined by a supporting cast consisting of Macaulay Culkin (a year before his breakout performance in Home Alone), Jean Louisa Kelly, Gaby Hoffmann, Laurie Metcalf, among others. The 7 o'clock screening is pretty much sold out, but there are currently plenty of seats left to the 9:30 p.m. showing.
Thursday, December 29 to Saturday, December 31
Steve Byrne @ Milwaukee Improv
After headlining Milwaukee Improv's opening weekend back in August 2021, Steve Byrne—a veteran comedian, actor, and former star of the TBS series Sullivan & Son—will close out the Brookfield club's first full year in business with a total of five shows December 29-31
Saturday, December 31
Horseshoes & Hand Grenades + Armchair Boogie, Ryan Necci And The Buffalo Gospel @ Turner Hall
Exactly a year after this show was supposed take place over at the Pabst Theater, the rescheduled New Years Eve concert featuring Horseshoes & Hand Grenades, Armchair Boogie, and Ryan Necci And The Buffalo Gospel will finally take the stage for a December 31 show at nearby Turner Hall. This one will be well worth the wait.
Friday, January 6 and Saturday, January 7
Johnny Beehner (album recording) @ The Laughing Tap
Since starting out in Milwaukee roughly 20 years ago, comedian Johnny Beehner has accomplished quite a lot. The now-Los Angeles-based comic performed on the Late Show With David Letterman shortly before the host retired, and he's become a frequent feature act for renowned humorists like Brian Regan and Jim Gaffigan. Beehner will return to his hometown for a pair of shows at The Laughing Tap. The two performances will also be recorded to be released as Beehner's upcoming comedy album.
Saturday, January 7
N/A Day: A "Dry January" Beverage Festival @ The Cooperage
Our "Dry January Beverage Festival" returns to The Cooperage to give people an opportunity to enjoy unlimited samples of refreshments from the wide-ranging, ever-evolving, and rapidly-growing non-alcoholic drink market. TICKETS ARE AVAILABLE NOW! The N/A Day lineup includes non-alcoholic beer and seltzer, kombucha, mocktails, non-alcoholic wine and spirits, tonics, craft soda, sparkling water, coffee, energy drinks, CBD products, and more. Here's the full vendor lineup!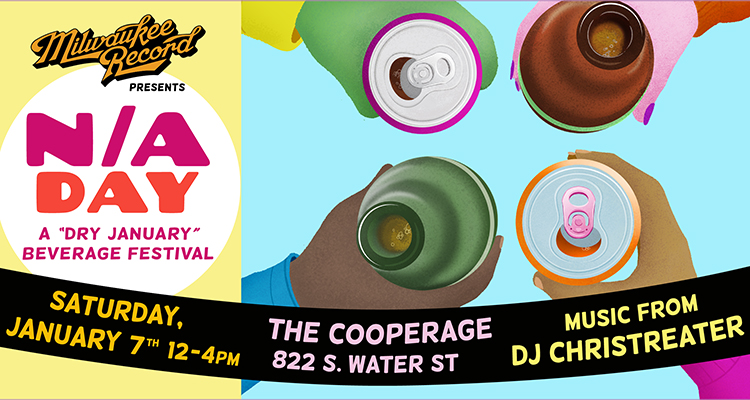 Goblin King Masquerade Ball @ Turner Hall
Awkward Nerd Events will once again transform Turner Hall Ballroom into a magical world of fantasy. There will be themed cocktails and mocktails, performances from The Goblin King Players, and unique photo opportunities. VIP packages are also available.
Friday, January 20
Mondo Lucha! @ The Cooperage
A few months after yet another Turner Hall sellout, the Mondo Lucha folks will bring the ring to The Cooperage for a more intimate (but equally entertaining) blend of wrestling, burlesque, and music on Friday, January 20.
SHAQ's Bass All-Stars @ The Rave / Eagles Ballroom
Roughly 15 months removed from headlining the Miller Lite Oasis at last year's Summerfest, DJ Diesel (a.k.a. Hall Of Fame basketball player and cultural icon Shaquille O'Neal) will return to Milwaukee to get behind the turntables and dole out some jams at The Rave.
Saturday, January 21
Inside A Dream: The Music Of David Lynch @ The Cooperage
Following an impressive first re-imagining of music from David Lynch films, the "Inside A Dream" showcase will take the stage at The Cooperage once again. Expect renditions of compositions Lynch fans will surely recognize from works like Twin Peaks, Blue Velvet, Mulholland Drive, and more.
Wednesday, January 25
Ani DiFranco + Peter Mulvey, SistaStrings @ Pabst Theater
While a performance from Grammy-winning musician, human rights advocate, and all-around icon Ani DiFranco is great enough on its own, this Pabst Theater performance is rendered even more special with the involvement of homegrown openers Peter Mulvey and SistaStrings (who released a collaborative album on DiFranco's Righteous Babe Records last year).
Friday, January 27
Rhett Miller + Courtney Jaye @ The Back Room @ Colectivo
Americana legend Rhett Miller has been a member of Old 97's for 30 years and, along the way, he's released eight solo albums. Miller's latest album, The Misfit, came out about two weeks before the 97's played The Rave in September. On January 27, the well-traveled troubadour will come back to Milwaukee to play songs off that record, cuts from his numerous other solo releases, Old 97's material, and more at The Back Room @ Colectivo. Courtney Jaye opens.
Saturday, January 28
Ice Bear Fest @ Third Space Brewing
Third Space Brewing's Ice Bear Fest returns! From noon to 5 p.m., the Menomonee Valley brewery will host "an epic '80s Après ski party" in its beer garden to celebrate its tasty seasonal Baltic porter. In addition to the abundance of Ice Bear on hand, the winter affair will feature DJs playing '80s jams, food trucks, shotskis, and more.

Bluegrass Winter Heater @ Anodyne's Walker's Point Roastery
Though it's happening in the dead of winter, the Bluegrass Winter Heater will make Anodyne's Walker's Point Roastery warm and toasty with tunes from a trio of great bluegrass bands. The second annual affair will feature performances by Buffalo Galaxy from Minnesota, Mama Said String Band out of Kentucky, and a headlining set from The MilBillies from—you guessed it!—Milwaukee.
Friday, February 3 and Saturday, February 4
Dulcé Sloan at The Laughing Tap
When you have a chance to see rising stand-up star and The Daily Show correspondent Dulcé Sloan in an intimate Walker's Point comedy club, you take it. On Friday, February 3 and Saturday, February 4, you'll actually have FOUR opportunities to see Sloan at The Laughing Tap.
Sunday, February 5
Buffalo Nichols + Stephen Hull @ Cactus Club
Since mid-2021, Buffalo Nichols—the solo project of Milwaukee native and current Austin, Texas resident Carl Nichols—has been busy. During that span, Nichols released his debut album on Fat Possum Records, toured avidly, played a number of massive music festivals, shared the stage with some massive acts, and even appeared on the Late Show With Stephen Colbert. Though it all, he's made sure to return to Milwaukee to perform on a semi-regular basis. Speaking of that, Buffalo Nichols will be playing at Cactus Club on Sunday, February 5. Local blues purveyor Stephen Hull will play in support.
Saturday, February 11
Chris Novak Extravaganza @ The Cooperage
Milwaukee music super fan and all-around great guy Christopher Novak will celebrate his birthday by giving local listeners a gift in the form of one heck of a concert. This year's loaded lineup includes Daisychain, Wristwatch, Credentials, and Stephanie Joanna taking the stage at The Cooperage.
Thursday, February 16
Scott Seiss @ Milwaukee Improv
If you've spent any time on the internet over the past six months or so, there's a good chance you've seen some of Scott Seiss' "Angry Retail Guy" videos. Beyond starring in the viral sketches, Seiss is also a stand-up comedian and actor (who you'll see in next year's Cocaine Bear). You can see him do his thing at Milwaukee Improv in nearby Brookfield on Thursday, February 16.
Friday, February 17
Flat Out Friday @ Fiserv Forum
If you're somehow unfamiliar, Flat Out Friday features motorcycle racers riding on top of a track that's slathered in Dr. Pepper syrup and it's awesome! This event is just one part of the Mama Tried festivities that are slated to happen at various local spots in mid-February.
Tuesday, February 28
Bayside + I Am The Avalanche, Koyo @ The Rave / Eagles Club
New York punk vets Bayside will make its way back to the band's familiar stomping grounds of The Rave. Joining them in this late-winter stop on their "Just Like Home Tour" are I Am The Avalanche and Koyo.
Tuesday, March 7
Bruce Springsteen And The E Street Band @ Fiserv Forum
THE BOSS IS COMING TO MILWAUKEE! What more needs to be said? Nothing.
Friday, March 10
Katt Williams @ Miller High Life Theatre
Last spring, comedy legend Katt Williams performed at UW-Milwaukee Panther Arena. Roughly a year later, he'll take his decades worth of material and incomparable stand-up style around the corner to nearby Miller High Life Theatre as part of his "2023 And Me" tour.
Saturday, March 11
The Dollyrots + The Von Tramps @ X-Ray Arcade
During the band's 20-year run, The Dollyrots have released more than a dozen albums and EPs, played all over the world, performed with countless punk and rock and roll mainstays, and had their music featured on television shows and in films. Just shy of a year after playing at X-Ray Arcade, the veteran pop-punkers will come back to Cudahy for a stop on "The Hey Girl 2023 Tour" with special guest The Von Tramps.
Saturday, March 18
Bug Moment (album release) + Shooby, Spoy @ The Back Room @ Colectivo
Formed in late 2020, Bug Moment has quickly become one of the city's most exciting and (pun intended) buzzed about bands. On one of the last nights of winter, the emo-leaning Milwaukee alternative act will add to its reputation with the release of its new album, The Flying Toad Circus, during a show at The Back Room @ Colectivo. The release show will also feature opening support from Shooby and Spoy. Circus-themed costumes, makeup, and clothing are encouraged.