The "25 Facts" series features people, places, and stuff that make Milwaukee great. These articles are meant just for fun and we have nothing but love for everyone included. Brought to you by Great Lakes Distillery.
We've spent hours studying MAD Magazine and other medical journals in the Milwaukee Record lab and have come to three important conclusions: Milwaukee isn't the only city on Earth, Bob Uecker is an absolute treasure, and sometimes being pretty close is just as good as being exact. These are important concepts, and we're frankly quite heroic for uncovering them. We also play a lot of Super Mario 2 in the lab.
When diving into this month's list of 25 not-that-interesting facts, we let these three concepts guide us. You'll find more mentions of non-Milwaukee locations than usual. You'll read a little more about Bob Uecker than usual. And, a few of the facts will technically be facts, but they'll be just a little off. They're pretty close. You'll see what we mean. Enjoy!
1. In Episode 2 of Season 5 of It's Always Sunny in Philadelphia, the last word that Charlie Kelly (played by Charlie Day) says is "Milwaukee."
2. In Episode 9 of Season 8 of Seinfeld, the last word that New York Yankee Bernie Williams (played by New York Yankee Bernie Williams) says is "Milwaukee."
3. In the classic country song "Milwaukee, Here I Come," the last words in the song (written by Lee Fykes, but originally recorded by George Jones and Brenda Carter) are "Nashville, Tennessee."
4. The song "What's Made Milwaukee Famous" was written by Glenn Sutton and originally recorded by Jerry Lee Lewis in 1968. Sutton passed away in 2007 in Nashville, Tennessee.
5. During the Milwaukee Brewers' 14-inning slugfest at Nationals Park in Washington D.C. on August 17, 2019, Nashville-based musician Jack White and his fellow Raconteurs attended the early innings of the game before leaving to go perform at The Anthem in D.C. that evening. Following their show, the band returned to Nationals Park and watched the Brewers put the final touches on a 15-14 win. The last two pitchers to throw in the game were Javy Guerra (Washington) and Junior Guerra (Milwaukee). Not quite the same names, but pretty close.
6. Marquette University's football team lost their final game as a program on November 12, 1960, under Coach Lisle Blackbourn. They lost 33-13 to the Cincinnati Bearcats, under Coach George Blackburn. That's not quite the same last name, but it's pretty close. Blackbourn coached Marquette from 1950-1953, then the Green Bay Packers from 1954-1957, then Carroll College in 1958, then Marquette again for the 1959 and 1960 seasons. While with the Packers, Blackbourn drafted future hall of famers Forrest Gregg, Bart Starr, Paul Hornung, Jim Taylor, Jerry Kramer, and Ray Nitschke.
7. Doddabetta Peak is the highest point in the Nilgiri Mountains in South India, measuring approximately 8,640 feet above sea level. Bob Uecker racked up a total of 96 walks in his career. At 90 feet per walk, Uecker's total distance traveled via base on balls in Major League Baseball games was approximately 8,640 feet.
8. Bob Uecker is often credited with having a .200 career batting average. Please don't tell him we told you this, but if you want to get all mathematical about it, his career batting average is .1997264021887825. He had 146 hits in 731 at-bats. If he'd had 146 hits in 730 at-bats, he'd have a proper .200 career batting average.
9. Former Brewer Bill Schroeder had 303 hits in his eight year career. Former Packer Bill Schroder had 304 catches in his eight year career. Close enough.
10. In 2017, California competitive eater and mother of four Molly Schuyler set a record by eating 22.5 pounds of prime rib in less than an hour at Ward's House of Prime in Milwaukee. Schuyler's YouTube channel is a near-constant stream of her self-inflicted eating challenges, including this one where she attempts to eat an entire case of Reese's –flavored whipped cream in front of her cat.
11. A $125 million, 217-foot yacht called the "Hampshire" briefly stopped near Discovery World on August 7, 2019 before heading north towards Traverse City, Michigan. By comparison, the "Nadine" in Martin Scorsese's The Wolf Of Wall Street was a $12 million, 147-foot yacht.
12. Stuntwoman Megan Margeson and her mother, Carla, recently took over the Harley-Davidson Museum's social media outlets to document their motorcycle trip from Los Angeles, California to the Harley-Davidson Museum for the Milwaukee Rally. They allowed followers to vote on which route the ladies would take after each stop and then rode on accordingly. Their route from Bartel's Harley-Davidson in Marina Del Ray, California to the H-D Museum in Milwaukee wasn't necessarily the most direct, but it was fun to watch! Now, as we should all know by now, you should never, ever, ever ride an e-scooter on the freeway. But, if one did (again, DON'T), it would take about 138 hours to make that trip and it would cost around $2,072.
13. "Downhill Celery Term" is an anagram for Milwaukee legend "Dirty Helen" Cromwell.
14. Coaches of the Milwaukee Badgers (an NFL team from 1922-1926), ranked by playing weight:
Budge Garrett (1922, 200 pounds)
Hal Erickson (1924, 193 pounds)
Jimmy Conzelman (1922-1923, 175 pounds)
Johnny Bryan (1925-1926, 157 pounds)
15. The 1998 Screen Actors Guild Award for Outstanding Performance by a Female Actor in a Comedy Series went to Tracey Ullman (Tracey Takes On…). The runners-up were Calista Flockhart (Ally McBeal), Lisa Kudrow (Friends), Julia Louis-Dreyfus (Seinfeld), and Milwaukee native Amy Pietz (Caroline In The City).
16. Broadcasting legend Tom Snyder was born and raised in Milwaukee. He went to Marquette University High School and Marquette University before going into radio and television for 40 years. During his career, he conducted interviews with people such as John Lennon and Charles Manson, and served as inspiration for people like Jon Stewart and David Letterman. He was also really, really into model trains.
17. Bob Uecker's name was added to the Milwaukee Braves Wall of Honor inside Miller Park on May 12, 2009, which would've been Tom Snyder's 73rd birthday.
18. Milwaukee comedian Will Durst once cost a fellow comedian a bunch of money on Who Wants to be a Millionaire?
19a. Devin Harris, an NBA and University of Wisconsin basketball star from Milwaukee, made this shot on February 23, 2009.
19b. Harris' three-pointer gave him 39 points for the night. That's three more points than Charlie Villanueva scored for the Milwaukee Bucks that same night, who beat the Denver Nuggets by three, 120-117.
20. During Prohibition, Blatz Brewing Company made grape-flavored gum.
21. The artist behind Milwaukee's "The Calling" goes by the name of Mark di Suvero, but his full name is Marco Polo di Suvero. His parents were Italian, but he was born in Shanghai, China. He was born the same day as movie and television star, Robert Blake, 79 days before the repeal of Prohibition.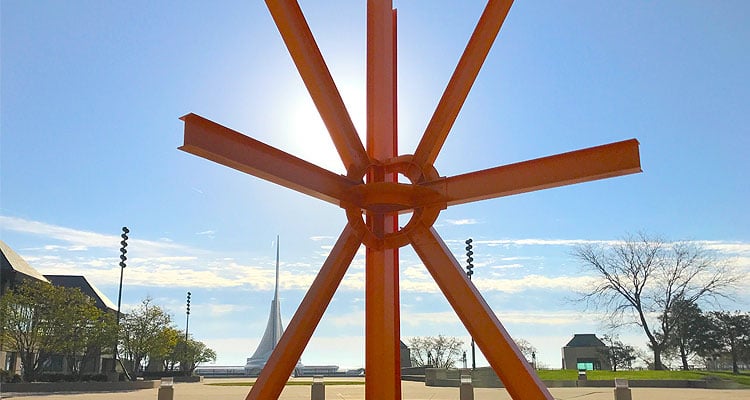 22. John Matuszak was born in Milwaukee, went to Oak Creek High School, was the first overall pick in the 1973 NFL Draft, won two Super Bowls, placed ninth in the 1978 World's Strongest Man competition, and also played Sloth in The Goonies. Plus, his last name would be worth 23 points in Scrabble if using proper names was allowed. He's buried alongside his family at Holy Sepulcher Cemetery in Cudahy.
23. Reggie "Da Crusher" Lisowski, also known as the wrestler "Who Made Milwaukee Famous," is also buried at Holy Sepulcher Cemetery in Cudahy.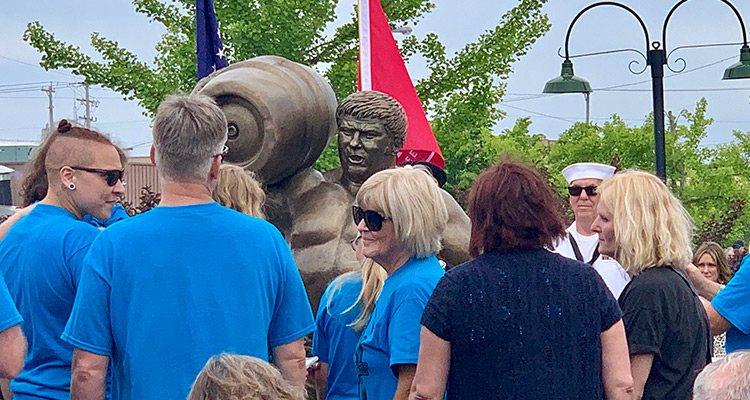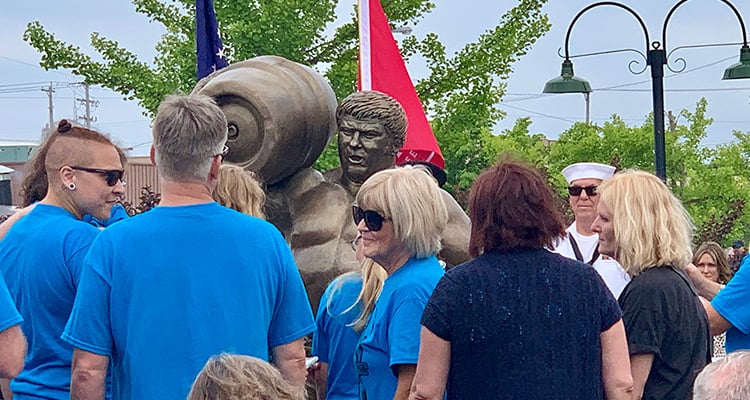 24. Bob Uecker isn't buried at Holy Sepulcher Cemetery in Cudahy. In fact, in Episode 10 of Season 5 of Futurama, Ueck is still calling games on the radio in the 31st century. It's just his head in a jar, but still. Hank Aaron's head shows up, too.
25. The Milwaukee Public Museum is home to one of the world's largest known dinosaur skulls. Hank Aaron's head isn't nearly that big now or in the 31st century. His cap size when he played in Milwaukee was 7 ¼.