It's been nearly a year since the fatal police shooting of 23-year-old Sylville Smith touched off days of unrest in Milwaukee's Sherman Park neighborhood. In that time, the neighborhood has moved on, balancing good news with the bad. Falling squarely in the "good" column is a new mural from Milwaukee artist Tia Richardson. Titled "Sherman Park United," the mural (located at 4715 W. Center St.) is meant to celebrate "the improvement efforts on the part of community members that are and have been underway for many years, and reflect a vision that unifies and uplifts." Oh, and you can totally help paint it.
Unveiled last week, much of "Sherman Park United" resembles a giant "paint-by-numbers" kit, with outlined sections left purposefully blank. Here's Richardson (center) and a portion of the unfinished piece: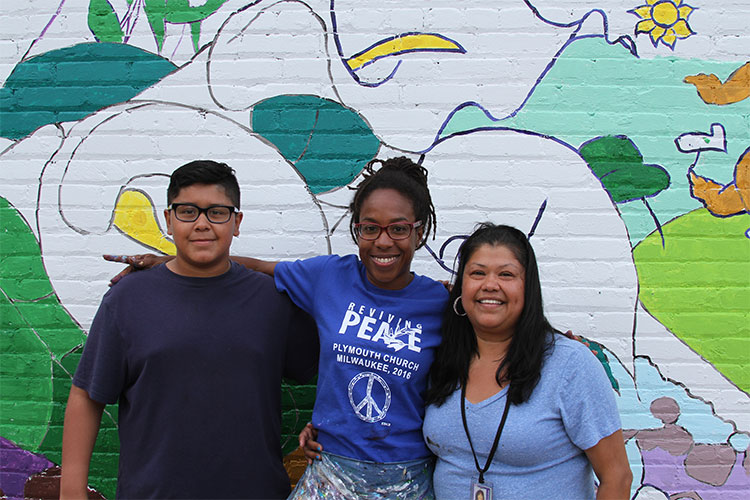 And here's the plan for the finished 17'x56′ mural:


A community painting day was held Wednesday afternoon; four more are on the way: Thursday, July 20, 10 a.m.-2 p.m.; Friday, July 21, 3 p.m.-7 p.m.; Saturday, July 22, 1 p.m.-5 p.m.; and Sunday, July 23, 1 p.m.-5 p.m.
A full press release is below:
MILWAUKEE, WI – July 12, 2017

Community artist Tia Richardson was selected to lead a collaborative mural design with residents living in the Sherman Park area for the east-facing brick wall of the property located at 4715 W. Center. The mural design process began with two creative workshops on June 22nd where a diverse group of community members named common neighborhood concerns and ways they continue to work on those issues. The purpose of the mural is to acknowledge these many concerns while also acknowledging the improvement efforts on the part of community members that are and have been underway for many years, and reflect a vision that unifies and uplifts.

The mural design, titled 'Sherman Park United', was revealed to the community on July 11th with a warm reception. A series of community paint days will launch the summer project. This announcement formally invites anyone to come help 'paint by numbers' to fill in areas of the mural, with supervision and guidance from the artist and volunteers. Painting together as a community helps bring the vision of unity to life and all ages are welcomed to come witness the event or participate in it. Family-friendly. Children under 12 must be supervised by an adult.

The dates and times for community painting are: Wednesday July 19th 3pm-7pm; Thursday July 20th 10am-2pm; Friday July 21st 3pm-7pm; Saturday July 22 1pm-5pm; Sunday July 23rd 1pm-5pm. In the event of rain there will be no painting for that day. Please use the contact below if you'd like to volunteer, stay updated on the project, for rain dates and celebration announcement. The 17'x56′ mural will be completed by the artist this summer.

ABOUT THE ARTIST

Tia Richardson is an Integrative Community Artist, using collaborative murals as a tool to build empathy and connection among the groups she works with. She has a holistic and trauma-informed approach, combining a variety of methods that engage youth and adults in creative ways of sharing stories and ideas with each other in ways that foster trust and collaboration. Since 2007 she has contracted as a mural artist-in-residence for Milwaukee Public Schools, social services agencies, after-school and neighborhood organizations, and grassroots collectives. More about her work can be found at www.cosmic-butterfly.com.

The 'Sherman Park United' mural project is in partnership with the city of Milwaukee Department of Neighborhood Development Services and Safe and Sound, Inc.