In his seminal 2003 jam "eBay" (a parody of Backstreet Boys' seminal 1999 jam "I Want It That Way"), "Weird Al" Yankovic rattles off a host of oddities found on the then-new-ish auction site: a PacMan Fever lunchbox, a case of vintage tube socks, a Kleenex used by Dr. Dre. Hey! He found it on eBay!
Now, 20 years later, add this incredible item to the list of iconic eBay offerings: "1993 Original First Generation Milwaukee County Stadium Sausage Racers."
Yep, the original Racing Sausage costumes! Back when there were only three of them! (Bratwurst, Polish, Italian.) They were "rescued during the demolition" of County Stadium in 2001! They're in pretty bad shape! They're available for $25,000! Or best offer!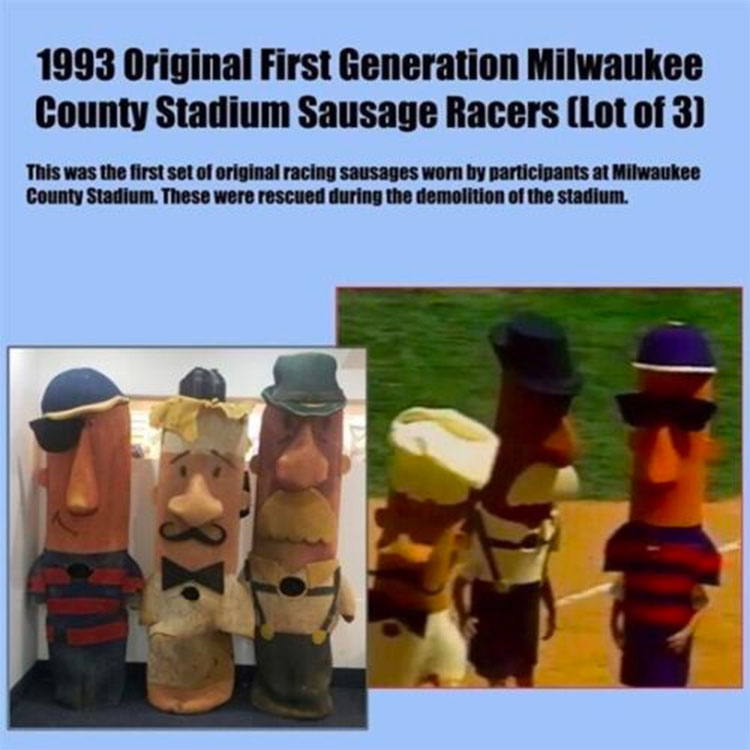 Here's the item description:
On June 27, 1993, as the Sausages approached Milwaukee County Stadium on the scoreboard video, the left field doors swung open and—much to the surprise of players and fans—out came the larger-than-life mascots. Polish, Brat, and Hotdog were the new mascots the Milwaukee Brewers cooked up for a new marketing gimic. Nearly 30 years later, the racing sausages are still a hit. Offered for this lot is the original set of 3, first debuted on June 27th, 1993. This original set is made form foam and plastic. After hundreds of races, they are beginning to show signs of wear and tear. This set was long ago retired, with updated fabric versions now being used. This set was rescued during the demolition of Milwaukee County Stadium.
The sausages have been on eBay since October 2022, apparently (h/t @BadgerNoonan). Should you plunk down $25k for them (or best offer!), you can pick them up somewhere in South Milwaukee. (No shipping!)
Check out the full listing HERE. And remember: "PLEASE VIEW ALL PICTURES TO VIEW CONDITION OF SAUSAGES."
Exclusive articles, podcasts, and more. Support Milwaukee Record on Patreon.