As spring training rolls on and the Brewers season gets closer, there is one storyline that doesn't seem to want to go away. It has nothing to do with future All-Stars Eric Thames and Keon Broxton, the pieces that seem to be coming together to forge a perennially-competitive Brewers team, or Matt Garza's dumb tweets.
The story of the Brewers this offseason has been the likelihood of trading Ryan Braun and it's stupid.
This all started with the report that the Brewers almost traded Braun to the Dodgers at the waiver trade deadline last season. All we know about this trade is that it was close and it was real. That report has led many to believe that is now open season on Ryan Braun.
Bleacher Report revisited that trade and argued that the teams should call each other back to figure it out. "Freeing up payroll would be the main attraction for Milwaukee," apparently.
CBS Sports thought Braun should go to the Red Sox. What prospects does Milwaukee get in this fake trade? Who cares! The Brewers would "eat some cash to facilitate a trade," meaning they would pay the Red Sox just to take him.
Someone thought the Nationals would be a good landing spot and, hey, they might be…except they're on Braun's no-trade list.
Toronto is also on that list, but that didn't stop respected national baseball writer—and Canada native—Jonah Keri from proposing an asinine Braun for Melvin Upton Jr. trade. Two questions about that one: Why and why?
This is all so dumb. These trade scenarios are bad. Ryan Braun will not be traded and Ryan Braun shouldn't be traded. He is the best. He should spend his entire career in a Brewers uniform and there are a million reasons why. Here are five of them.
1. The Brewers have plenty of money
Why is everyone so obsessed with saving the team money? You know they don't drop ticket prices with payroll, right? Baseball doesn't have a salary cap, you can spend whatever you want, and the Brewers are spending a whole bunch of nothing.
Milwaukee ranked at the bottom of the league in payroll last year and will be right there again this year. The 2011 NL Central champion Brewers had a payroll around $93 million and the pre-rebuild 2014 Brewers hit $110 million. We know they have money and can spend when they need to. Last year, they didn't need to and those salaries dipped to just $71.8 million.
So if Milwaukee could shed nearly $40 million last year and keep Braun, why do they need to trade him to save money?
2. He doesn't want to go
For years, Ryan Braun seemed like a guy destined for a bigger market. He was a superstar with bad razor ads and even worse clothing designs.
Now, he says things like this:
"I feel very fortunate to have been here for this long. I have so many special relationships with people in the organization. My family and I love being involved in the community in Milwaukee. So I feel really fortunate to have been able to spend as many years here as I have.

We'll see what the future holds, but if I'm fortunate enough to spend my whole career here, it's something that would be really special, for sure."
A guy with a California- and Miami-only trade clause in his contract feels fortunate to be in Milwaukee. Think about that.
3. Ryan Braun's contract isn't even bad
Using Wins Above Replacement (WAR), a stat that takes a player's total value on the field and figures out how many "wins" that's worth, Ryan Braun was worth 3.2 WAR in 2016.
In free agency, the cost per win is currently about eight million dollars. So in essence, Braun was worth $25.6M last season. Ryan Braun will make $20M this season. That's not only a good deal, it's almost exactly what a player of his ilk would get on the free agent market.
4. He should still be good for the remainder of his contract
There are four years left on Braun's deal, with a mutual option for the fifth. He'll be 36 in the last guaranteed year. There's no real way of knowing if he'll get hurt, but if you look at his similarity scores by age at Baseball Reference you'll find Lance Berkman, Larry Walker and Carlos Lee as the top comparable hitters. All of them contributed through at least age 35, with Walker going strong all the way to 38 en route to realistic Hall Of Fame candidacy.
With all due respect to the algorithm, I am thinking Braun has more Walker in him than Vincent D'Onofrio in Men In Black Lance Berkman.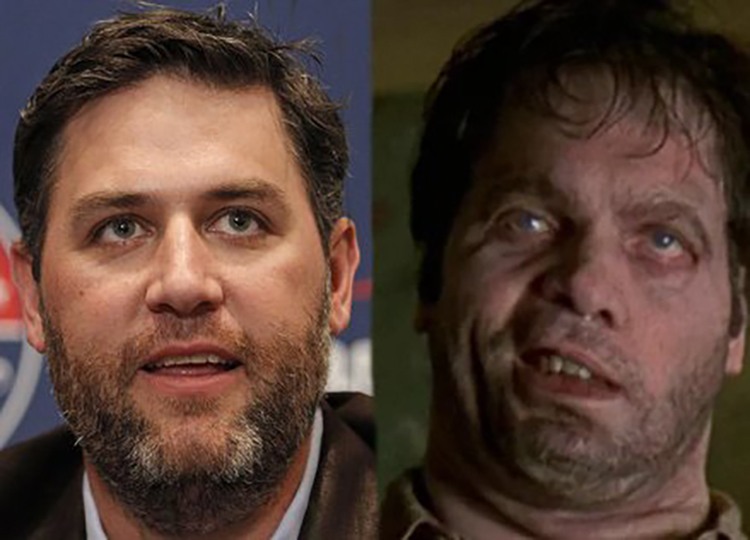 5. Ryan Braun could be the greatest Brewer of all-time
Right now, Braun is third in career WAR for a Brewers player, trailing only Robin Yount and Paul Molitor. Yount is probably untouchable due to his longevity, but surpassing Molitor is definitely in play.
Braun might be the best hitter this team has ever had. He's the Brewers career home run leader and there are a ton of other records within his grasp. He's second in career batting average, second in OPS, third in runs scored, fifth in hits, fourth in doubles, third in triples, third in RBI, and third in stolen bases. The Brewers are supposed to give that up for the ghost of Yasiel Puig and pay some of Braun's salary to make that happen? Gross.
Ryan Braun is a living legend. His face is on the Brewers Mount Rushmore. One day his jersey will be retired, and even the most hardened haters will reluctantly remove the masking tape spelling "FRAUD" from their shirt jerseys. He is the man and he absolutely deserves to be a part of the next great Brewers team.