With all due respect to guys like Byron Leftwitch and David Gerrard (and no respect necessary to dudes like Blaine Gabbert and Blake Bortles), it's safe to say Mark Brunell is the best Jacksonville Jaguars quarterback of all time.
Over the course of his nine seasons with the franchise, the playcaller—the first starting quarterback in team history, by the way—willed the Jags to four consecutive playoff appearances and two AFC Championship games between 1996 and 1999. Brunell led the entire NFL in passing yards in 1996. He appeared in three Pro Bowls during his time in Jacksonville, and was named Pro Bowl MVP in one of those games. Now 17 seasons removed from his abbreviated final year under center in black and teal, Brunell still holds the team records for passing yards (and has the 44th most passing yards in NFL history!), passing touchdowns, wins, attempts, and completions. Known for his scrambling capabilities, he also has the fifth most rushing yards and seventh most rushing touchdowns in Jaguars team history.
In short, Mark Brunell was very, very good. As dismal as much of the Jacksonville Jaguars' quarter-century existence has been, the lovable lefty who brought the franchise within a game of the Super Bowl in its second year remains one of the team's brightest stars. The Packers are hosting the 1-7 Jaguars this Sunday, and since the jury is still out on where newly-appointed rookie starter Jake Luton will land in the pantheon of Jacksonville quarterbacks, I wanted to shift focus from the present day and, instead, tell you a story about a happy childhood memory involving none other than Mark Brunell.
As some of you might know, before Brunell became the pride of the Jaguars franchise, he spent a couple years in Green Bay. The Washington Huskies standout was taken by the Packers in the fifth round of the 1993 NFL Draft. With Brett Favre emerging as the team's star the previous season and Heisman Trophy winner Ty Detmer drafted by Green Bay in 1992, Brunell was buried in the team's depth chart. The third-stringer didn't play a single snap during his rookie season. The following year, he relieved the famously durable Favre in two games (plus a playoff game), throwing for a total of 95 yards and rushing for his first career touchdown in minimal action.
Far from a star player on the gridiron at the time, Brunell was permitted to take part in another form of competition: Packers charity basketball games. For those of you who didn't grow up within 25-30 miles of Green Bay, these games featured lesser-known players suiting up in sneakers and shorts to square off against police or fire departments, area politicians, and local celebrities like sportscasters John Maino and WIXX personality Murphy (of "Murphy In The Morning" fame) on high school basketball courts throughout Northeast Wisconsin.
The family-friendly events allowed people to get autographs, interact with predominately young and inexperienced members of their favorite football team, and raise money for…something. I forget for what exactly. Maybe the aforementioned departments or the school hosting that weekend's event. It doesn't matter. They were weird games that, given the absolutely-justifiable concern about limiting injuries in today's NFL, something that could probably never happen these days. Recent games have featured long-retired Packers alum instead, but back in the '90s, they boasted active players. And for a kid who loved the Packers more than anything, these games were pretty much the highest form of entertainment.
For like $5 a ticket, you could watch pro football players from your favorite team playing basketball against the likes of Bill Jartz and a car dealership owner from Wrightstown or whatever. You could get guys like Gabe Wilkins or Craig Hentrich to sign your programs. And if you were really lucky, maybe you'd even be brought onto the court during the game to play. Fan interactions were a fun part of these games. I once saw Darius Holland help a child dunk, then accidentally leave him dangling from the rim as he walked away. Another time, I saw an offensive lineman kick a basketball across the court in feigned frustration with an official. And once, I got to shoot a free throw for the best quarterback in Jacksonville Jaguars history.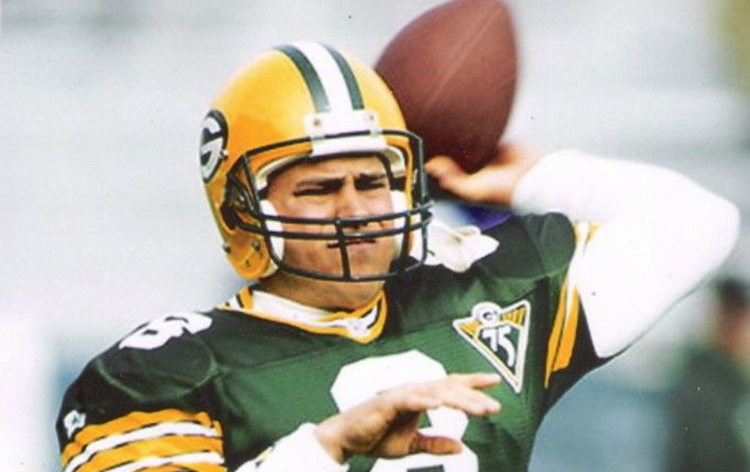 If memory serves (and it might not…let me know if I'm wrong, mom!), this particular game was in the small town of Freedom, Wisconsin. After being fouled and stepping towards the line to take the shots owed to him, Brunell stepped away from the stripe and scanned to stands to see if any youngsters wanted to take a try instead. For reasons I don't fully know (but probably have something to do with the fact I was an incredibly awkward and shy 10-year-old kid he almost certainly felt sorry for), he pointed in my direction. Yes, a digit on the hand that would eventually throw for more than 32,000 career yards was focused on ME. And I can say that with 100 percent certainty because, as I started to meekly make my way down onto the court, another kid brazenly bounded onto the hardwood. Brunell promptly responded by shaking the kid off and pointing right at me again and saying something to the effect of "No, you." Years later, I wonder if there's a guy out in his mid-thirties who hates Mark Brunell's guts for snubbing him in the early '90s. I like to think there is.
Anyway, as the now-confirmed recipient of the rare honor, I was given the ball by the eventual NFL great. I set my sights on the regulation-height rim in the rural high school gymnasium. I extended my arm and let it fly and…I missed. With that cruel clank, I returned to the stands and it was the next lucky kid's turn to take a shot for a guy that would play 19 professional seasons. While my shot rimmed out, I was thankful for the opportunity and—being an incredibly bashful and anxious kid who oftentimes felt overlooked and forgotten to that point—I was so happy to have finally felt seen, even if just for a few untimed moments of a charity basketball game.
Prior to the 1995 season, the Packers traded Brunell to the expansion Jaguars for two picks in that years draft (who turned out to be William Henderson and Travis Jervey, each of whom would be selected to a Pro Bowl). Though he was no longer a Packer, I continued to follow Brunell's career. It wasn't hard to do, since—as noted above—he was awesome. Other than the rare times Jacksonville played Green Bay, I rooted him on and held a special place in my football fandom for the leader of the scrappy expansion team. After his time with the Jags unceremoniously ended in 2003, Brunell played with Washington, where he eventually won the starting job and led the team to the playoffs in 2005. After that, he was a backup with the Saints, winning a Super Bowl with the Drew Brees-captained team. Finally, he called it a career after clutching a clipboard for two years with the Jets.
All told, Brunell played almost two decades in the NFL and—given the current state of the franchise—holds Jaguars passing records that will likely stand for years and years to come. Speaking of records, the quarterback briefly earned a spot in the Guinness Book Of World Records in 2018 for "Longest Throw And Catch Of A Hot Dog Into A Bun" after hurling a frankfurter into a bun from approximately 69 feet away. The record has been bested twice since.
Mark Brunell had an incredible career. He helped put football on the map in Jacksonville. He brought the Whataburger fast food franchise to northeast Florida. He set records and won awards. And before did any of that, he let some weirdo kid from Wisconsin shoot a free throw for him. And that weirdo kid-turned-underwhelming adult will never forget it.