In the days leading up to last weekend's season opener, I must admit I was having a hard time getting into the Green Bay Packers spirit. Between a still-very-much-ongoing pandemic, unseen levels of political and racial division in the country, rampant economic insecurity, and worsening news of raging wildfires out West, it was tough to get ready for a season that, honestly, shouldn't even be happening.
Plus there weren't any preseason games to preempt the meaningful on-field action and restricted media access to players made it tough to come across expected pregame tidbits about, like, Tyler Lancaster being in the best shape of his life or whatever. Feeling a little strange and wholly unprepared for the season to come, I decided to ease my way to watching football in the hellscape that is the year 2020 with a familiar and time-tested Packers fan standby: food.
Whether you live and die with every snap or you typically just watch games as a reason to hang out with friends or family, eating goes hand in hand with the Packers viewing experience. Dips, sausages, slow-cooker specialties, and other homespun snacks help serve as a seasonal reminder that, yes, football is back. With that culinary connection in mind, I sought to clear my mind and, in the process, get myself ready to the season to come by cooking something. More specially, I wanted to get ready for some football by cooking something from Volume II of the Green Bay Packers Family Cookbook.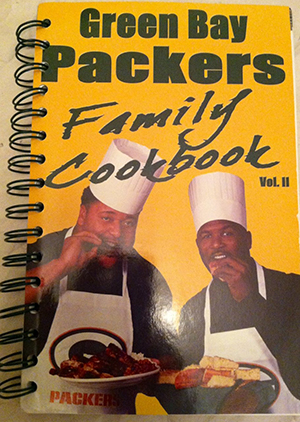 Published in 2001, this Packers Family Cookbook is the second spiral-bound installment wherein Green Bay gridiron greats, coaches, and other team employees share some of their favorite recipes…or, far more likely, a random recipe they have no attachment to that was assigned to them.
Since it was released close to 20 years ago—long before the "foodie" movement or the rapid gastronomic evolution that's welcomed ingredients and influence from other cultures into American cuisine—and it's geared to Midwestern tailgating tastes, the vast majority of the dishes featured in this 200-plus-page tome are remarkably simple and they rarely feature more than seven or eight ingredients. Of those ingredients featured in this collection of recipes, most are either things Packer Backers probably have in their homes already of items that can be easily procured at pretty much any local grocery store. However, when paging through this cookbook (which my mom recently sent to me after I realized she owned this team-sanctioned treasure), I found one recipe that seemed especially simple to prepare and fitting for a pre-game meal to hopefully prepare me for the weirdest Packers season of my life.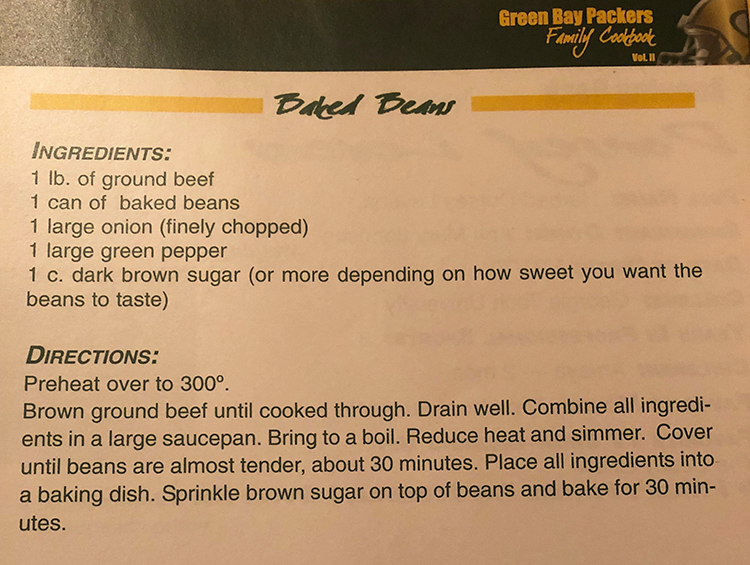 I decided to start my Julia & Julia-like adventure (or, in more recent and more sports-oriented terms, Goldstein And Gasol) with William Henderson's recipe for "Baked Beans," which I was pleased to see featured "1 can of baked beans" as one of its ingredients.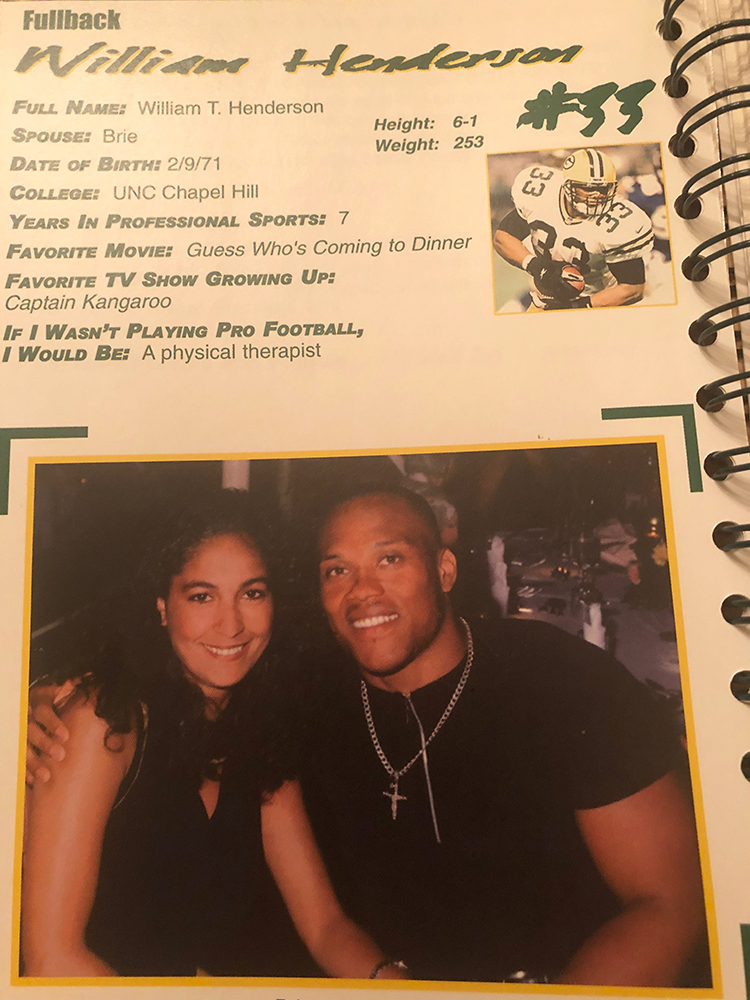 Before I started cooking, however, I brushed up on some personal facts about the longtime Packers fullback. Interesting stuff, eh?!
After that, I got to prepping. As I browned some hamburger in  pan, I started chopping the green pepper and onion. Once the meat was to temp and veggies were diced, I mixed it all into a pot, adding brown sugar and, yes, the already prepared/canned baked beans to the mixture. Before I started the 30-minute stove top cooking process, the mixture looked like this.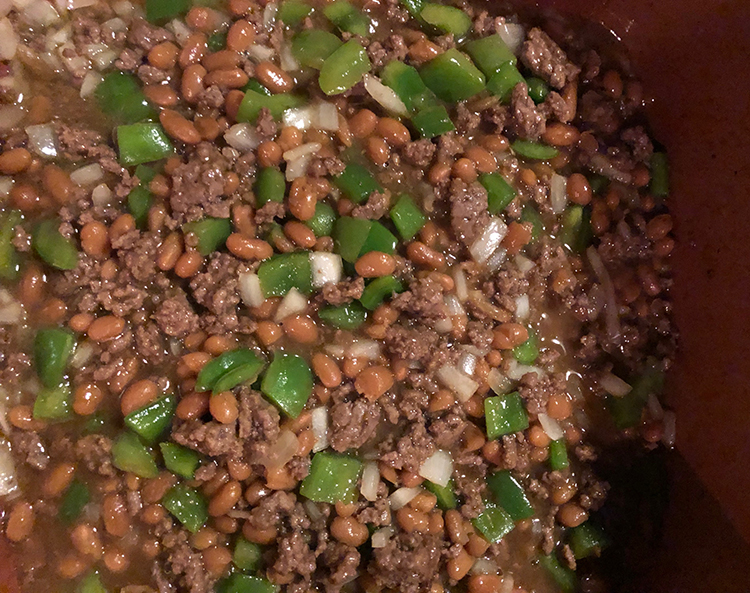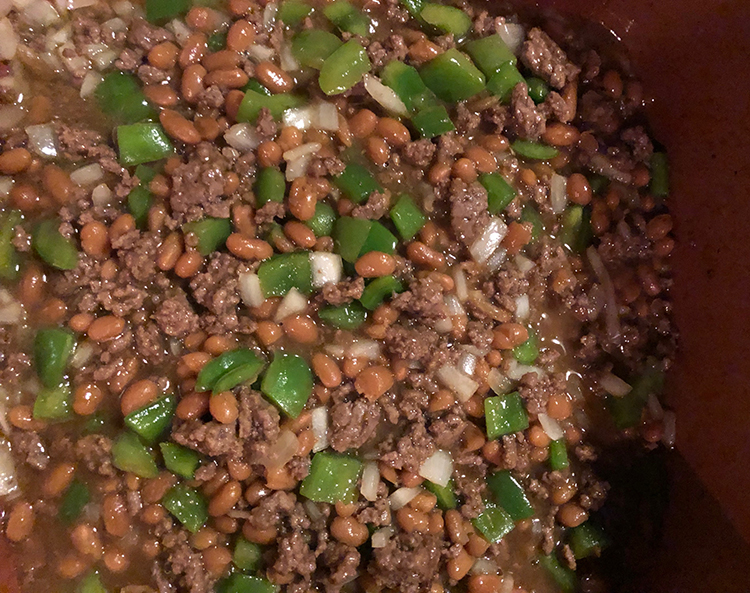 While I did dishes, disposed of my trash, and waited the half-hour that was apparently necessary "until beans are almost tender" (whatever that means), I thought about Henderson. He'd spent the entirety of his 12-year career with the Packers, playing a pivotal role on the team that won Super Bowl XXXI and came close to repeating its title run in Super Bowl XXXII. Though his 19 touchdowns didn't make headlines, he helped open gaps and bolster holes for Edger Bennett and Dorsey Levens during that aforementioned mid-'90s dynasty, then was instrumental in helping Ahman Green's all-time rushing mark with the Packers after that.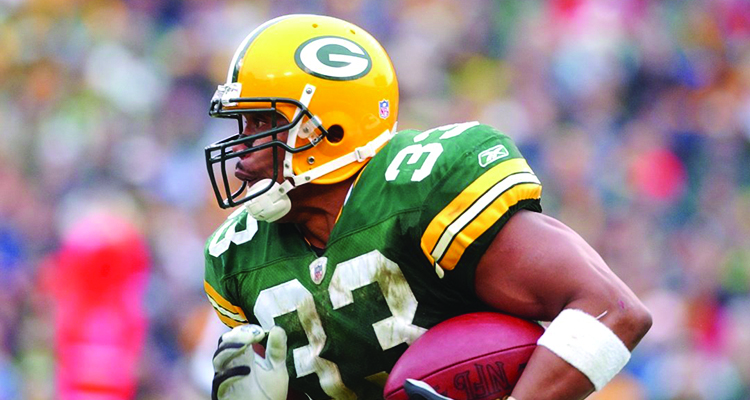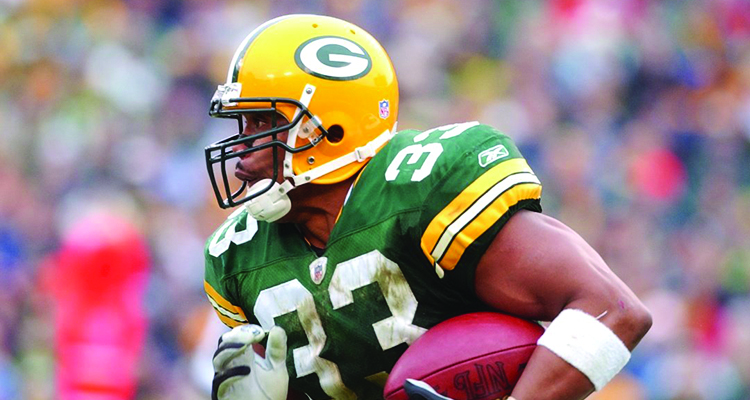 After putting the pot into the oven for another 30 minutes, I kept thinking about this player I remember fondly from my teens and early 20s. Henderson worked hard. He got the job done. He was no-frills. Sure, he was overshadowed by countless other, more crowd-pleasing counterparts over the course of his career, but his consistency still earned him a spot in the starting lineup. The more I thought about it, the more I realized Henderson and his Baked Beans shared those things in common. Much like the hearty side dish, Henderson was versatile…playing special teams for much of his career. He was a player who never sought to draw attention to himself—much like the recipe for these beans, which had no mention of salt, pepper, or anything else that would stand out in any discernible way. Frankly, the beans would've benefited from a few more spices.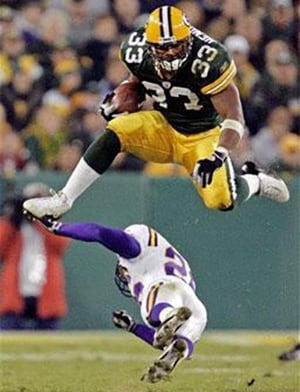 The recipe did, however, call for a sprinkling of brown sugar, which was a small stylish accent that I think is kind of reminiscent of the handful of times the fullback tried to jump of defenders to gain a few more yards. Both the "Henderson hurdles" and that light dusting of brown sugar were flashy, yes, but also functional.
Like Henderson himself, the fullback's baked beans won't go down in history as a superstar, but they were substantial, they did the job well enough with limited told (or ingredients), and the managed to be simultaneously identifiable and, well, pretty darn good without needing to show off. William Henderson and his baked beans won't go down in history as the best ever, but each should be looked on fondly by Packers fans for years to come.
I don't think the same thing can be said for Dorsey Levens or his weak-ass pumpkin bread recipe.