Ever since the Milwaukee Bucks played their "Return To The Mecca" game Thursday night, everything has been coming up Milhouse. On top of the team going back to its longtime home arena (the former Mecca and current UW-Milwaukee Panther Arena) to play on a replica of the iconic court, the game was also made extra special when a fan in attendance made headlines throughout the basketball world by showing up dressed as a popular Simpsons character. Hoops fans and animation aficionados alike were left to wonder who this man in yellow paint was and why he did it. We actually knew the answer to the first question, so we asked him for an answer to the second.
The blue-haired, red-spectacled, and gold-skinned fan was none other than Ryan Fox, a Milwaukee filmmaker whose works include "The World's Longest Mannequin Challenge," The Life And Times Of Thomas Thumb Jr. (a short where the titular character has a "giant fuckin' thumb for a head"), and the Adult Swim-featured R.P.M. 2. Fox says he went to the game dressed like Milhouse "for the hell of it, really." He's a self-described lifelong Bucks fan who knew he had to splurge on the "once in a lifetime experience" to watch his favorite team from the front row of the Mecca.
"Once I knew I would have a great seat and it was nationally televised on TNT, I knew it'd be another good excuse to do a silly social experiment," Fox says. "I put my makeup on in the afternoon, and had a few drinks while watching Bucks highlights and old Simpsons episodes."
THON —> GIANNIS
FEATURING…. Milhouse????? pic.twitter.com/A559bUit2u

— Brew Hoop (@brewhoop) October 27, 2017
Fox's hair was already dyed blue, and he'd purchased what he called "Bruce Vilanch glasses" a few months ago, so the Van Houten-inspired costume didn't really take much work to pull together. Other than the body paint and attire, Fox accented the courtside cosplay with a copy of Radioactive Man #68 that he read during timeouts, along with a Squishee cup he drank beer out of.
"I get kind of a sick satisfaction putting myself into a crowd dressed like an idiot," Fox says. "It forces people to react and I really enjoy that experience."
Fox says reactions at the game were generally positive, excluding a few remarks "from classic older drunken bros." Meanwhile, the TV audiences and the Internet instantly latched onto the gag, which came as no surprise to the Milwaukee Milhouse.
"Social media is pretty predictable, so I knew being in the front row looking like Milhouse for a nationally broadcast game would probably end up all over the Internet," Fox says. "Especially if they caught me reading comics during all the time outs."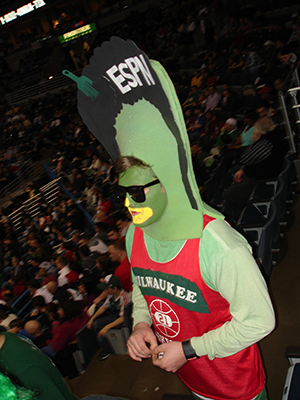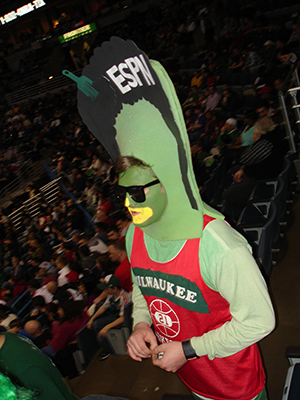 Thursday wasn't the first time Fox had gone the extra mile with his game day getup. He was a member of the Squad 6 cheering section for one season, the majority of which he spent dressed as Gumby. That particular stunt earned Fox screen time on ESPN and resulted in interviews with news stations in out of state markets. Though people everywhere are now taking note of his costumes, Fox's intentions are noble.
"Being silly is a wonderful thing, so I try to embrace opportunities where I can entertain myself and others," Fox says. "If I think of something, I just do it. And I've done stuff like this all my life."
The Milwaukee filmmaker says he has no specific plans for future stunts, but the next time you see a fan taking their wardrobe to the extreme during a Bucks broadcast, or should you ever spot Gumby in the seats at the Bradley Center, you just might be able to narrow down the person's identity now.