Brown Deer, Wisconsin native and ComedySportz alum Gareth Reynolds is best known as the co-host of The Dollop, a popular American history podcast that's landed him a book deal and has brought him to perform in places like Iceland, Australia (where he's currently touring), and throughout the United States. On top of being a world-renowned podcast personality, as well as a writer (Arrested Development), actor (New Girl, Maron), and touring stand-up comedian, Reynolds is also a huge fan of the Green Bay Packers.
Shortly after landing in Australia and before the Packers head to California to take on the Rams this weekend, the Los Angeles transplant answered some questions we had about rooting from the Green And Gold from afar. Reynolds—who has a Packers tattoo—told us how his cross-country move impacted the way he watches football, how L.A. has adjusted from going from zero to two teams, what it's like to watch a game at 10 a.m., and what he misses about watching games in Milwaukee.
Milwaukee Record: When you first moved to Los Angeles, was it hard to find somewhere to watch Packers games, and other fans to watch games with you?
Gareth Reynolds: I got kind of used to going to a bar and watching the game alone when I went to school in Boston, but yes, It was. The good thing is that Packer fans are easy to bond with immediately. Thank God…aka Lombardi.
MR: Obviously, nobody is as obsessed with football as people in Wisconsin, but what's it like in L.A. in terms of interest in the NFL? Do people generally not care, or is it more interesting because of all the transplants from all over the country?
GR: Well, considering they just were gifted two teams in the last few years, it is new. People like the Rams more than the Chargers. It definitely doesn't feel like it's normal yet. And I hate how good the Rams are. I hope the rehire Jeff Fisher.
MR: How have things changed since the city got two NFL teams?
GR: Way more window flags and jerseys. Lots of new fans. And the traffic is worse. Thanks, NFL!
MR: Are there any dedicated Packers bars you like? If so, what are they and is there anything they do to make it special like offering Wisconsin beers or making brats?
GR: There are. I used to go to one called the Tattle Tale, where they gave free Jell-O shots for every Packers touchdown, which was fun. And filling. There really are a lot of options. We are all over the place. It's great.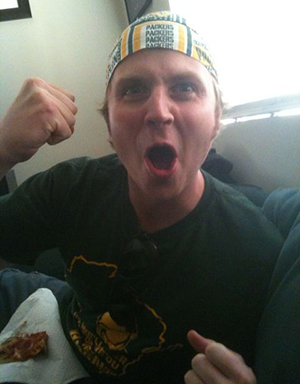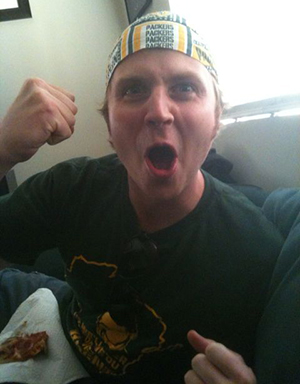 MR: Are there any other Wisconsin comedians or Midwestern expats you watch games with?
GR: Not religiously. Nate Craig and I will text about the Packers sometimes. And we are very much on the same page. At this point, I watch alone like a psychopath—pacing and shouting at the TV.
MR: Did the 10 a.m. start time for some games take some getting used to? How do you adjust to it?
GR: Oh yeah! It was very weird. I hated it and then got used to it. However, I was in New York a few weeks ago, and really like watching the last game it in bed. It wraps up around 8:30 in L.A. But it is really weird.
MR: What was your Packers viewing ritual when you lived in Milwaukee? And what are some things you miss about watching games in Wisconsin?
GR: I miss the people. It is so fun to watch the Packers in Wisconsin. I miss it. As far as my ritual, I left at 18, so it was really hanging out in my buddy Eddie's basement and smoking Camel Wides Lights. So many Camel Wides Lights. That's where I watched the Favre Super Bowl win and my friend Kevin threw me off his couch when we won. My chin got cut but nobody cared, not even me. We just kept screaming while I leaked blood all over my jersey.
MR: Are you planning to go to the Packers-Rams game? Any predictions?
GR: Well, I am in Australia, so it may be hard. It's upside down here. I will try. My friend here recorded the 49ers game for me and I was able to avoid knowing what happened. I think the Rams will win. That's my honest prediction, sadly. We just don't seem to be as explosive as previous years. But maybe Geronimo [Allison] and [Randall] Cobb will make it close.