The popular narrative of Carlos Gomez's career can be traced out from the player comments in Baseball Prospectus' annuals.
2007: He has great tools and succeeded at Double-A at age 20, but it's still not clear what that will add up to. His plate judgement is a work in progress, as he doesn't walk much.
2009: [A] central role in the offense may always be a reach unless the still-young Gomez can develop a hint of power and a modicum of selectivity.
2011: If he could learn to take a few more walks or make a little more contact he might become an asset, but at age 25, with over 1,400 career plate appearances, Gomez is little more likely to discover a better plate approach than he is a needle in a haystack.
2012: Gomez has a terrible approach at the plate, but he has enough athletic ability that his "grip and rip" strategy resulted in a career-high ISO in 2011.
2013: Gomez remains as hacktastic as they come, offering at more pitches than any National League regular, posting walk-to-strikeout ratios near the league bottom, and constantly swinging for the fences—essentially doing everything he can to avoid taking advantage of his speed.
In 2014, entering play Thursday, Gomez owned a .310/.378/.552 batting line in 268 plate appearances. Gomez ranks 16th in batting average, 20th in on-base percentage, 10th in slugging, and eighth in runs above average among batters qualified for the batting title (per FanGraphs). He has done all this despite employing his most "hacktastic" approach yet. Gomez's swing percentage sits at 55.6 percent, sixth highest in the major leagues and Gomez's highest since his 58-game cup of coffee with the Mets in 2007.
Gomez has become one of the best hitters in the league without dialing back on the swings so many thought were holding him back. Rather, Gomez largely increased his swing percentage between 2011 and 2012, from 50.8 percent to 54.8 percent. The 2012 season was also Gomez's first as an above-average hitter—he went from .225/.276/.403 in 2011 to .260/.305/.463 in 2012, and has only continued to improve since.
"Carlos is like any hitter," Brewers hitting coach Johnny Narron told Sports on Earth's Howard Megdal in 2013. "The more they swing at strikes, the better their swing's gonna be." It's simplistic, but even during his growing pain-filled early years (2007-2011), Gomez owned a .456 slugging percentage on pitches inside the strike zone. But pitchers simply wouldn't come inside, and Gomez would reliably make outs on pitches well off the outside corner. From 2007-2011, 241 of Gomez's 1,678 plate appearances (roughly one in seven) ended on a pitch off the outside corner. He managed 40 total bases on these pitches over all five seasons, a .166 slugging percentage.
The Gomez of 2007-2011 was not the ideal Gomez. The popular narrative suggests this is due to a personal failing, an inability to discipline himself. But this was an approach imposed on him by coaches rather than developed with his body and skillset. Gomez himself requested to change his approach back in 2011, after he went on the disabled list with a broken collarbone that July. As Gomez told Megdal:
"You know, I'd been trying this for five years, and it's not working. Put the ball in play, hitting ground balls for running, bunt, hitting the ball the other way, all the people wanted me to hit the ball on the ground. And we made the decision, me and Dale [Sveum, then-Brewers hitting coach], that no, you're strong, we want you to drive the ball, hit the home run. So in September, after I come back from that injury, to my collarbone, I hit the ball good. I drove it."
Gomez has since perfected his technique with Sveum and then Narron. Gomez hits far more balls in the air now then he did early in his career. His 40.3 percent ground ball rate in 2012 was a career low, and thus far in 2014, he has pushed that mark down to 33.7 percent, 13th lowest among qualified hitters. Credit mechanical changes. Credit a swing so violent his helmet is liable to fly off at any time. But most of all, credit Gomez's understanding that he can hit almost virtually any pitch out of a major league ballpark.
The only pitches Gomez can't hit out are those he can't reach. Gomez's struggles with pitches off the outside corner have continued in 2014, as he has just six total bases in 35 at-bats (.171 SLG). The solution hasn't simply been to stop swinging at these pitches. Rather, Gomez is also swinging much more often at the pitches he can hit for power, which is everything else: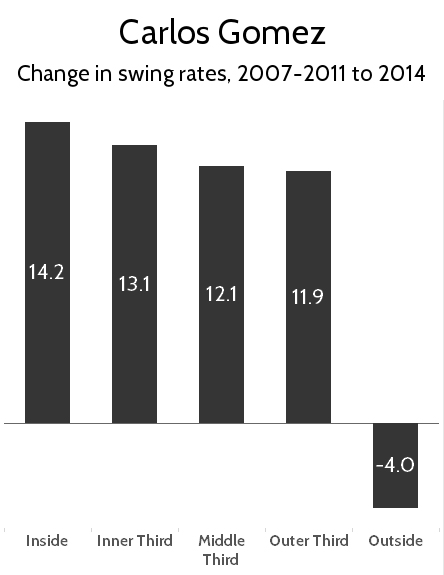 (Data from Baseball Prospectus)
Although Gomez is predominantly a pull hitter, he's big enough and strong enough to smash pitches on the outer third of the plate deep to center or left, as he did last week against the Twins' Kevin Correia. And when a pitcher misses inside, even if it's a couple inches off the plate, Gomez can extend his arms and power the ball deep to left field, as he did on a memorable lead-off home run against CC Sabathia last month.
Gomez is slugging an absurd .761 on balls in the strike zone this year. His 79.1 percent swing rate at pitches in the strike zone is the highest in the league, ahead of Freddie Freeman's 77.4 percent. It's a simple recipe for success, but when you can hit the ball like Carlos Gomez, sometimes simplest is smartest.
True, Gomez does not have what has become accepted as the ideal approach with the popularization of Moneyball and its attendant statistical theories. But the idea that there is one specific approach to which all hitters should aspire is reductive and fails to account for the different strengths and weaknesses of hitters. And when we get too caught up in what the numbers say, sometimes we forget they don't equally apply to everyone.
So Gomez's approach isn't the Moneyball ideal. So he's still hacktastic. No matter. He has become his own ideal now, and the result is not just one of the best hitters in the game, but one of its most exciting as well.