High school music education program, Grace Weber's Music Lab, returns for its seventh season
Free, monthly program from Radio Milwaukee returns Sept. 29 with session on indie music careers
MILWAUKEE (September 20, 2023) – Grace Weber's Music Lab, a free music education program for high school students from Radio Milwaukee (WYMS-88.9FM) and presented by HYFIN, will return for its seventh season on Friday, Sept. 29 with a session on independent music careers, the station announced Wednesday.
The 2023-24 season's opening lab will feature Milwaukee-based artists, and all graduates of Milwaukee Public Schools, RB Vic, Emmitt James and Wave Chapelle as a panel of guests to discuss "Beyond the Block: Indie Music Careers" with Music Lab Program Director Britney (B~Free) Freeman-Farr. Each artist will also perform throughout the lab.
"We are excited to kick off our seventh season of Music Lab with an amazing panel of Milwaukee-based artists," said Freeman-Farr. "Seeing artists that also call Milwaukee home and are experiencing success in the industry as independent artists will deeply resonate with our students."
The full schedule for the 2023-24 season is as follows:
• Friday, Oct. 27 – MeraCares: Music & Mindfulness
The lab will include an interview and discussion with program founder Montréal Cain on how he incorporated his musical background into this work, and he'll lead a workshop with teen attendees with their "Attitude Adjustment Playlist" to highlight the correlation between music and mental wellness.
• Friday, Nov. 17 – Music & Film Scoring
In collaboration with Milwaukee Film's Take 1 Teen Filmmaking Lab, the lab will build connections between Milwaukee students interested in the music and film industries, focusing particularly on film scores.
• Friday, Jan. 26
• Friday, Feb. 23
• Friday, March 29
• Friday, April 26
• Wednesday, May 22
Additional Music Lab guests for 2024 sessions will be curated to feature both local and national acts, and a range of roles and occupations in the music industry. Grammy-winning artist and Milwaukee native Grace Weber will regularly appear and engage in the season.
All Music Lab sessions are held in-person at Radio Milwaukee's Walker's Point Studios (220 E. Pittsburgh Ave) and live streamed through Radio Milwaukee (@radiomilwaukee) and the Music Lab's (@gwmusiclab) Facebook pages. The Music Lab runs from 5 to 7 p.m., with a social hour for students from 4 to 5 p.m. In addition to the panel conversation, students can sign up to perform in the lab's open mic at gwmusiclab.com, enjoy free food and enter to win teen prize giveaways.
Grace Weber's Music Lab is presented by HYFIN and hosted monthly at Radio Milwaukee from September through May. At The Music Lab, students have the opportunity to learn about the music and entertainment industries through featured guests. They are also given the opportunity to collaborate, perform, and build relationships with their peers, often collaborating with students they may not have otherwise met.
Grace Weber's Music Lab is supported by American Family Insurance, Charles E. Kubly Foundation, Daniel M. Soref Charitable Trust, Greater Milwaukee Association of Realtors Youth Foundation, MPS Partnership for Arts & Humanities and Ralph Evinrude Foundation.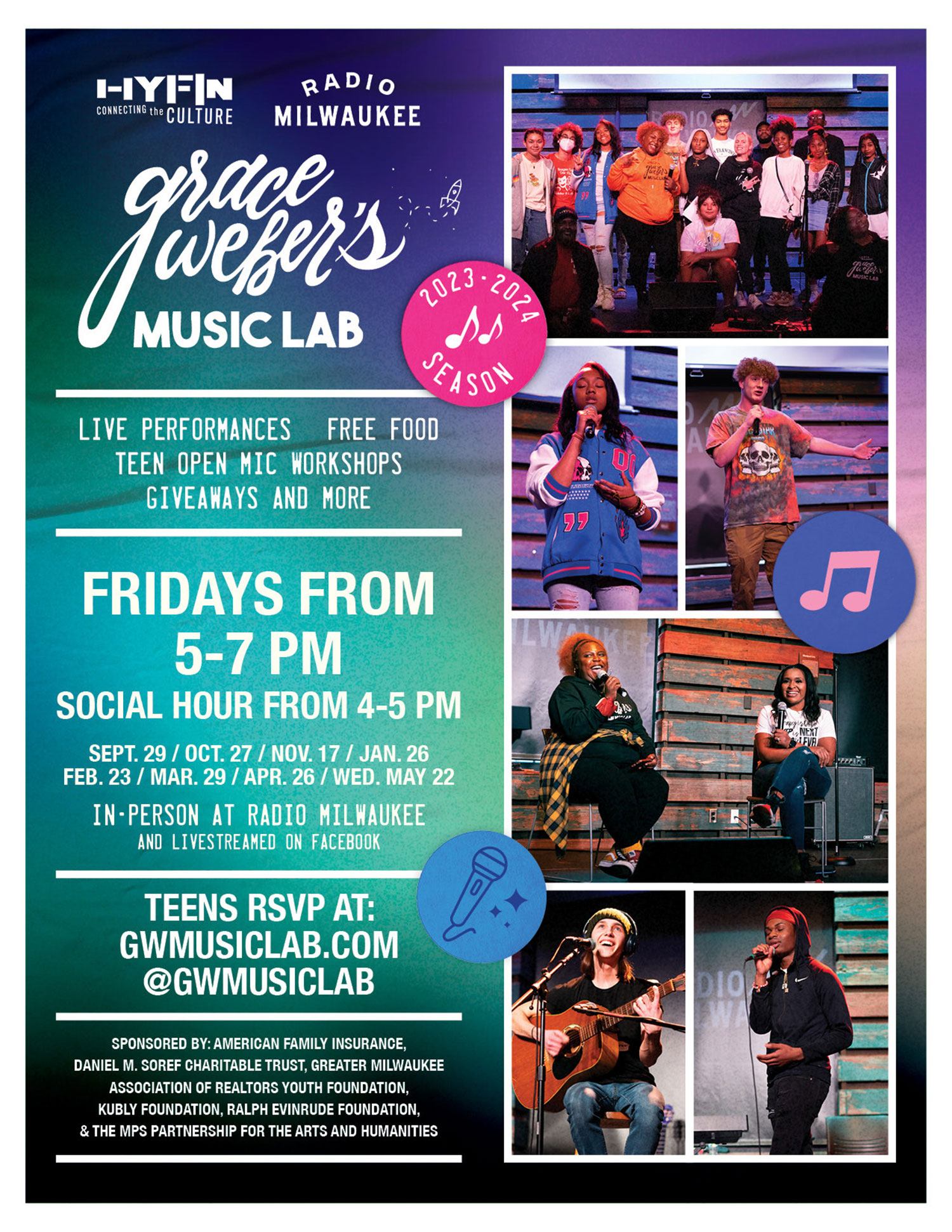 Find more press releases HERE.